INSIDE : Looking to update a space without really doing much updating? See how I was able to do some major decluttering, purging and reorganizing to have a simple Creative Office Refresh!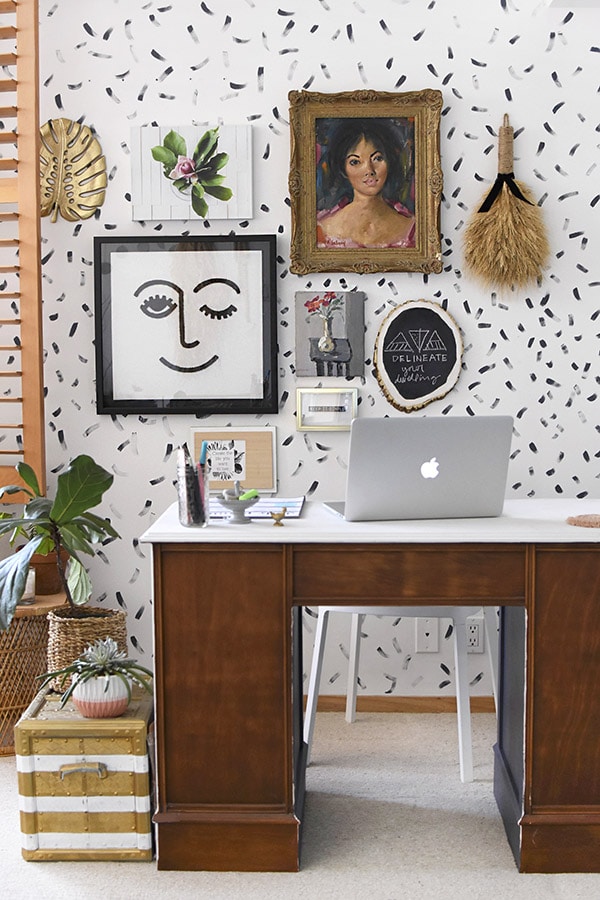 About a month ago, I looked around my colorful happy office and felt like it did not really speak to my current design style. Don't get me wrong, I loved so many things about it. But there was a lot of pink polka dots and cheerful colors – all which I love but slowly have been editing out.
I'm not sure if it's just the season or my style is going through some evolution, but I've found myself drawn to more moody colors – deep navy blues and blacks with subtle pops of color.
Also I after two years in our current home, I had slowly collected so many art and craft supplies. Like TOO MANY craft supplies (if there could be such a thing!) .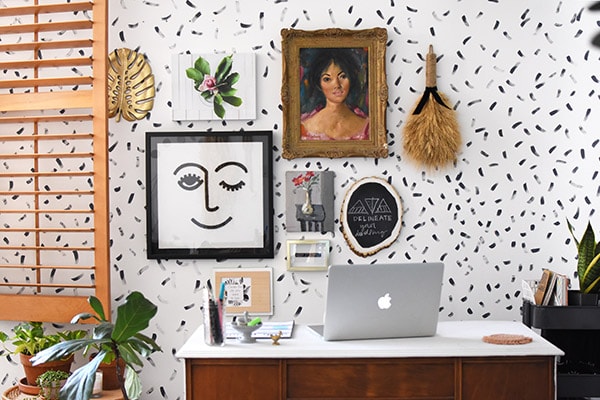 6 Tips on How to give your Creative Office a simple Refresh:
Declutter –
So, my first task of business for creating a more subtle office space was a huge decluttering session. I went through every single paper pile, ribbon stash jammed in a corner, even my acrylic paints got a nice weeding out.
When you are working with craft supplies, it is SO easy to think oh someday I will definitely use this. Well, if it had been at least 2 years since I really used it – into my donation pile it went.
Donate –
That pile grew larger than I ever thought it would and I have to say – if felt amazing. Some items I donated to Goodwill. Some items I gifted to friends. And some items went to my local church or my kid's school.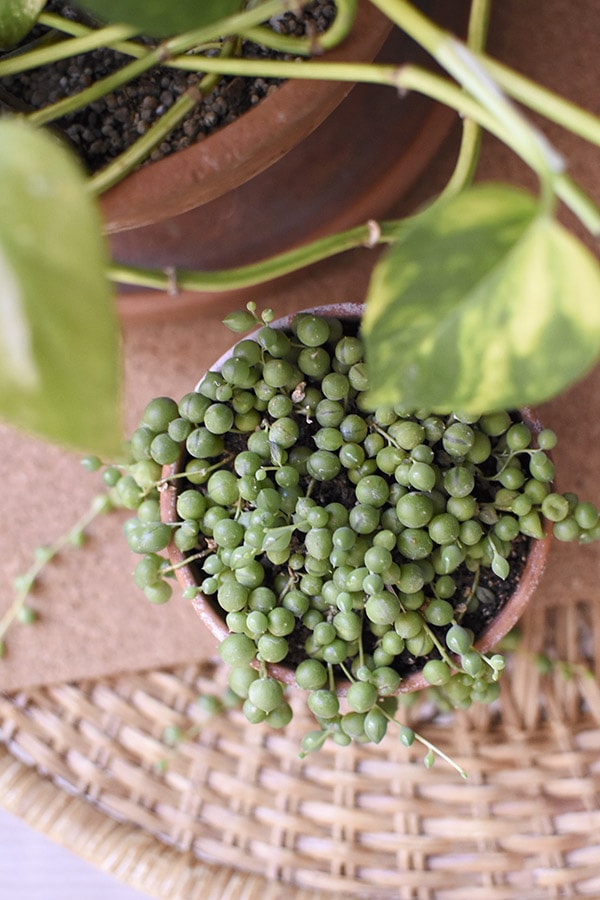 Rearrange –
The next item at hand was rearranging my office furniture. I am a big believer in sketching things out. So, I grabbed a piece of paper and drew out 3 or 4 different layouts for the room. Once I decided on the best new arrangement, I started lugging furniture all around the room!
Update –
I now have my desk oriented so you can see the largest brushstroke wall behind it. I used many of the pieces I had had on the wall previously. My tree slice chalkboard got a new chalkboard paint color. I had bought the black felted winky face art at Home Goods earlier this past summer. And the gorgeous lady portrait was a garage sale purchase for $25.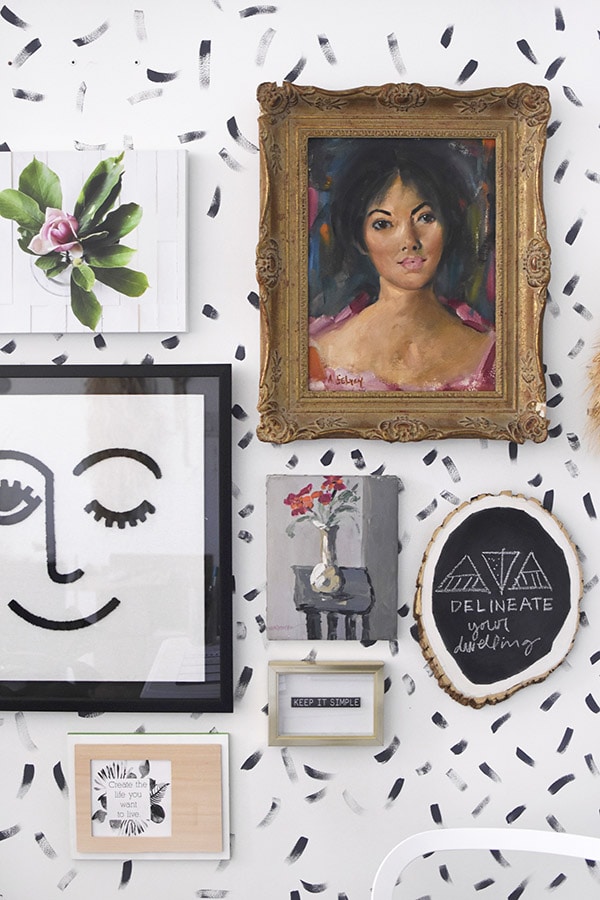 To the side of my office, I have a little plant space. A fiddle leaf fig, a golden pothos, my string of pearls plant a few other more exotic plants hang out here! I used an old Gold + White Striped trunk project to rest some of the plants on.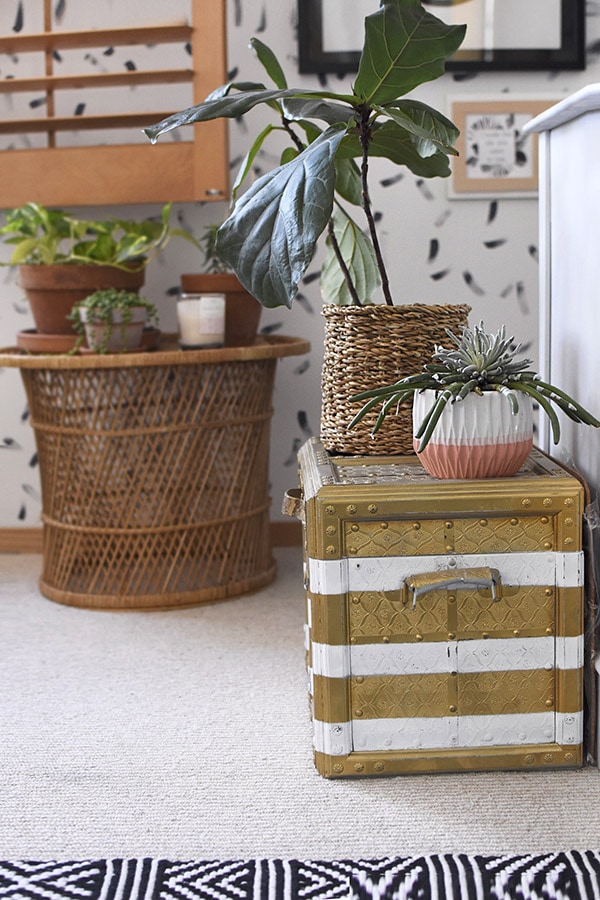 Reorganize –
A huge part of my office refresh was reorganizing all of my props, crafts and supplies. I used my old white Target square shelf and really tried to contain the non-pretty items in pretty containers.
You all know my IKEA lockers have been around for a while and they store the bulk of my actual craft supplies.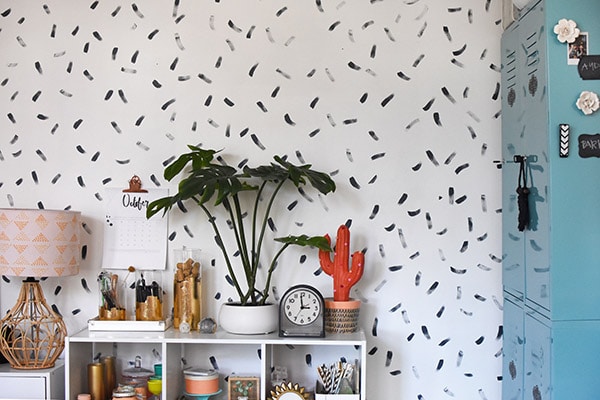 Style –
The final update to my Creative Office refresh was the main blank white wall. I used to have a table against this wall and would often setup photo vignettes here. The only problem was I also used that table for a huge amount of clutter and junk.
If I didn't know where to put things, I would set them on that table… which slowly just became a cluttered mess. So, now I have the table on a much smaller wall and I have this big wide open white space for shoots.
I decided to display a few of my banners (wood garland, raffia and silver glitter moon phase garland) on the wall like artwork. I also have my little rattan chair here, as well as a pretty vase holding all the spare twigs and a few sprigs of greenery.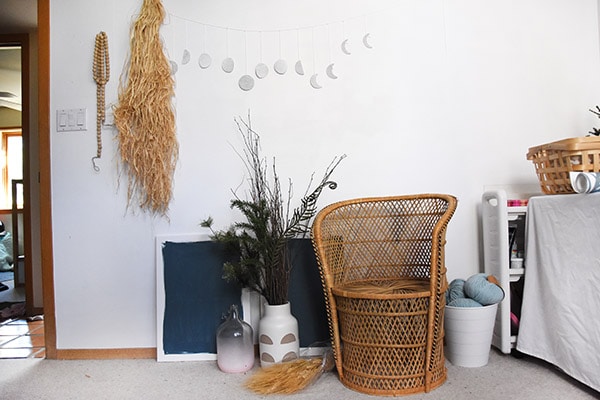 When we have company over, this room doubles as a guest room and I think it will hold a queen size mattress much better with this new configuration.
I love the new look of the space and I love that I spent really next to nothing to give the room a completely new look and feel!
MY Home –> Want to check out my each room in my home?
I have shared inspiration, tips and inexpensive ways to make your home YOU.
Want to shop the completed room?