INSIDE : Come see the highs and lows of week 5 in the Office One Room Challenge.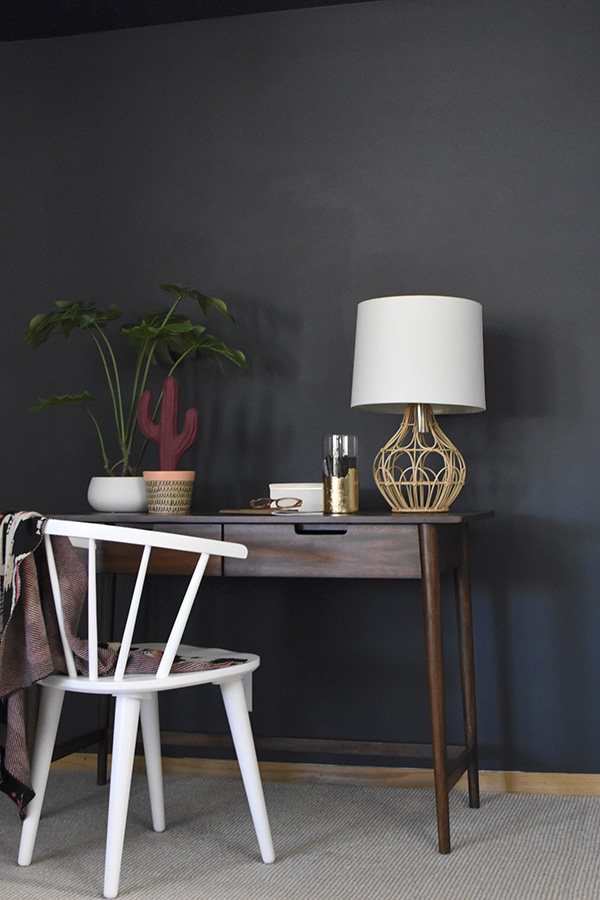 This post may contain affiliate links. See my full disclosure.
Today marks week FIVE of the Spring 2021 One Room Challenge, where I'm participating as a guest. Last week I made a super fun Spackle DIY art piece and officially decided I want to make spackle art forever. It was so so fun.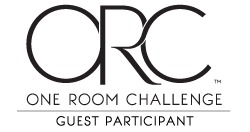 Every Thursday until June 24th, I am sharing my weekly transformation of my office. Here is what I've accomplished so far:
Week 1 Office Plan
Week 2 Painting Office Moody Blue
Week 3 Adding Removable Wallpaper to a room
Week 4 Spackle DIY Art
Week 5 Slow going week
Week 6 Woven Wooden Cabinet
Week 7 Painted Wood Slat Wall
Week 8 Moody Office Reveal
Okay real talk time. Week five was rough on me. I detailed it on Instagram in more detail, but it felt like every step forward I took… was three steps back. That's just part of life and definitely part of DIY.
Woven Wood Cabinet
I started some great momentum on a very cool Woven Wood Cabinet idea I had come up with. I got about 17% completed and then ran out of supplies. I have no idea how I thought it would take so very little. I hopped on Amazon and ordered more, but they didn't arrive until Thursday afternoon.
Here is my progress on that so far. It's going to be amazing… just not yet, ha.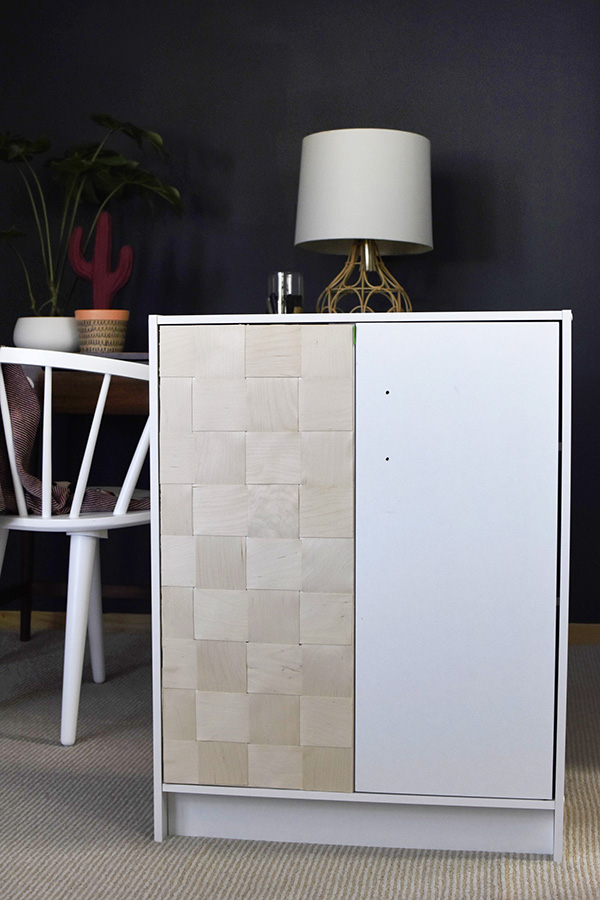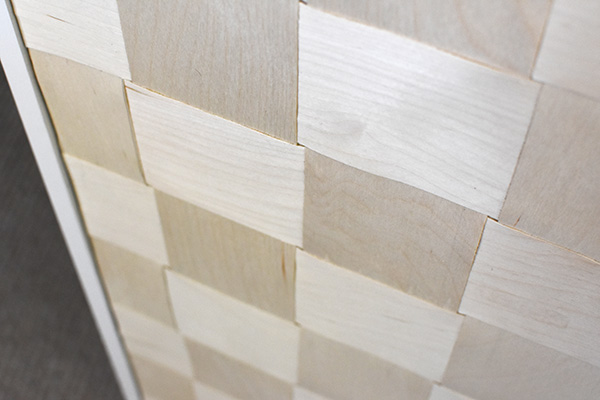 Mid-Century Modern Desk
So I felt like something was being accomplished, I decided to put together my new Target desk. I love it's sleek design and that it has two nice drawers for me to put my office papers in. It took me about 35 minutes… so then I have 5 days left.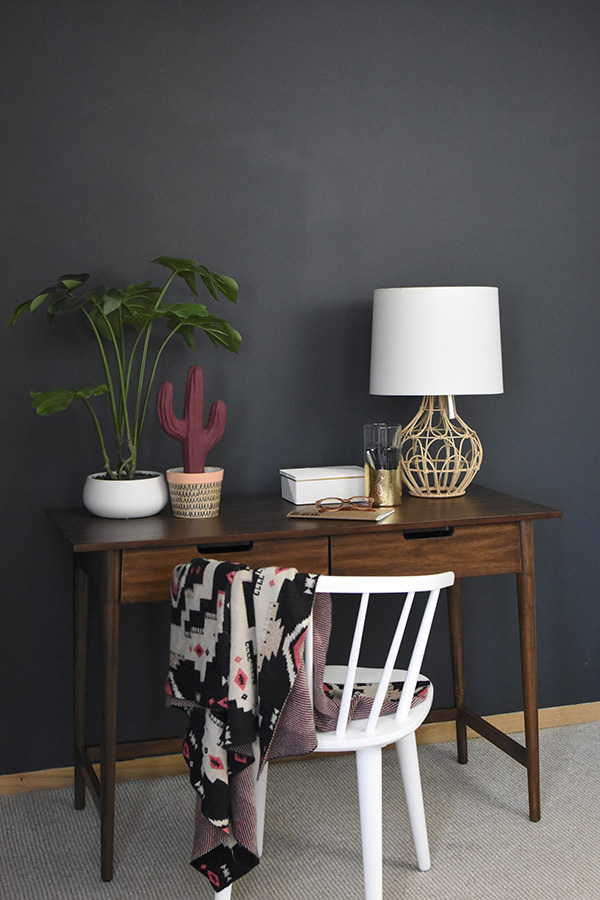 And just so you know, it's still very much a hot mess in my office. I'm basically moving piles from one side of the room to the other as I need to work.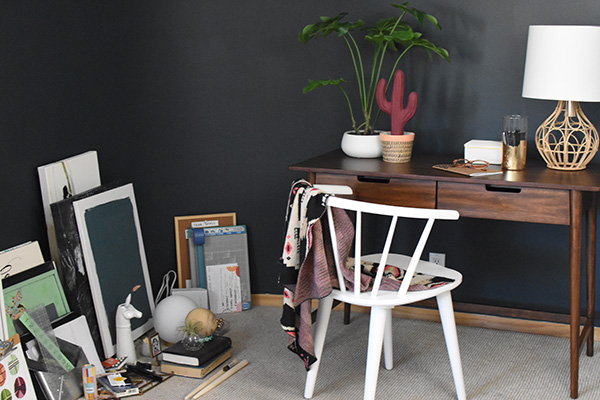 Spray Painting Lockers White
Since I still had most of the week left, I decided to skip ahead on one of my smaller tasks and get it out of the way. I really love having IKEA lockers in my office. They are full to the very brim keep my craft supplies organized. You can see how I organized them a WHILE ago in these posts (here and here). I decided I didn't want the fun brighter blue color that they came as and instead wanted white.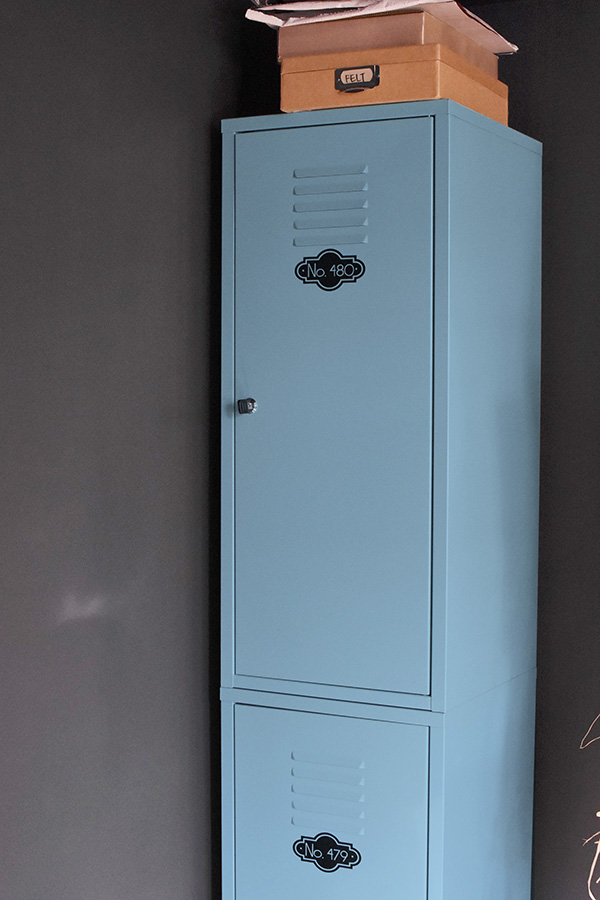 I went to my local hardware store and they were out of my normal favorite spray paint, Rustoleum. So, I got 8 eight cans of Krylon Matte White… which ended up being a huge huge mistake.
I took them outdoors and began painting. I even used a spray can grip which actually REALLY does help, but after eight cans of paint – some of my fingers were going numb and tingling.
This Krylon paint just DID NOT WORK. No matter how many coats I gave the lockers it would not give a nice even coverage look. I'm going to have to circle back to these lockers at a later date. From an angle they look BAD.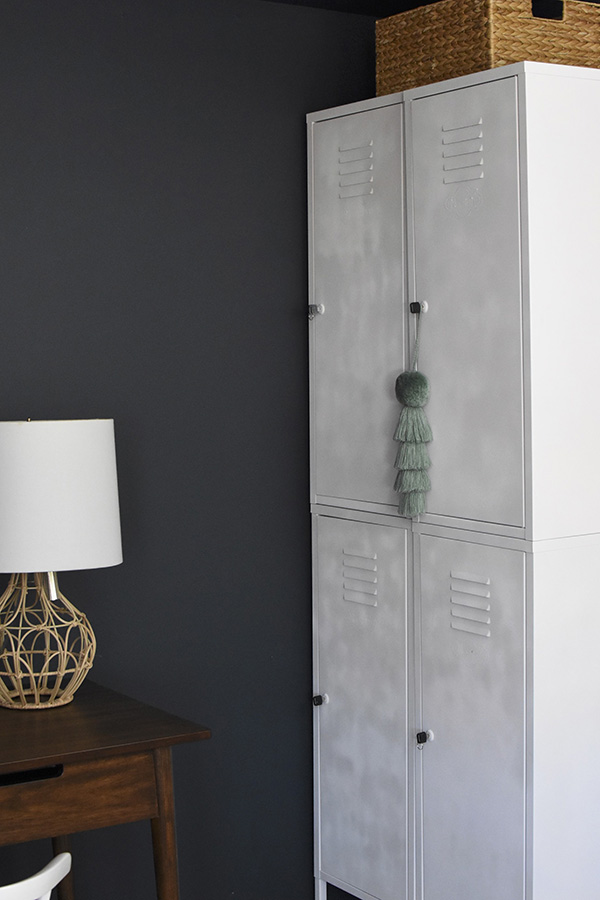 Directly looking at them straight on, they look great. So, I'm hopefully sanding them down a bit and reapplying Rustoleum Spray paint will be the perfect solution.
UPDATE ON THE LOCKERS : I lightly sanded the horrible spray paint and then used a roller and interior matte white paint over top. The difference in the lockers is night and day! I just can't believe that I spent hours and hours using spray paint, for it to turn out so badly. And then just two quick coats of regular matte paint and it's has beautiful coverage without any issue at all.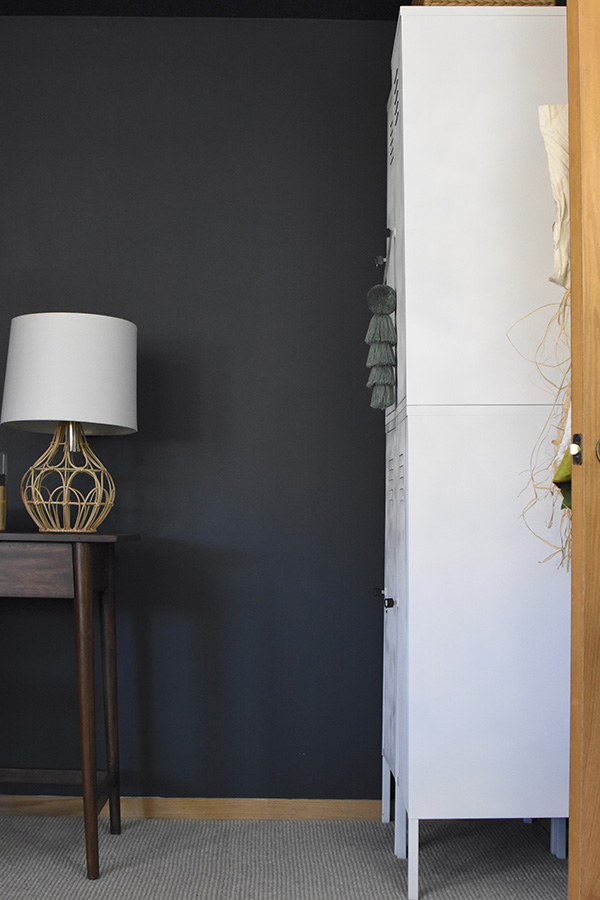 And that's pretty much where I left off on Week 5. Lots of setbacks and lots of work still to be done. Yikes.
Let's see if I can get the rest of these items done in the next few weeks!
TO DO LIST over the 8 weeks –
Paint Walls
Hang Wallpaper
Paint IKEA storage lockers (I'm going to need to revisit this one later.)
DIY cabinet hack (Started and then had to stop.)
Install new ceiling fan (probably not)
DIY art above dresser
Install Wood Slat accent wall
Style room with new rug, floor cushion, bean bag chair, desk + accessories
Here are a few items I have already picked up for my new office :