Moody Teal Office and Guest Room Plans
I am so excited and a little nervous to announce that I am joining as a guest participant in the Spring 2021 One Room Challenge! What is the ORC you might be asking? Well, let me tell you.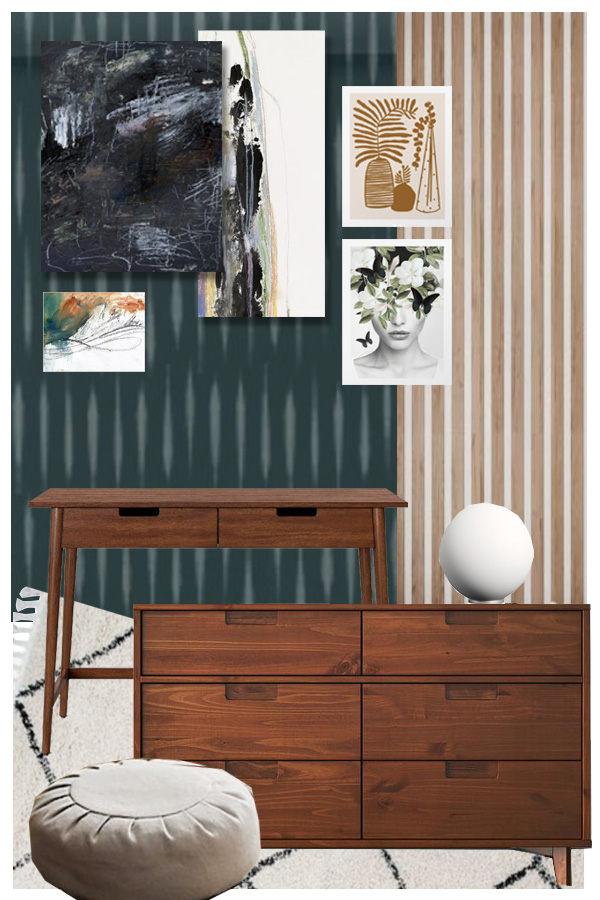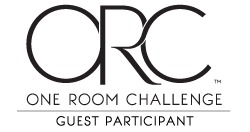 Over the next eight weeks, I will be slowly transforming a space in our home, along with other 20 official participants and numerous bloggers. Every Thursday I will be sharing an update on the room. It should be fun, but also eight weeks isn't much time for all I have planned. So, let's get to the good stuff.
Week 1 Office Plan
Week 2 Painting Office Moody Blue
Week 3 Adding Removable Wallpaper to a room
Week 4 Spackle DIY Art
Week 5 Slow going week
Week 6 Woven Wooden Cabinet
Week 7 Painted Wood Slat Wall
Week 8 Moody Office Reveal
Office + Guest Room before:
I am very fortunate to have a room in our home to call my office. I use it to store endless craft and home decor supplies, as well as photography equipment, my computer, desk, my current creations, boxes, books I'm reading, etc… It's basically become the catchall of stuff, which is not good.
My office has definitely gone through a few phases, even since we moved to this home almost four years ago.
The photo from the listing from years ago shows a very clean neutral space. (I think they used a wide angle lens because this room looks much larger here than in real life.)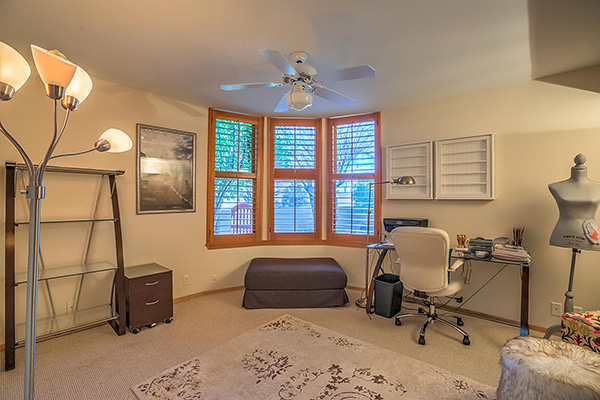 I immediately added some "me" to the room with a hand painted brushstroke wall and bright colorful decor and gallery wall during update 1. Two years later and my style had evolved to a still include fun and whimsy, but in a slight more subdued palette in an office refresh, update 2.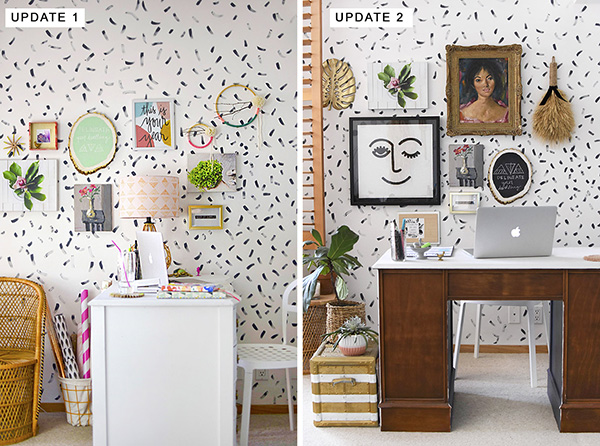 Honestly, I really love the look from this update 2. It was unique, full of pattern and spoke to my personality. The major problems with this update were space issues. Plus, after almost four years, I'm a little tired of the wall pattern.

This room is also used as a guest room and the configuration I used to show this gallery wall and have my desk located where it was… took up a huge part of the room.
Once covid hit and we didn't have company coming to stay with us, I still realized how under utilized the room really was. I began to purge a lot of my old brightly color craft supplies and started to see how much room I really was keeping all for myself. I will talk more about the new room orientation during the plan portion below.
Inspiration colors and images:
I have been slowly painting more rooms in my home with darker moody colors and have loved the impact it's given the space. My bedroom, our kid's bathroom, our kitchen island and my front door + trim all have gone moody and I am a fan!
The inspiration colors for my office were drawn from the below imagery. I am so drawn to the teal – blue – green colors. I admit I'm a littler nervous to go from white walls to such deep dark colors, but I think it will be a fun change.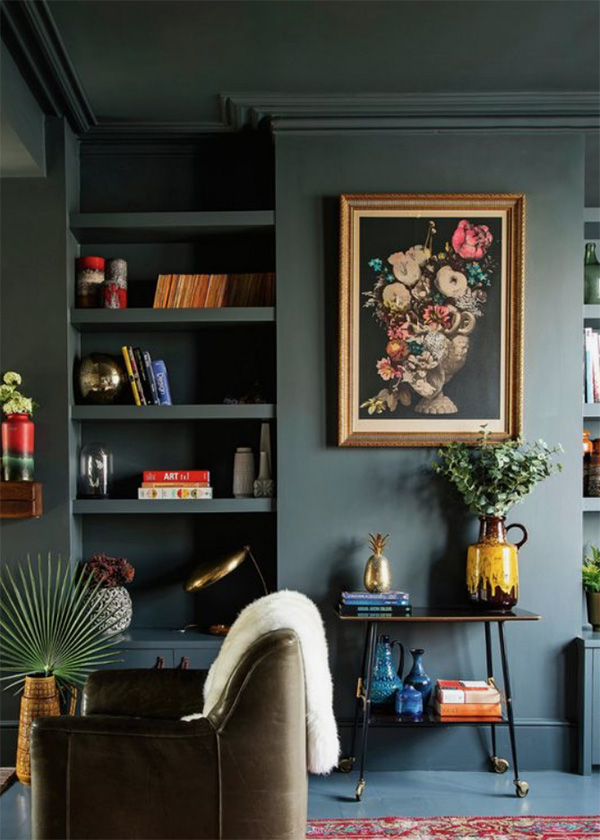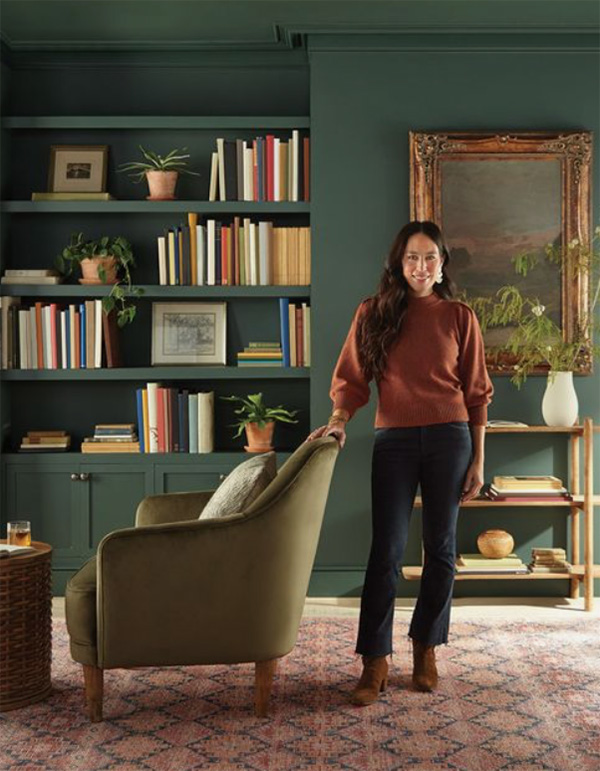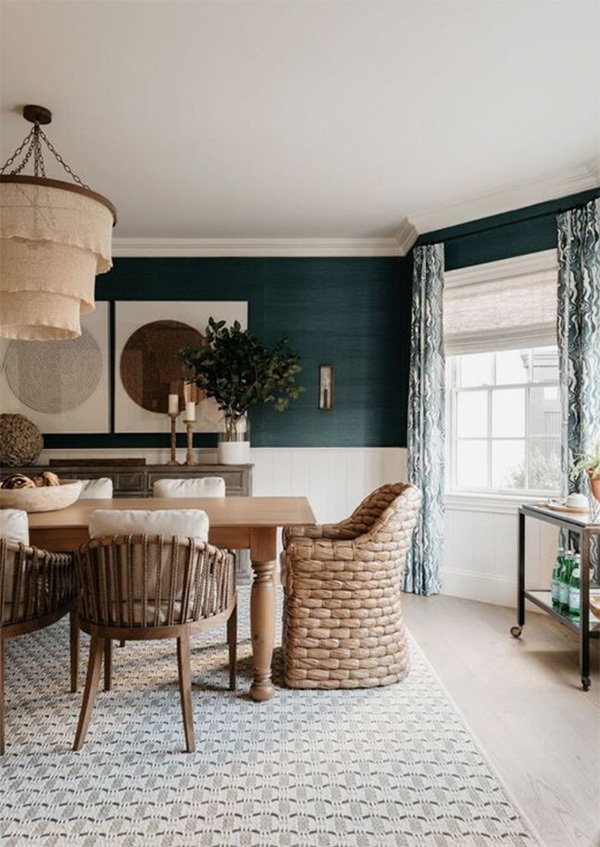 I also have been dying to try a wood slat wall treatment and this image below really spoke to me. I am still on the fence if I will paint my wood slats or keep them natural wood. Another fun idea I have is carrying the wood slats onto the ceiling.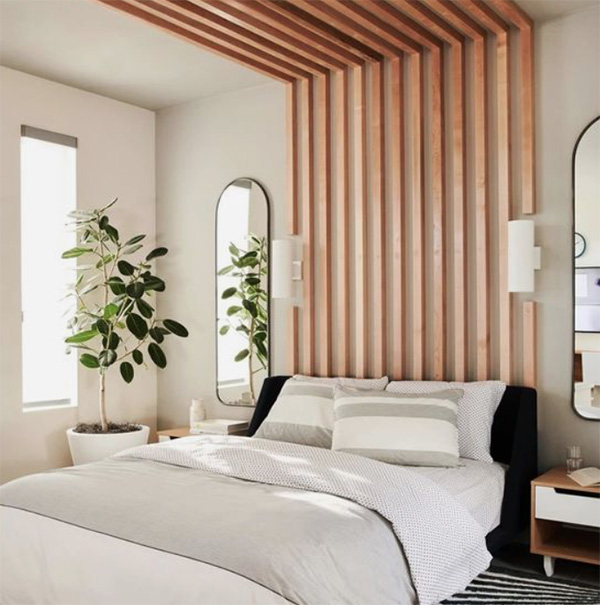 This beautiful cabinet was a jumping off idea for a potential cabinet hack I may do. I'm still undecided on this… I will have a lot going on in the room. But it's so beautiful, none the less.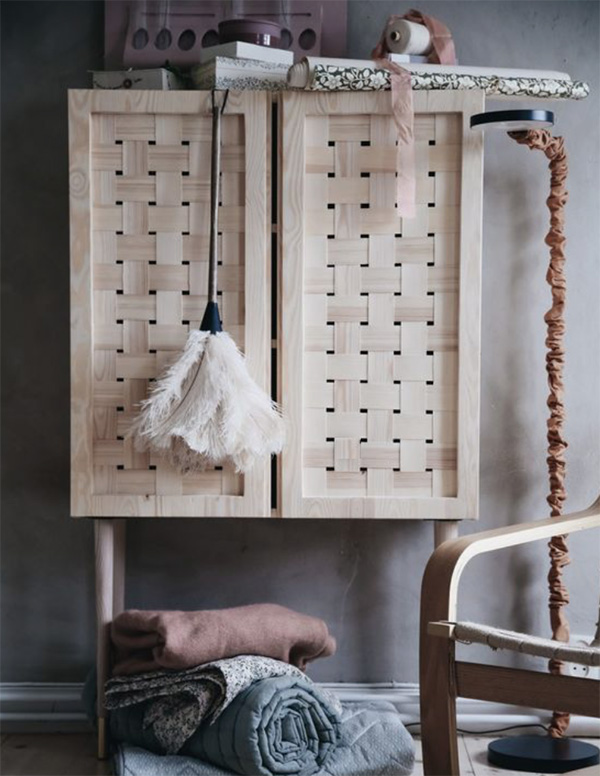 Office + Guest Room Plans:
Drum roll…. my office and guest room plans are a mix of moody color, texture + pattern, artistic elements but with a Mid-Century Modern vibe. How is that for a design mouthful?

I am so excited to be using a gorgeous teal wallpaper from a new company I found and coordinating teal paint. I will be creating a wood slat feature wall that is the backdrop for my new MCM desk.

There will be plenty of storage with my existing Ikea lockers that I plan to paint, a dresser that I'm using for part storage/part guest use and two white cabinets that may be getting a little facelift.
A new rug from RugsUSA will help ground the room with calm neutral colors and pattern.
I can't say no to a gallery wall and am thrilled to be getting new artwork to mix in with some of my current pieces. I'm bringing in three amazing pieces from Lindsay Letter's upcoming new collection and some prints from Society 6.
A new configuration for the room will really help with my space issue. I think it will open up the room in a big way for my family to more easily enjoy the room, as well as guests when they come to stay.

I am bringing in casual seating (mostly for my kiddos to hang in here) with an elevated bean bag chair and a chic floor cushion. Easy to lounge on and easy to move to another room when guests come to stay. Win win.
Is it going to be a little extra and maybe busy… quite possibly. I'm going to see where these 8 weeks take me and bend my design as needed!
Week 1 Office Plan
Week 2 Painting Office Moody Blue
Week 3 Adding Removable Wallpaper to a room
Week 4 Spackle DIY Art
Week 5 Slow going week
Week 6 Woven Wooden Cabinet
Week 7 Painted Wood Slat Wall
TO DO LIST over next 8 weeks –
Paint Walls
Hang Wallpaper
Paint IKEA storage lockers
DIY cabinet hack
Install new ceiling fan (maybe)
DIY art above dresser
Install Wood Slat accent wall
Style room with new rug, floor cushion, bean bag chair, desk + accessories
Phew, in the meantime, check out all the other rooms being transformed! Everybody will be posting progress each Thursday and linking up on the One Room Challenge blog right here! See you next week!
Here are a few items I have already picked up for my new office :