INSIDE : It's time for the Hallway Bathroom Reveal! Check out how to give your guest bathroom an update look and feel without any major remodeling. Learn how simple changes can completely transform your bathroom.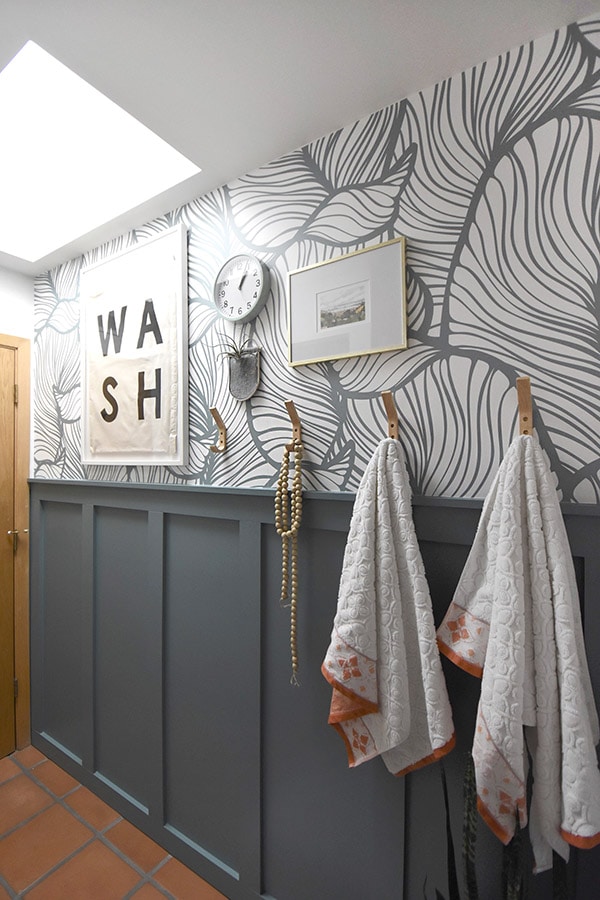 This post may contain affiliate links. See full disclosure here.
Well apparently I am very slow moving DIYer because I shared my plans in September and now in January I'm finally doing the reveal. Here is all what I did.
Bathroom Check list :
– Hallway Bathroom Plans
– Removed Sliding Glass Shower Doors
– Partnered with Behr paint and shared how to build a modern board and batten accent wall.
– I added wallpaper to the room.
– Framed my WASH Bathroom Artwork piece
Hallway Bathroom Wallpaper
Today I am sharing the final guest bathroom reveal now that I have made the few final additions, namely the gorgeous wallpaper! Ah, it makes me smile every time I walk past this room.
I get more questions and comments on this wallpaper than almost anything in my home and rightly so. The big organic shape of the leaves and their beautiful color… it's a show stopper for sure.
And the part I love the most is this wallpaper was customizable! I gave the Etsy seller my exact paint color and she was able to match the wallpaper perfectly. I love it SO much.
Since there is so much happening on the main accent wall in this bathroom, I decided to keep the other side very simple. I painted the other walls in Behr Ultra Premium Plus 'Bit of Sugar' white.
Above the toilet, I found this simple metal and wood shelf at Hobby Lobby and it holds a few decorative items and spare toilet paper rolls. I loved using this Rattan Tissue Box cover.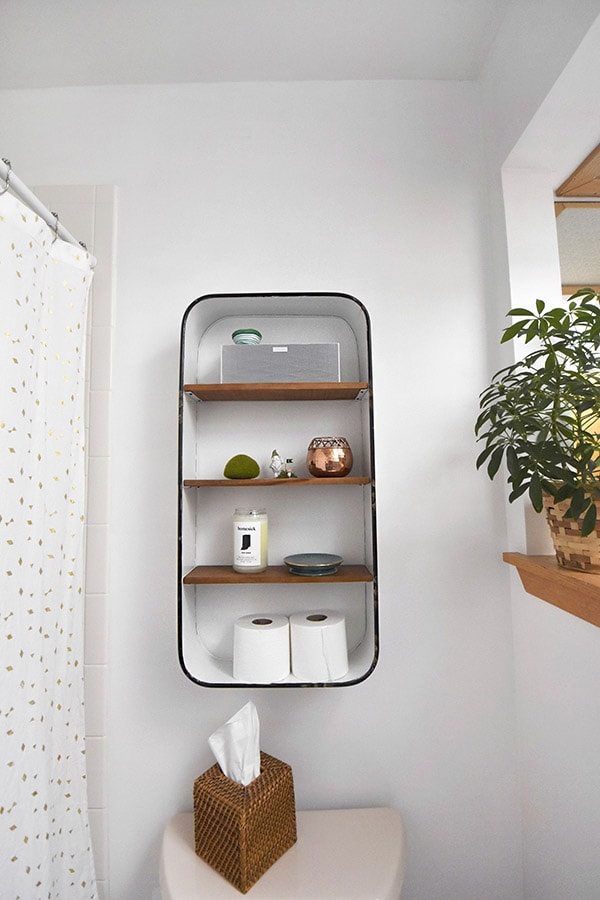 The gorgeous teal color in this bathroom was Behr's 2020 trending paint color, Dragonfly, which I completely fell in love with. When purchasing my wallpaper from Etsy, I was able to color match exactly the same color and I love how the wallpaper and the board and batten accent wall match so perfectly.
You can read more in depth about my Interior Paint colors here.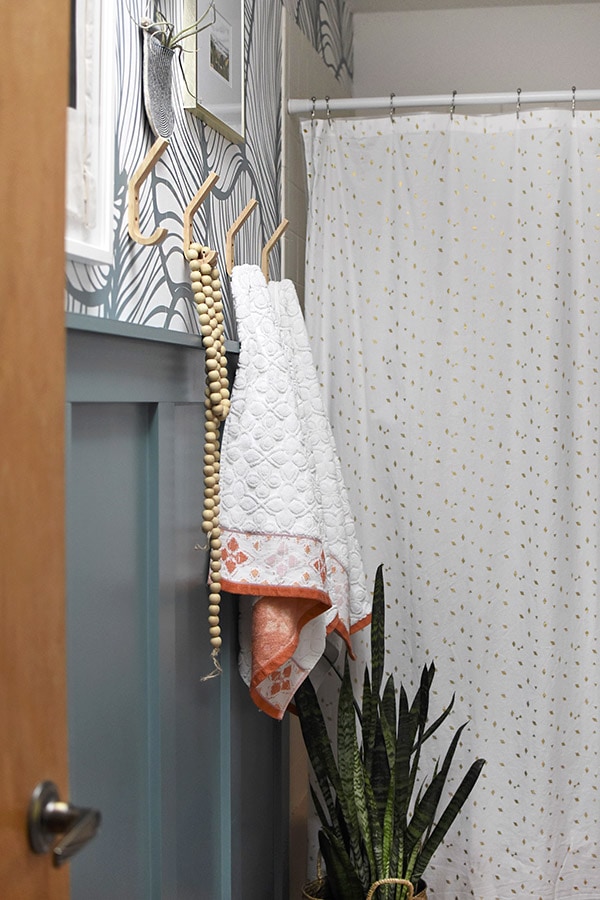 Modern Wooden Bathroom Hooks
I love the organic leaf pattern of this wallpaper and how it creates such movement contrasted against the solid board and batten wall. One of the items that has been asked about the VERY MOST on Instagram was where I got the bathroom hooks from! They are from Amazon and I couldn't be more pleased with them. I spray painted the screws gold because I like being a little extra, ha.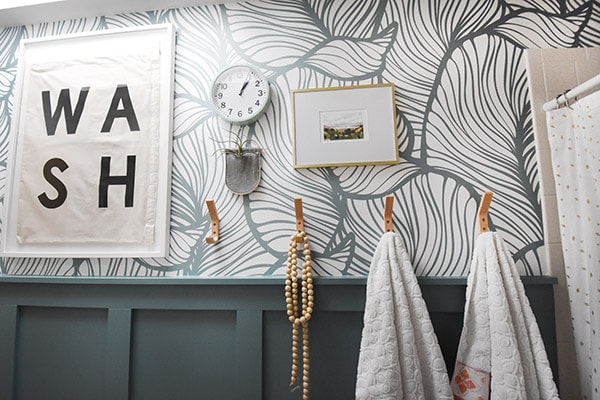 I found a lovely terrazzo patterned bathroom tray and tooth brush holder and thought it united the Dragonfly soft teal color to the other side of the bathroom.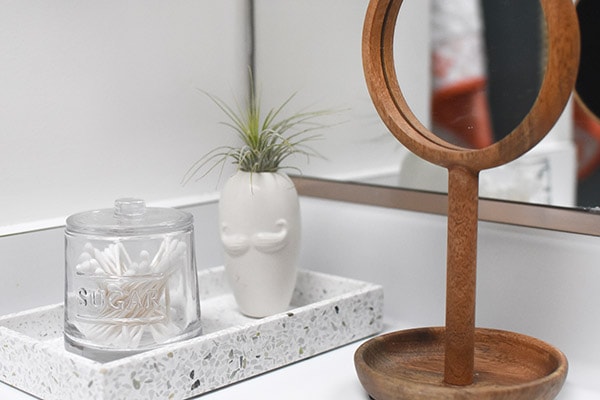 Plants in the Bathroom
Always bring plants into the bathroom. I love doing it so much I actually wrote a blog post all about the best bathroom plants. I also have a post just about Snake Plant care.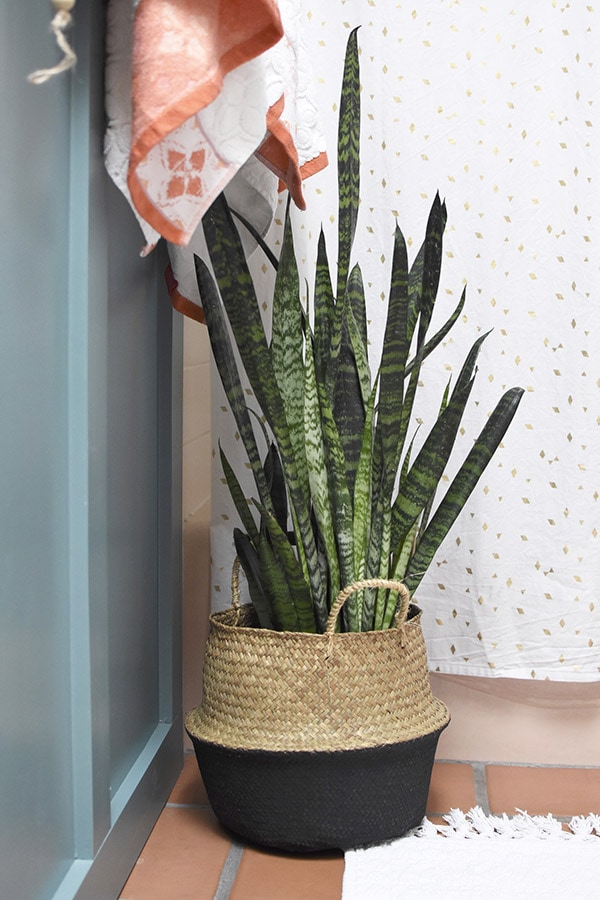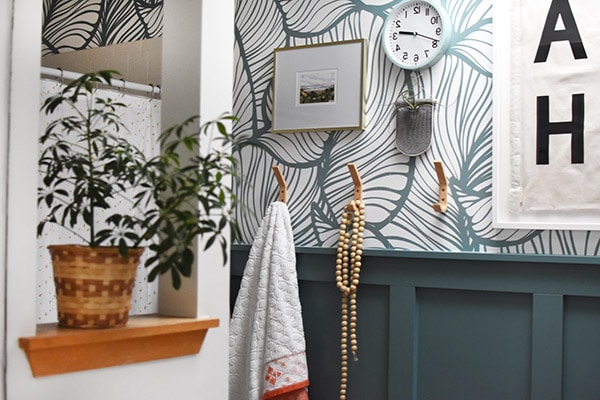 One of the main annoyances in this bathroom is the saltilo tile. Saltilo tile is very southwest and it is through our entire home, except for the bedrooms. We also have radiant heating throughout our home – so that bold earthen orange color had to be worked with and not removed.
I decided the best way to work with it was to incorporate small similar pops of that color. I found the best artist ever, Forne Studio and fell in love with her simple artwork. This rust colored Mid Century Modern print was the perfect addition to the bathroom.
Updating an existing Vanity
I would have loved to get a new bathroom vanity, but for now this one is staying. So I decided to get new hardware and I'm always so surprised at how that simple update can transform an old vanity! These cabinet pulls from Amazon were the perfect fit.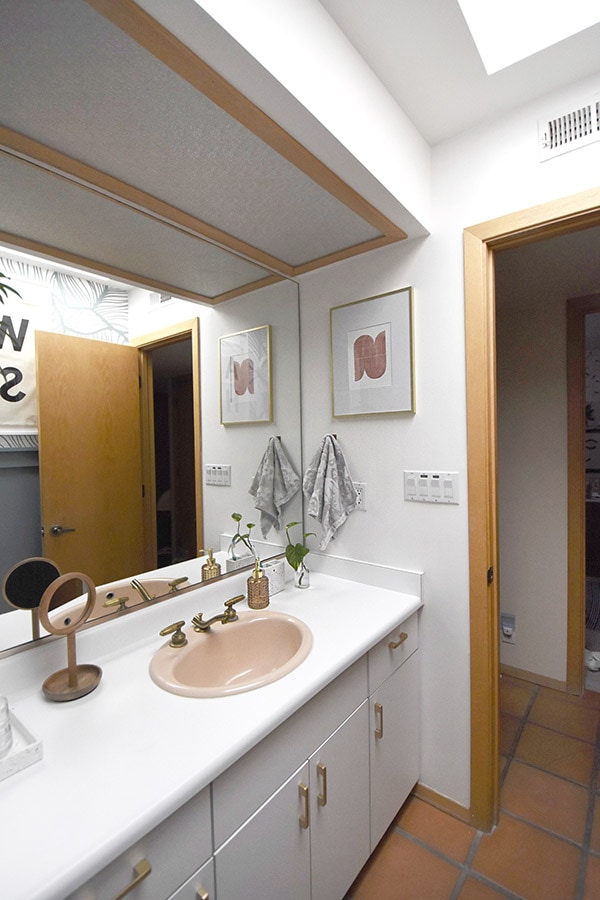 Another fun moment in the bathroom is the huge WASH clothes hamper that I framed and hung in the bathroom. I used Framebridge to frame it and could not be more pleased with how it turned out!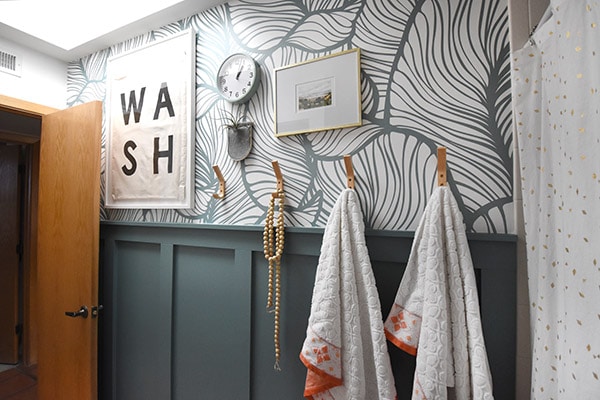 Sweet little pothos plants are always a good idea.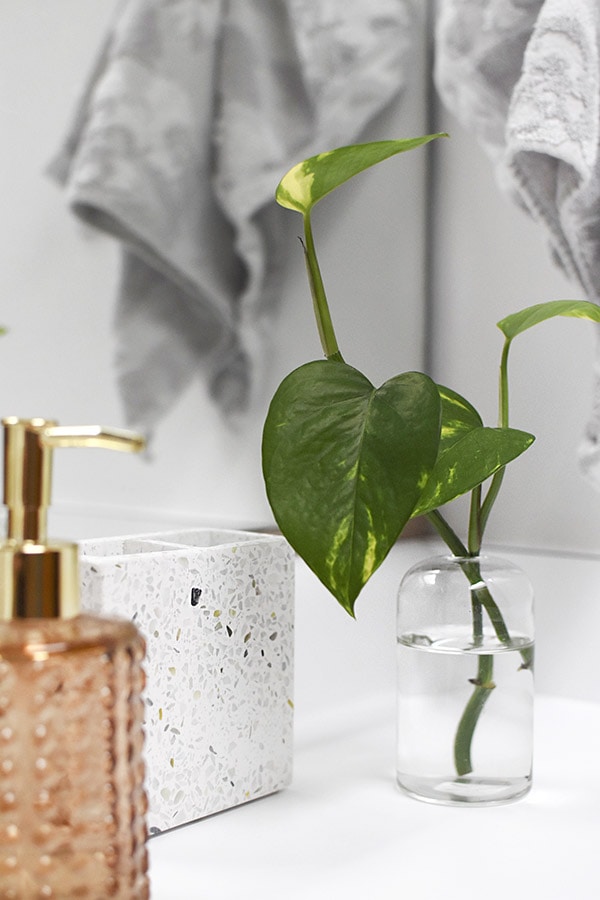 These white towels with a small pop of coral are the perfect tie into our floors.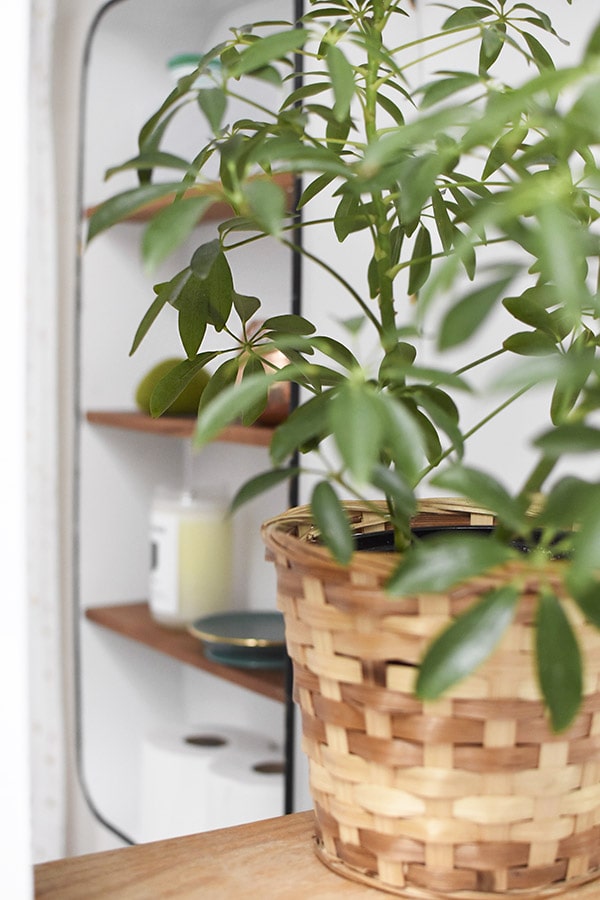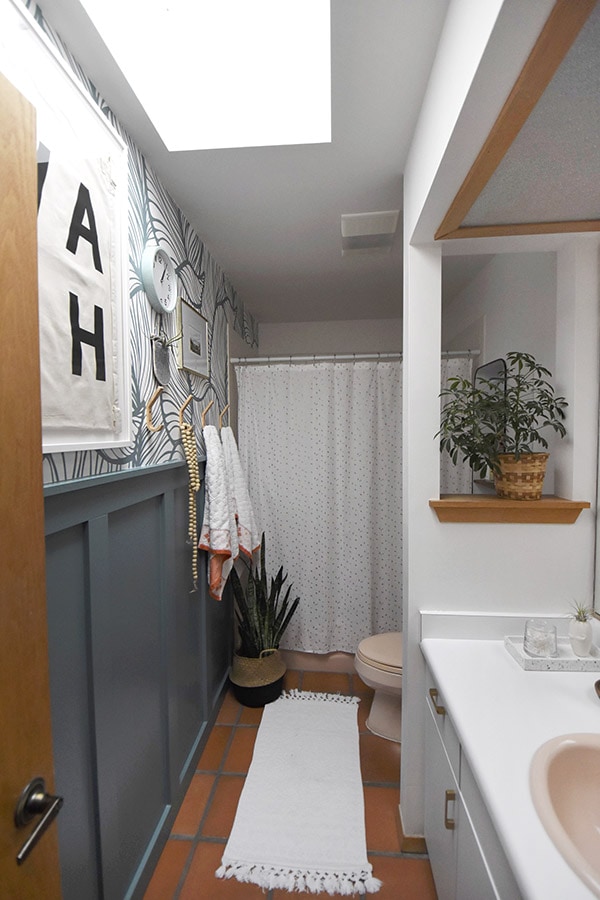 And how fun is this glass bubble soap dispenser!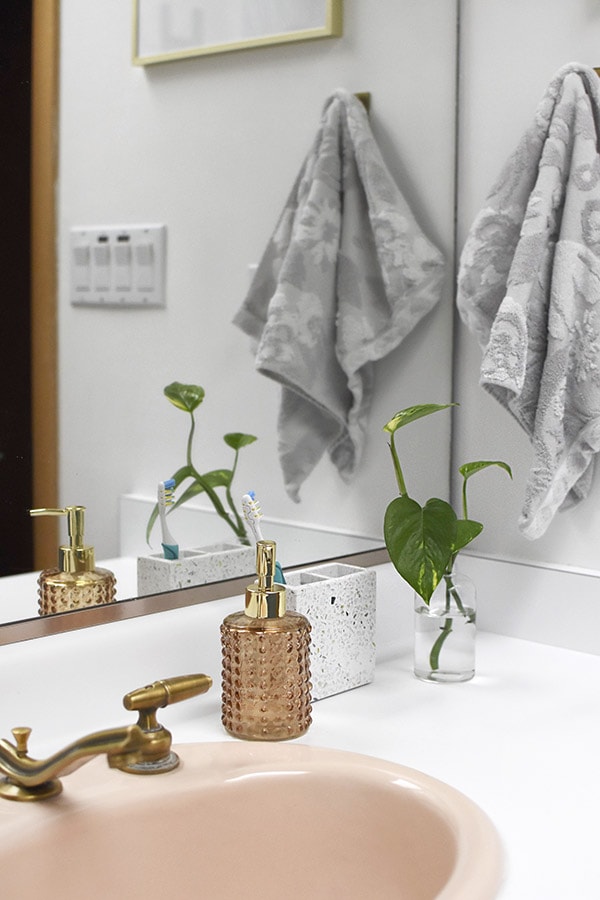 Hallway Bathroom Reveal
I would have loved to have really done a huge gut and renovation in this room. To remove the vanity, all the blush colored items (sink, toilet and bathtub), the huge mirror, weird bulk lighting, etc… but these simple changes really gave our bathroom a completely new look. And the cost was so significantly less – so I say job well done!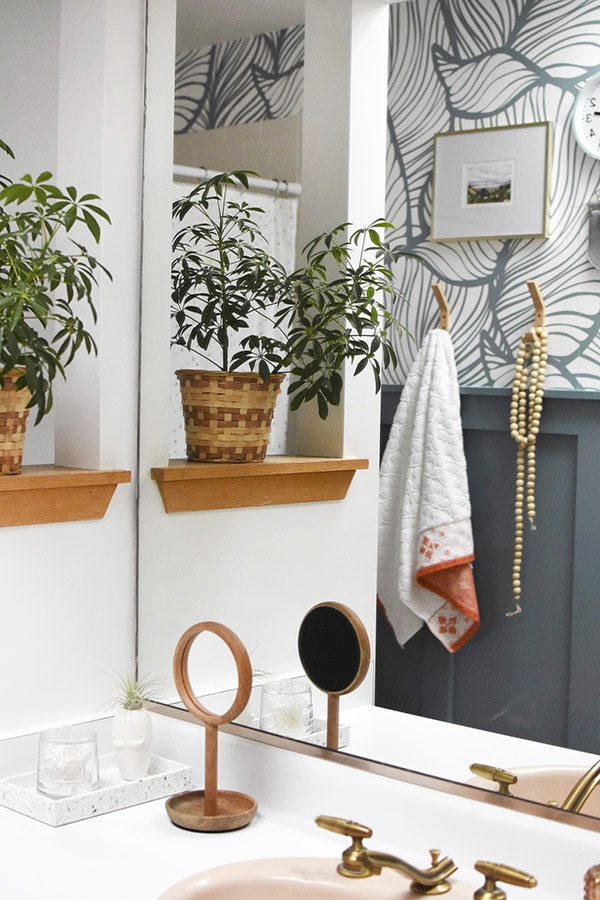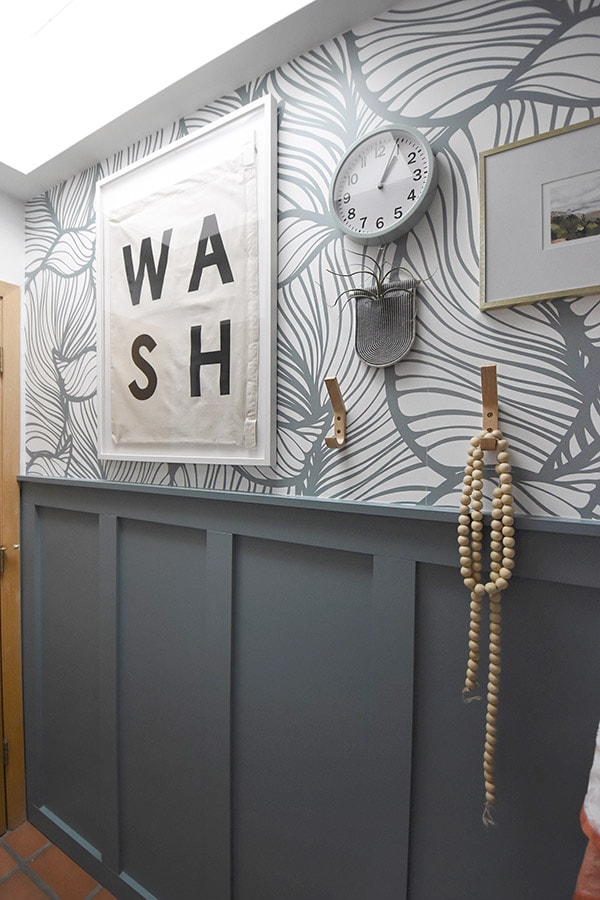 Be sure to follow the entire guest bathroom process!
Hallway Bathroom Plans
Removing your Sliding Glass Shower Doors
How to Build a Modern Board and Batten Accent Wall
WASH Bathroom Artwork framed
Hallway Bathroom Reveal
And if you want to see all the products I used, check out below!


MY Home –> Want to check out my each room in my home?
I have inspiration, tips and inexpensive ways to make your home YOU.