INSIDE : Check out our Hallway Bathroom plans and how I plan to update the room with a few DIYs, some paint and wallpaper – all on a budget.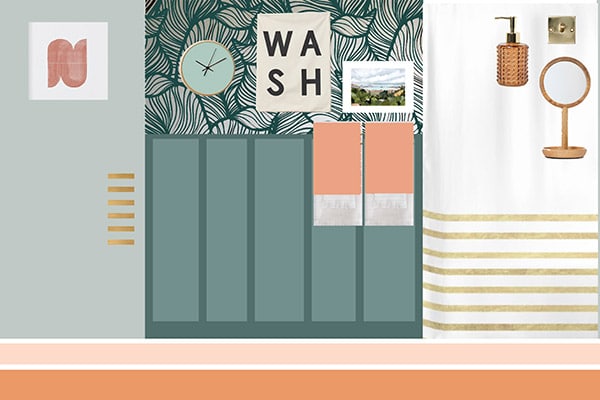 Do you resonate with this? You have a space that although functional, but it is less than ideal – aesthetics wise? That's how I feel about our hallway bathroom.
It's the main bathroom our children use and is often used when we have guest or company over. But, I definitely wouldn't say it's a room that is enjoyable to be in. It just feels very outdated.
What are the bathroom design concerns / issues / flaws?
1. The space is full of outdated items.
Should we start with the roadrunner tile in the shower? Yes, we live in New Mexico. Yes, we have roadrunners in our neighborhood but goodness sakes… I don't think we need to document them for life in our shower tile??!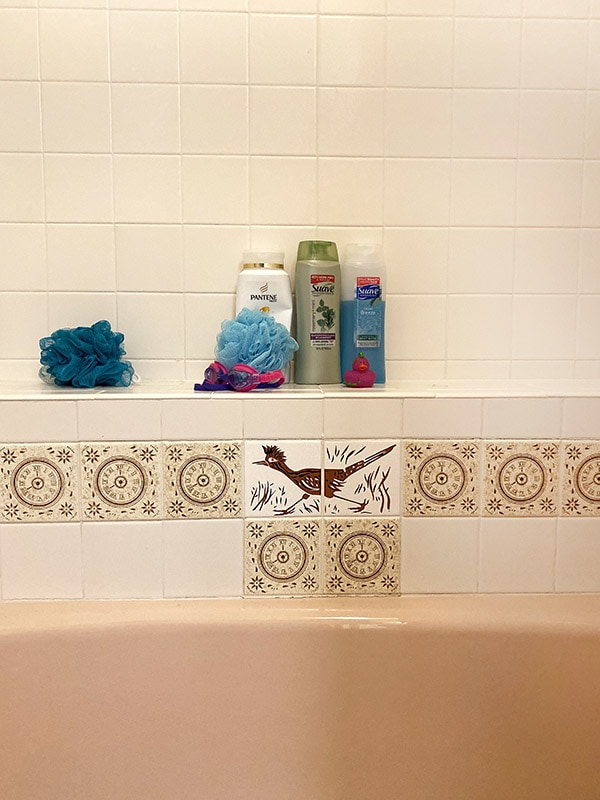 2. We have ORANGE floor tiles that are staying.
Our very Southwestern home has Saltillo Tile throughout most of our home, including the bathroom and with radiant heating. They are semi gorgeous / semi awful but definitely an item you can not overlook due to their INTENSE terra cotta earthen color. I see a 0% chance of ever getting rid of them or even making them look better – so they are staying and have to be worked around.
3. Our bathtub, sink and toilet are a "lovely" blush pink/peachy color.
I almost like the color but it definitely doesn't scream clean, simple and modern. So, again these are all items that are staying and must be worked into the color palette of the room.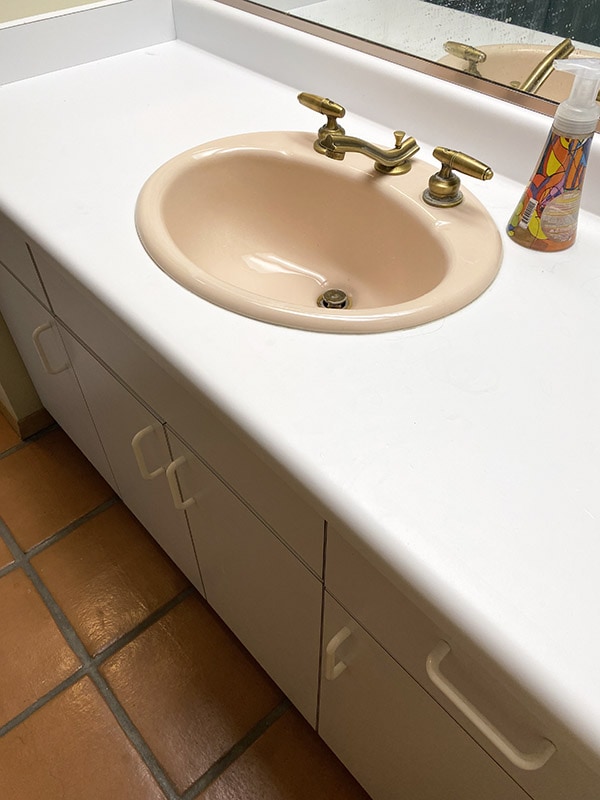 4. We currently don't have any plans to completely update the space – due to funds.
Since the bathroom is functional, I am happy to do some light updating but don't plan to spend tons of money to make it the bathroom of our dreams.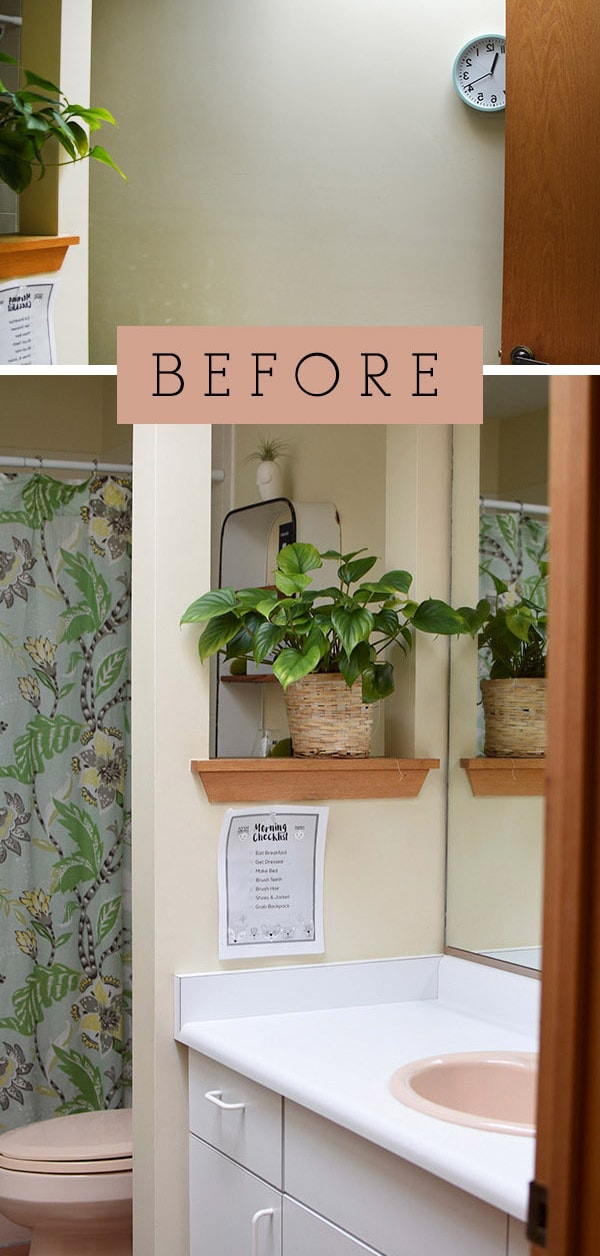 What is the plan for the new guest bathroom?
I have spent endless hours coming up with this new bathroom plan. I started with colors that spoke to my heart and would work with some of the above mentioned items… namely our saltillo tile (burnt orange) and our toilet, tub and sink (blush / peach).
I decided pairing teal, black, white and gold with my orange/blush/peach color scheme would work well. This is the pinterest inspiration board I started while I was still plotting up ideas in my mind. You can see some of my other bathroom inspiration ideas on Pinterest, here.
I don't think a single item from this list actually made it into the bathroom, but the feel and colors definitely are coming through.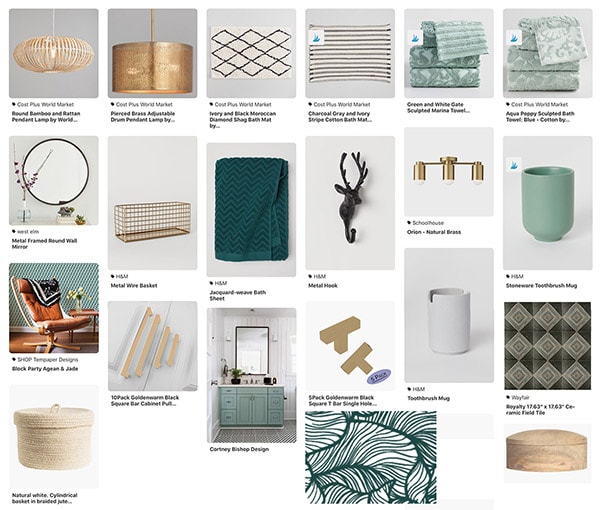 Did I also mention that I am doing the work COMPLETELY on my own?! My husband is so handy and amazing at DIY work and although we gutted a kitchen to the studs, redid a bathroom and many other projects :
1. They were all done before the blog.
2. I was very pregnant during all of them (with two different kids). So, I never learned how to do any serious DIY myself. I think this bathroom is the perfect project to take on, on my own. Learn some basic power tool skills and prove to myself that I can do it!
What is on the list to update in the bathroom?
–Remove the sliding glass shower doors.
-Paint the bathroom.
-Add interest by installing an accent wall.
-Add interest by installing wallpaper.
-Install bath towel racks.
-Install hand towel rack.
-New hardware for the vanity.
(-Possibly paint vanity.)
-New bathroom decorative items (art, mats, shower curtain, soap dispenser, etc).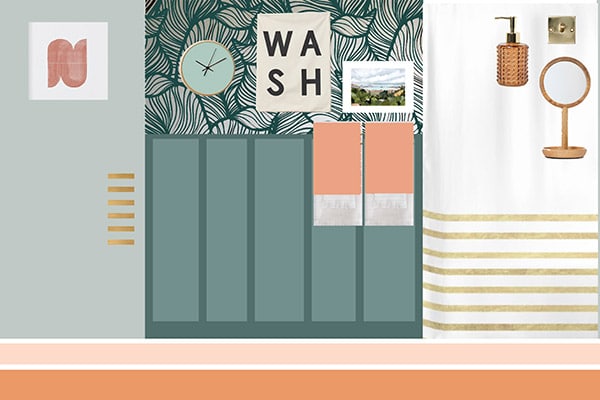 The most expensive item on this list is the wallpaper but oh my word, I am so deeply in love with this wallpaper – I think it will be worth every single penny!
Otherwise, this should be a fairly inexpensive makeover. As soon as I learn how to use power tools to create this accent wall, I will be good to go.
Be sure to follow the entire hallway bathroom process!
Hallway Bathroom Plans
Removing your Sliding Glass Shower Doors
How to Build a Modern Board and Batten Accent Wall
WASH Bathroom Artwork framed
Hallway Bathroom Reveal
MY Home –> Want to check out my each room in my home?
I have shared inspiration, tips and inexpensive ways to make your home YOU.