INSIDE : Take a peek at the completed look of my Moody Office reveal day! After adding a dark teal blue to the walls, installing removable wallpaper and building a gorgeous wood slat wall this room has a whole new look for the whole family to enjoy.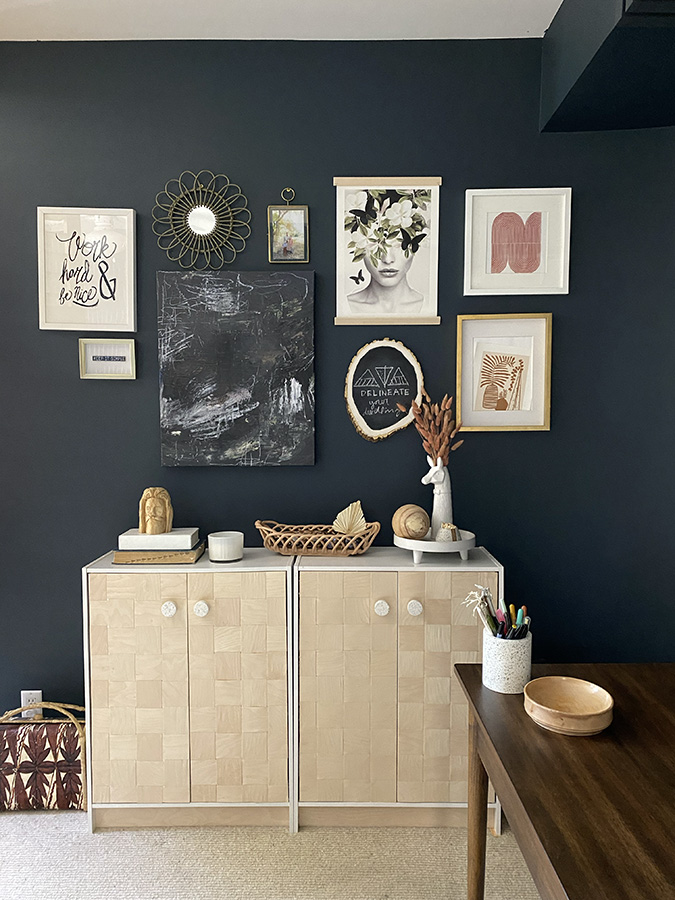 This post may contain affiliate links. See my full disclosure.
Today is the FINAL REVEAL WEEK of our eight week Spring 2021 One Room Challenge, where I'm participating as a guest. Last week I shared my modern Wood Slat wall. That was a huge project and it's really a show stopper of the space.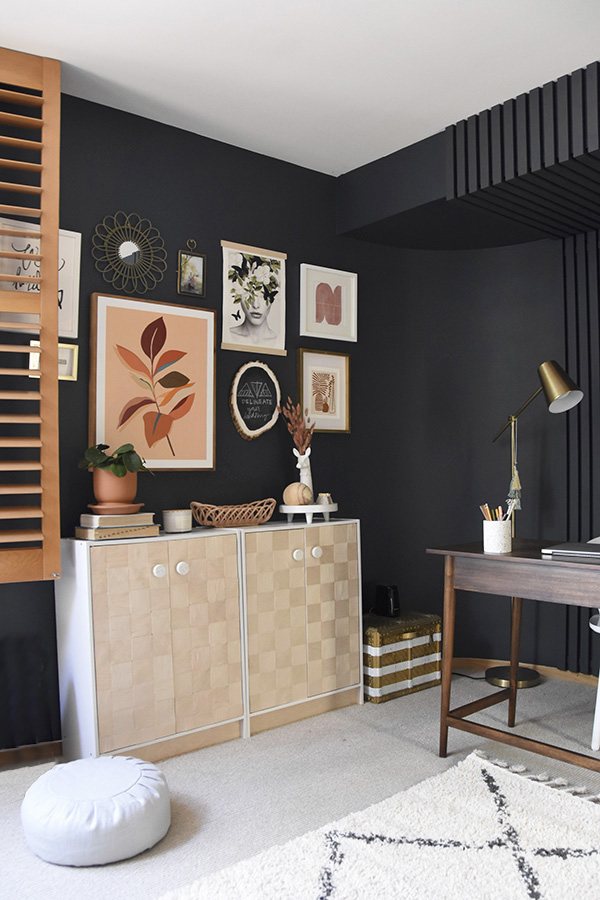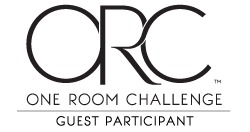 Each Thursday for 8 weeks now, I have been sharing my weekly transformation of my office. Here is what I was able to accomplish:
Week 1 Office Plan
Week 2 Painting Office Moody Blue
Week 3 Adding Removable Wallpaper to a room
Week 4 Spackle DIY Art
Week 5 Slow going week
Week 6 Woven Wooden Cabinet
Week 7 Painted Wood Slat Wall
Week 8 REVEAL WEEK
So, without further ado…
Moody Office Nocturne Blue
This wallpaper from Love vs. Design was the start of my color Nocturne Blue decision for my office. I added the wallpaper to two main walls in my office and then color matched my paint for the other two walls. You can see more about installing removable wallpaper in a room here.
You can read more in depth about my Interior Paint colors here.
I brought in a camel colored chair from our bedroom because it was basically just a clothes holding place. In my office, this chair will get so much more use. I'm actually sitting in it right now as I write this blog post… ah.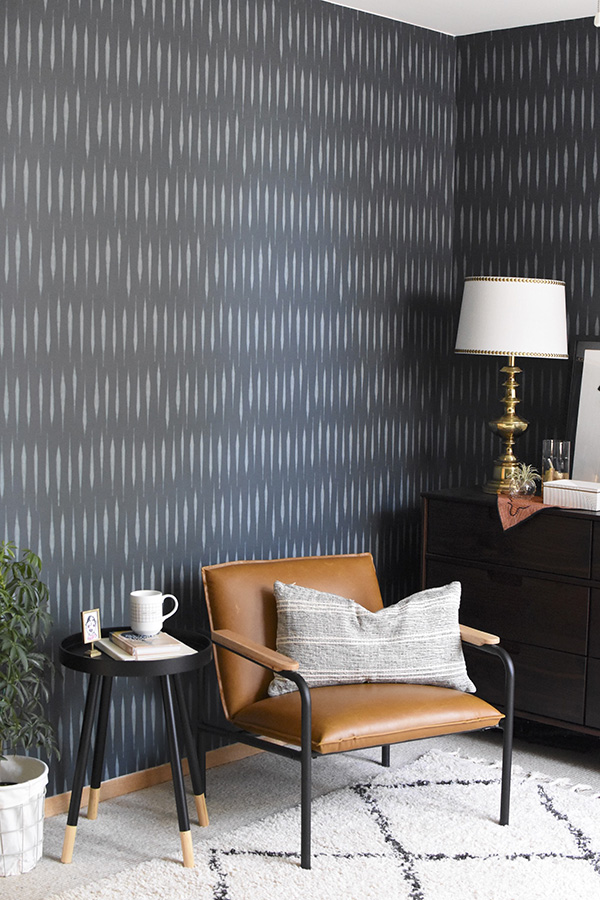 It's a perfect little chill spot for my kiddos to come read and hang with me while I work in my office. Also, now my husband can come chat with me when he gets home from work. I love bringing in easy seating to my office. This simple black side table also came from my bedroom.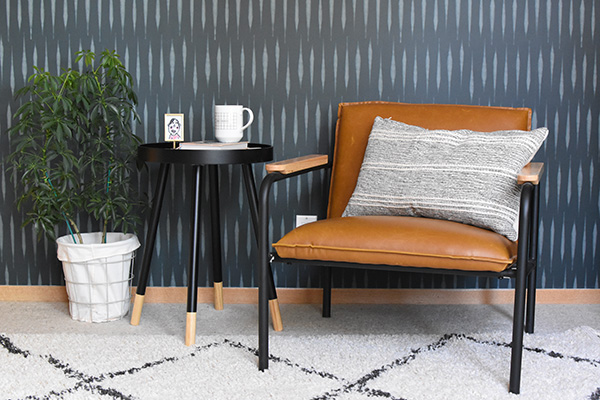 Modern Wood Slat wall treatment
This wood slat wall is something I have wanted to do for a long time. I included it in my week one plan post, but you'll notice on week one I had planned to have it stay raw wood. The more I thought about it, the more complex my design got.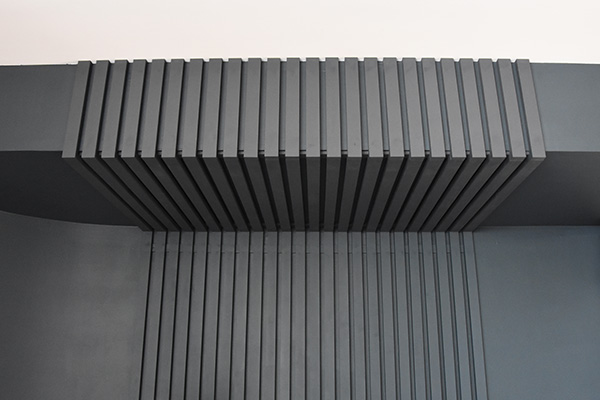 My desk sits under this small rounded wall alcove space and I thought instead of trying to hide those unique features, why not highlight them! So, I extended the wood slats to the alcove ceiling and the front face of the soffit. I love that it's just where my desk sits, it makes it feel like a more important space now.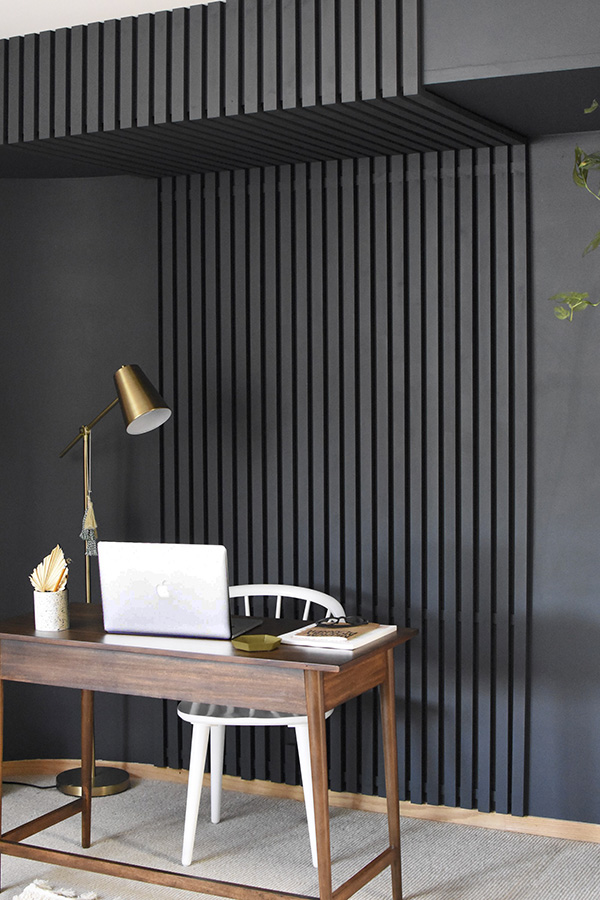 Moody Gallery Wall
I adore a good gallery wall. I love the hunt of mixing and matching unique pieces together beyond just artwork. I brought in a small rattan mirror, a precious picture of my family and an updated DIY from a million years ago – a tree slice chalkboard I wrote my blog logo on.
Quick accessory comments, I got a new candle from Target for my office called Intention and it smells like heaven on earth. You can thank me later. Also, I put some pink dried grasses in my llama vase and it's a MOMENT that I am here for!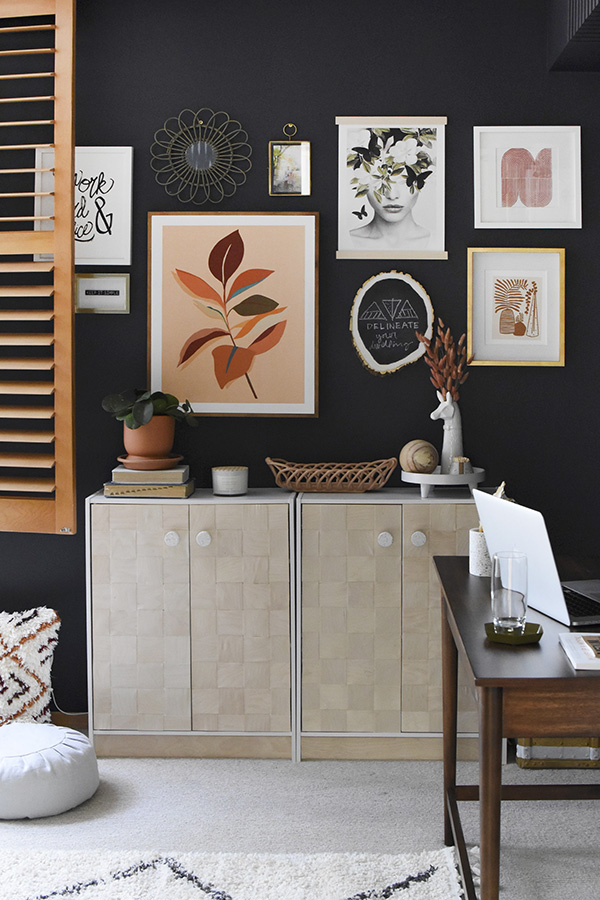 Also can we talk about moody gallery art for a moment? It is my favorite to gather artwork and mix and match pieces to make a unique creative gallery wall space. Some of these prints I previously had in my office and a few are new.
I think their similar color palette help create a more cohesive and moody feel to the space. You can shop the prints below.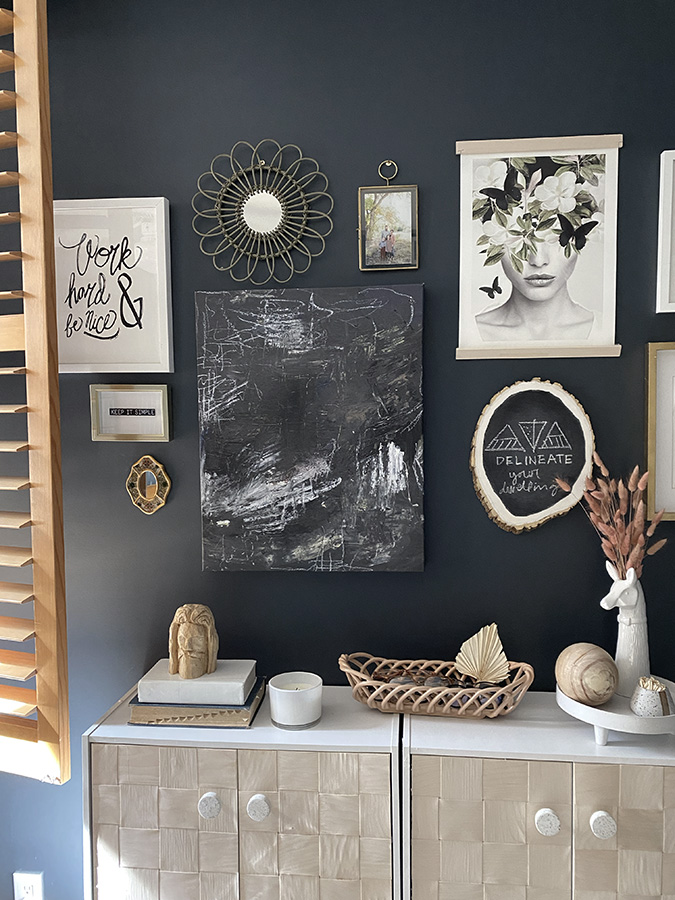 Eclectic Artwork Gallery Wall
I love adding to this wall here and there and these eclectic pieces give the room such character!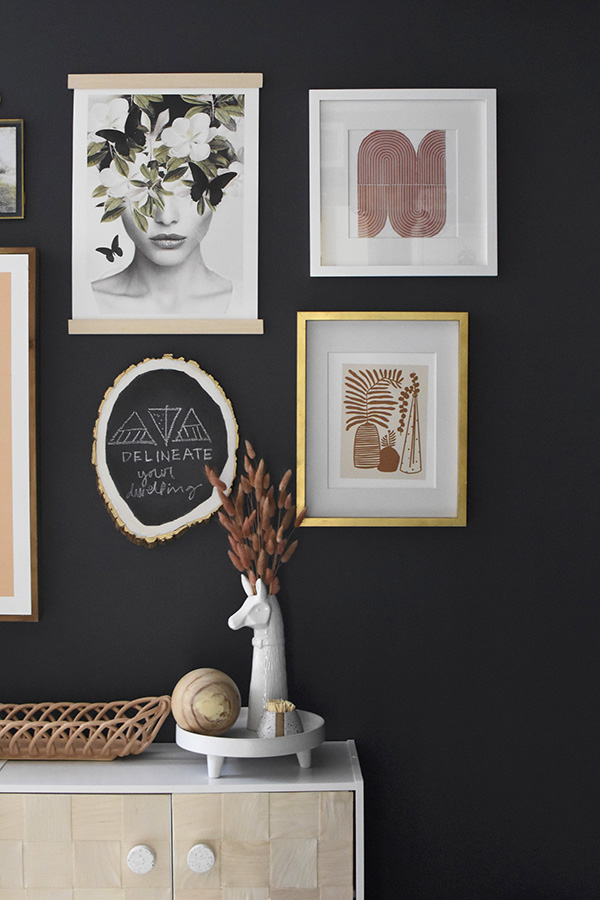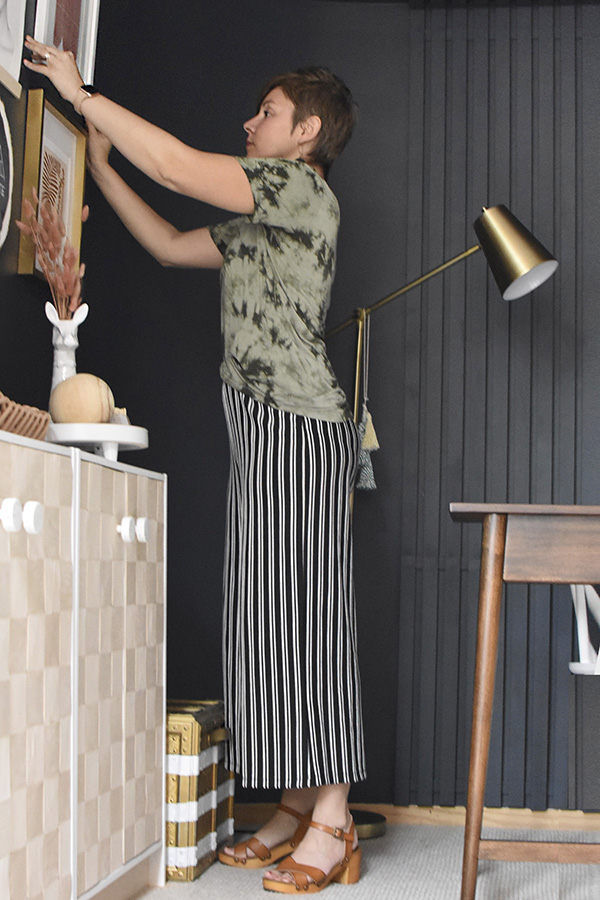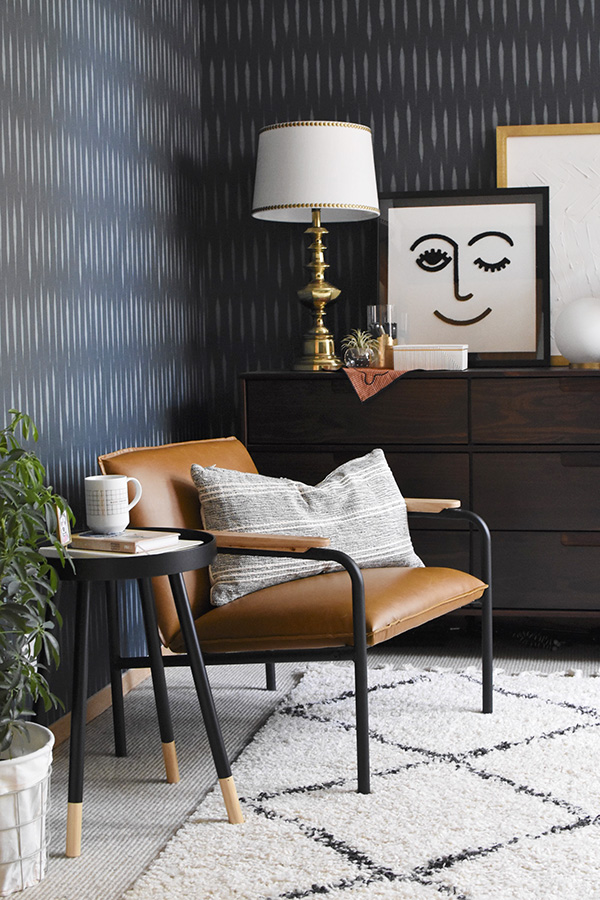 My DIY Spackle Art is proudly displayed along with a fun felted winky art piece. I got this gorgeous concrete box from CB2 and my favorite circular lamp from All Modern. All little items that bring me such joy.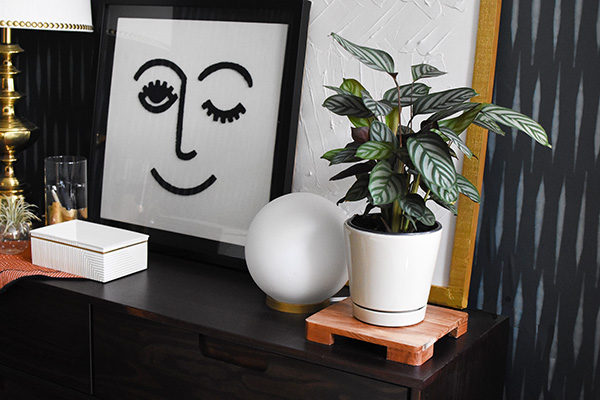 I decided to upgrade my desk, too. I had previously been using a very small old desk, which I passed along to my son. Now this new Mid-Century modern desk fits me and the room so much better.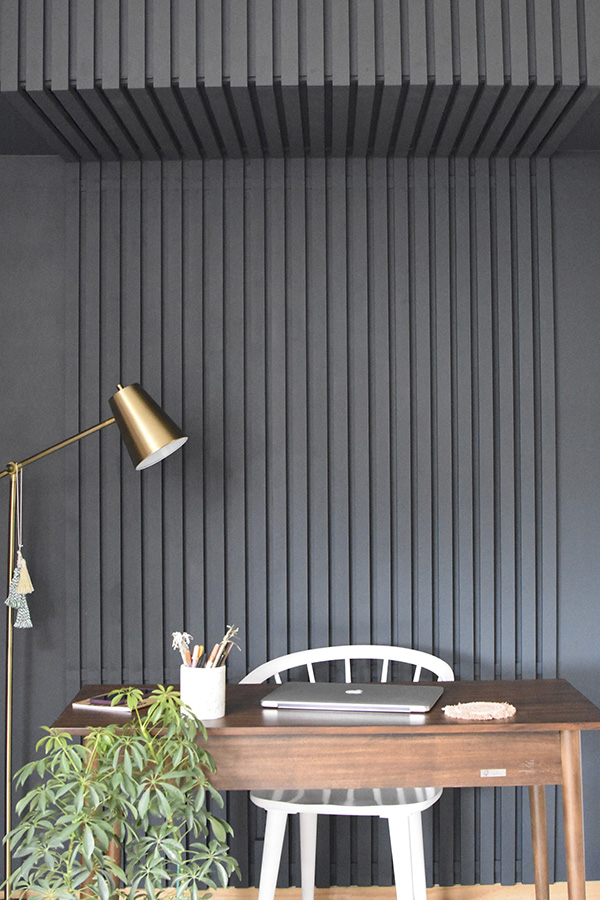 You can see exactly how I built this cool slat wall treatment in this post. And then paint is a custom color, but very similar to Nocturnal Blue from Behr's Premium Paint line.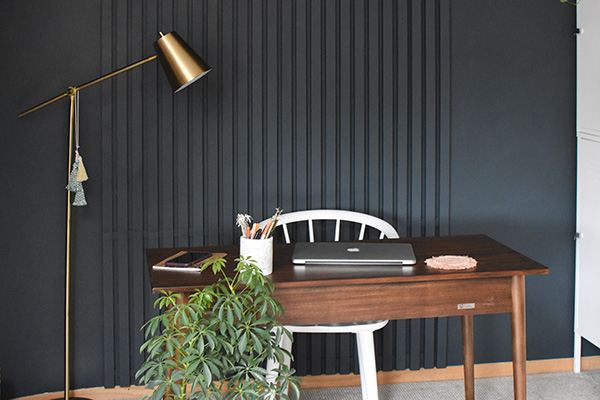 Here is a great picture of the rounded wall I had to work with.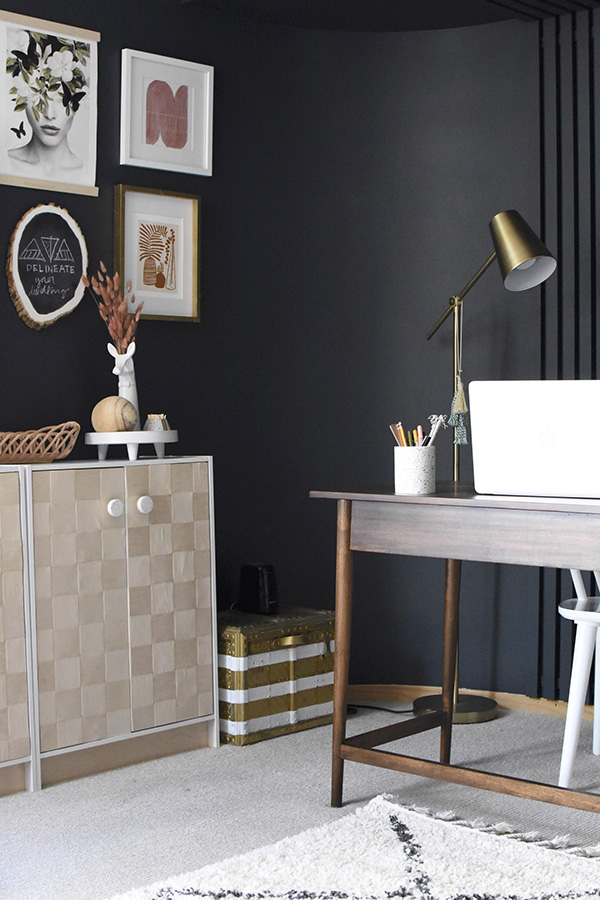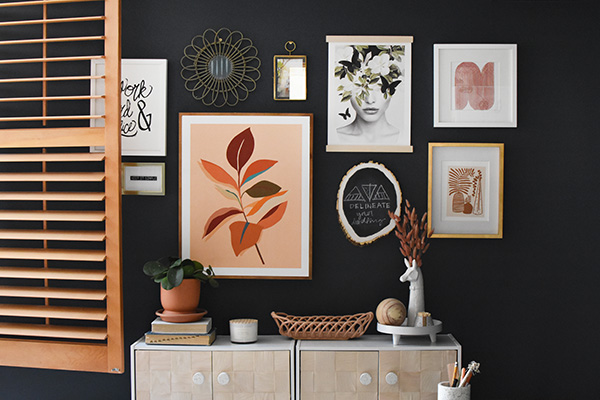 Another huge favorite in this office update is my DIY Woven Wooden Cabinets… very inexpensive storage made to look so elevated! I loved how they turned out.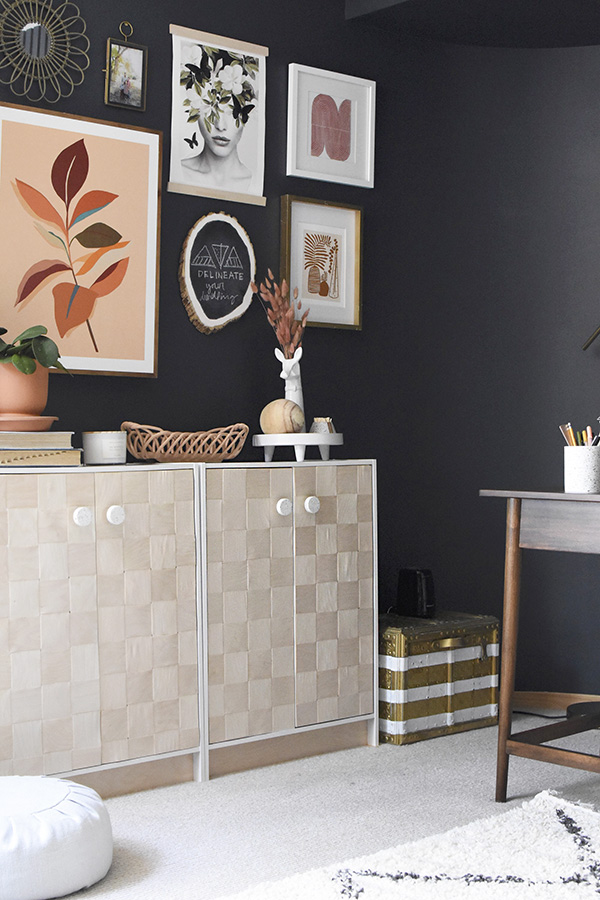 And don't miss my post all about my favorite paints – Behr Bit of Sugar White Interior Paint, Behr Nocturne Blue paint in your home, Behr English Channel Blue Interior Paint and my Southwest Home's Interior Paint colors.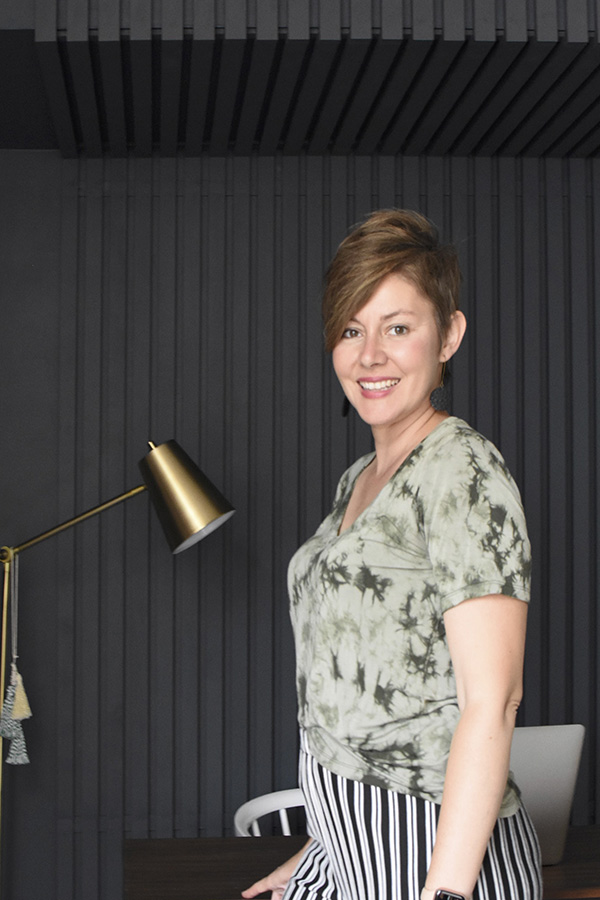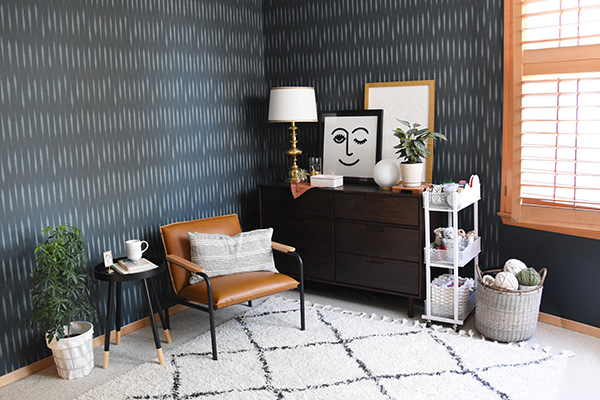 Here is what I was able to do with EIGHT weeks of effort!
Paint Walls
Hang Removable Wallpaper
Paint IKEA storage lockers white
DIY cabinet hack
DIY art above dresser (Spackle art)
Install Wood Slat accent wall
Hang new Gallery Wall
Style room with new rug, floor cushion, desk + accessories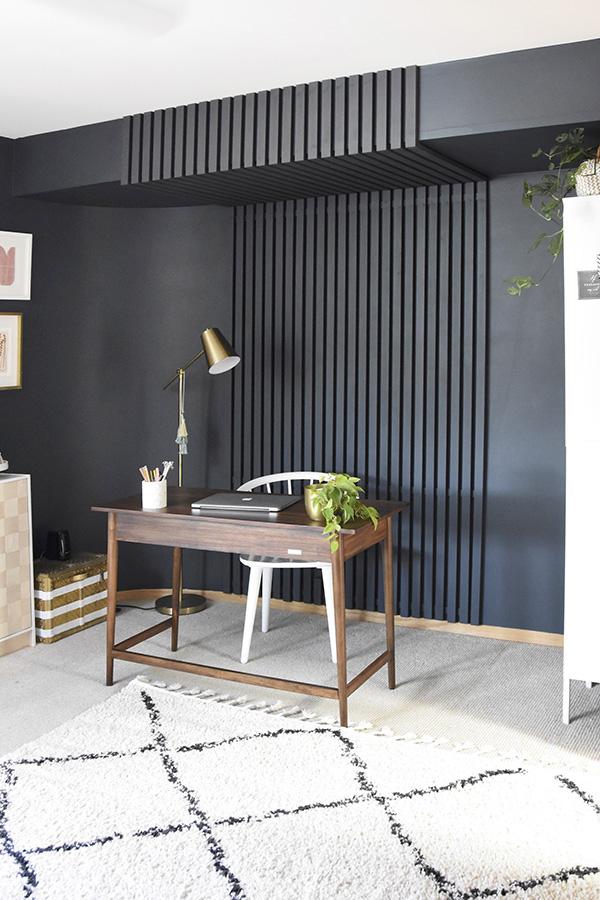 Shop my room :

THANK YOU, THANK YOU, THANK YOU for your support and enthusiasm along the way of this challenge! Interested in other weekly design challenges I did? You should check out my Hallway Bathroom Reveal and my Master Bedroom Refresh Reveal.
MY Home –> Want to check out my each room in my home?
I have inspiration, tips and inexpensive ways to make your home YOU.