Thank you to Famous Footwear for kindly sponsoring this post. All opinions are 100% honest & completely my own.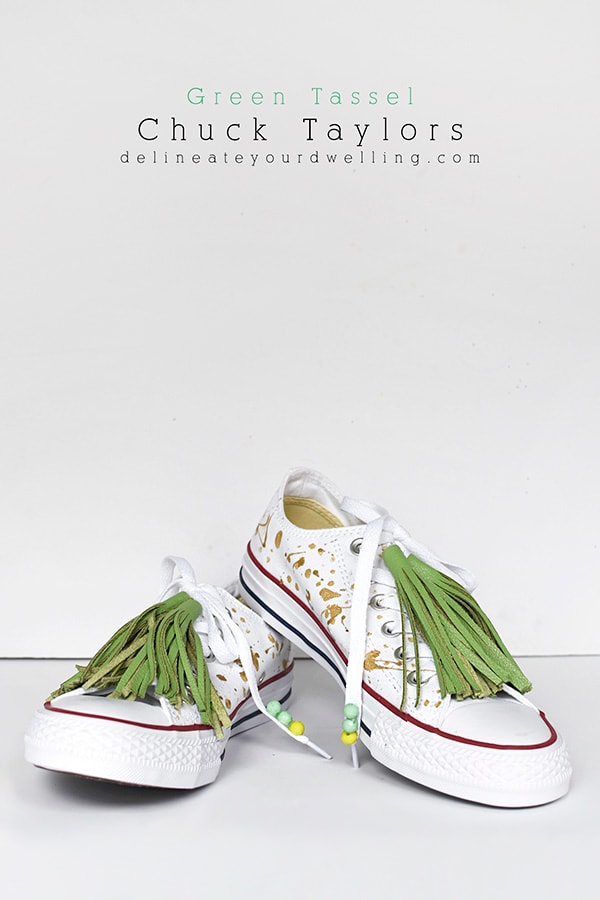 As a working stay at home mother, some days getting lunches packed, teeth brushed and everyone out the door on time seems like an accomplishment in and of it's self.    But once everyone is gone off to school, I'm often left working at home… in my pajamas.  I have noticed that although comfortable, on pajama days things move a little slower and I'm less motivated to even leave the house.
One thing that has really helped change my attitude and encouraged me take that next step forward as a mother and even as a woman, has been embracing simple everyday items like a bold lipstick and a pair of fun shoes!  It's amazing what a difference feeling put together can do to your confidence.
Your shoes can often be that jumping off point, that will inspire your outfit and give you that added boldness to take on the day!  Famous Footwear is encouraging everyone to #stepforward.  They know that the right pair of shoes can give you the extra confidence you need to be the best version of yourself.
Below, I am sharing how to create the coolest DIY Green Tassel Chuck Taylors and every time I have worn them out, I feel like I'm ready to take on the world!
White Converse Chuck Taylors | Green Leather | White Leather
Textile Medium | Gold Acrylic Paint | E6000 Shoe Glue | Beads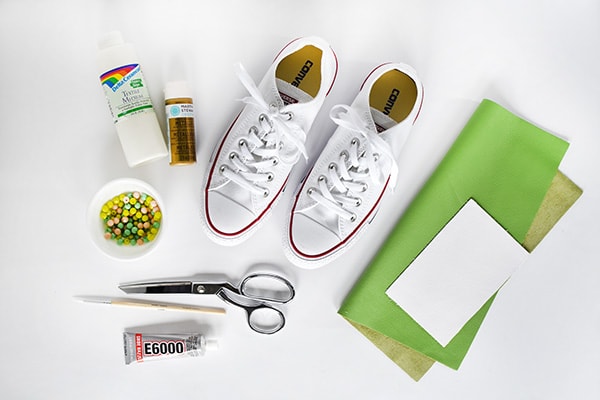 I started by taping off the bottom portion of my shoes, as I didn't want any paint on the soles of my shoes.  Then, I mixed textile medium in with my gold paint and began to splatter away!
While the paint was drying, I got to work on making some simple green leather tassels.
I wanted nice long dramatic tassels, so I cut a piece of leather 4″ x 12″.  I added a piece of washi tape at the top, to keep my cutting consistent.  Next, using sewing scissors, I cut thin tassel strands.  Once all the thin strands were cut, I cut four pieces to create the actual tassels.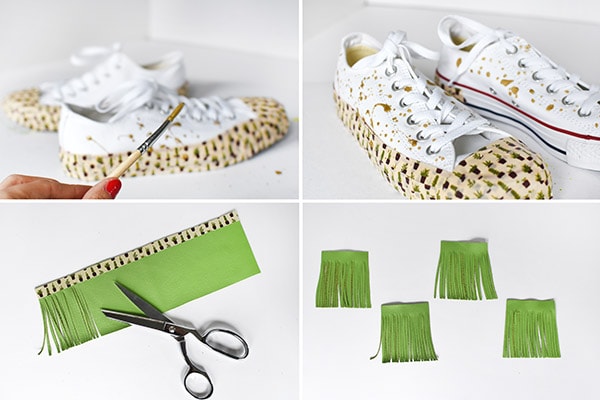 I cut a narrow piece of white leather (cording could be used as well) that would hold both of the tassels together and would wrap around the shoe lace.  Using a dab of E6000 glue, I secured the white leather and started rolling.  I added a few additional dabs of glue as I went and then secured the tassels with bands while they dried.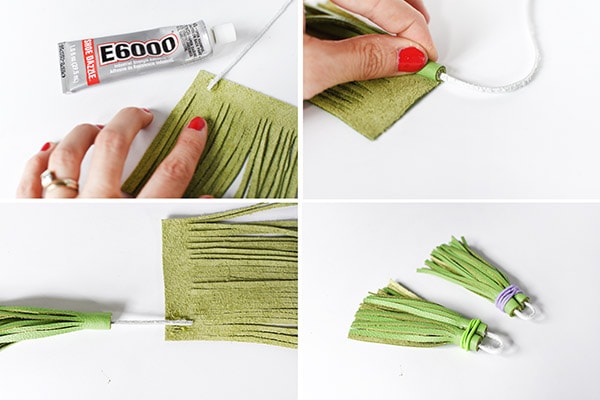 Once the tassels were dry, it was as simple as wrapping them around my top shoe lace!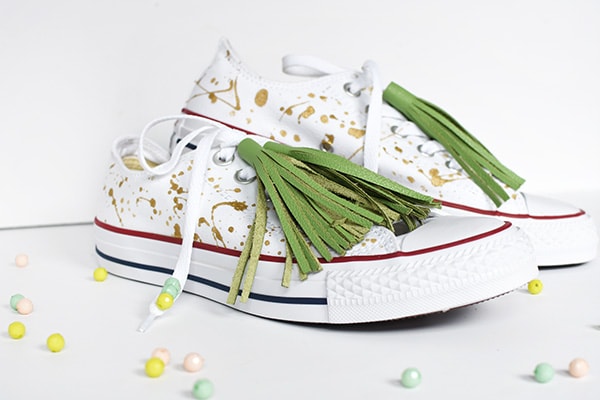 For one extra pop of color, I added three beads to the bottom of each shoe string.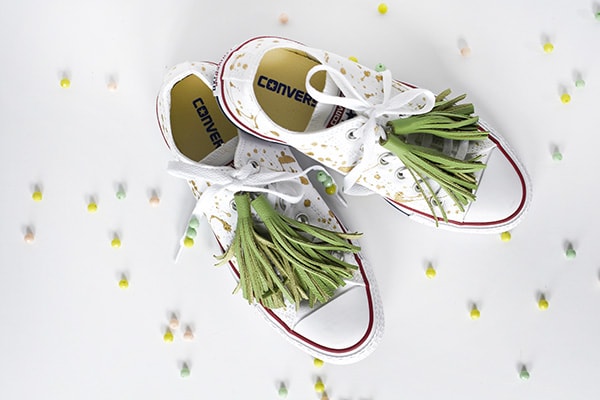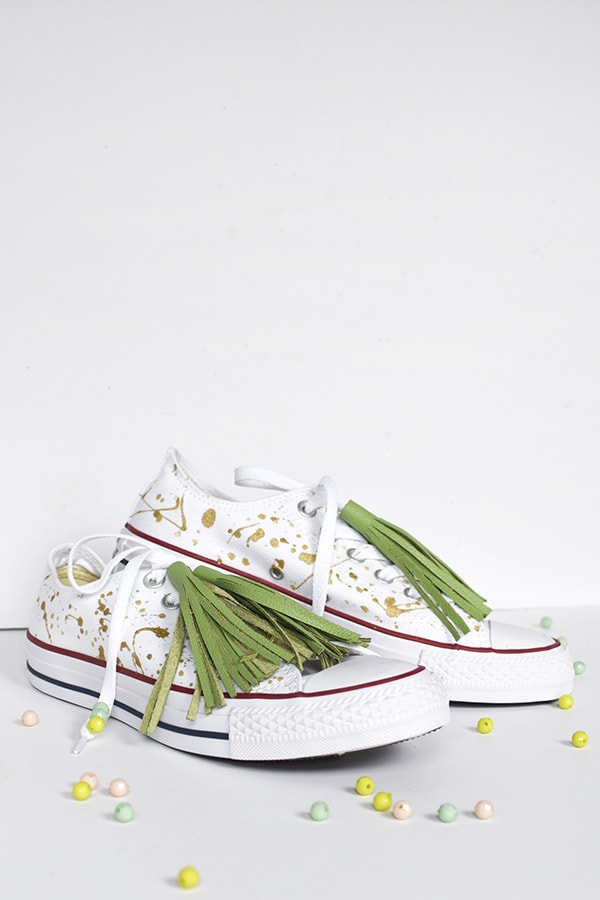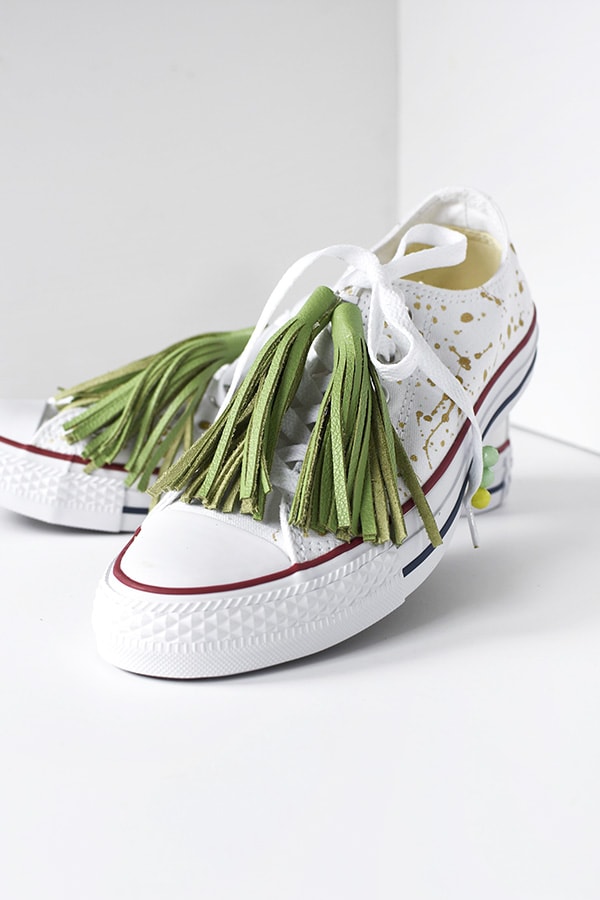 For all the places I go as a working stay at home mother, my new Chuck Taylor shoes help take me there… one step forward at at time!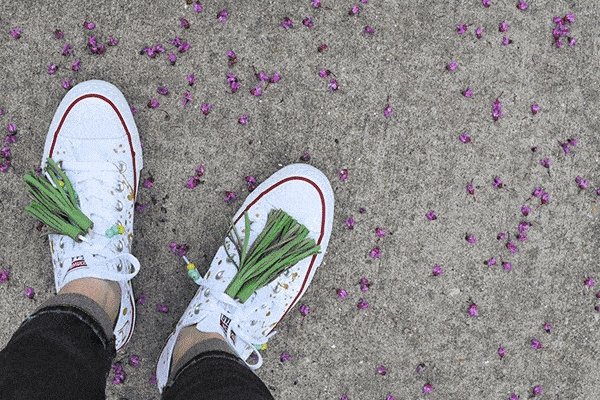 Famous Footwear
is cheering us on in our journeys, celebrating each accomplishment along the way. To lift you up as you blaze trails and strive for more. Because when you're inspired to be your best, they know your potential is limitless.
If you would like to see more ideas from my painted clothing series, check these out!