INSIDE : Learn how to make simple craft His + Her DIY Face Planters using a plain vase and some vinyl stickers! You won't regret making this cheerful succulent planter with faces.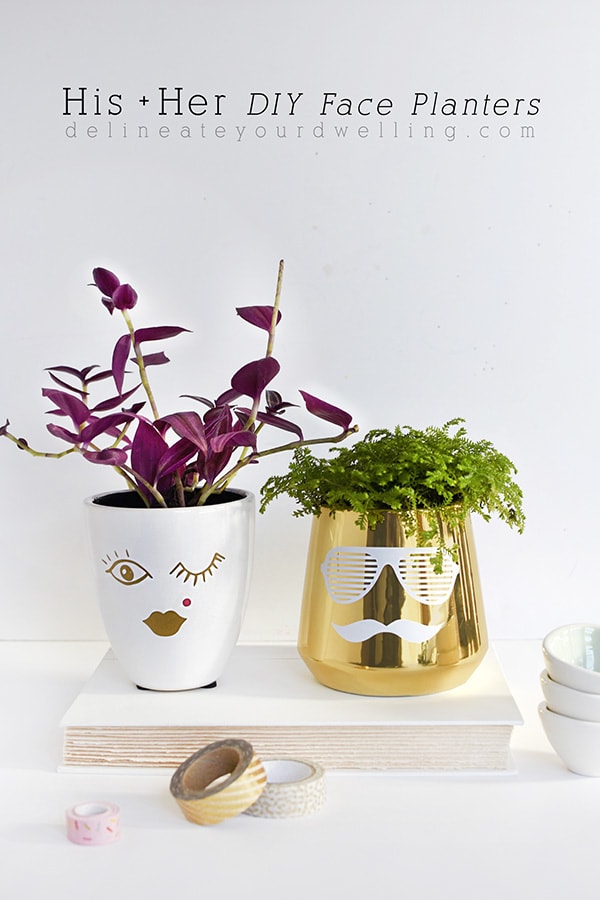 It should be of no surprise to find out that I have willingly and happily jumped on the crafting face planter train. I actually having been making face vases for a whiiiiiiile. Check out my Christmas Winter Lady, Plastic Cup Pumpkin Planter and my Face Vase with Faux Plants.
I first saw Jonathon Adler come out with a face bud vase a few years ago. Then, they slowly started popping up but still were clearly impossible to get your hands on a set (I remember clicking on all the links in Joy's post, trying to see where I could buy one)!
Magically fast forward to current day and they are now all over the place. I knew it was time. That's right, time for me to get my DIY on and make an adorable set of His + Her DIY Face Planters for myself!! Guys, this idea has been years in the making – I'm so happy right now.
This post contains affiliate links. See my full disclosure.
WHAT SUPPLIES DO I NEED TO MAKE A HIS + HERS DIY FACE PLANTER?
Silhouette Portrait
Vinyl : Gold + White + Pink
Transfer Paper
Vinyl Tool
Two vases : White + Gold
Plants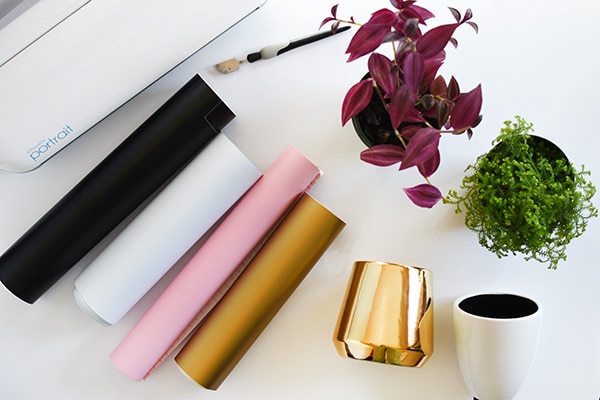 I already own a Silhouette Printer, but if you don't, you can STILL make this project! A silhouette simply makes it a little easier to get the exact shape and detail you are looking for.
HOW TO MAKE HIS + HERS DIY FACE PLANTERS?
My first step was to buy and download a set of eyes, glasses and lips from the Silhouette Store online. Then, I selected my vinyl colors (white, gold and pink) and had the printer cut out the shapes.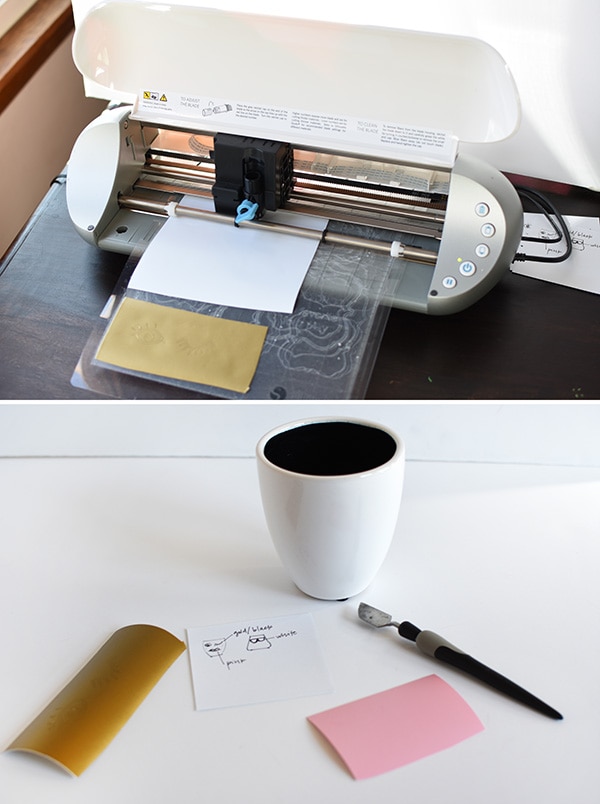 As you will note from the images below, I started off with sweet little pink lips on my Mrs, but eventually decided to keep with all gold on her and changed up her smile while I was at it.
Also, here is my HUGE tip for this project. If you have a ton of detail on your face items, I highly recommend you use transfer paper. I can't tell you how many projects I've had to do 8+ times because I wasn't able to center the vinyl properly or it was at an odd angle.
Once your shape is cut, remove the excess vinyl so you are left with just the items you are going to apply. Then remove the backing from the transfer paper. Using the sticky side, adhere the transfer paper to the front of your vinyl items.
You should be able to see through the transfer paper and using the grid on the paper, you can align everything perfectly.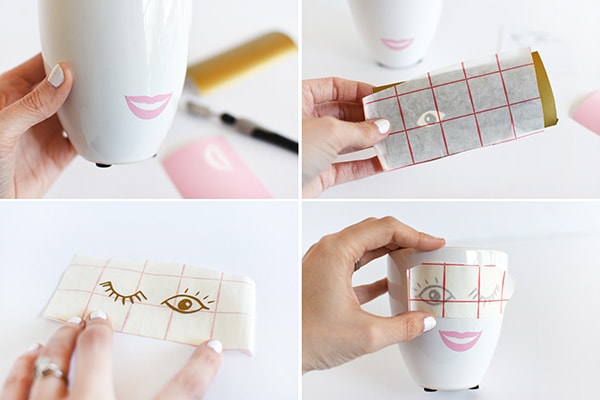 Rub gently and then remove the transfer paper. Your adhesive vinyl should stick just perfectly.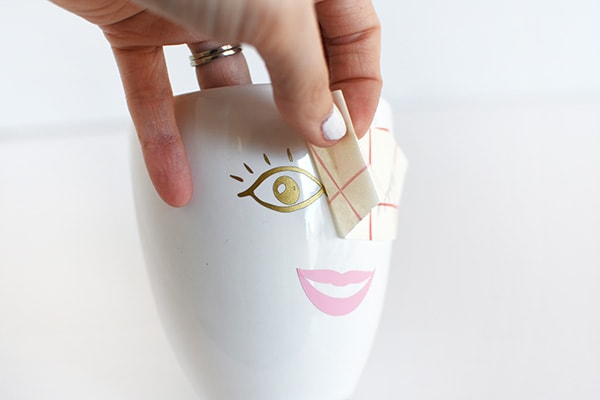 Repeat the process for your Mr face planter now. Aren't those the best glasses – ha?!!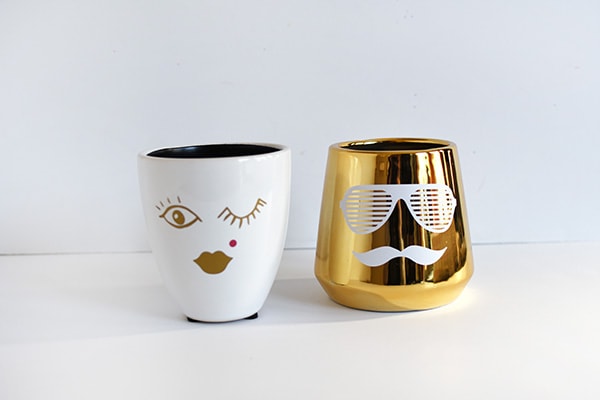 Once your Mr + Mrs DIY planters with faces on them have come to life, it's time to go plant shopping!!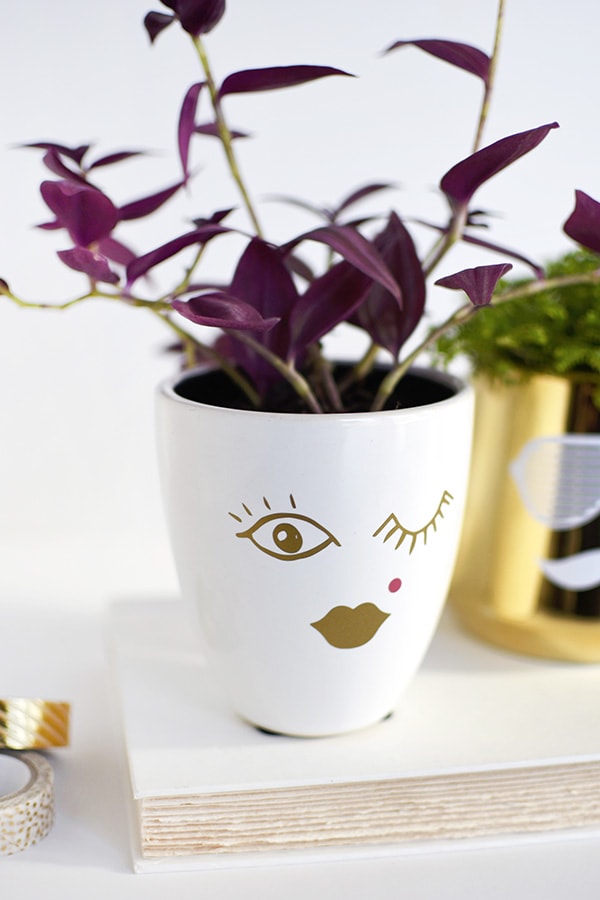 I selected a gorgeous purple Wandering Jew for my Mrs and a soft textural fern/moss for my Mr planter with faces on them.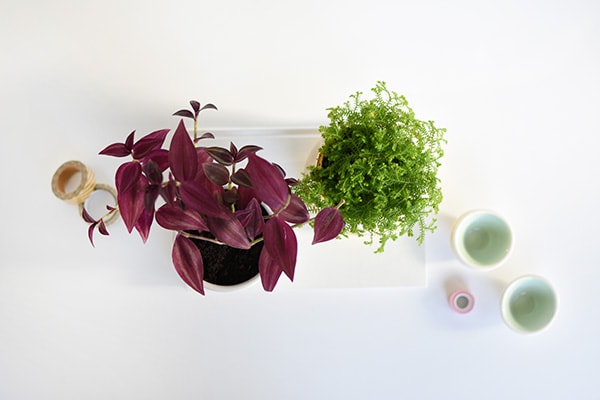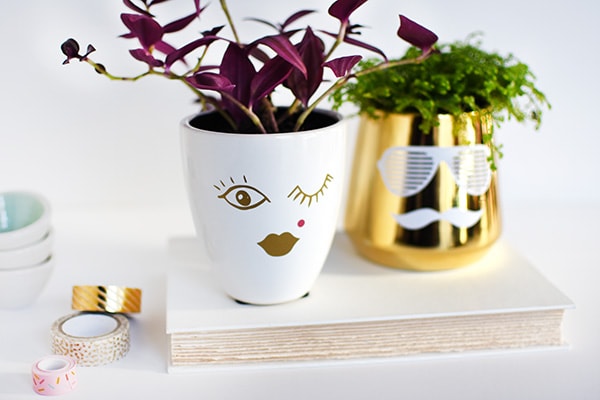 I am ready to make an entire family now!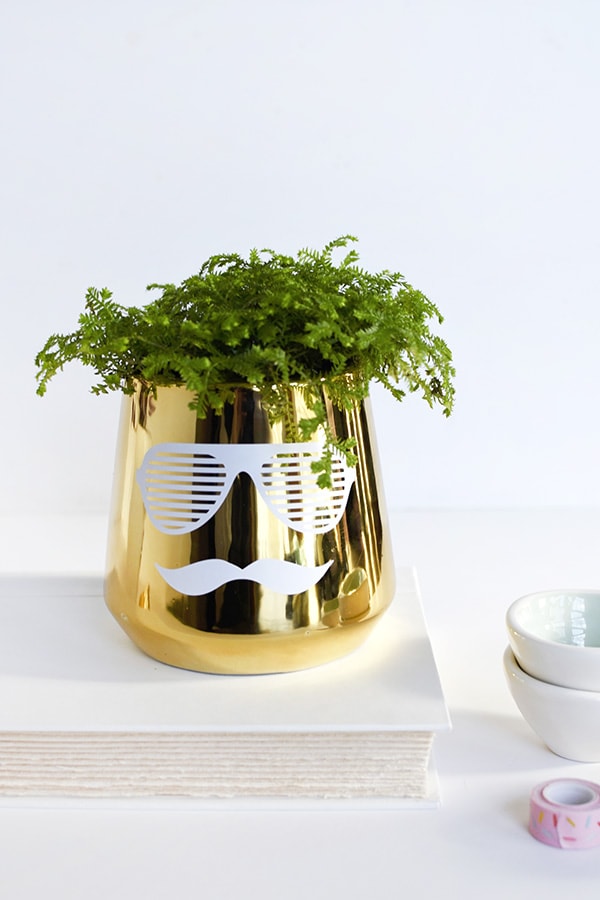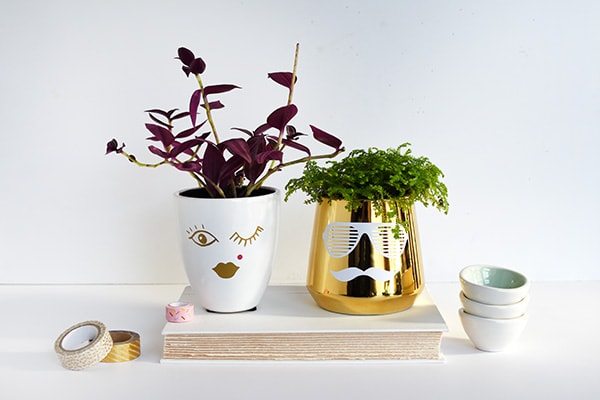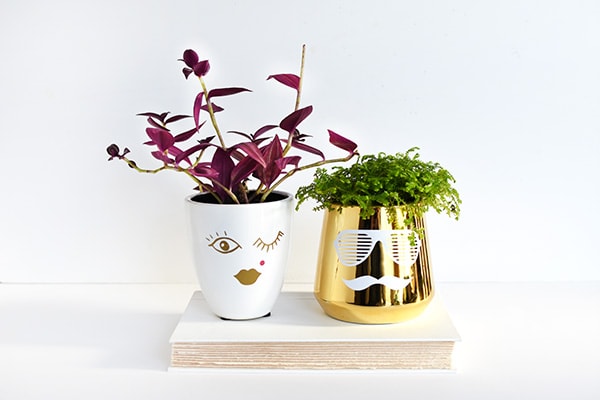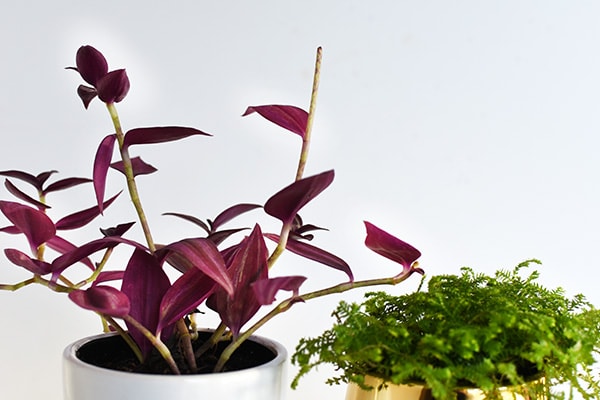 My next line of business is working on names for them. I could stick with Mr + Mrs… but Hank + Henrietta also have been thrown out there! What do you think??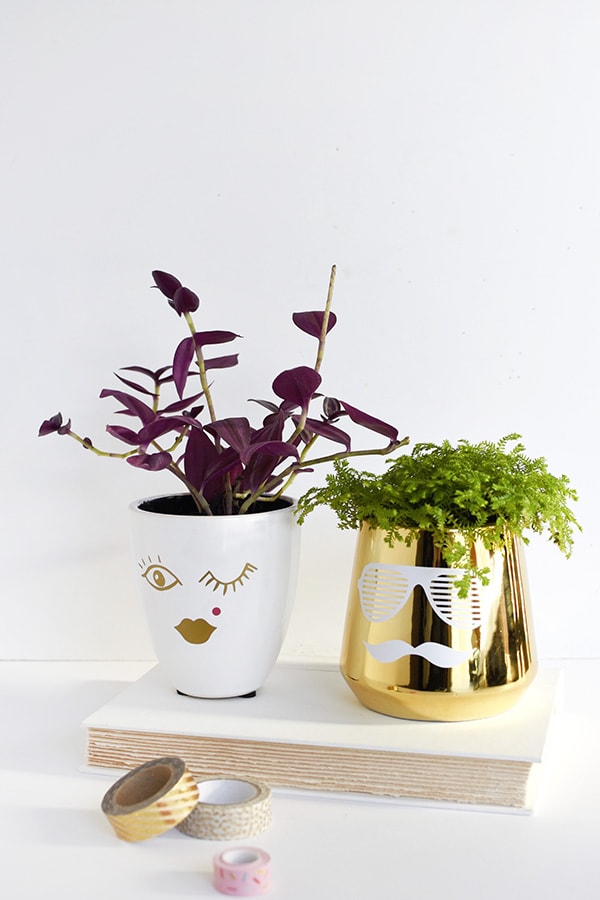 If you are looking for more plant DIYs, I've got you more than covered!

Looking for other face vases I have made? You might like these!

His + Her DIY Face Planters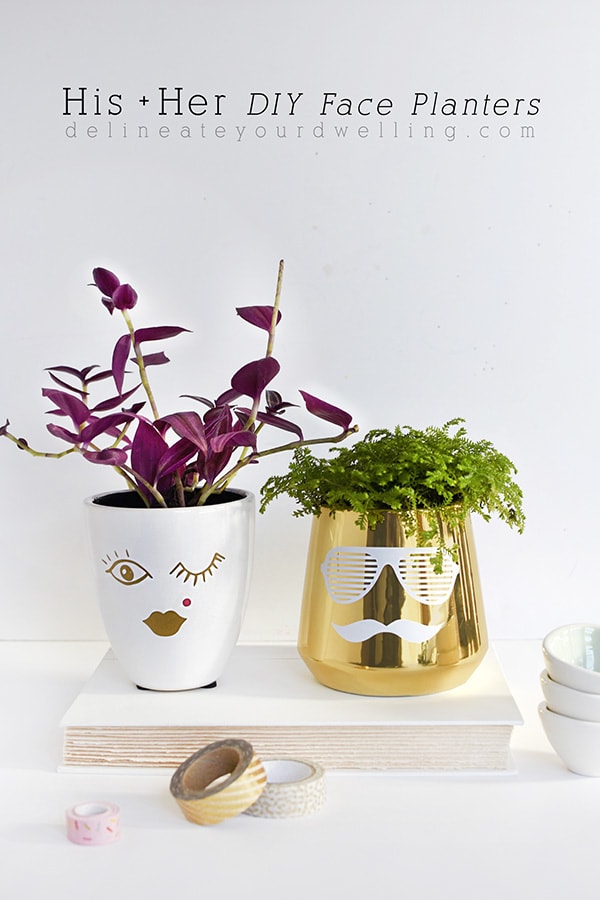 Face Vase with Faux Plants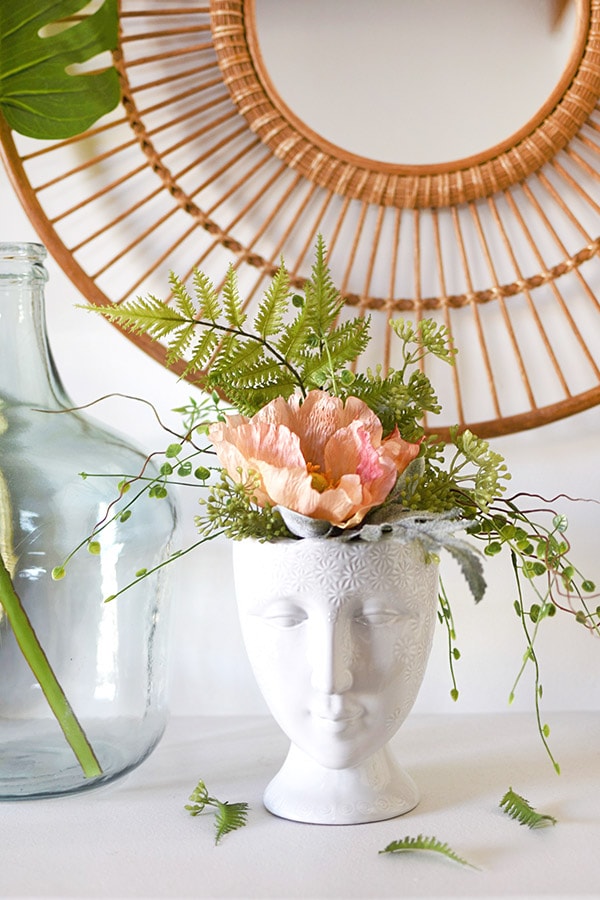 Christmas Winter Lady