INSIDE : Learn how to create a Checkerboard Tile Stand. It's the perfect way to display your favorite plant, a fish bowl or even a small lamp. Checkerboard patterns are a classic pattern that is here to stay so see how to bring it into your home today!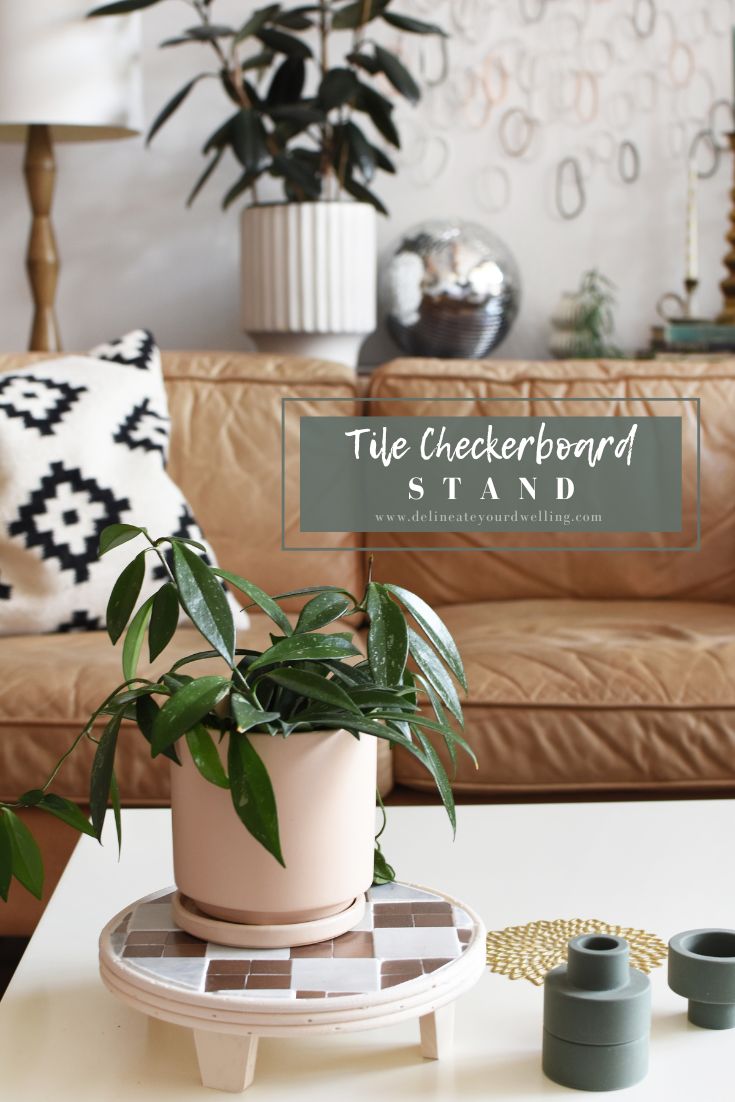 This post may contain affiliate links. See full disclosure here.
Last summer I decided to try my first tile project! I made a Geometric Tiled Coffee Table and LOVED how it turned out. I had leftover tiles from it and knew I wanted to try something smaller to use them up.
Fast forward to this summer when I stumbled upon a simple wicker stand and knew immediately I could turn this into my next TILE project!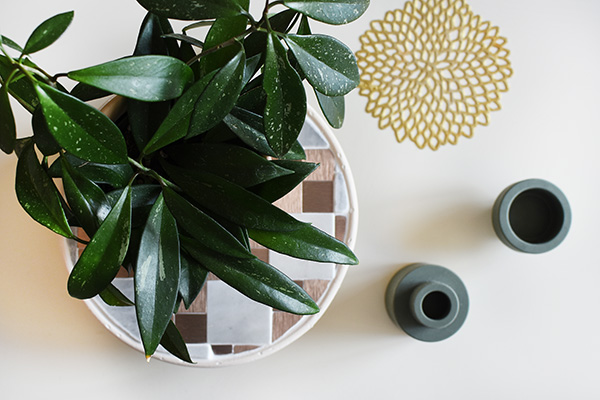 What supplies do I need to make a Tile Checkerboard Stand?
Small Square Copper Tiles (similar)
Scissors
Cardboard
Hot Glue
Buffing Cloth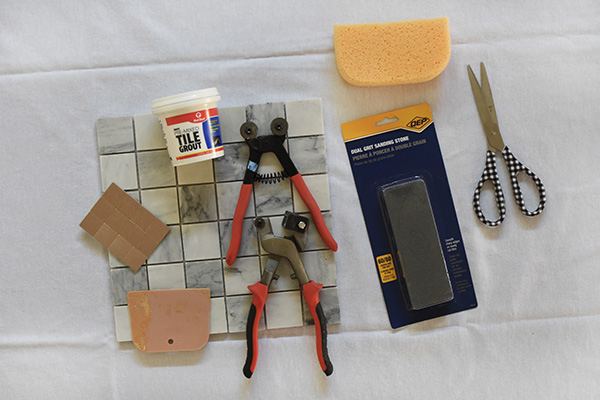 How to install checkerboard tile pattern
When deciding where to begin on installing a checkerboard tile pattern for a small scale project like this, first find the centerline. I measured my wicker stand and marked with a pencil the center of my circle. This center point is where my pattern began.
NOTE – For this pattern to work correctly, you need to make sure your two tiles are the same size (marble and copper). It worked out that four of the small copper tiles, made the same size as one marble square.
From that center point, space the marble tiles out – while also leaving room for the copper squares.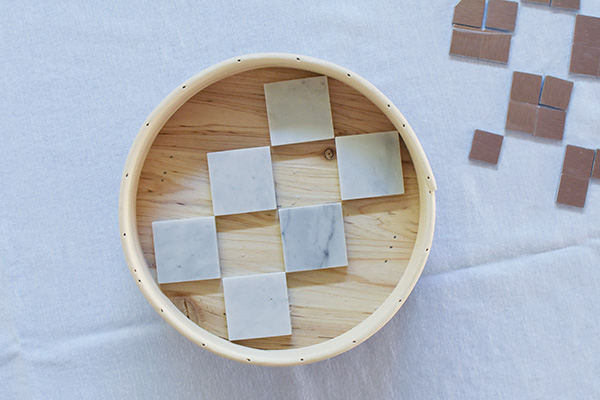 Looking for some other DIY plant projects? I have so many fun ones.
How to cut tiles by hand
Once all my tiles had been dry fit in place, I had six marbled pieces that needed to be cut on angles to make the checkerboard pattern work. You could use a wet tile saw for this, but my project being so small, I decided to hand cut the tiles.
I made paper templates of each size needed (neon green paper) and traced the shape onto my tiles with a pencil.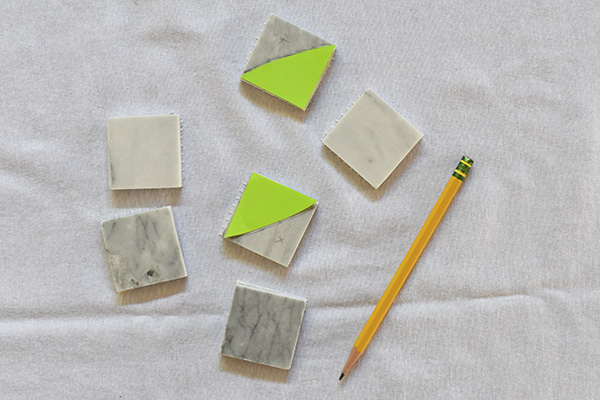 Once I had my shape marked, I used these tile snappers that had a small cutting circular blade to make a gentle line. A few passes made a indented line to follow.
And then I slowly chiseled away the tile using these tile nippers until I was close to my line. This took some practice, so make sure you have a few extra tiles on hand to learn from. Small chiseled pieces were the key to making this work.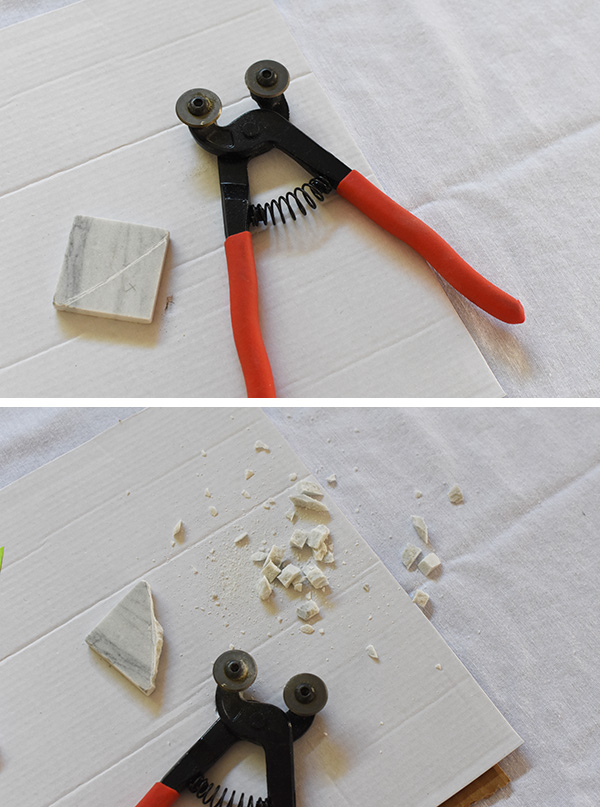 Sanding Tiles
Once my tile shape was close, I used a dual grit tile sanding block to round and smooth the extra bumps. I found it easiest to leave the block on a piece of cardboard and move my tile back and forth along it. This is a slow process, but worth it for the clean look in the end.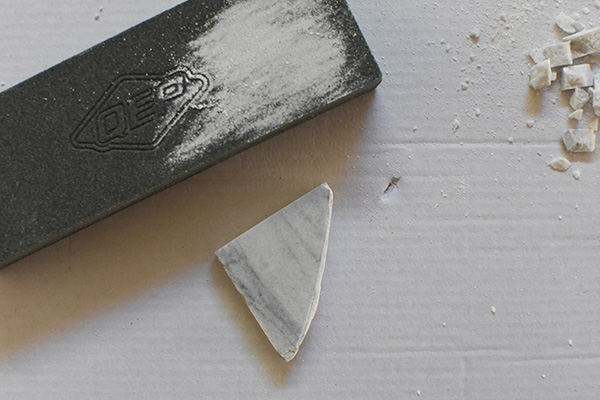 Thankfully, the copper tiles were made of a thin piece of metal and foam backing, so they could be snipped to size using scisoors.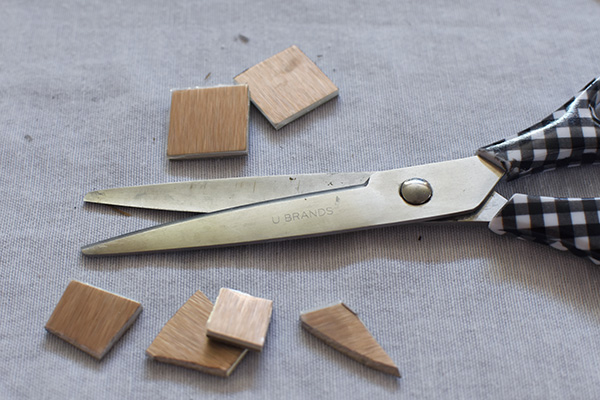 Adding height to tile
The copper squares were significantly shorter than the marble tiles, so I needed to add some additional height to them. Since this was a smaller scale craft project, I used cardboard squares to increase the height.
If you were doing this project on a larger scale, using backer board would be the route to add height.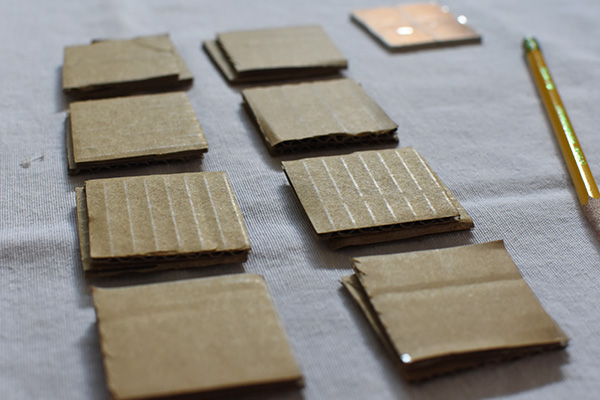 Next up, is removing a few rows of the wicker from the stand so I would have a more flush surface to work with.
I dry fit the tiles on the bottom of the stand and using a screwdriver removed layer by layer until the wicker edging met the height of my tile.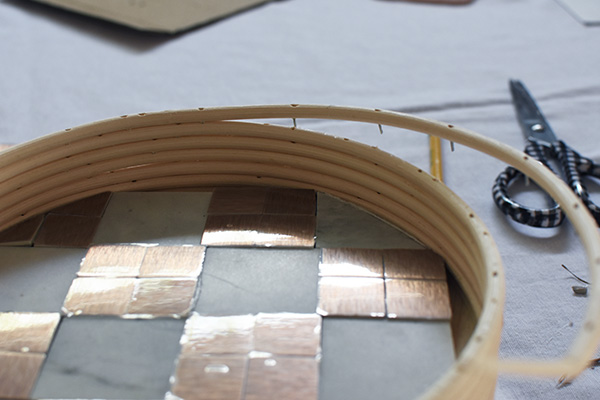 Pre-Mixed Tile Grout
Once the tiles were cut, sanded and laid in their correct locations it was time to grout everything in place.
I used this small container of pre-mixed tile grout in a soft white color. Also important to have on hand is a sponge and plastic spreader.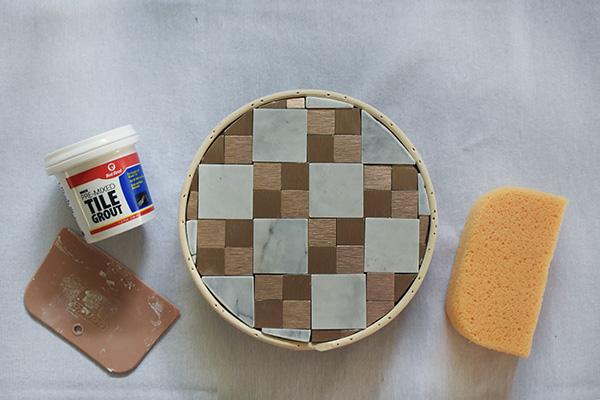 I covered the entire surface of my stand with grout and using the plastic spreader made sure grout filled in all the little nooks and crannies along the edges of the tiles and the wicker lip.
Scrape the excess grout off and per your directions allow to dry about 15 minutes. At the 15 minute mark, slightly dampen your sponge and wipe. Repeat this step until most of the remaining grout has been cleaned off the tiles.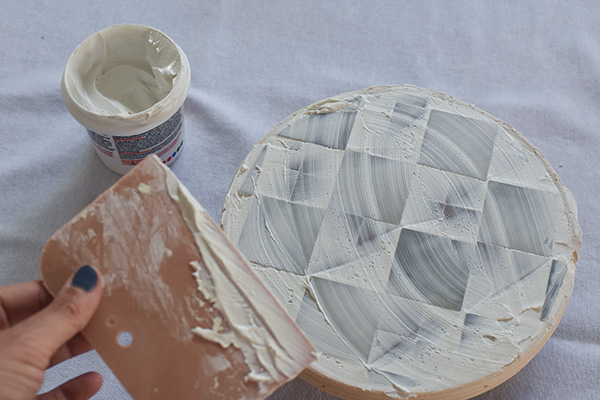 Use a soft towel once completely dry and buff off any remaining grout fog off the tiles.
DIY Wicker Checkerboard Plant Stand
Your DIY plant stand is done and looking so beautiful – now it's time to put a plant on it!
I'm so in love with the Hoya and think it looks perfect against the contrasting checkerboard colors. (Hoya plant care post coming soon.)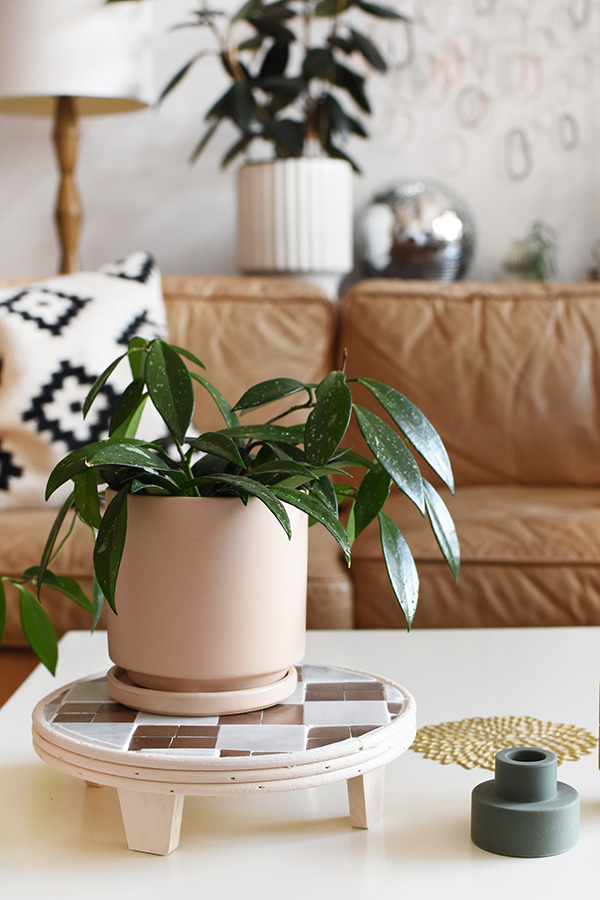 And check out the view from on top… such a classic but trending pattern. Makes me so happy every time I walk past it.