Today I am touching on a hot topic in my home, the toys clutter that seem never ending!  I will be sharing one super simple technique I have been using to help contain the clutter in a pretty way.  Get ready for how to line with fabric an everyday basket without any sewing!  Yes, you heard me right, follow these simple instructions and step by step details on how to make No Sew Basket Liners.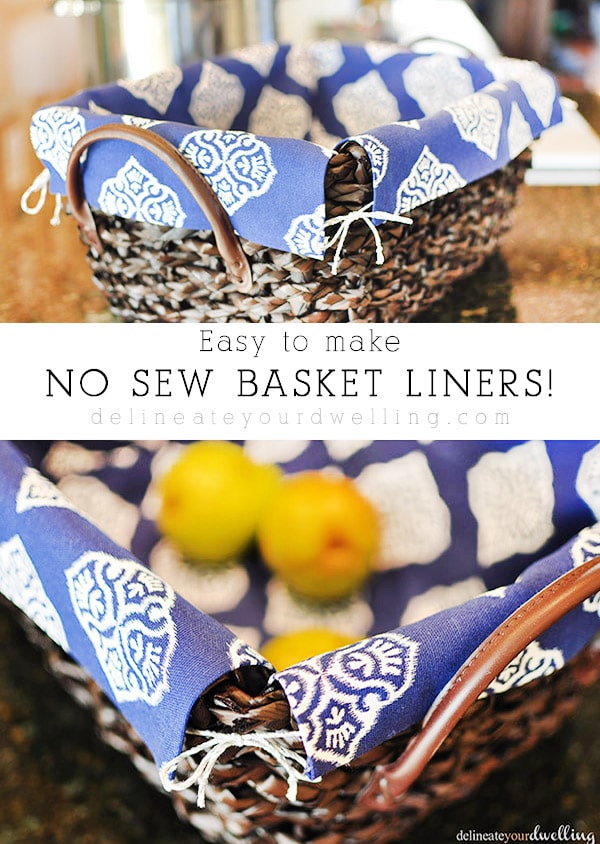 We have two little babies and oh SOOOO many toys.  Their toys that somehow spread throughout the entire home. The toys that I swear multiple during the night at rapid speeds!   I'm working on some toy rearranging in our living room and bought a handful of new baskets to help with this new method of "toy play" which you can see here, Living Room Toy Storage.
The new baskets I had bought were lacking a little something and I kept having to pull small toys out that had slipped into the basket weave.  So, I decided to sew some basket liners… but I'm not a very good seamstress, so I found an easy solution to my problem!
This post contains affiliate links. See my full disclosure.


NO SEW BASKET LINER TUTORIAL:
This tutorial consists of making two long strips of fabric and laying them on top of each other in the basket.  Adding ties to each corner, help keep the fabric in place.
To start, use your
flexible measuring tape
, take measurements of your basket in these places 
(see diagram below for help)
:
1.  The outside bottom, to the top of the basket.
2. On the inside of basket, from top to bottom.
3. Across the bottom, length of the basket.
4. Up the inside of the basket, from bottom to top.
5. On the outside of the basket, from top to bottom.
6. Across the top width of the basket and then add one inch to that last measurement.
Add numbers up (ONLY steps 1-5), this is the measurement for your first strip's length.  Step 6 measurement is the width.  Mine was 30″ by 11″ wide (including that extra inch at the end).  Repeat this process the other direction, if you do not have a square basket.  However, if it is a square, then you will do two of the same sized strips.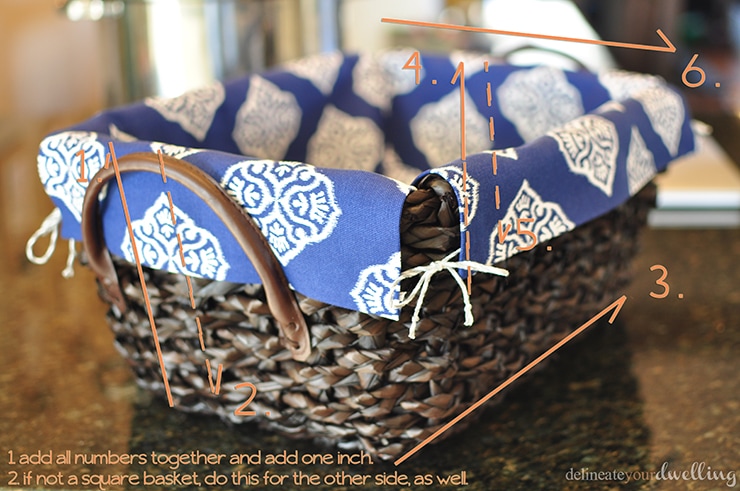 After your strips are cut out, mark a half inch on all sides and iron down this seam.
**This next step is not a necessity, but if you cut corners on a diagonal, it will give a cleaner look and not be as bulky looking.**
Next, cut the hem tape to the length of each side and iron the appropriate time to activate tape.  (I love not sewing!)  This completes one panel.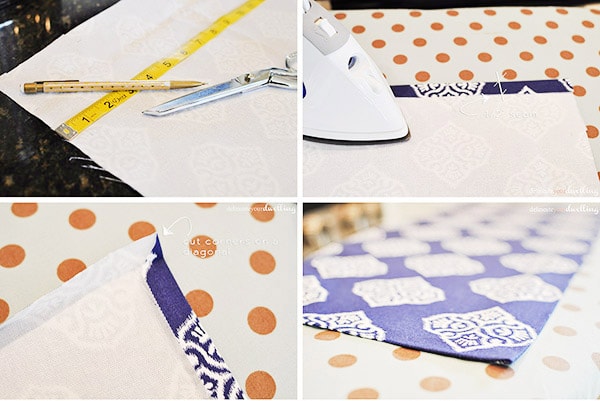 Repeat this process for your second panel.
Once both panels are completed, lay them inside your basket one at a time with the pattern facing up. You might have to do a little situating to get them to lay nice and flat but if you did your measurements correctly, they should fit well.
Next, cut some ribbon or in my case, baker's twine.  I cut mine about 8″ long and tied a small knot at one end.  Using hot glue, just glue one end to the inside flap of your liner.  Do this all the way around with all eight corners.

Tie into a simple bow and you are done!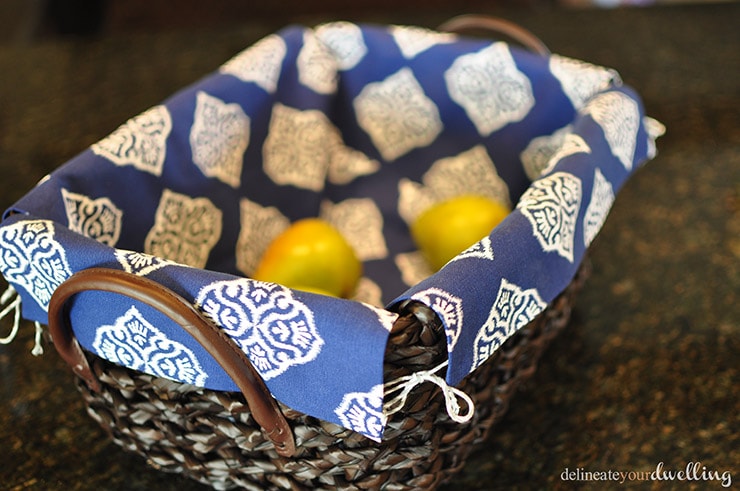 I made two of these easy no-sew basket liners and it probably took me 45 minutes total… and that was with two small kiddos running underfoot!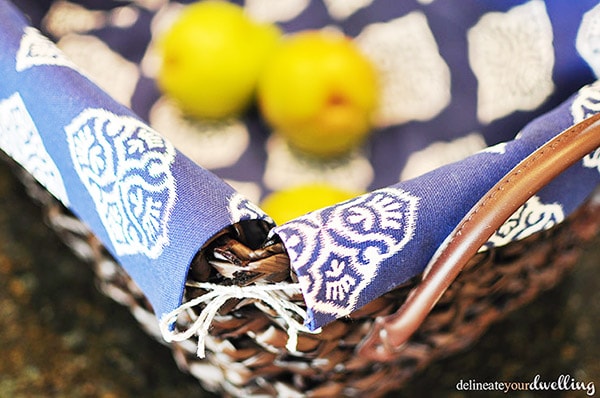 SaveSave
SaveSaveSaveSave
SaveSaveSaveSave
SaveSave
SaveSave
SaveSave
SaveSave
SaveSave