INSIDE : Learn how to craft the perfect Modern Summer Felted Pom Pom beach Bag! You can use cheerful pom pom colors for a day at the beach or Red, White and Blue for Fourth of July – the options are endless.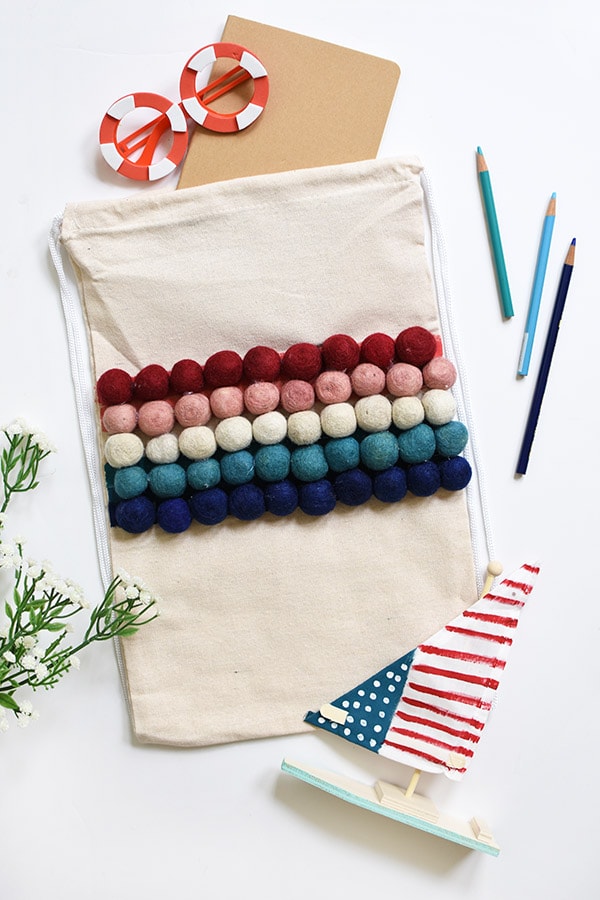 This post contains affiliate links. See my full disclosure.
I love having tote bags easily on hand to use. I seem to never have too many. They are great for bringing coloring books out to restaurants for my kids, putting sunscreen in while at the pool, loading up with tasty treats at a picnic and so much more!
A few years ago I made a gorgeous Pom Pom Patterned Tote and I just loved how it turned out. I decided this summer and Fourth of July season to try making another slightly smaller version.
Check out today how to make the perfect Summer Pom Pom Bag!
What supplies do I need to make a canvas felted pom pom bag?
Canvas Tote Bag
Acrylic Paint
Paint Brush
Red, Pink, White, Aqua + Blue Felted Pom Poms
(Don't know why I didn't include them in the picture below, ha?)
Hot Glue Gun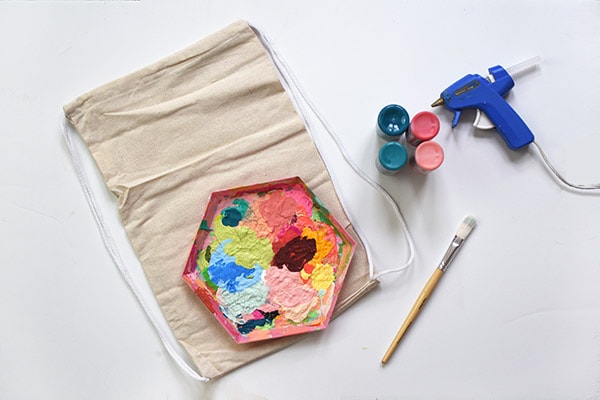 How do I make a Fourth of July Canvas pom pom bag?
Start by deciding on how many rows of pom poms you will be using and then draw a light line with a ruler and pencil for each row.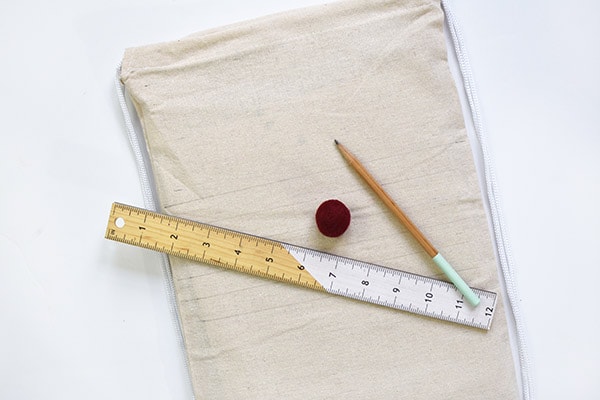 Next, using as similar acrylic paint as you can find – paint in each color. This helps when you get your felted balls onto the bag to not see the canvas color underneath.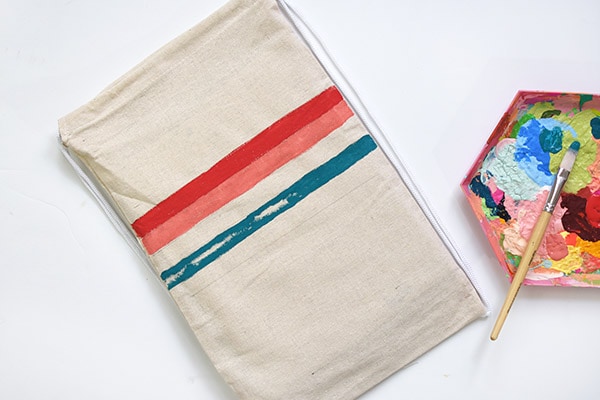 After the paint is dry, you can start adhering the felted balls onto your colored lines. I found a hot glue gun the easiest thing to use.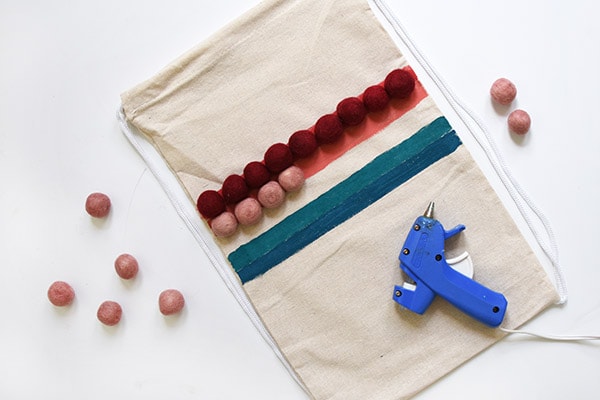 The final product is a perfect modern Fourth of July crafty bag!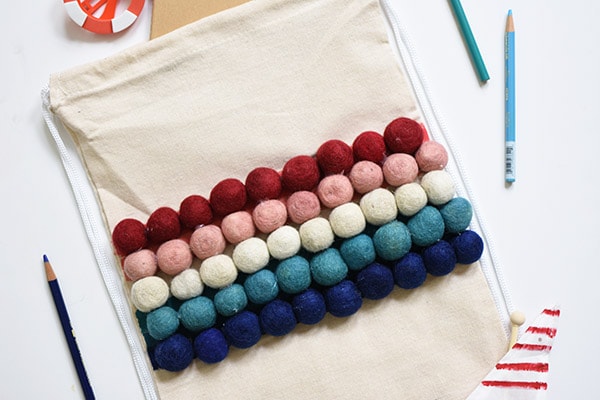 Pair this modern bag with a few fun 4th of July goodies like red and white stripe glasses and a fun American Flag sailboat.
Check out these fun 4th of July projects…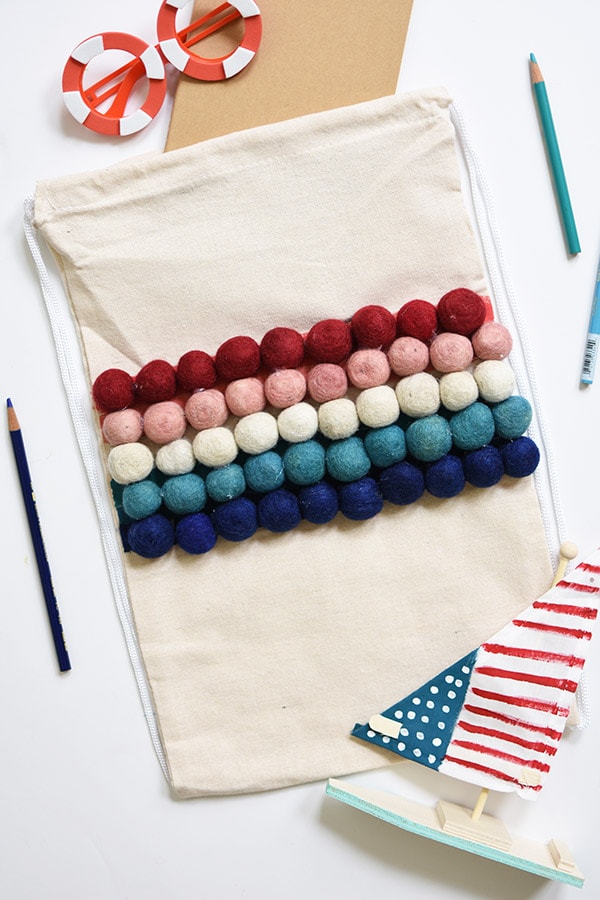 I love how fun felted pom pom balls are. They add such whimsy and texture to a project.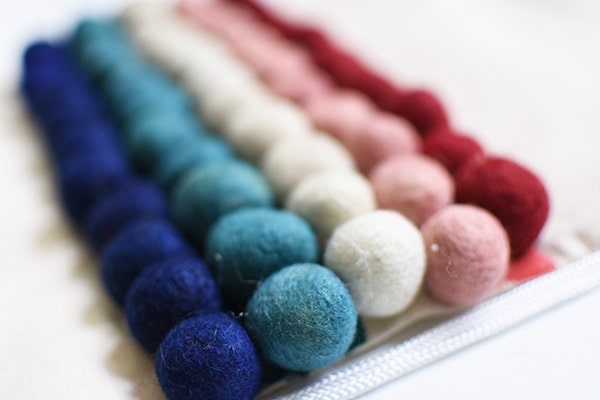 Don't forget to pin this fun craft and try it later!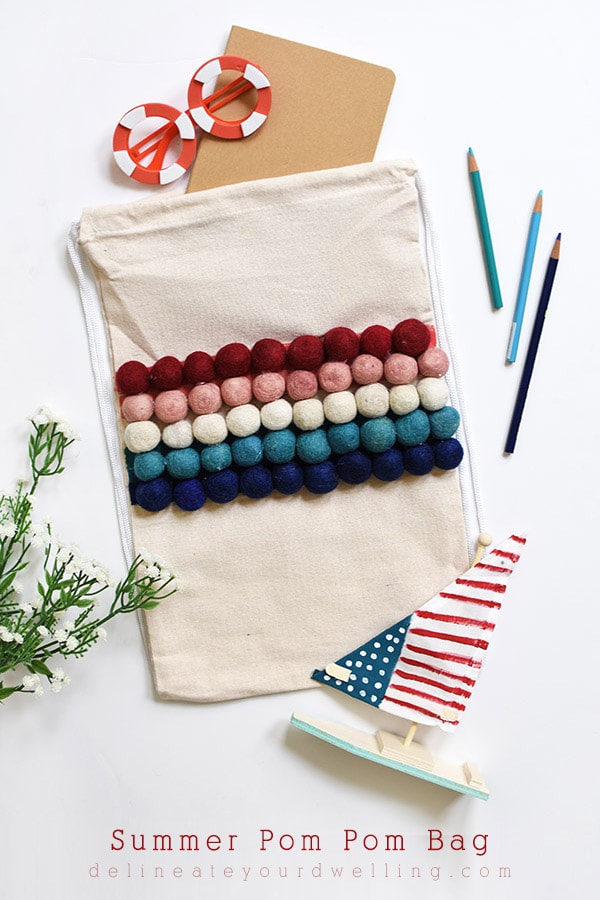 Looking for other fun tote bags crafts?