INSIDE : Learn the system we use for our Living Room Toy Storage to help our kiddos find joy in their toys through swapping and rotating them out every few months. Create an organized plan for your kid's living room toys. The toy clutter does not have to take over your life!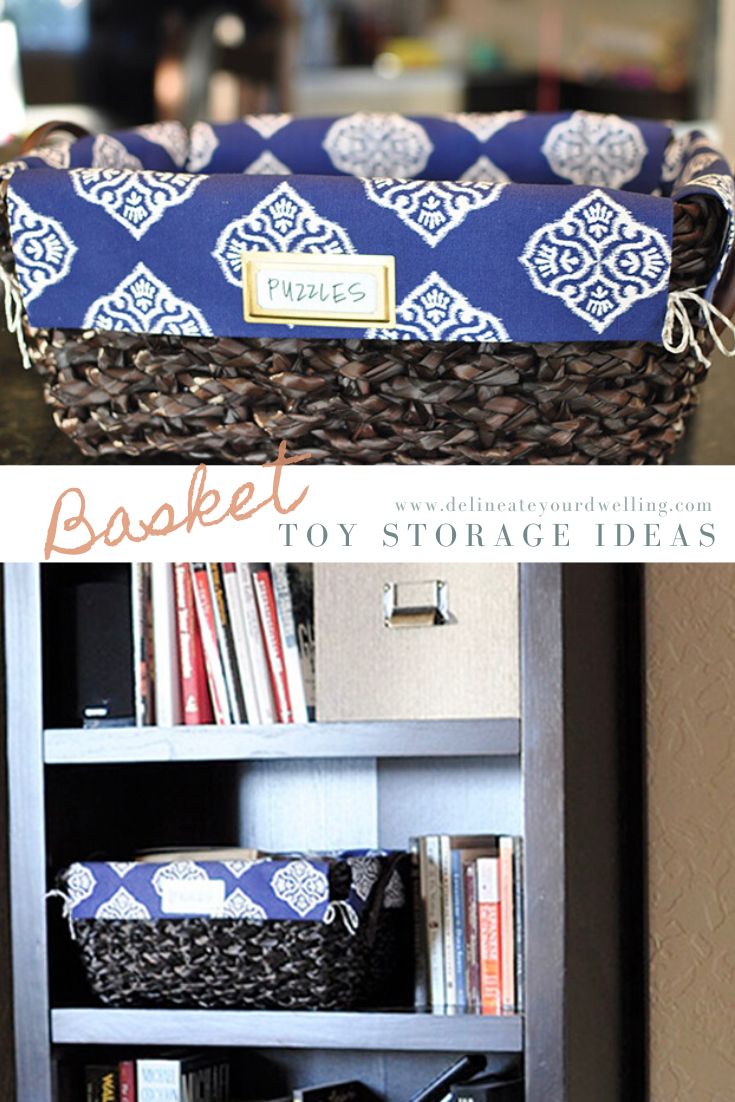 This post may contain affiliate links. See full disclosure here.
This post has been updated since it's original April 2014 publish date.
A few months ago I shared my No Sew Basket Liners and made reference to a new kiddo toy plan I have been trying out. Today I'm sharing what organization method I have put in place to keep the toy clutter and toy overwhelm at bay, even just a little bit helps!
Toy Clutter and Overwhelm
I think we've all said it at some point, "the toys seem to multiple over night".
It's hard for most of us to keep tabs on all the toys our kids seem to collect. I'm learning, as my children get older, their toys have more small pieces, which in the blink of an eye, become scattered all over the entire house.
And then I step on them. And then I squeal in pain. And then I decide we need a new toy plan because this one isn't working.
Toy Rotation Plan
Let me introduce you to my new toy rotation plan for my children aged 3 and under!
I've removed most of the random "filler" toys and most of them are hidden away from reach in baskets. It's just that simple.
I'll be honest, I'm a Goodwill + Boys and Girls Club donator, like nobody's business. I love taking a large portion of my closet, the kid's closet and their toys and donating them on a regular basis. Note : My kids are 2 and 3 years old.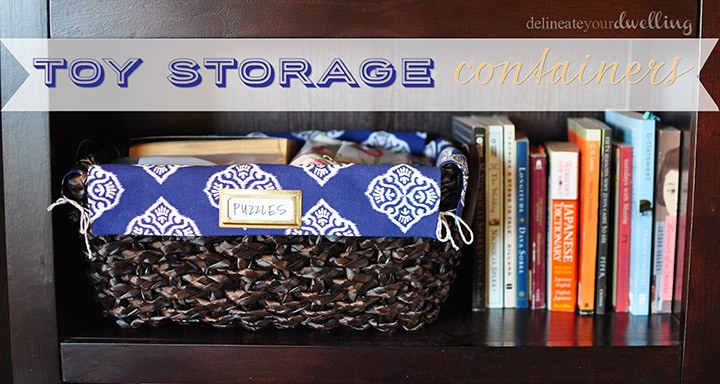 Here is the actual rotation process :
– Step 1: I started this toy storage process with a quick glance over every toy we own. I made a keep and toss pile and then sent quite a few of them off to the donation center.
– Step 2: Then, I pulled out fun daily toys that encourage them to use their imaginations.
These include their toy dishes, pots, pans and all the food that goes with that. (We do a lot of play cooking in our house.) I also kept out my son's trucks, trains and cars. Along with tons of books and puzzles. There is a small basket also of various toy electronics that was left out (microphone, toy camera, etc.).
These daily toys are placed in easy to reach baskets or bins all around the room.
– Step 3 : The REST of their toys go in baskets on our bookcases out of their reach. And whether you pull them out every other day, week or month – these basket toys being rotated in feel like a whole new set of toys for you kids!
Check out some of my favorite baskets for keeping organized!

TOY PLAN IN ACTION
Each morning and afternoon, if I sense the kids are getting restless, I pull out one of my lovely no sew baskets and presto, to them it seems like something fun and magical to play with – when in fact it's just their old picnic basket play set.
I have found that keeping a majority of their toys up –
1. keeps the mess minimal
2. keeps them entertained MUCH longer since the toy seems new
3. really encourages them to use their imagination.
And to help myself keep more organized and finding things at a quick glance, I added these super adorable self adhesive bookplates (these stickers would work wonderfully, too!) to the baskets. They were a simple press and stick!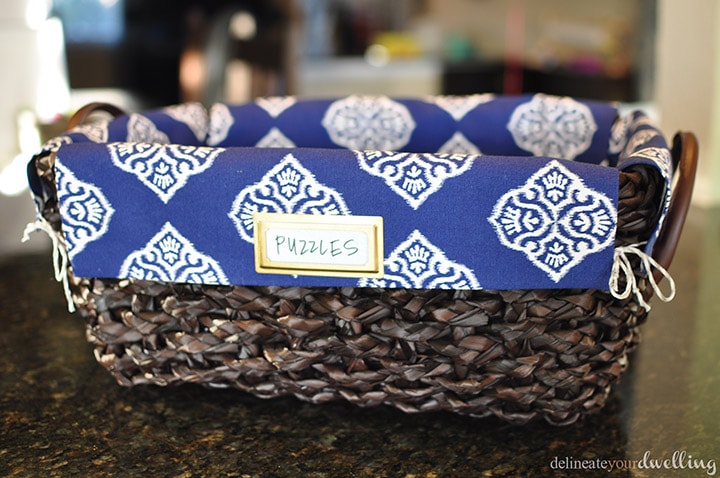 Toy Bookcase Storage
We have two bookcases in our living room and I keep their toy baskets on the upper two shelves (the tan and blue baskets). So, in total there are four baskets filled to the brim with toys, games or books that can be pulled down when needed.
I've been surprised that taking away a large portion of their toys has increased their imagination and excitement when I get down a few things here and there. I call that a win!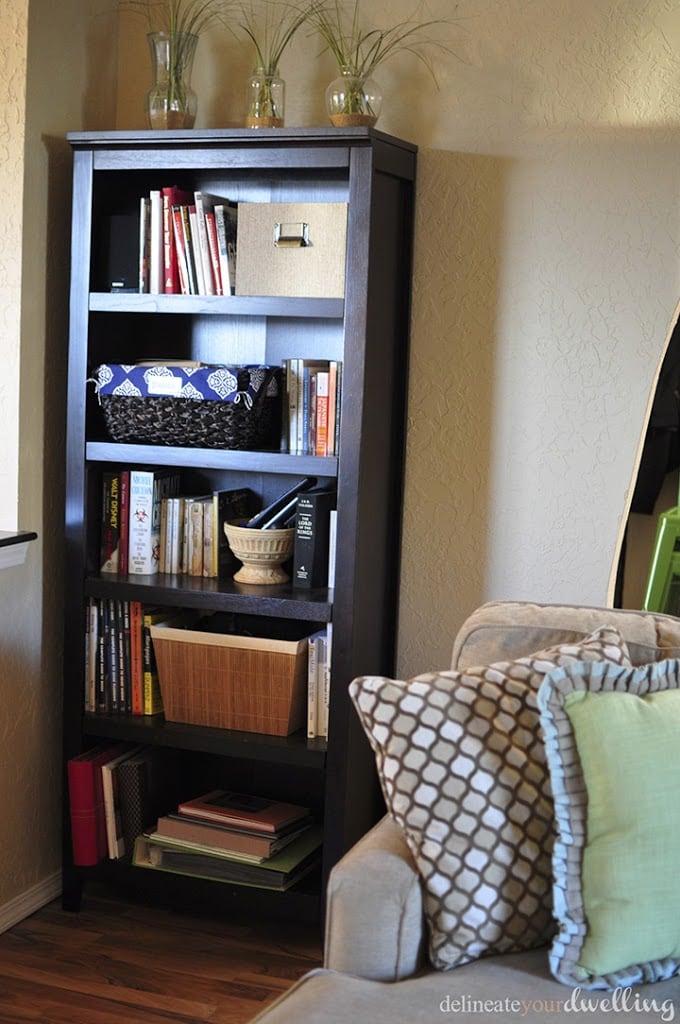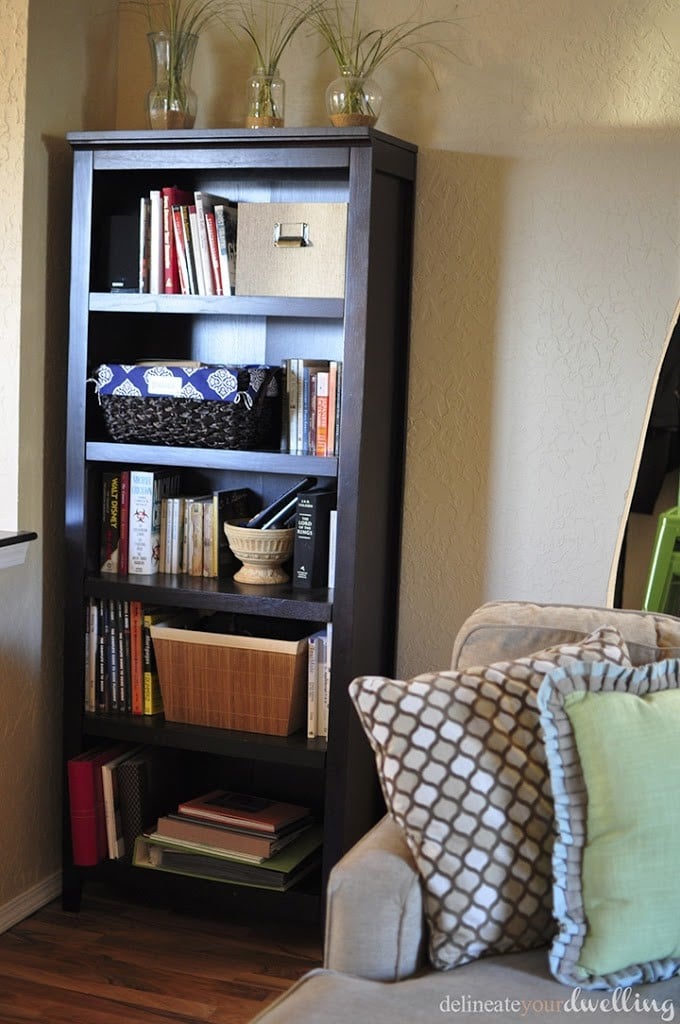 So, far this new Living Room toy system seems to be a success.
Do you all have any toy tips for keeping interest in current toys and minimizing clutter, if so share away!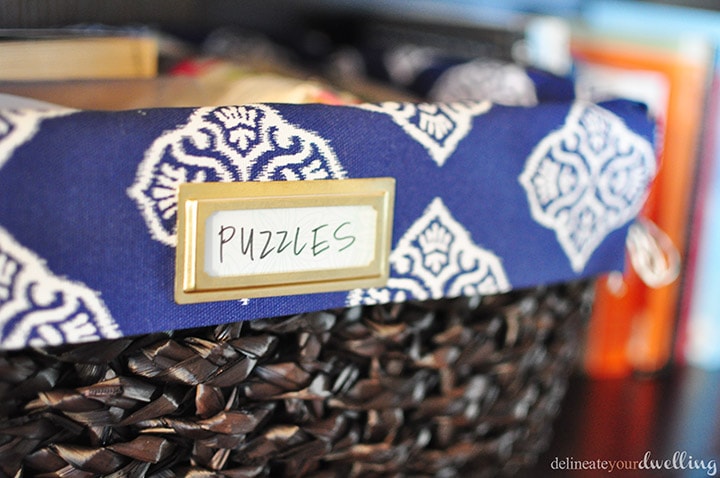 Looking for more organization? You might enjoy these projects…