INSIDE : Learn how to create gorgeous Brown Paper Packages with ribbon embellishments to use as wrapping paper for your Christmas and Holiday gifts this year!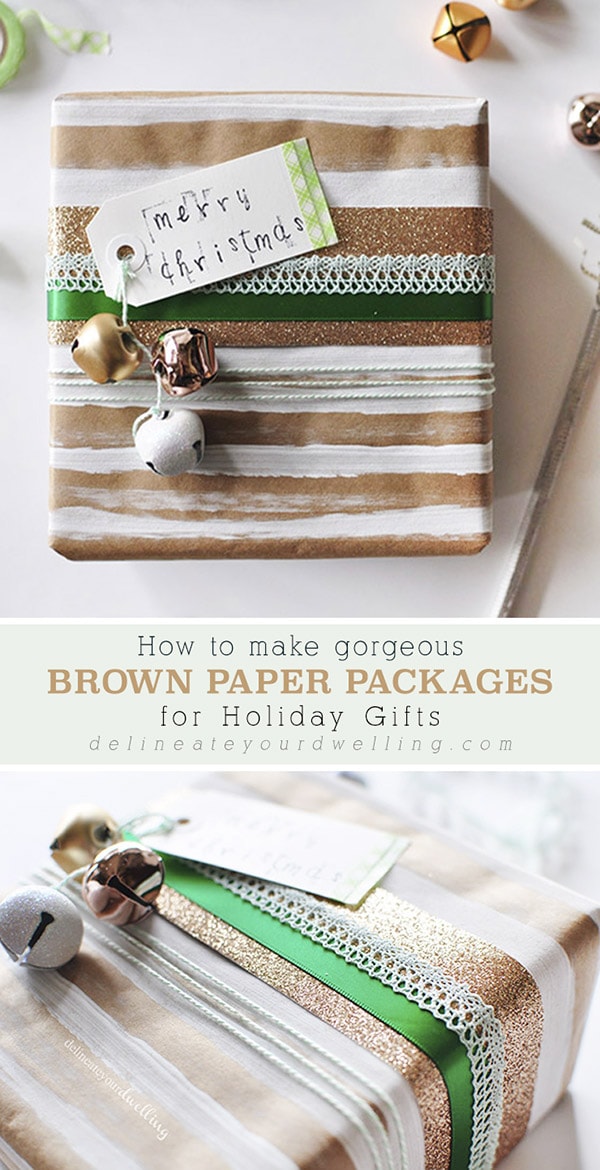 This post may contain affiliate links. See my full disclosure.
I love wrapping presents. I think using wrapping paper (and not ALWAYS just using a bag) is becoming a lost art. Am I wrapping paper dramatic? Maybe, but while at your next gifting event, stop and take a look around… every single gift will be lovingly placed in a bag with two single pieces of tissue paper.
I jumped at the chance when Rachel of Let's Wrap Stuff asked me to participate in a Brown Paper Packages blog hop. She just launched Let's Wrap Stuff, a website devoted to all things gift wrap related and to celebrate its launch, Rachel challenged me and a select group of talented bloggers to come up with a creative gift wrap idea using plain kraft paper.
Who doesn't love brown paper packages tied up with string? Check out all 24 creative kraft paper gift wrap ideas below. Check out my post all about Bringing the color with Gift Wrap!
What supplies do I need to make gorgeous Brown Paper Packages for Christmas this year?
Brown Kraft Paper

White Acrylic Paint
Paint Brush
Sponge Brush
Ribbon
Red + Green Baker's Twine
Mini Gold Bells
Letter Stamps
Black Ink Pad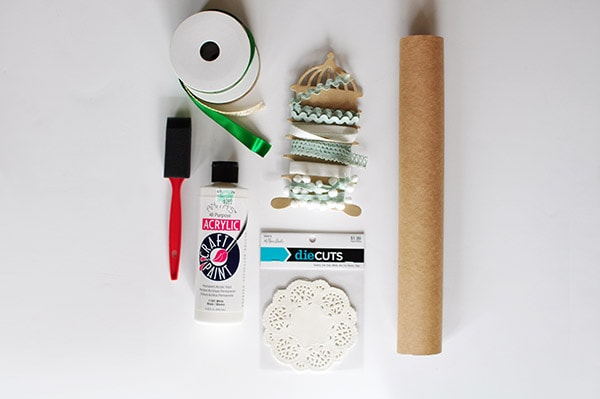 How do I create hand stamped Gift Tags for Christmas?
I have loved having a simple box of wooden letter stamps. Using a simple piece of paper or even scrapbook paper, you can create lovely hand stamped tags for all your gifts this year!
I simply used a pad of black ink and my stamps and was able to make about 5 tags in just 15 minutes.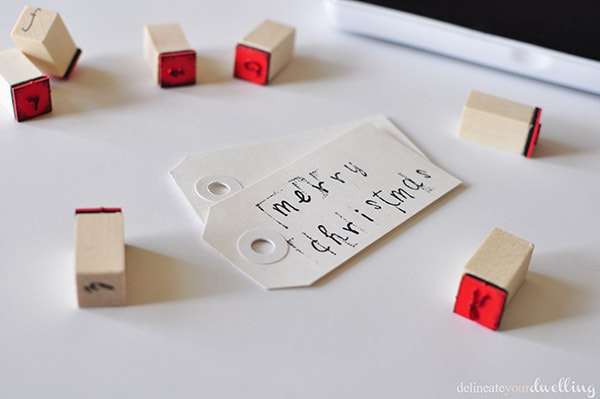 I added a little washi tape and strung some Christmas bells on mint green baker's twine to the paper tags.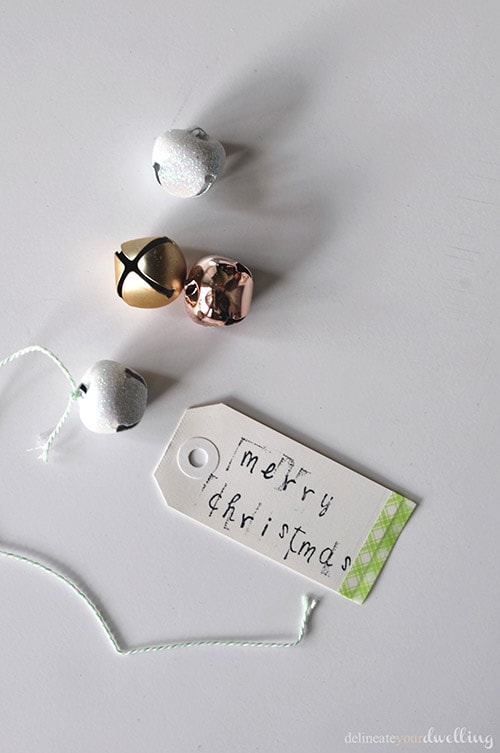 How do I create hand painted Striped Brown Paper Packages for Christmas?
You can wrap your gifts just with brown paper for an elegant look. But, I decided I wanted to add white stripes onto my brown craft paper first.
I did not want perfect straight lines, but a more organic feel So I made some stripes wide, thin, close together and far apart using a sponge brush.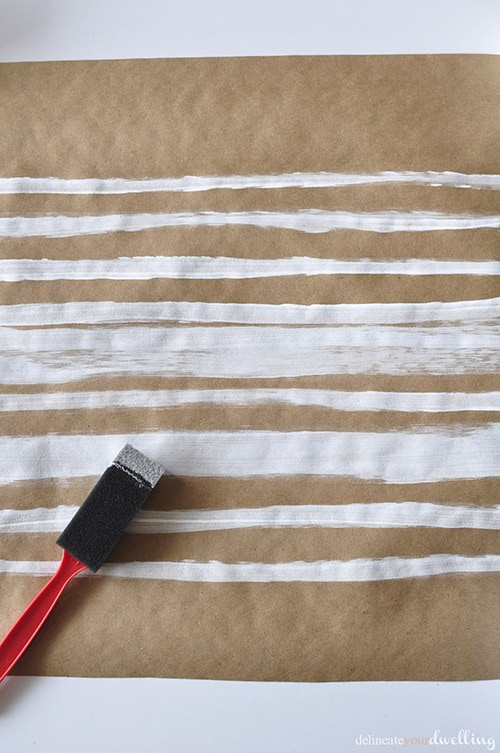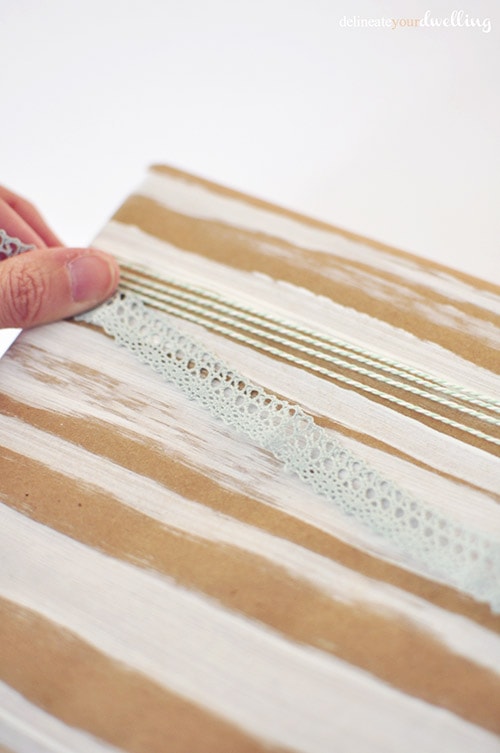 I layered a few different ribbons and tapes. First a wide gold glitter tape was placed and secured. Then, I added a rich green satin ribbon and a light blue lace ribbon.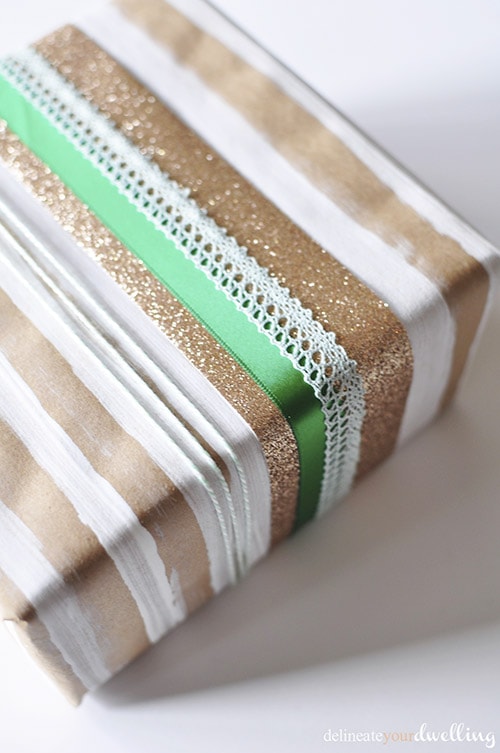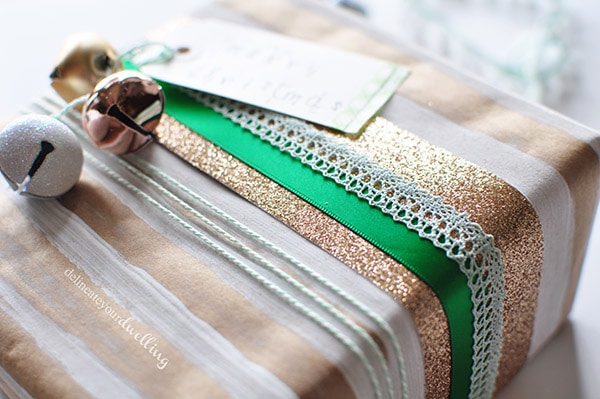 Then I added my Christmas bells gift tag.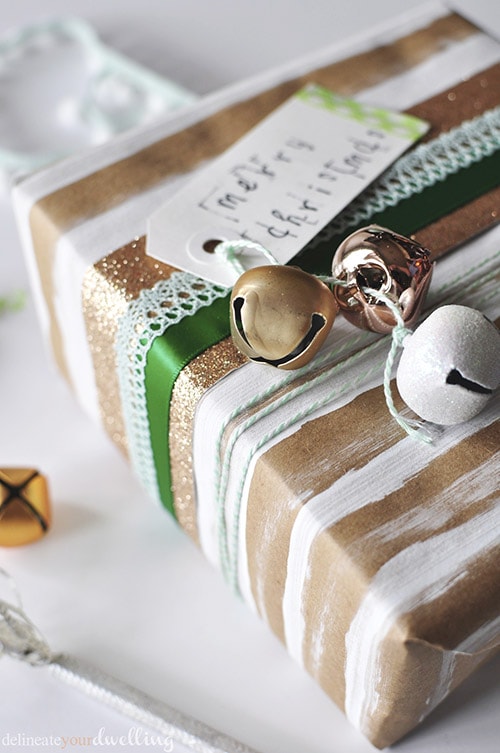 Looking for other creative wrapping paper ideas? Check out some of these!
When giving a gift to a dear friend or a special occasion, I LOVE making it wrapped special. My creative effort is part of my gift.
However, when I'm wrapping a large amount of gifts to be opened the next morning for christmas, I do not use four ribbons, hand stamped tags and bells. Kids don't care, folks… just keeping it real.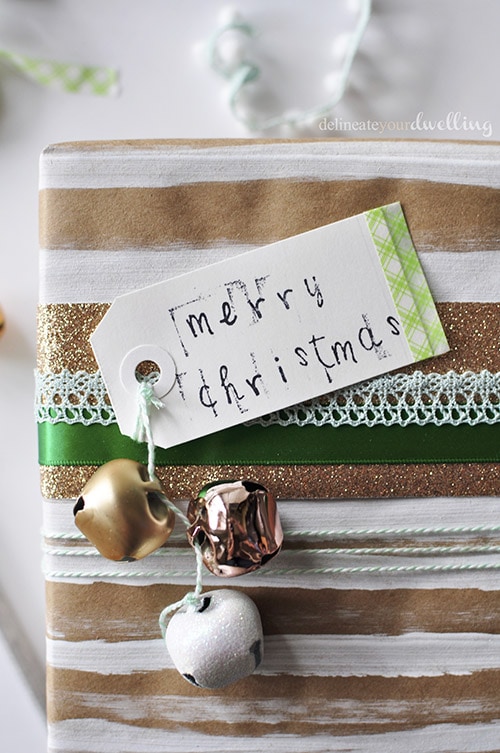 This gift wrapping makes me so happy. Hopefully come Christmas day, the love I put into wrapping it will be enjoyed by my mama when she opens it!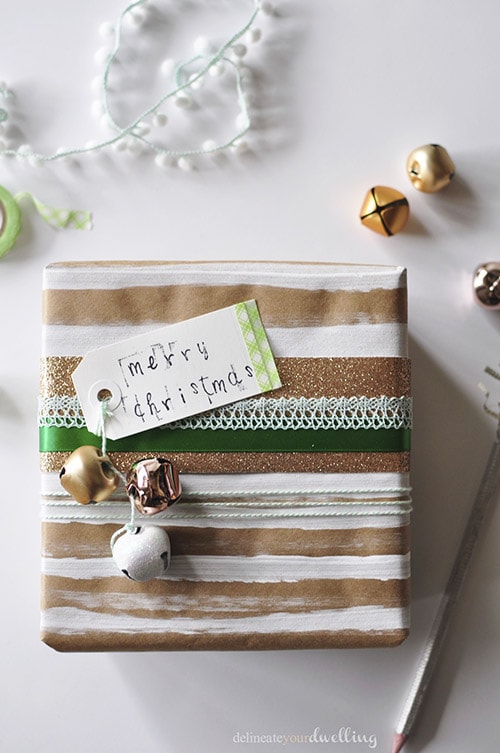 Thank you so much to Rachel for hosting this fun Brown Paper Packages blog hop! I hope you were inspired to at least wrap one special gift this year with a little extra love… and the rest can be in bags!
Check out some of the amazing other wrapped packages below.
1. Pom Pom Ice Cream Cone Gift Wrap by Let's Wrap Stuff
2. Embroidered Wrapping Paper by Lines Across
3. Holiday Lights Gift Wrap by Burlap and Blue
4. Printable DIY Watercolor Gift Tags by Dawn Nicole
5. Chalkboard Painted Wrapping Paper by The Winthrop Chronicles
6. Let it Snow Neighbor Gift Printable by Ginger Snap Crafts
7. Upcycled Cardboard Gift Tags 3 Ways by Eat. Sleep. Make.
8. Kraft Paper Gift Card Envelope Printables by Delia Creates
9. Make + Give Christmas Tree Gift Topper by Make and Tell
10. DIY Wrench Wrapping Paper by Maker Mama
11. DIY Stamped Trees Gift Wrap by Shaken Together Life
12. Brown Paper Packages by Delineate Your Dwelling
13. Yarn Tassel Gift Wrap 2 Ways by Hands Occupied
14. Holiday Writing with Washi Tape by Club Chica Circle
15. Glitter-Dipped Gift Tags by The Thinking Closet
16. Coffee Container Christmas Gift Tags by Simply Kelly Designs
17. Gift Wrapping Ideas by C.R.A.F.T.
18. Holiday Gift Wrap Ideas by Making Home Base
19. Sewn Brown Paper Gift Card Gift Giving by Dream a Little Bigger
20. Chalkboard Gift Tag & Ornament by Tried and True
21. Easy Holly Ornament Gift Tag by Rae Gun Ramblings
22. Printable Hand-Lettered Christmas Tags by Persia Lou
23. Christmas Gift Wrapping Ideas by Eighteen25
24. Washi Tape Christmas Tree Gift Card Box by That's What Che Said