Bringing the color with Gift Wrap
INSIDE : Learn simple ways to start bringing the color with Gift Wrap during the holiday gift giving season! Mix and match patterns and colors for a gorgeous eclectic look this Christmas.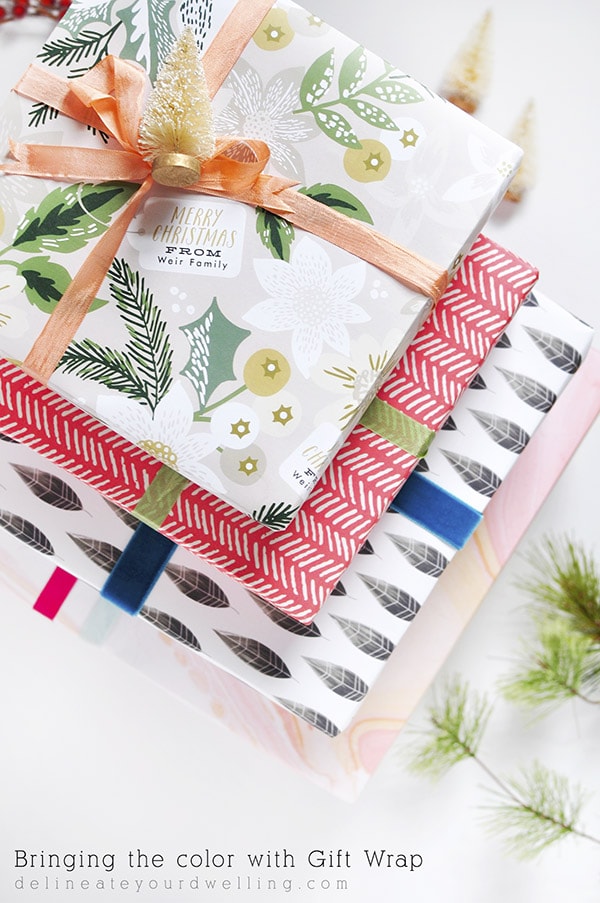 Last week I shared about how I'm striving to simplify Christmas this year with my decor choices. I am using a lot of live greenery and keeping things fairly easy in terms of not putting every single ornament we own on the tree.
I want to slow down and savor Christmas with my family… but I can not help I am a bit of a color lover. So even those I am making a conscience effort to do things in a more minimal mindset, I am excited to be still Bringing the color with Gift Wrap this year.
This post may contain affiliate links. See my full disclosure.
Things like color, pattern and texture are important when decorating your home. And although wrapping presents is much less of an investment, the same key elements can apply to wrapping pretty gifts. I am happy to be partnering with Minted this year on my gift wrap.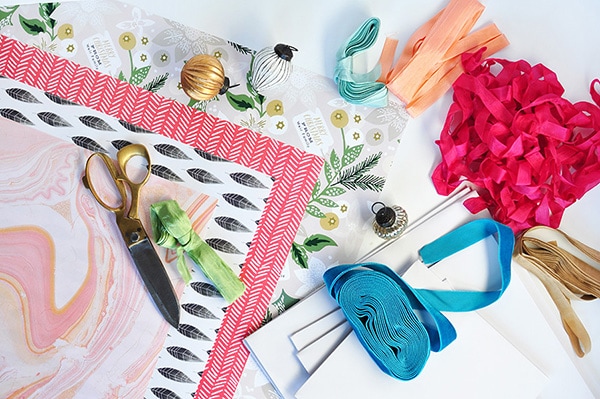 The Ribbons I am using this year are: Sea Moss Shimmer Ribbon | Peach Shimmer Ribbon | Fuchsia Shimmer Ribbon | Teal 1″ Velvet Ribbon | Peach 2/8″ Velvet Ribbon | Robin's Egg Ribbon
The Gift Wrap I am using this year are: Holiday Bouquet Wrapping Paper | Painted Feathers Wrapping Paper | Modern Marble Wrapping Paper | Hand drawn Herringbone Wrapping Paper
Other fun details: Desert Diamond Reversible Tree Skirt | Vintage Metallic Ornaments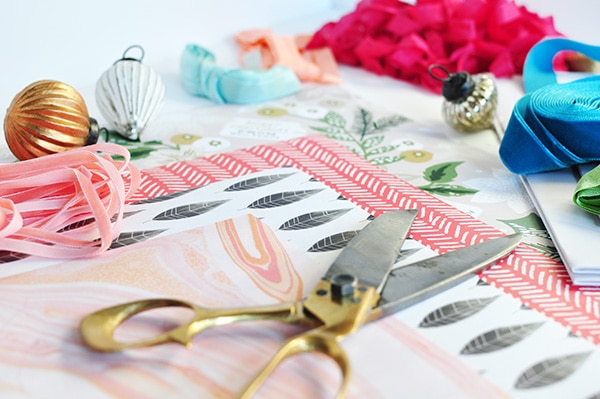 Why is wrapping presents important?
I think the art of wrapping a thoughtful gift is slowly disappearing. There is nothing quite like a paper wrapped gift. Add on a real ribbon and it's like icing on the present cake.
In a day where we all want fast and quick and easy – things like just getting out all the wrapping paper supplies, is more effort than many people want to do. I completely can understand that when you have multiple people to wrap presents for, it can be very overwhelming.
But there is something so lovely about seeing the time taken to make a gift special. However, if you have an entire family to wrap gifts for, maybe making one or two gifts to each person really look lovely would make more sense.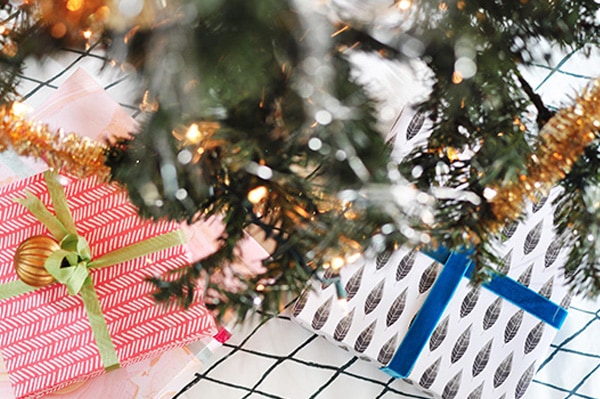 The quality of these Minted gift wrapping papers are amazing. They are printed on thick luxe matte papers. They are sold as a set of 5 sheets and each sheet is 20″ x 28″.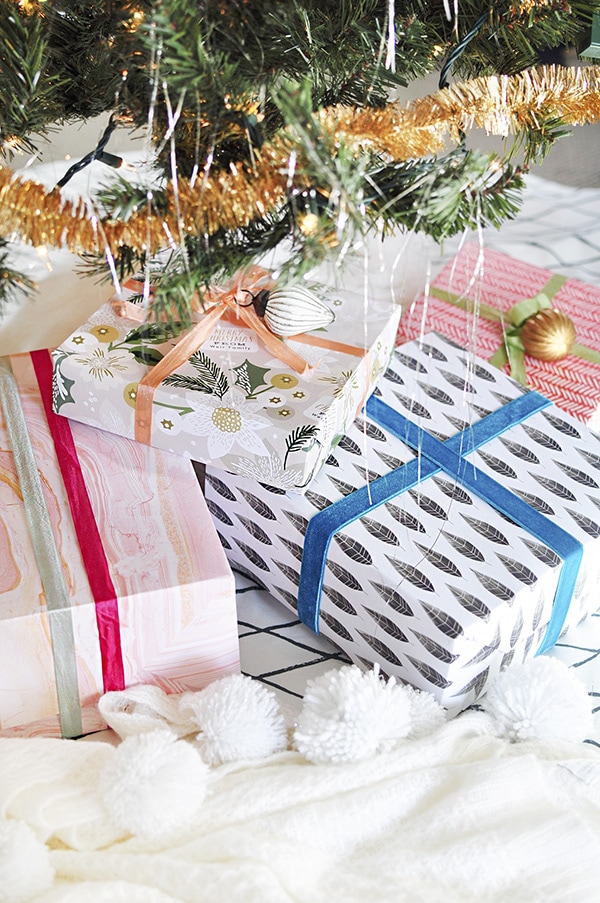 My most favorite thing each year is creating the gift tags. It's one of our family traditions each year and when I saw that Minted now has customizable paper, I knew I had to try it out. I selected Holiday Bouquet in a soft taupe color. I was able to customize the entire tag with different fonts and text. It was so neat!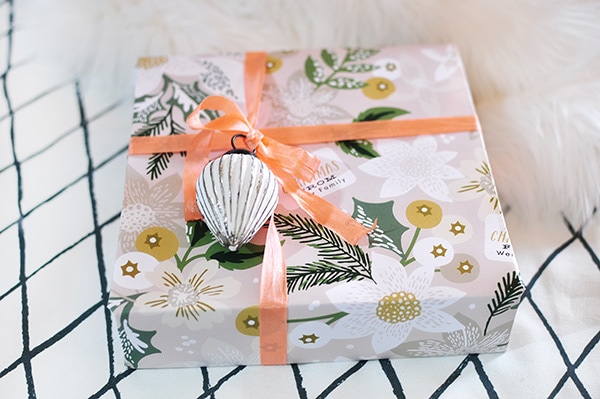 In addition to colorful paper full of pattern, adding texture to your gifts with real ribbon is a perfect touch. I often like pairing contrasting ribbons and gift wrap.
I used Sea Moss Shimmer Ribbon with the herringbone paper.
I used Teal 1″ Velvet Ribbon with the feather paper.
Both Fuchsia Shimmer Ribbon and Robin's Egg Ribbon on the marble paper and a perfect Peach Shimmer Ribbon on the holiday bouquet paper.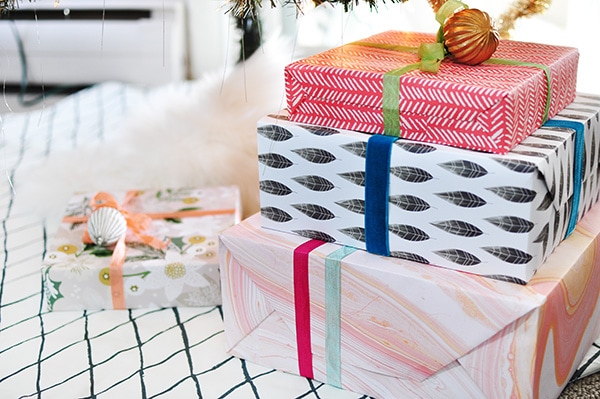 I also tied mini vintage ornaments to some of the gifts.
There is something about adding just white lights, silver and gold tinsel that feels so much less cluttered. We have since added a few select ornaments to the tress, but it feels good to keep it more simple this year.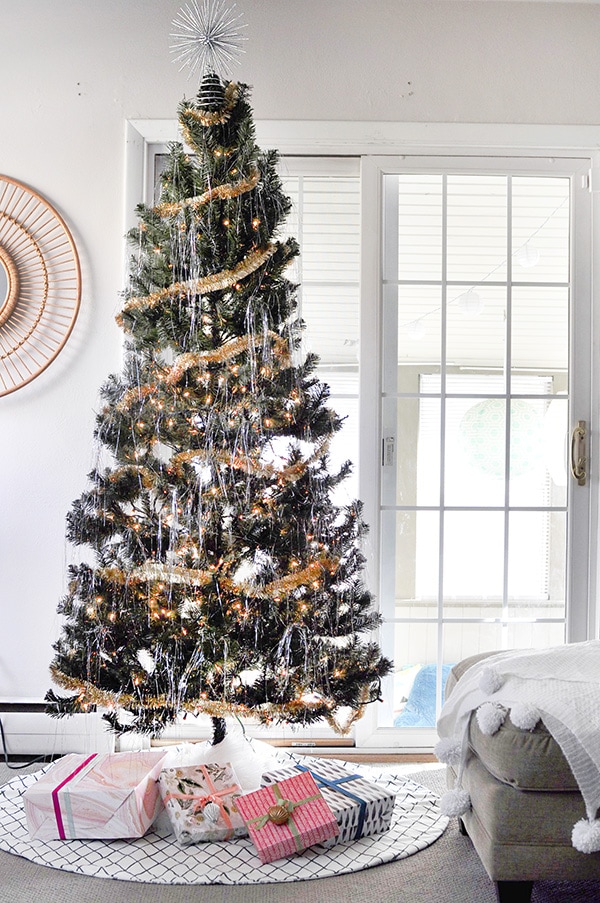 I am particularly excited about this reversible tree skirt, the Desert Diamond. One side is a a more classic diamond and the other side is a fun cactus pattern! I think halfway through the month, I might flip the tree skirt over and enjoy a little cactus christmas.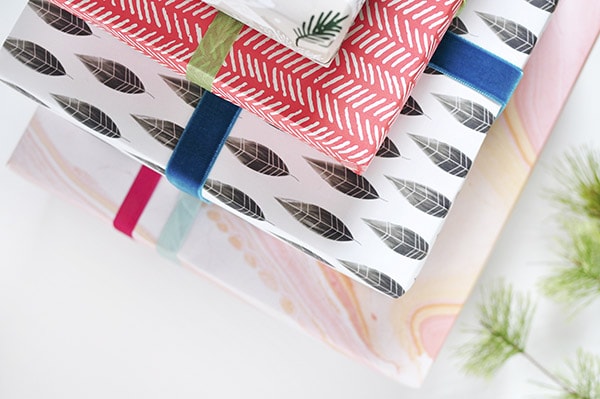 As the holiday speed picks up, I am happy to be slowing down. I can spend time wrapping gifts that are special to my heart in special ways.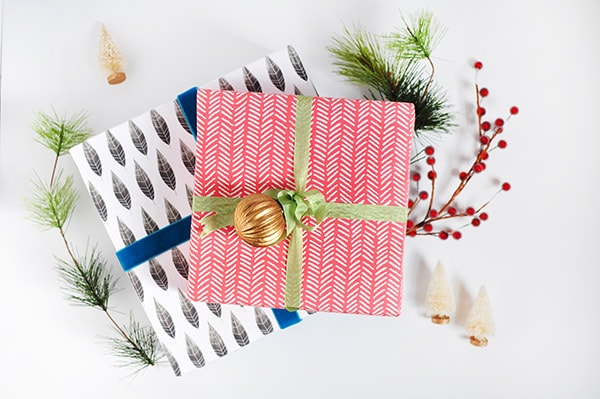 Looking for other creative wrapping paper ideas? Check out some of these!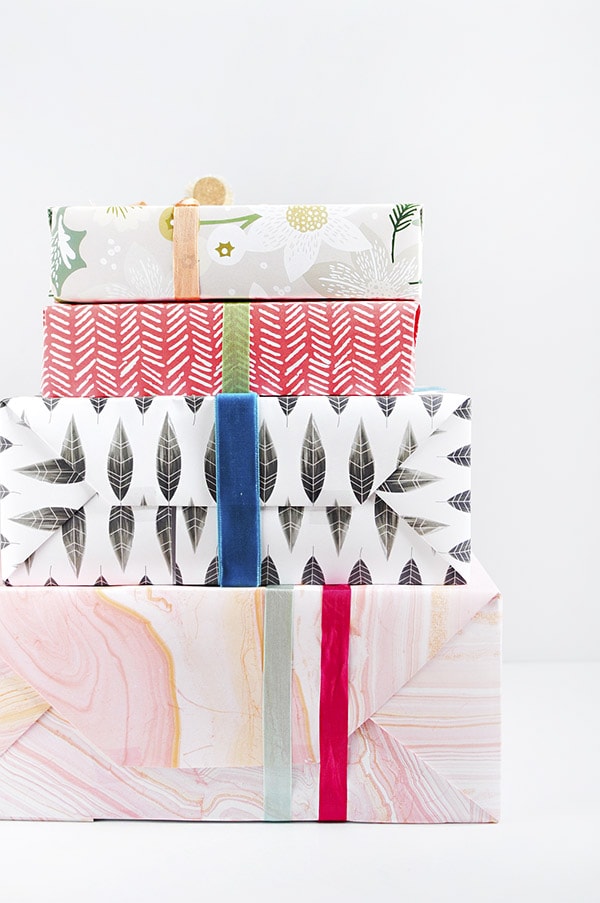 I am happy to say since putting more thought into simplifying our holiday decor, it really does feel more calm, slow and relaxed. We have already started spending the evenings with a fire in the fireplace!
Looking for what to do with your leftover wrapping paper?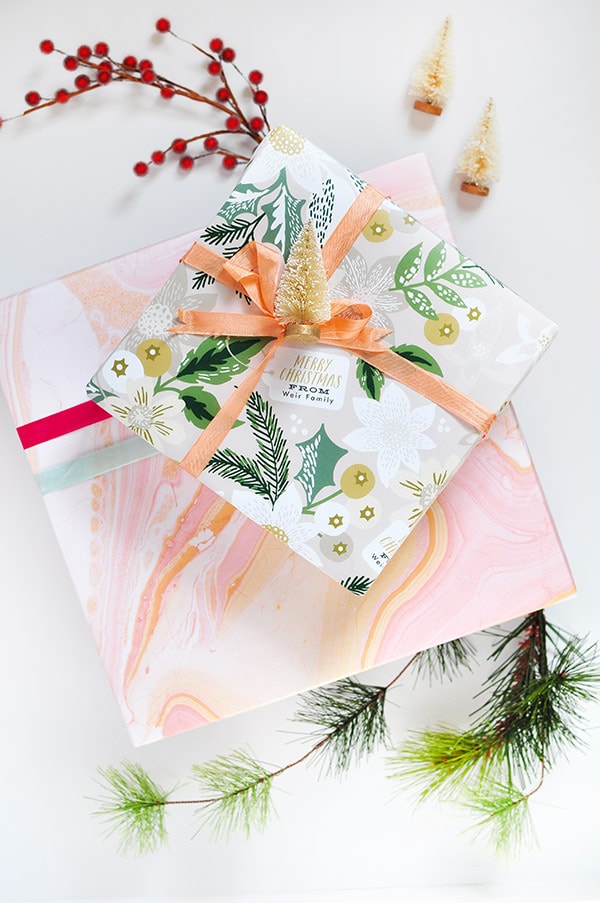 And if you are looking to see other ways to be thoughtful with your decor, head over here.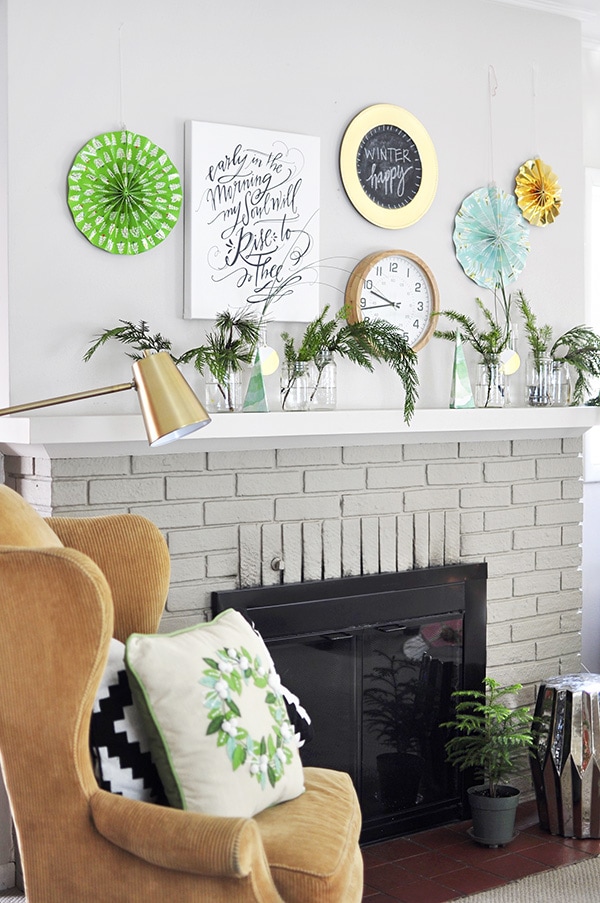 I received free product from Minted. However, all opinions are 100% mine. Thanks for supporting brands that help keep the fun projects coming!