INSIDE : Learn how to make DIY Painted Wooden Boxes with floral flower patterns on them. There are endless ideas when it comes to painting on wooden boxes but sometimes keeping it simple helps!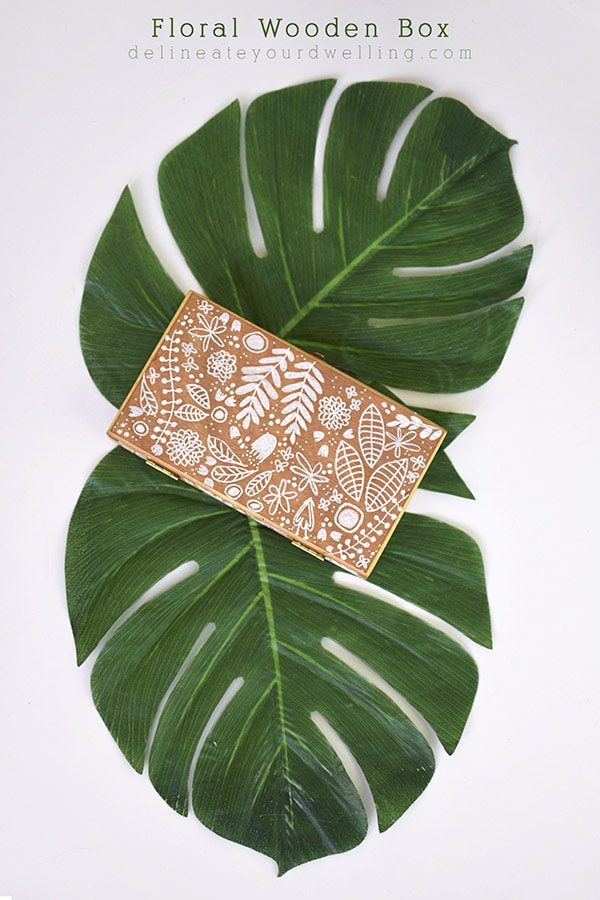 This post may contain affiliate links. See full disclosure here.
What are Painted Wooden Box supplies?
Small Wooden Pencil Box
White Paint Markers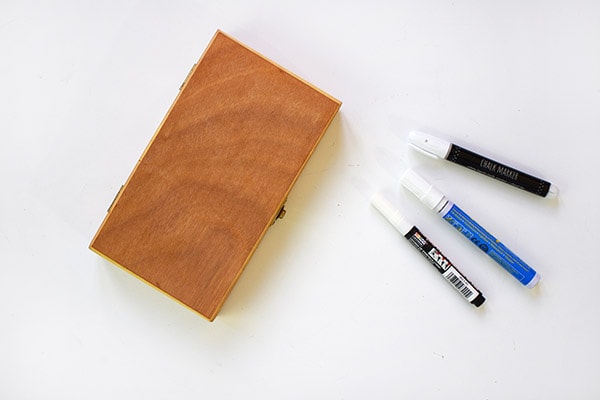 How to create floral Painted Wooden Boxes:
This project really could not be much easier. There are endless ways you could paint a wooden box, but for this project I decided to stick with a flower + plant theme.
I started by doing just a little bit of doodling on a scrap piece of paper. I drew about 4 or 5 different flower and leave type combinations. I ended up modifying some of those designs, but I found it helpful to have a few ideas to start drawing from.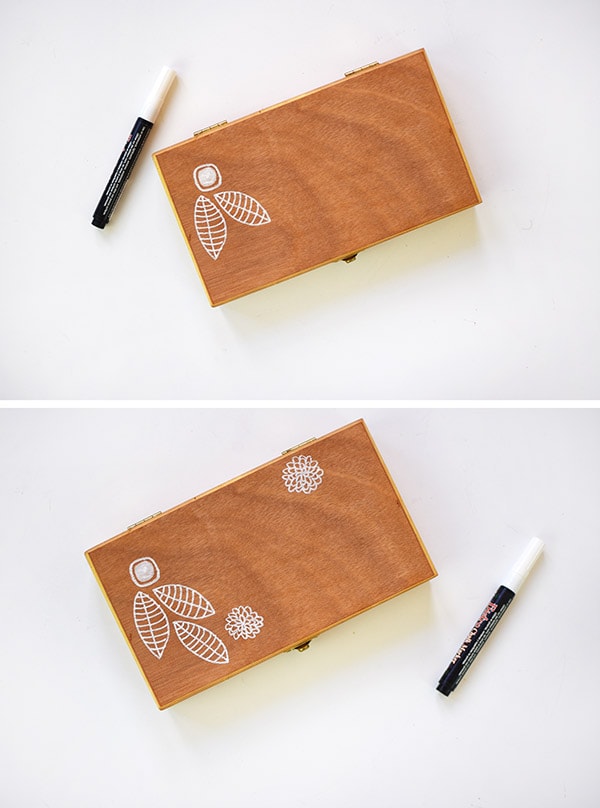 Make sure you give your paint pens a good few shakes to mix up the paint. Also, tap a few times on the paint marker tip on a spare piece of paper to allow for any big globs of plating to get out before starting on your wooden box.
Next, simply start drawing "painting" your flower patterns onto the box.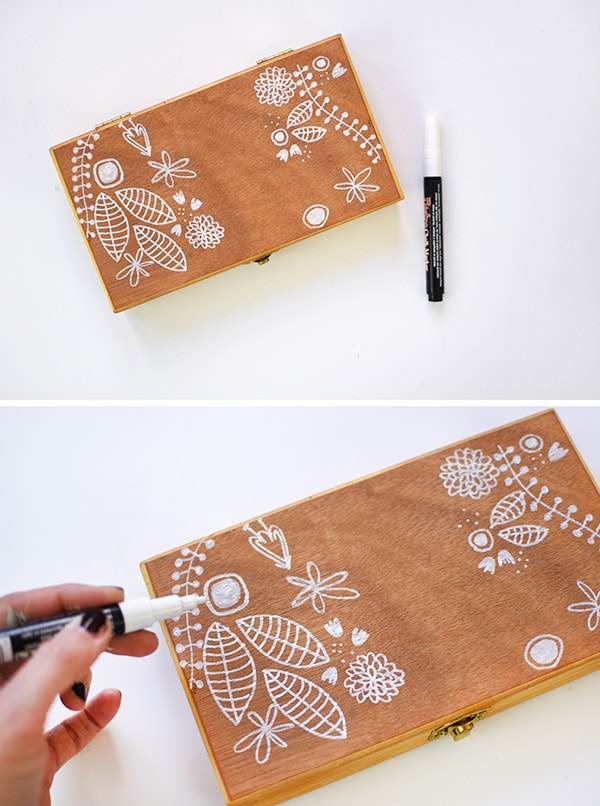 For the most part, I would decided on a floral pattern and then do one or two on the top face of my box. Then, if I had enough room I would try and squeeze one on the small front portion of the box. Then, I would move onto another larger sized shape. I would then repeat, a few on the top, a few on the sides. Slowly, the hand painted wooden box started to fill up.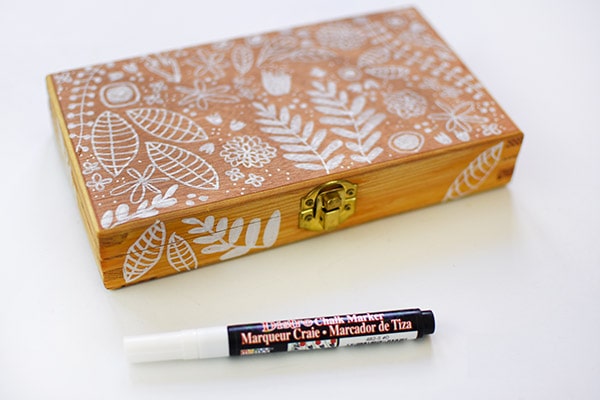 And the best part about how to paint a wooden box is you can make it up as you go! For any smaller empty areas, I filled with a set of three larger polka dots and then many small dots. I think that helped to break up the patterns and spaces nicely.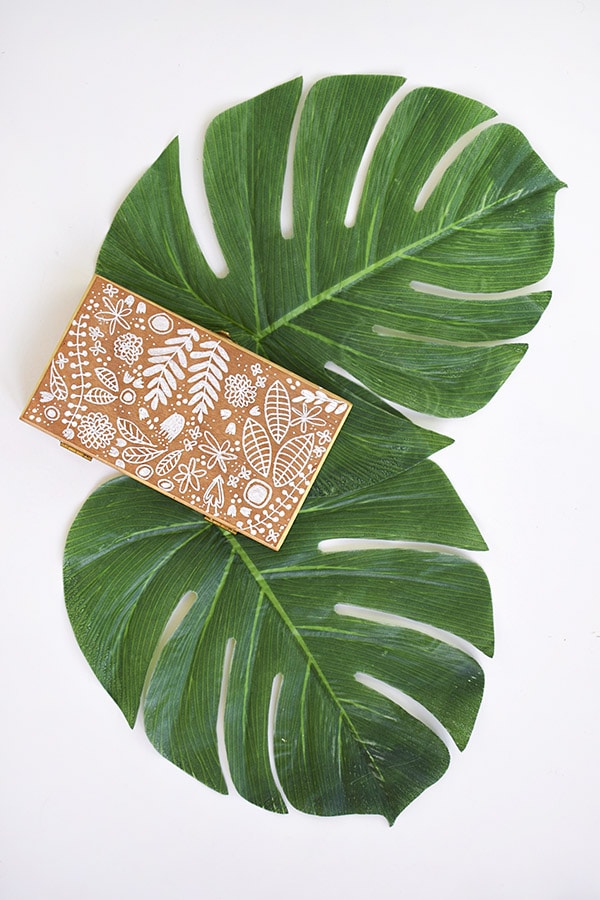 If your pencil box is a lighter colored wood or it's been left as natural wood, you may need to lighten stain the wood so the white paint pen shows up.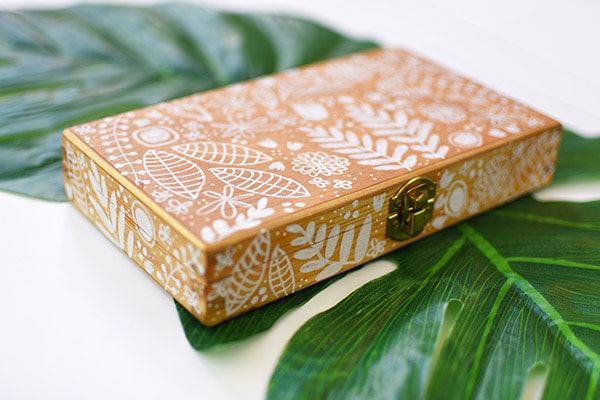 How to lightly stain a wooden box with coffee:
I have used this coffee staining method before and love that it takes no chemicals and can be easily made for quick small projects. You will need steel wool, coffee grounds and vinegar. Place a steel wool pad into a mason jar. Add a 1/4 cup of used coffee grounds and 1 1/2 cups of vinegar.
Close the container, shake the mixture and let it stew overnight. The next morning, gently mix the stain. Remove the steel wool and apply the stain to the project. As the stain dries it will become darker, so let the stain set for 20 minutes before applying the second coat. Repeat until you get your desired color.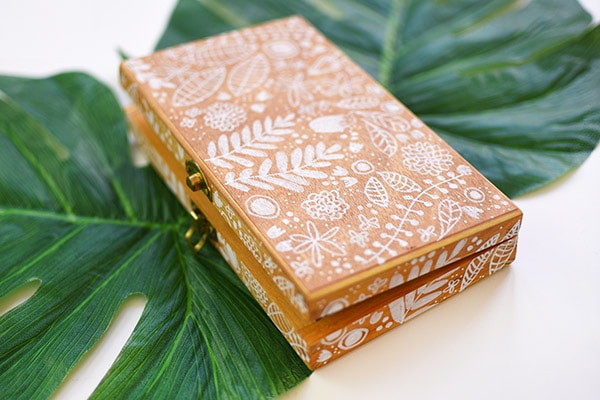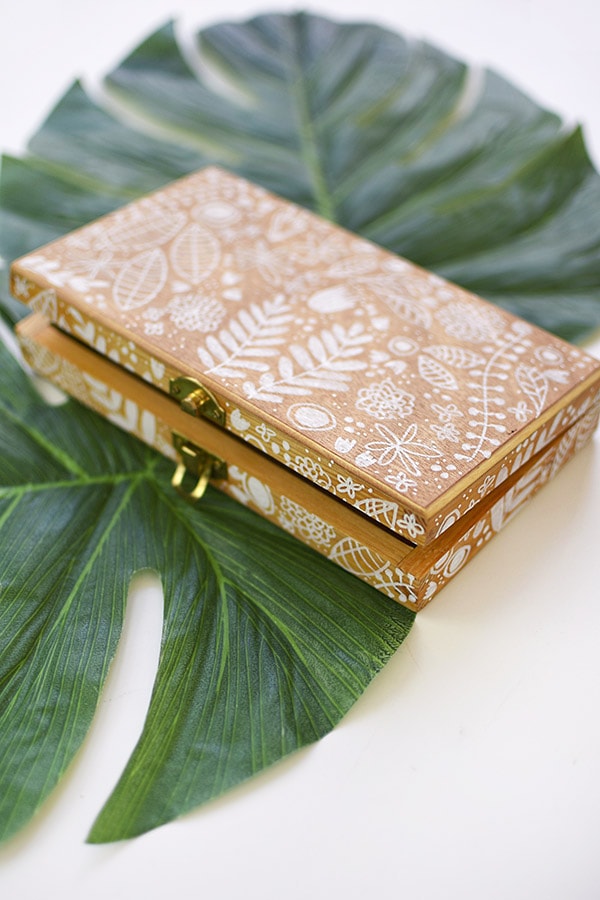 I have done so many fun painted and patterned boxes over the years!
Here are a few of my favorite ones.
Floral Painted Wooden Box | Cacti Embroidered Box | Marbled Box | Button Box
Geometric Thread Box | Memory Box | Onesie Shadow Box | Floral Painted Box