INSIDE : Learn how to create a gorgeous gift box by using spray paint. A geometric pattern painted box is perfect to sit out in your home for a unique decor statement, too.
This post may contain affiliate links. See full disclosure here.
There is something so lovely about being able to take a simple raw wood object and turning it into something gorgeous.
I absolutely adore how this project turned out. The pattern is so delicate looking, I almost can't believe I crafted this project… except that I was the one who made it – ha. I am now ready to add spray painted patterns to everything in sight.
What supplies do I need to make a pattern spray painted box ?
Wooden Box
Martha Stewart Adhesive Geometric Stencil
Martha Stewart Spray Paints – Porcelain Doll, Wild Salmon + Wedding Cake
If making this box as a gift, you'll also need :
Ribbon
Flower + Leaf Greenery embellishments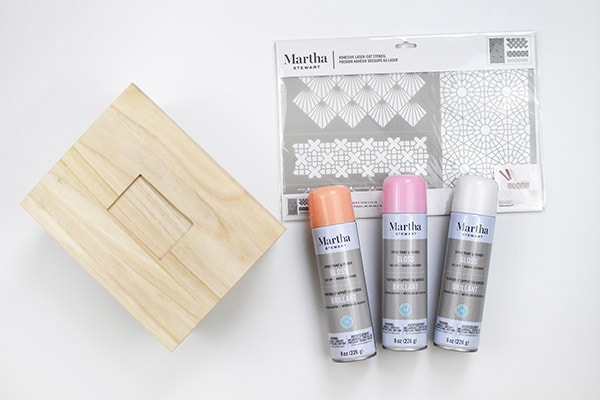 Looking for more creative Martha Stewart projects? Check out the 20+ crafts I've made using her amazing supplies!
How do I make a pattern painted box ?
Start by removing the lid from your box and in a well ventilated area, apply a light coat of Martha Stewart's Porcelain Doll paint. While that is drying, next apply a light coat of Wild Salmon. Follow the directions on the bottles for dry time and apply a second coat of paint for nice even coverage.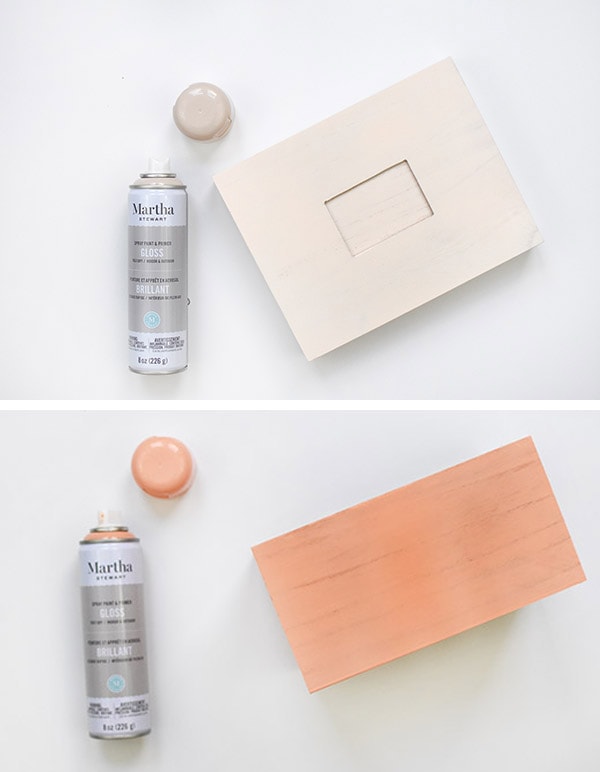 After your paint has fully dried, it's time to apply your stencil! I was so in love with the geometric patterns of this stencil and the best part is that it has an adhesive back. You simply remove the clear backing and can stick your stencil right on the wood. It doesn't slip or move while you are spray painting.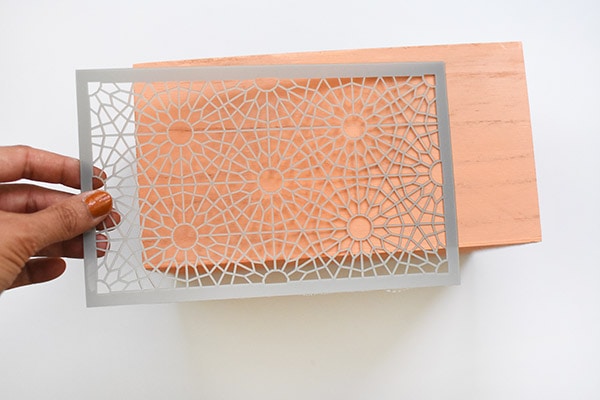 Be sure to adhere your stencil to a corner and then using the Wedding Cake spray paint, give your box a nice even coat of paint. I found it best to spray the stencil and then immediately remove the stencil from the box. Then, I would allow the paint to dry and then place the stencil in the next area.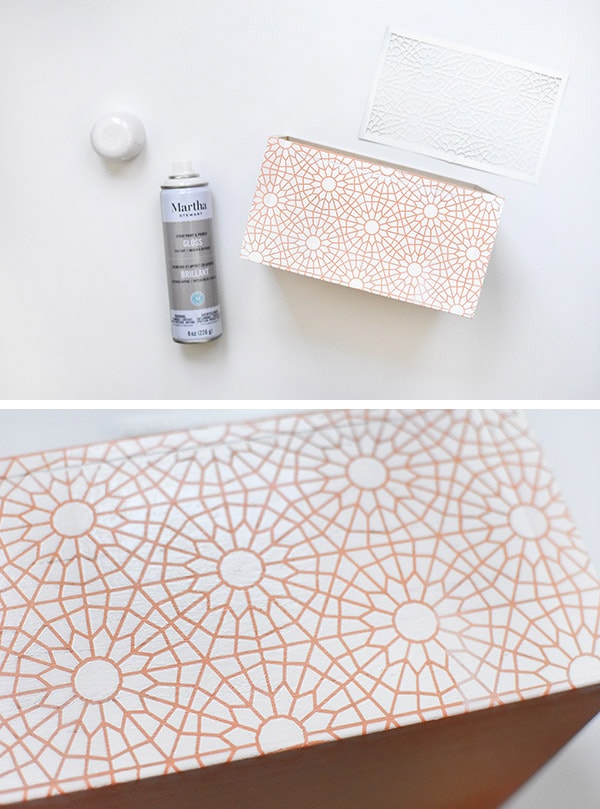 Painted Pattern box
I absolutely LOVED how this stencil and spray paint combination worked out. And if you are wanting a more colorful saturated look, you could always flip-flop the colors and paint the white color first and then apply the peach color on top.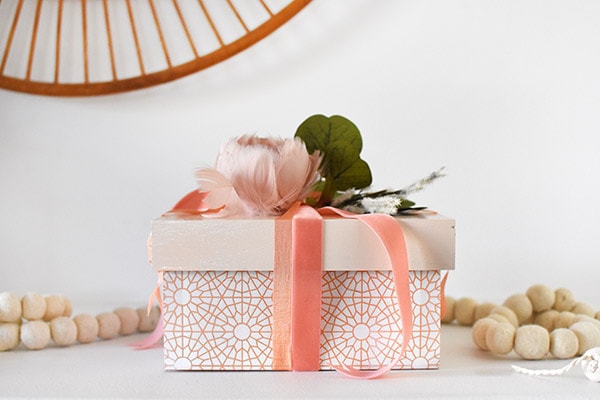 And I think having a slightly different color top is a fun touch to this patterned box.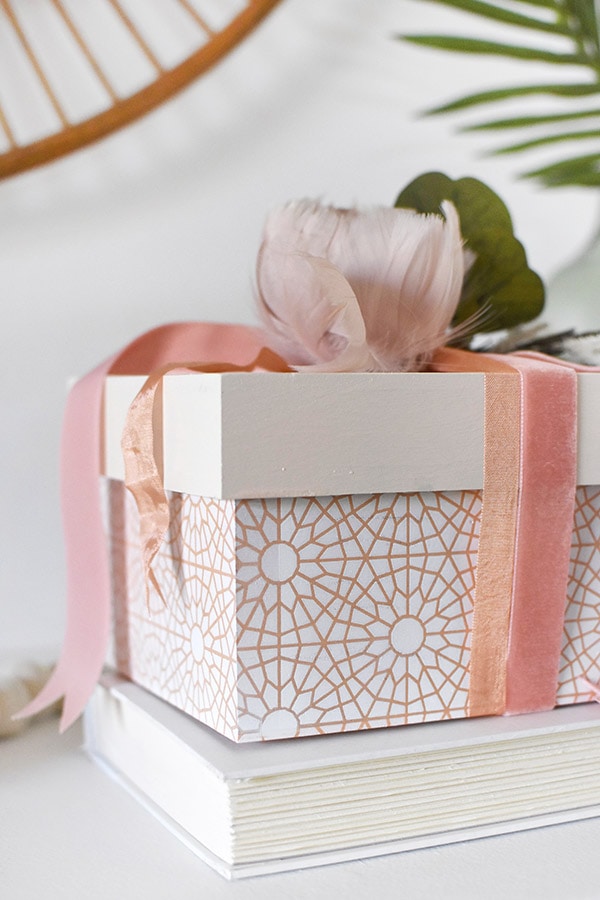 And if you are planning to give this box as a gift, then you can add elegant velvet ribbons tied around it. I also included some greenery and a feathery flower to the top.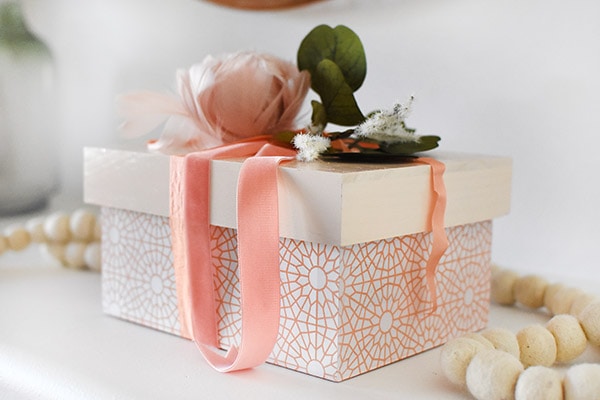 Shop this post :


Painted Home Decor box
If you are planning to have this box sit out in your home, you can stack it on a few books to add some height.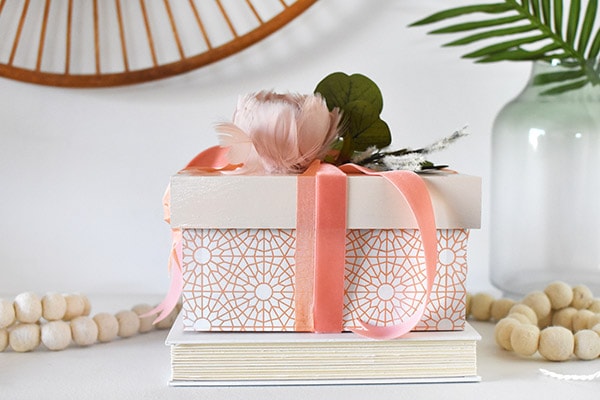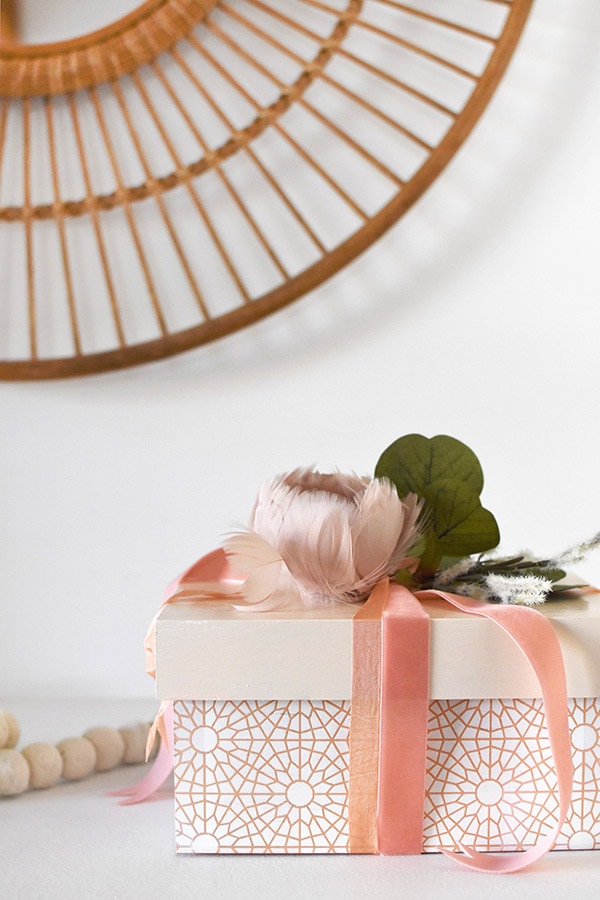 Be sure to check out some of my other gorgeous Martha Stewart projects I've done over the years!
This is a sponsored post by Martha Stewart and Duncan Paint. All opinions are 100% mine.