INSIDE : Learn how to make a Monstera Leaf Shadowbox frame to hang on the wall in your home or help corral all your loose odds and ends. Add polka dots and color for a bit of extra fun.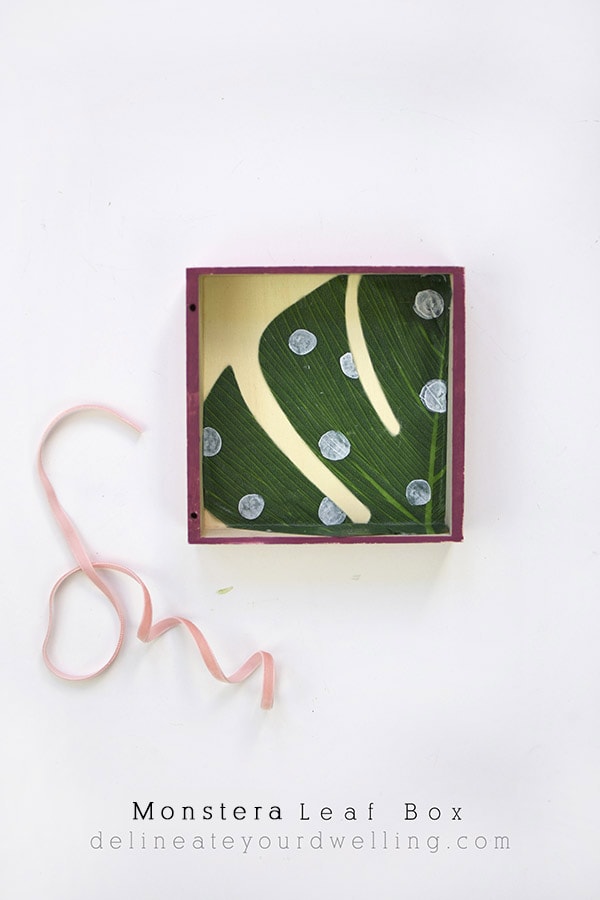 This post may contain affiliate links. See full disclosure here.
Guess what I love? I love Monstera + Tropical leaves! I've used them in Spring Plant Parties and have 10 Ways you can jump onto the Banana Leaf trend.
Guess what else I love? Shadowboxes! I've made Handpainted Marble Shadowboxes, Office Supply Shadowboxes, Onesie Shadowbox and a Puzzle Shadowbox and…. so many more.
So naturally, I took a monstera leaf and crafted it into a sweet little shadowbox frame!
What supplies do you need to make a Monstera Leaf Shadowbox?
Shadowbox
Silk Tropical Leaves
Hot Glue
Marker
Scissors
Acrylic Paint + Brushes
How do I make a Monstera Leaf Shadowbox frame?
Be sure to watch my video below to see the full tutorial for how to craft your shadowbox with a polka dot tropical leaf.
Looking to really keep those plants alive? You might be interested in my Keep Plants Alive checklist and my upcoming Plant Care ebook.
I just LOVED how this fun crafted shadowbox turned out.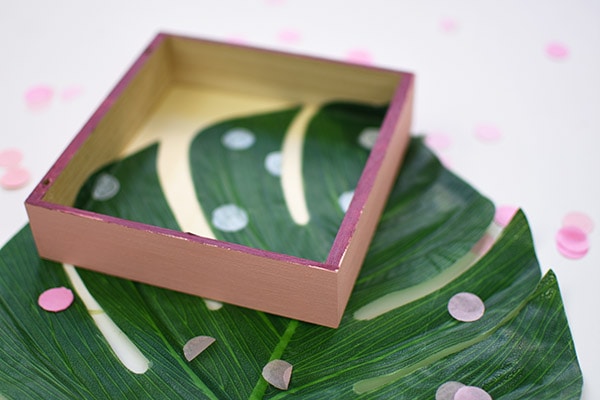 I love keep wood natural whenever possible, so I painted the exterior of the box with a soft peachy pink color and the very top of the box with a pretty plum acrylic paint. I left the entire inside of the box it's natural raw wood color.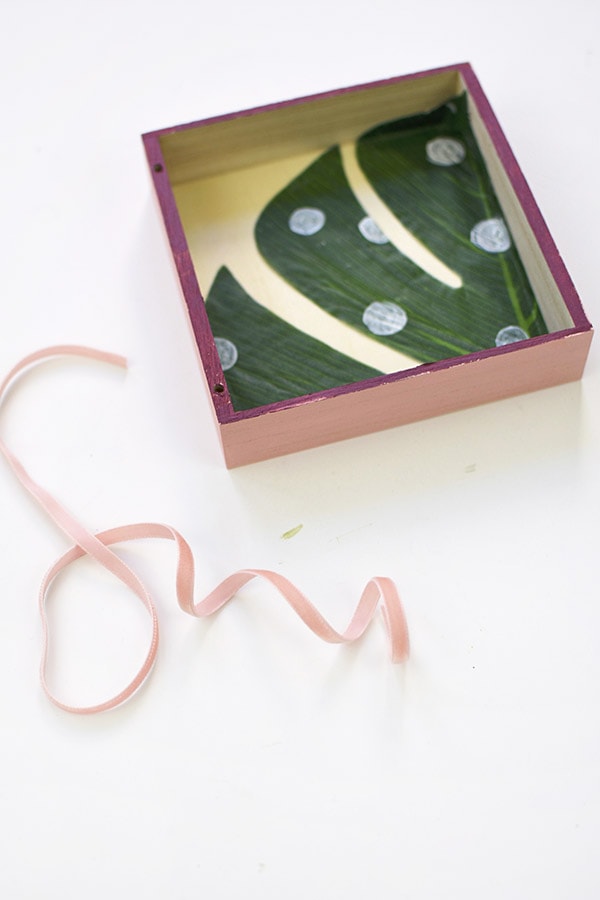 And how fun are these pictures… I just placed my plant shadowbox right on top of a whole Monstera Leaf and it almost matches up perfectly – ha.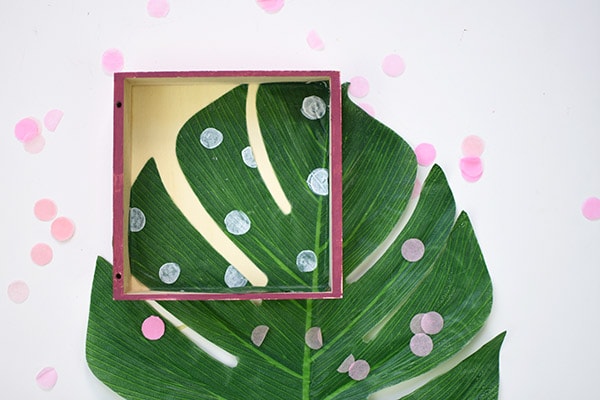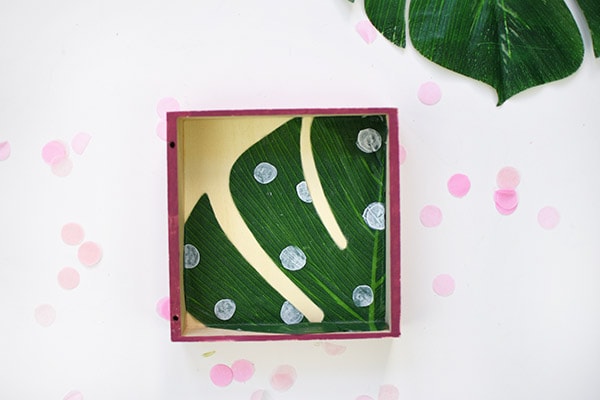 I also thought using a silk fern leaf would be so elegant instead of the monstera leaf. Maybe painting the box in shades of green, too.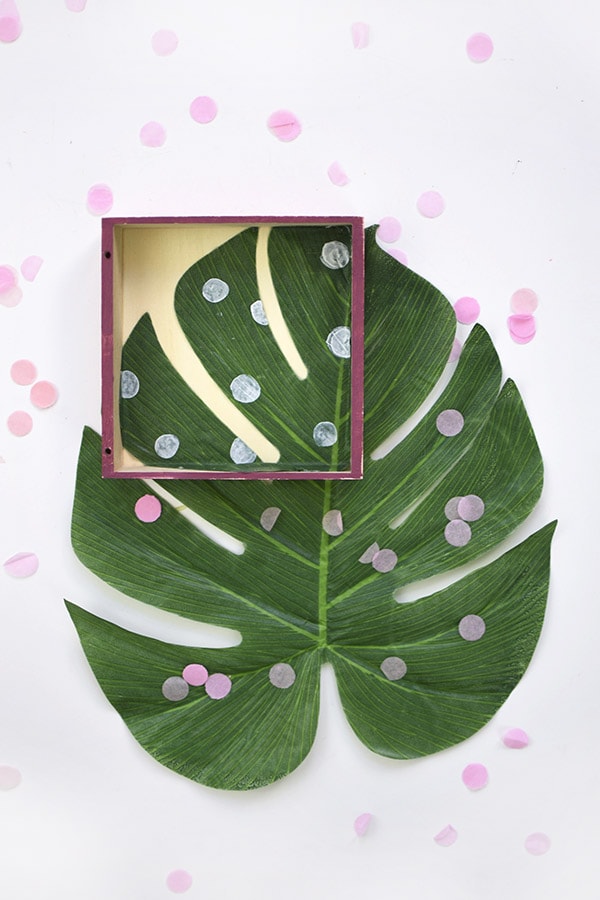 And if you are loving this Monstera plant craft, you might like a few of these fun plant craft projects.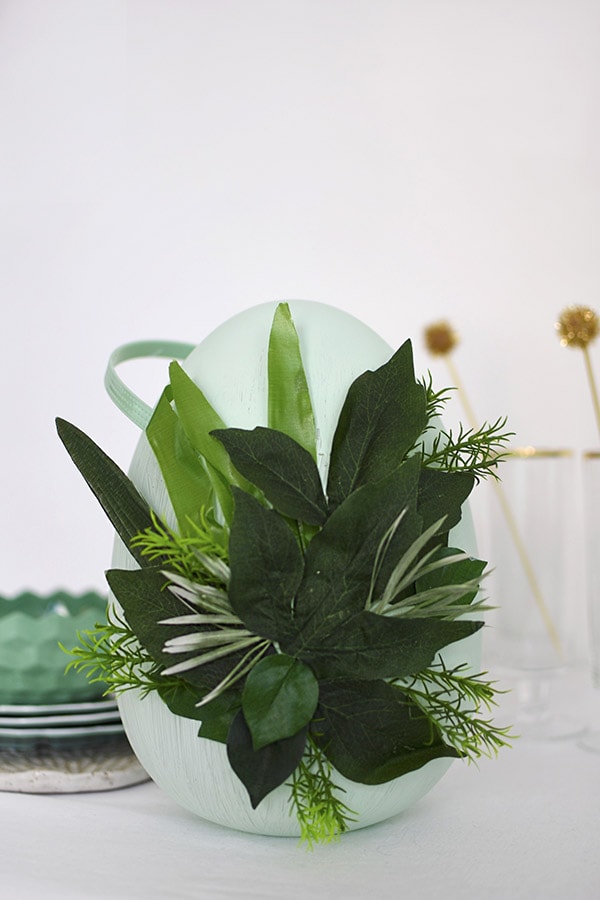 Photo Embroidery Plant Tote Bag