Hand painted Marble Wall Box
INSIDE : Learn how to create a statement marbled piece using simple acrylic paint and an old wooden toy container. In just a few steps you'll be painting your own Marbled Wall Shadow Box.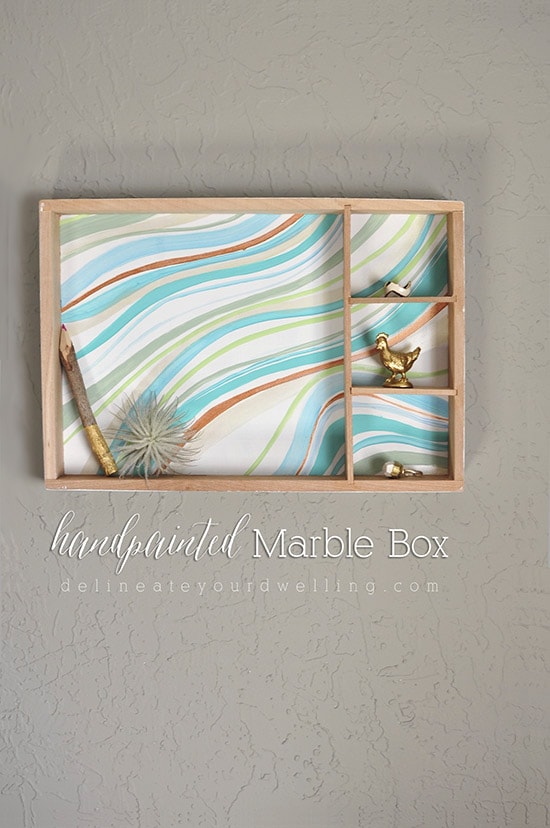 I am in a big hand painted marble kick. I just recently made some hand painted marble cocktail napkins and now I've turned to painting wood. Now that I know how easy it is, you will probably be seeing more of this from me. Today I am so excited to share my Hand painted Marble Wall Box.
If you are looking for more information about everything involving marbling, my Marbling 101 post might be just what you are looking for!
This post may contain affiliate links. See full disclosure here.

We love the Melissa + Doug brand toys and many of them come in these really nice sturdy wooden crate/boxes. My kiddos received a "Melissa & Doug Pizza Party
" making kit from a relative this year and I instantly snatched the box up for myself!
What supplies do I need for a Hand painted Marble Wall Box?
Shadowbox – Ours was a Melissa + Doug toy
White Spray Paint
Acrylic Paint
Gold Metallic Paint
Paint Brushes
Elmer's Wood Glue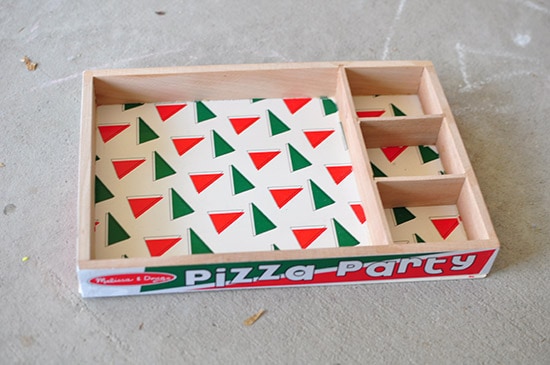 I can still hardly believe I took this brightly colored (tacky) box and made it something lovely.
First, I used washi tape and taped off the interior of the box and the top edge. I wanted those to stay natural wood. Using white spray paint with a primer, I did three coats to cover that bright red and green.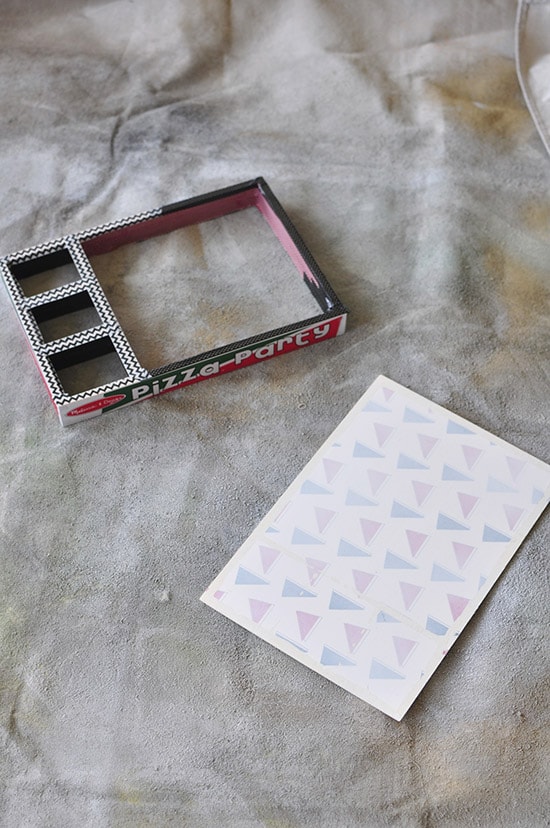 The back of my box actually popped off during the painting process. I grabbed a handful of blue and green acrylic paints (about four or five). I also used a soft gold and Bronze Metals Leafing Finish
for my accent colors.
How to create a painted Marbled Look:
1. Start with your darkest color and paint two swooshes across the board. Then do one more swoosh in the upper corner, a wide "U" looking shape.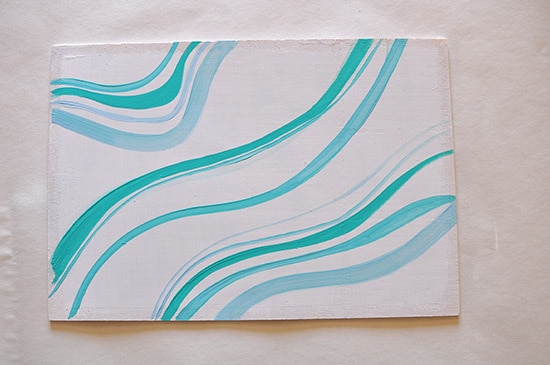 2. Then use your next darkest color and create wide and thin lines. The beauty of this hand painting is there is no right or wrong!
3. After you have used all your colors, use your accent color in three places. This adds the perfect variation.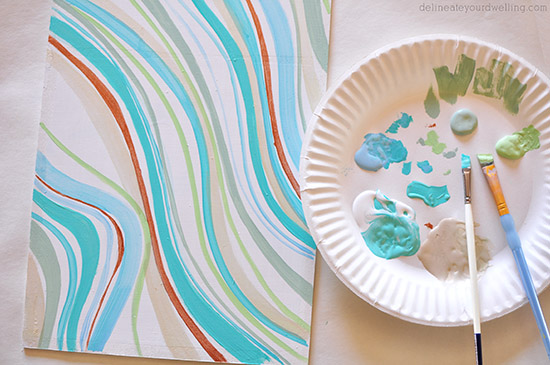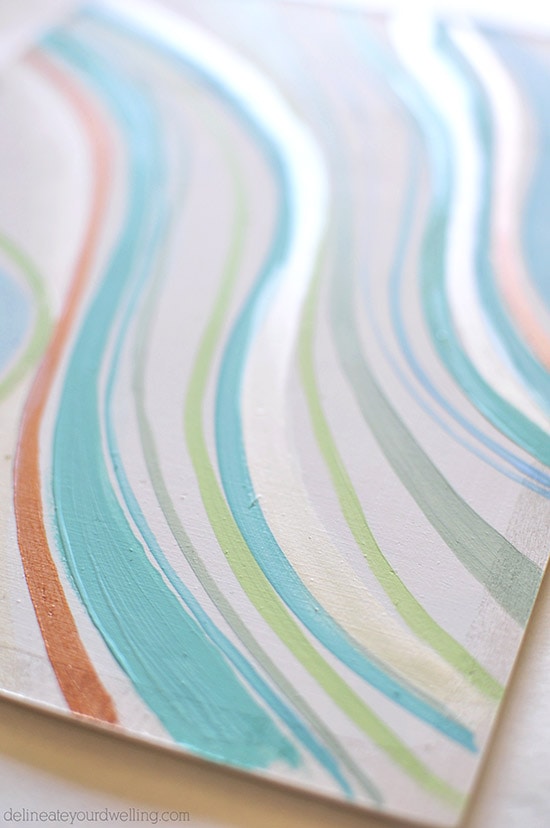 At this point, the main box was dry and I removed the washi tape. I used Elmer's Wood Glue
and reattached the back to the box. I let that dry for 24 hours with a few heavy boxes sitting on top of it.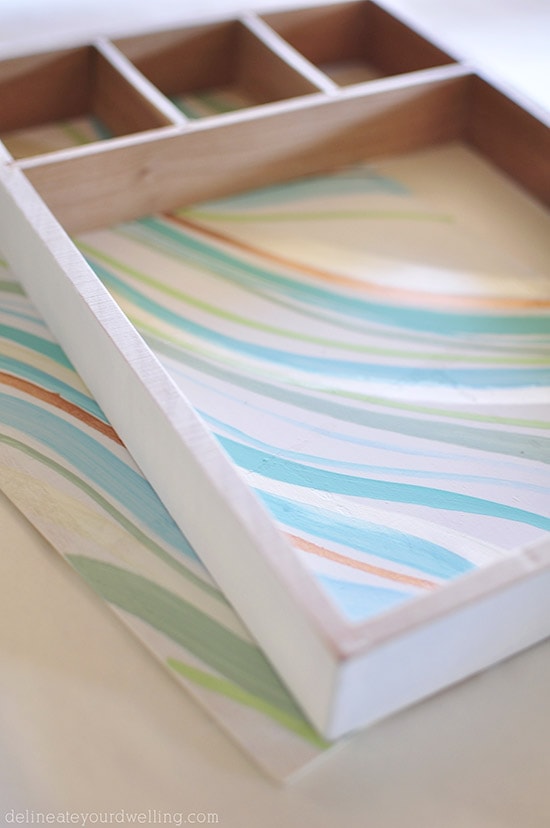 I was so THRILLED with the outcome.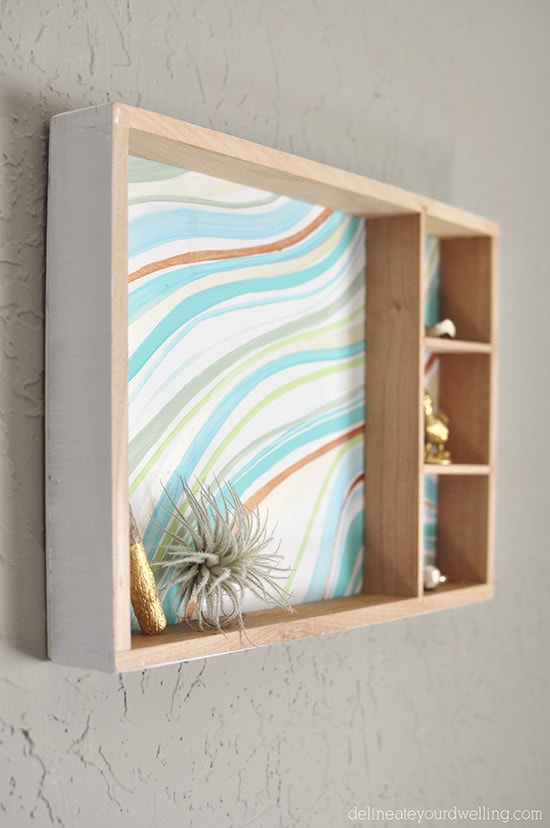 The soft gold and bronze leafing add a soft shimmer in different lighting.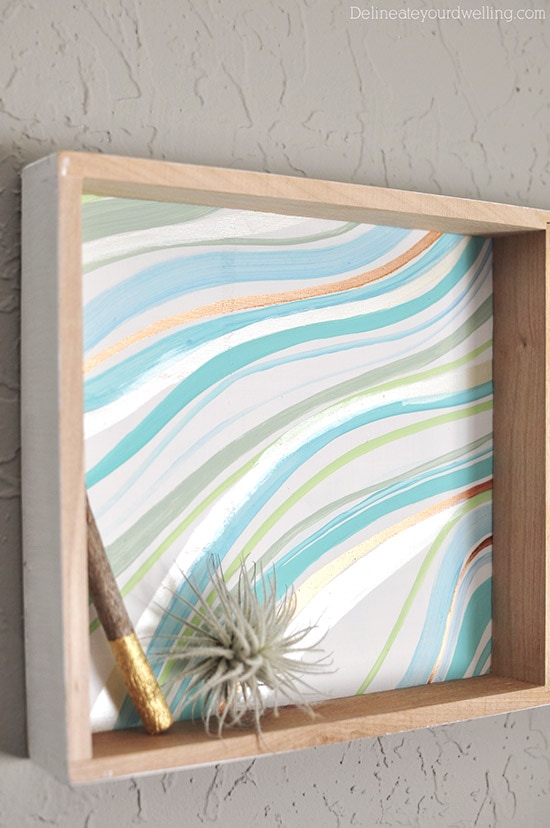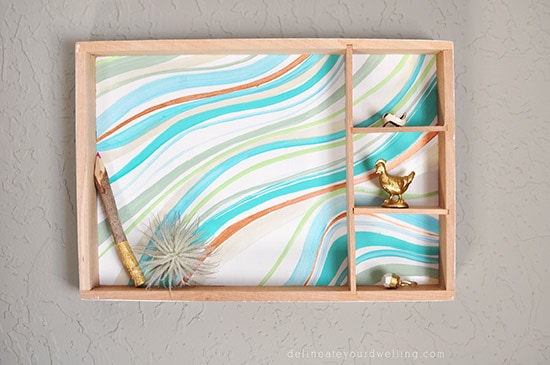 I am slooowly updating our master bedroom from gray, orange and white to some of these blues and green colors. It looks so great in our room.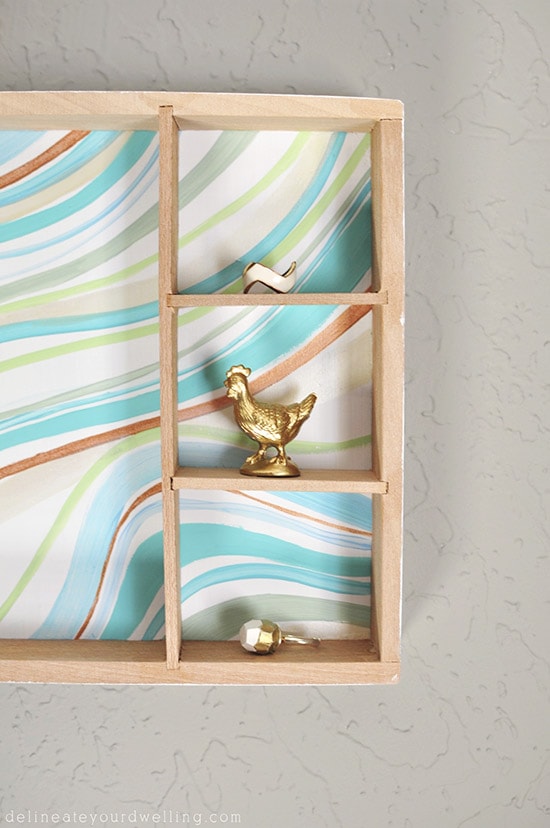 Check out a few of my other Shadowbox projects:
Office Supply Artwork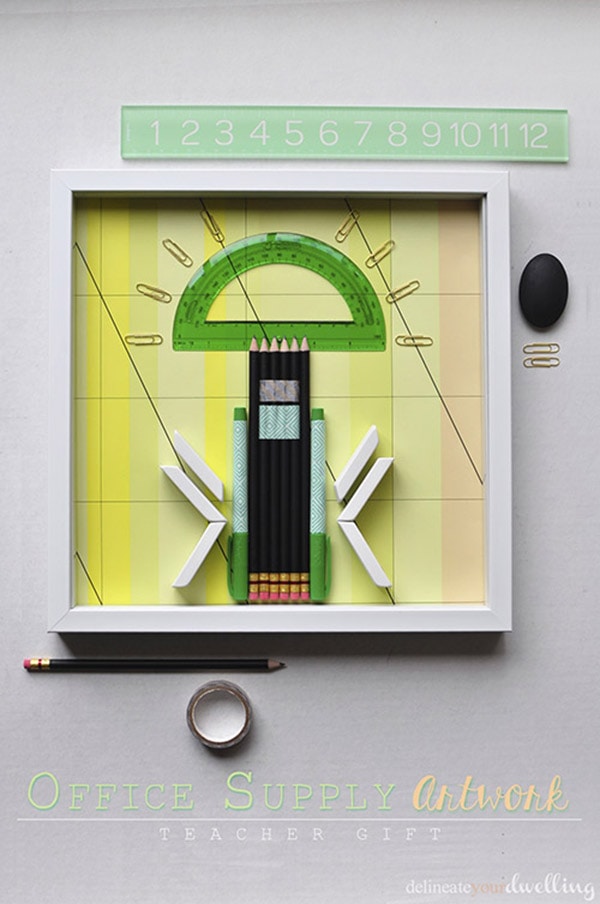 Clay DIY Shadowbox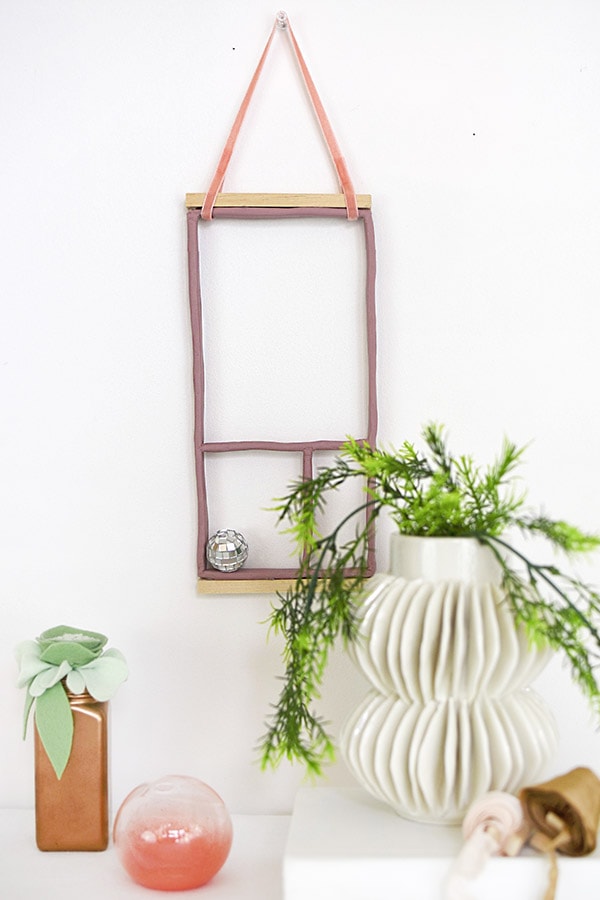 Square Mosaic Heart box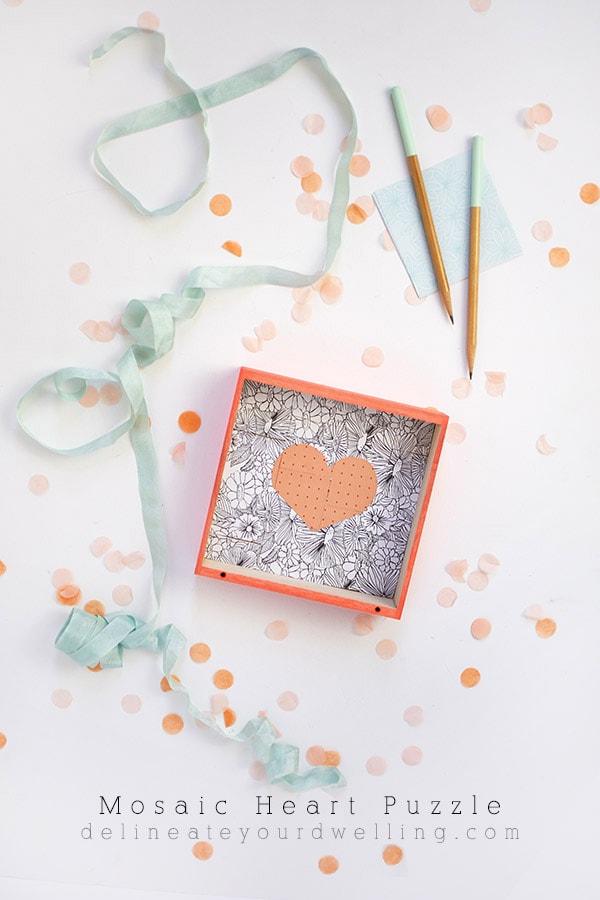 Interested in my many other marbled projects? You can check out some of these!
SaveSave
SaveSave
SaveSave