INSIDE : How to make delicious looking and even extra tasty Marble Dipped Oreos! You will be surprised at how easy these cookies are to make.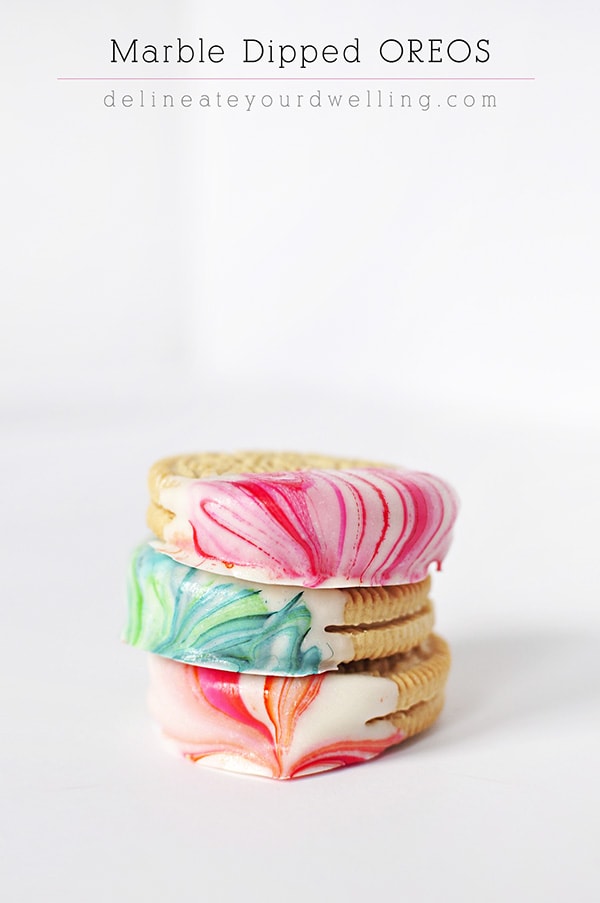 Once the weather starts cooling down, everything inside of body starts telling me to eat all the yummy things. And by yummy things I mean, carbs… some savory carbs and some sweet carbs, but pretty much carbs – ha. They are delicious and it's winter, so we all can pack just a little bit more on without guilt. (Am, I right?)
Today I am sharing the quickest and most lovely Marble Dipped OREOS… which slightly fall into the carb family.
My kiddo's helped me dip these over the weekend and while the process is so simple, the aftermath is so pretty! We dipped an entire box of Oreos and kept wanting to do more. So be ready for the fun ahead.
If you are looking for more information about everything involving marbling, my Marbling 101 post might be just what you are looking for!
This post may contain affiliate links. See my full disclosure.
What do I need to make Marbled Oreo Cookies?
Food Coloring
Small Dishes
Golden OREOs
Ghiradelli White Melting Wafer Chocolate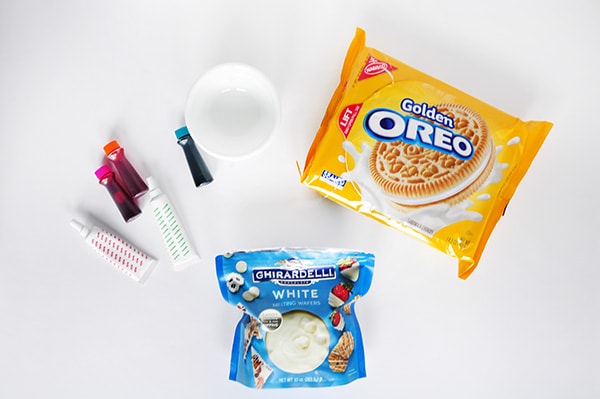 How do I make delicious Marbled Oreo Cookies?
Start by deciding on your color palette. I decided to do three batches of cookies colors. I did a pink + red combination, a teal + green combination and a red + pink + orange combination. A little holiday nod, without going straight up red + green.
Divide the chocolate into separate containers and melt according to directions. Once melted, add one drip of each color to the dishes. Using a toothpick or other object, slightly swirl the food coloring. Do not overmix.
Take a Golden Oreo and submerge into the chocolate. Do not swish around and mix using the cookie. Simply dip and then remove.
Once the cookies has had the excess chocolate dripped off, set to dry on a sheet of wax paper.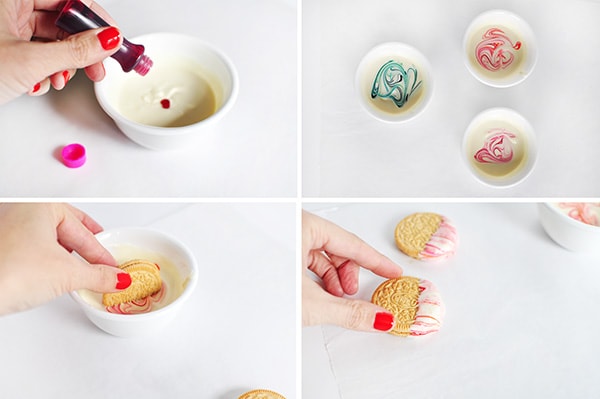 I found after about 5 cookies, we needed to add a few more food coloring drops to each batch of chocolate. If you add too much in the beginning, the marble look will not work quite right. Adding more food coloring only takes seconds, so this doesn't really slow you down much.
Before you know it, all the cookies are marbleized and you are done! Set all the cookies aside to allow chocolate to harden before displaying.
And did you know I just wrote a REAL LIFE book all about marbling crafts?? Check out my Make Your Own Marbled Creations book!!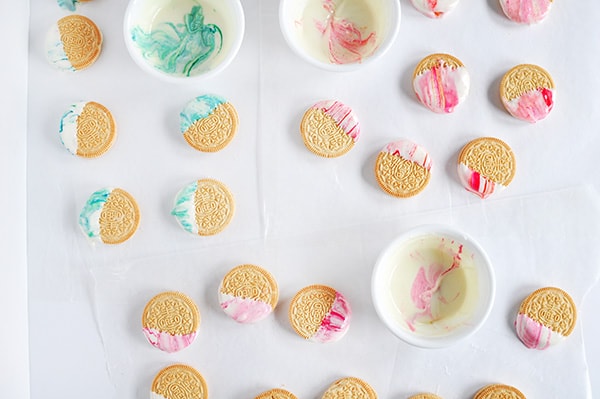 I set some cookies out on a pretty emerald green plate and loved the color patterns they each made.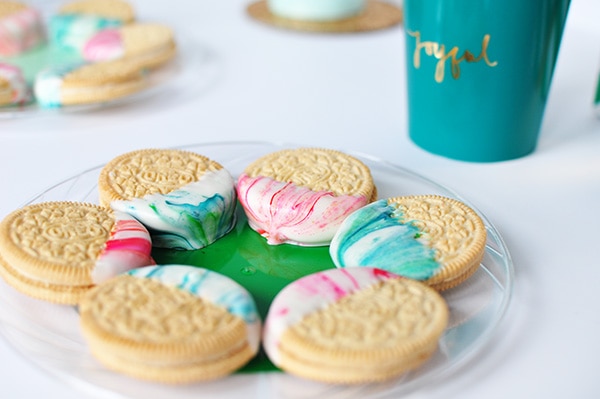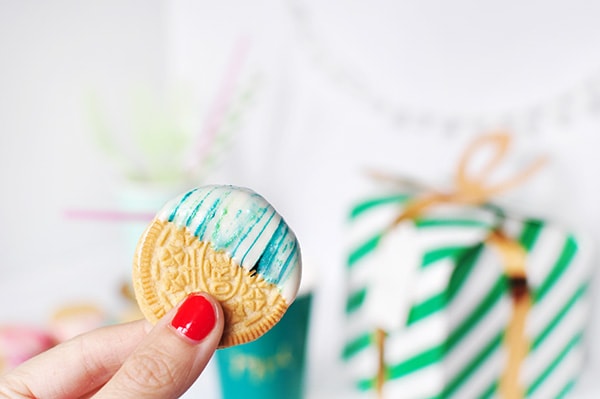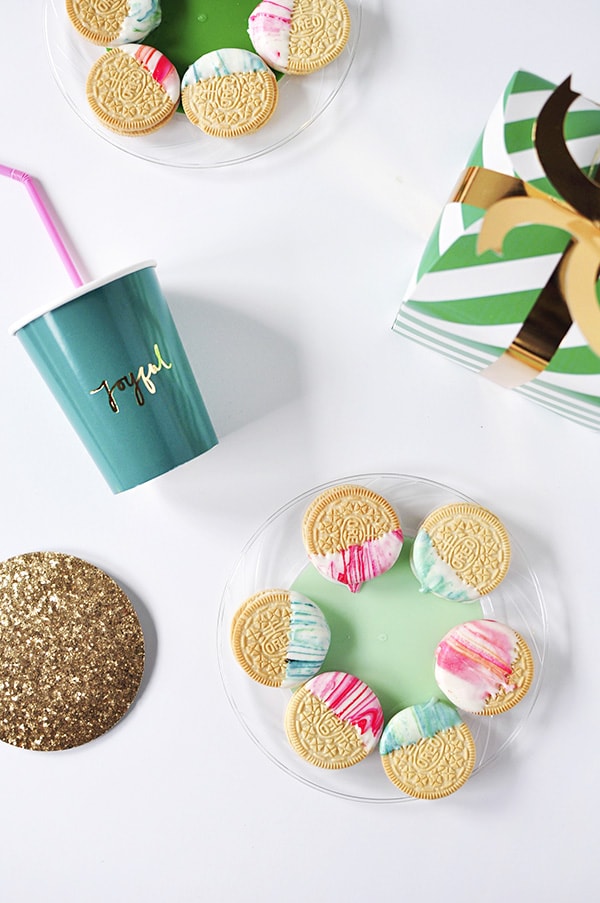 Aren't these so pretty when stacked on each other?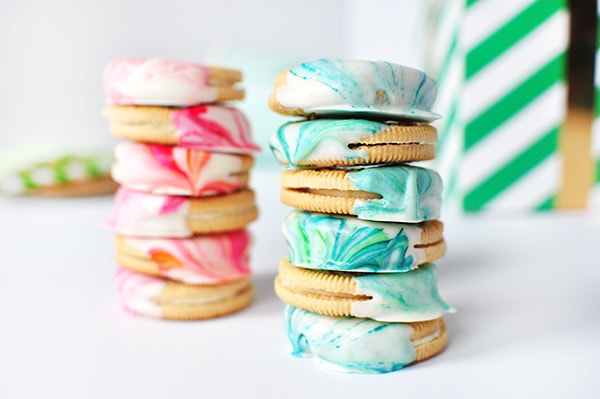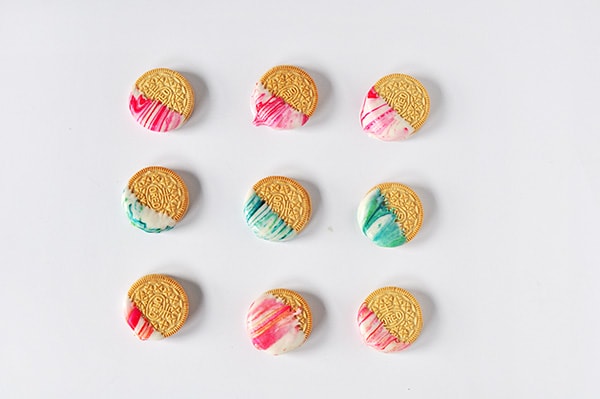 I have also made Spring Marbled Oreo Cookies.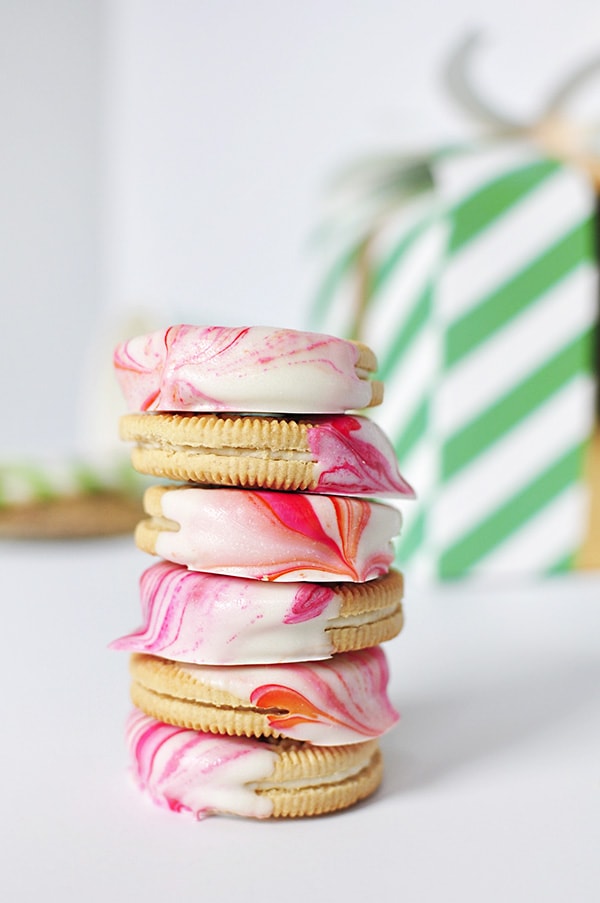 I love how these cookies look when they are all grouped together, it's almost like an edible watercolor painting!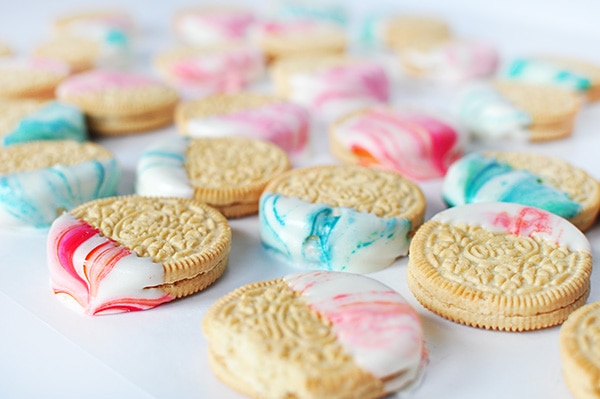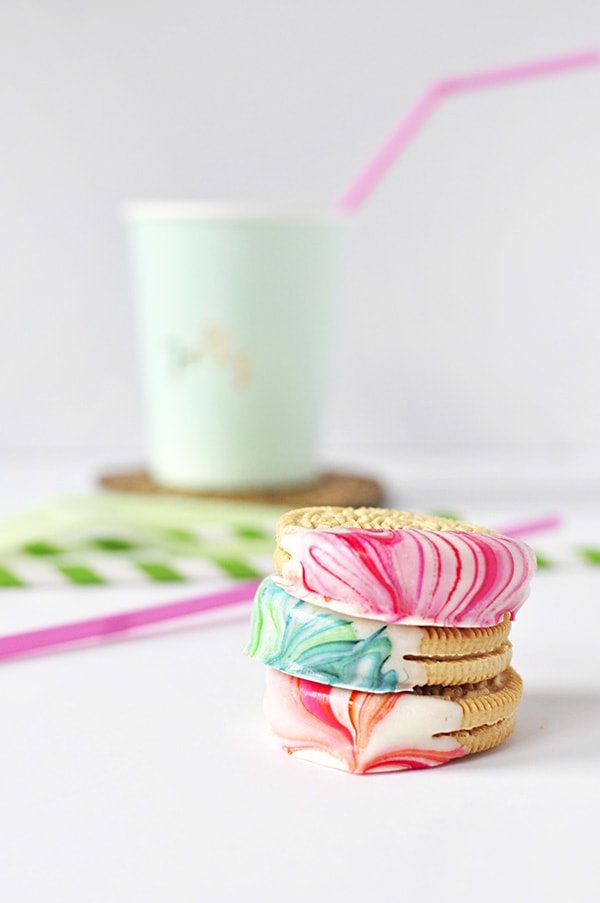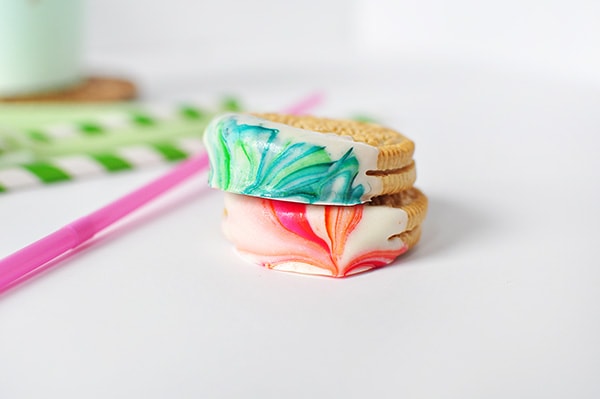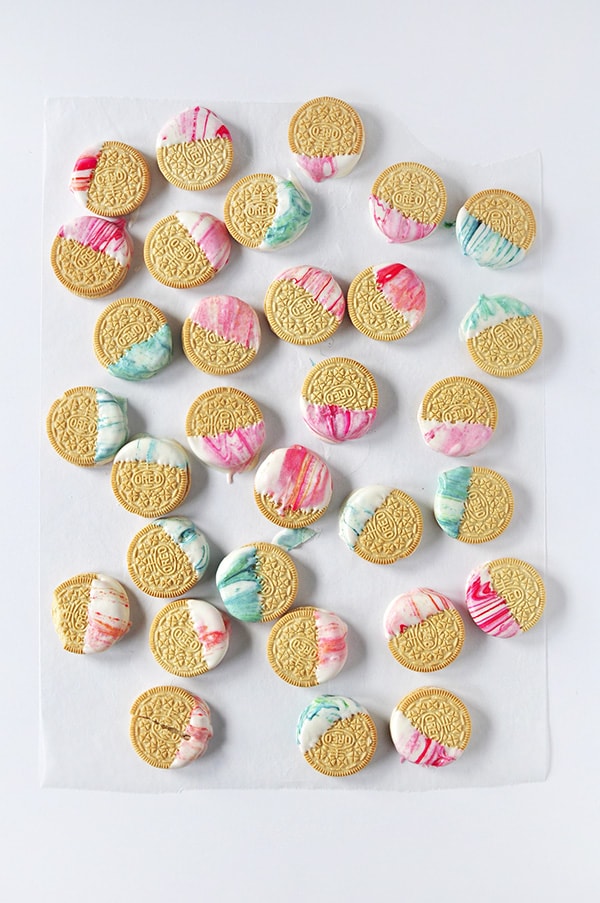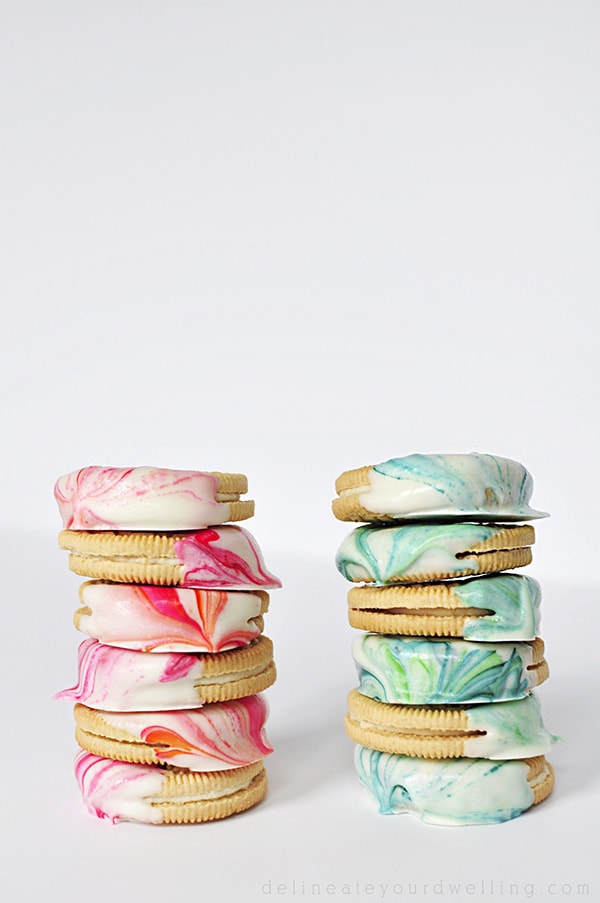 And if you are interested in more tasty treats, you might want to check out these Food related posts!
Looking for my other marbled cookies? Look no further!
Interested in my many other marbled projects? You can check out some of these!
SaveSave
SaveSave
SaveSaveSaveSave
SaveSave
SaveSave