Last week I shared my Christmas Home Tour and promised to share my Christmas Tree wall hanging with you all. I fell in love with the tree fabric at Ikea but alas, with no Ikea in our state I had to take matters into my own crafty hands.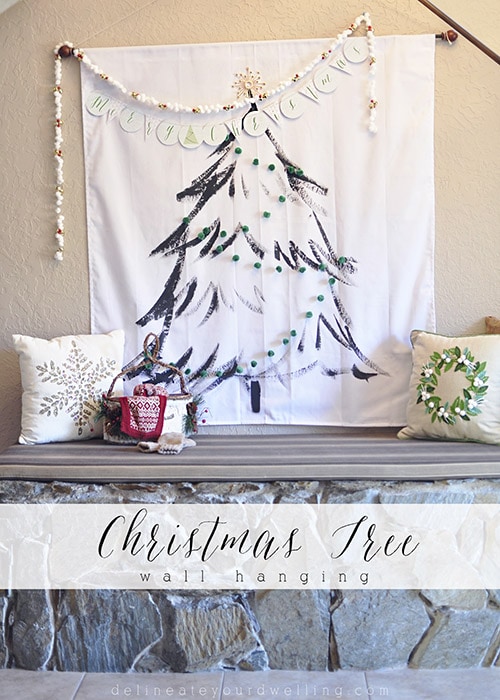 *Denotes an affiliate link. See my full disclosure.*

*White Tablecloth (I got mine at Target)
Black Acrylic Paint + Paint Brush
Emerald Green Pom poms
Gold Ornament (Used for the tree topper)
The first thing I did was hold my tablecloth up to the wall to determine the appropriate size. The entry wall in our house connects to the staircase at the top and has an odd planter (that I turned into a bench) at the bottom, so it's an odd shape and 4.5′ was about all the height I could get to fit correctly. I cut the tablecloth to that size and put down a painters cloth on the floor so as to not bleed through.
I used a pencil to lightly decide how wide I wanted my tree based on the height and after that was painting time. In case you didn't know, prior to starting this blog, I was practicing landscape architecture. I worked at a landscape architecture office for eight years, so I draw trees (and plants) is not too intimidating for me.
BUT, let's say you aren't a landscape architect but want to draw a similar style tree. My hints are these. First, with a pencil draw a tall skinny triangle. Next, draw at least three levels/branches to that triangle's outer edges. Always draw in odd numbers. Then, not perfectly but close to the same areas, match the same number of branches. For the bottom, add some ruffled line work to indicate the bottom branches of the tree. (Hope that helped some… if not, just copy my tree – ha)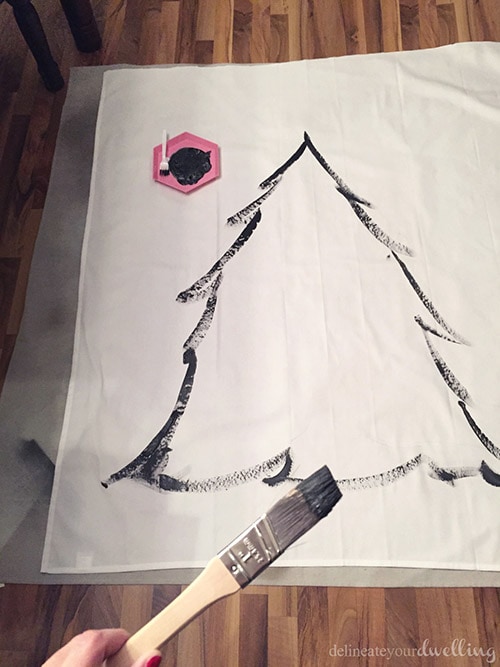 Now, that my basic shape was painted on, I added the interior branches.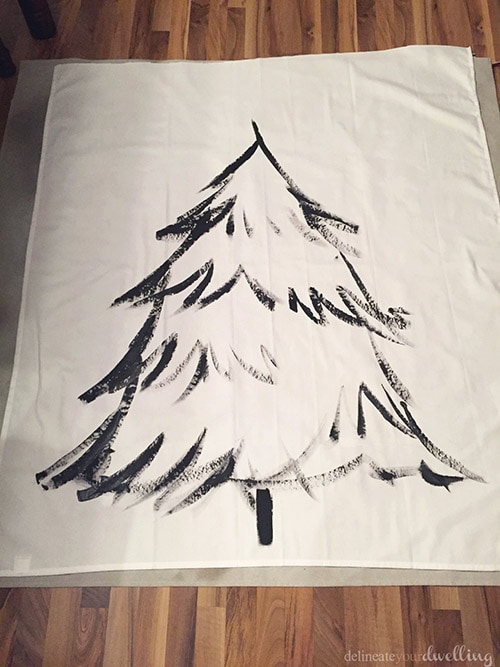 I let my tree dry overnight and in the morning, found an old curtain rod that wasn't being used to hang my tree up with. I laid the rod on the backside of the tree hanging and folded it over to I would have an even seam. Next, I simply used hot glue to secure the hem. You could actually sew this or even use iron on bonding, but I went the quick and easy way. The tablecloth didn't weigh anything, so I was confident the glue would hold just fine.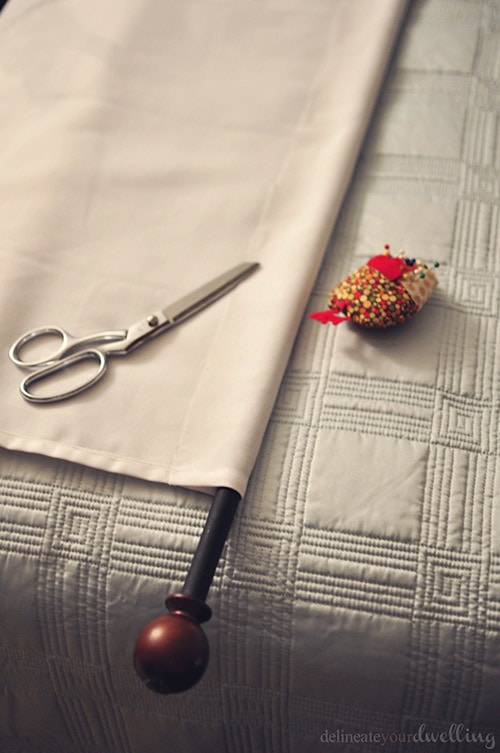 I used twine to secure the rod to the wall.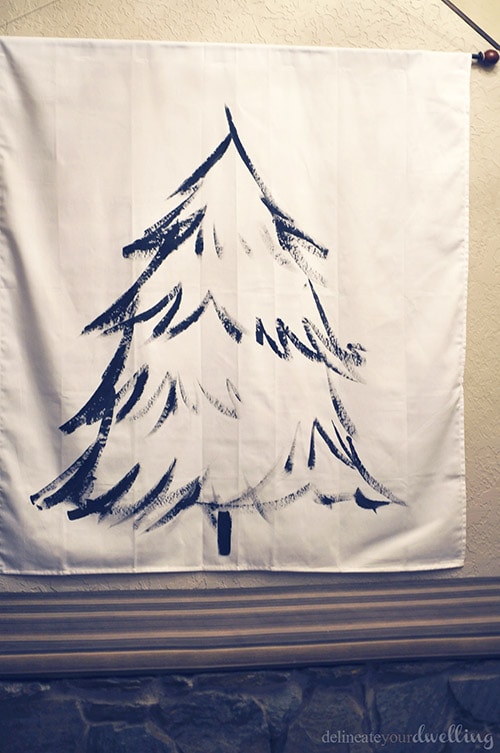 I wanted a very simple look for my tree, so I strung Emerald green pom poms on green thread and used that for my tree's ornaments and garland.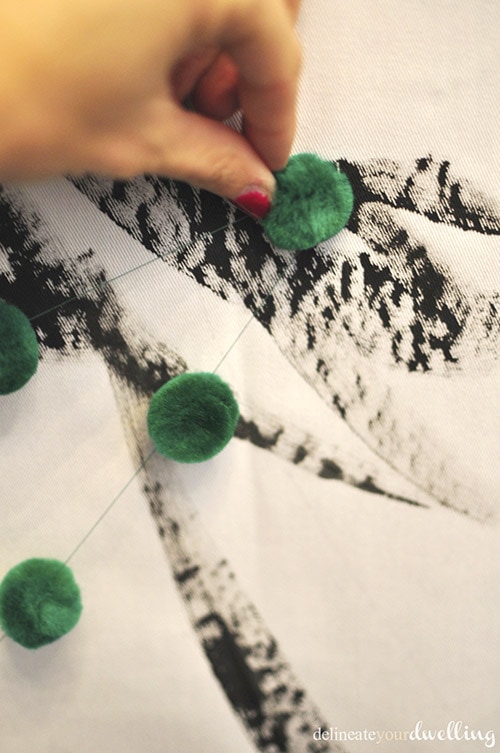 I then printed out my Green Merry Christmas Garland (sold in my Etsy shop for $5) and hung that at the top.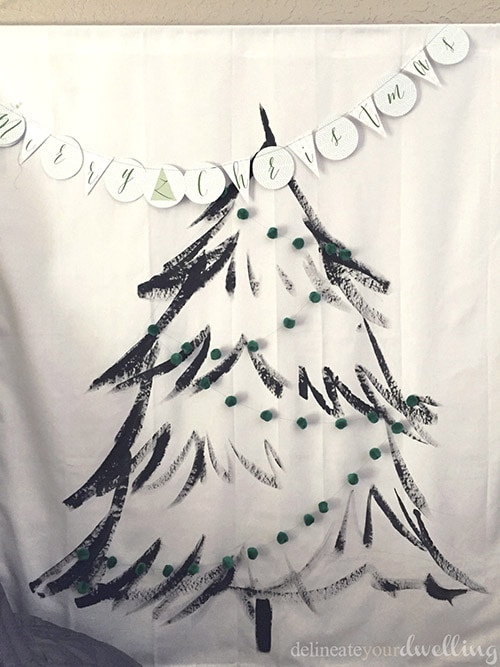 A final touch of some white and red pom poms and a gold ornament for a tree topper and it was done!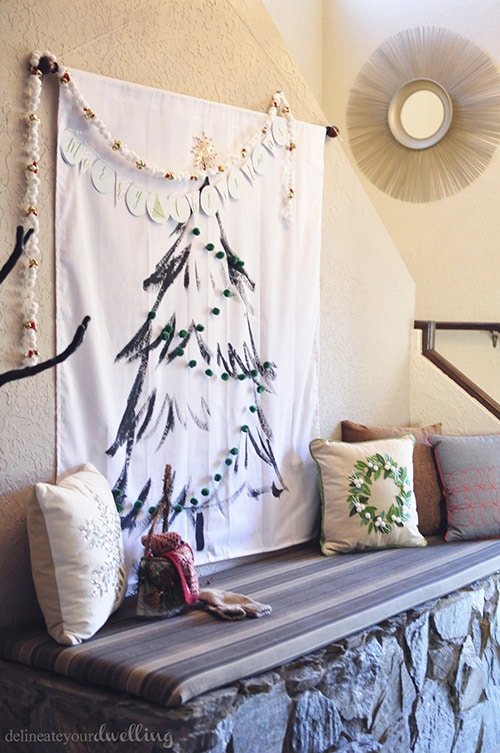 I really love how this tree turned out. It's very bold and graphic and has the potential to be changed up year after year based on what "ornaments" or garlands I hang on it.
If you liked this project, you might like some of these other Christmas projects I've crafted.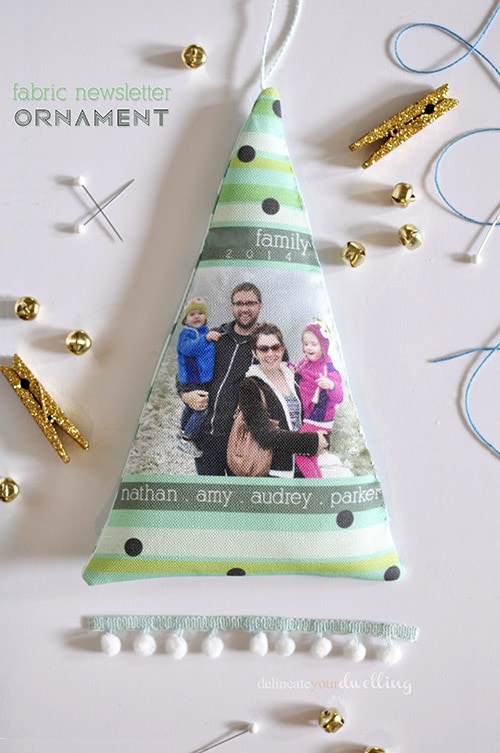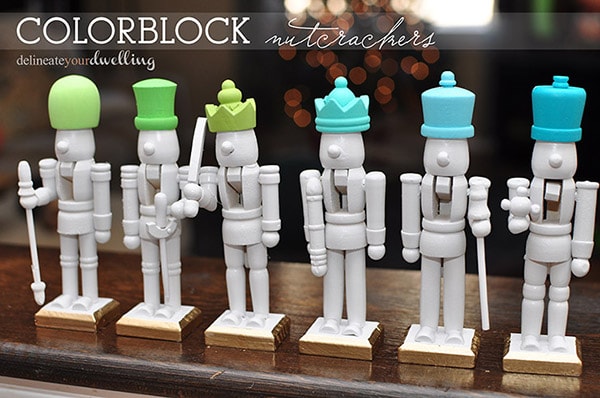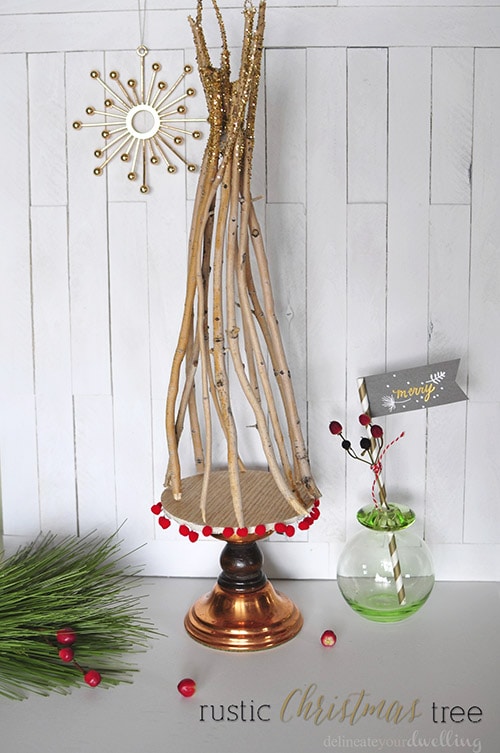 SaveSave