INSIDE : I am thrilled to have been asked to participate in the 7th Annual – My Home Style blog hop: Christmas Tree Edition! See how I created a Peaceful Woodland Sparkle Christmas tree full of clever DIY ornaments, sequins bugs, disco balls and a ton of peace signs! It's a true Peace on Earth tree.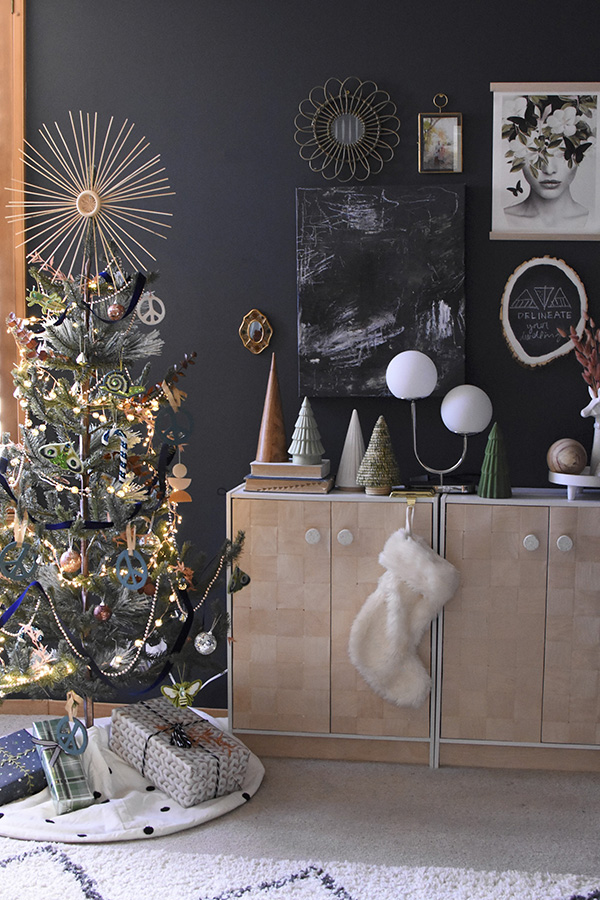 This post may contain affiliate links. See full disclosure here.
And a huge thank you to Stephanie from Casa Watkins Living for hosting this incredible Home Style Blog Hop for 7 years now. Welcome if you are here from Sara's blog, SKG Design!
Each day this week, seven different bloggers are sharing their take on a holiday tree. Read to the end of the post for the full week's entire lineup – they are so amazing!
CHECK OUT MY Christmas TREES FROM PREVIOUS YEARS :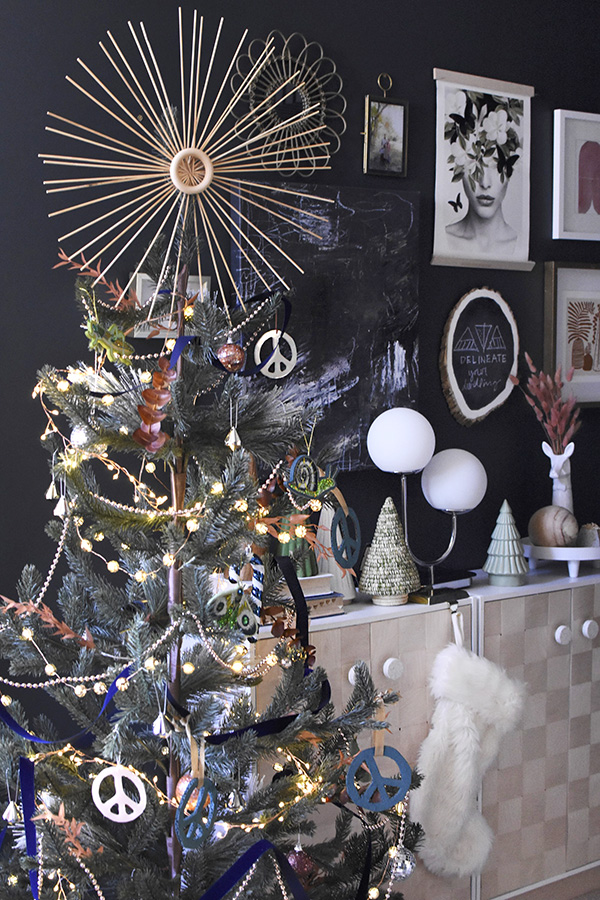 This year there were three things that really guided the direction of my tree. Once I saw them, the ideas started flying for this peace loving, woodland vibed, disco ball sparkling tree! I've been referring to it as my Peace on Earth tree, which seems like a very fitting title.
Holiday Ornament Inspiration
Inspiration-
1. My friend, Kyla from We are Tumble sold gorgeous acrylic ornaments and I fell in love with her peace signs. (Use code AMY15 for 15% her entire site!!)
2. A holiday card that read Peace of Earth – I loved the colors of the card, the font, the message.
3. These beautiful felt and sequins various bug ornaments, also from Target.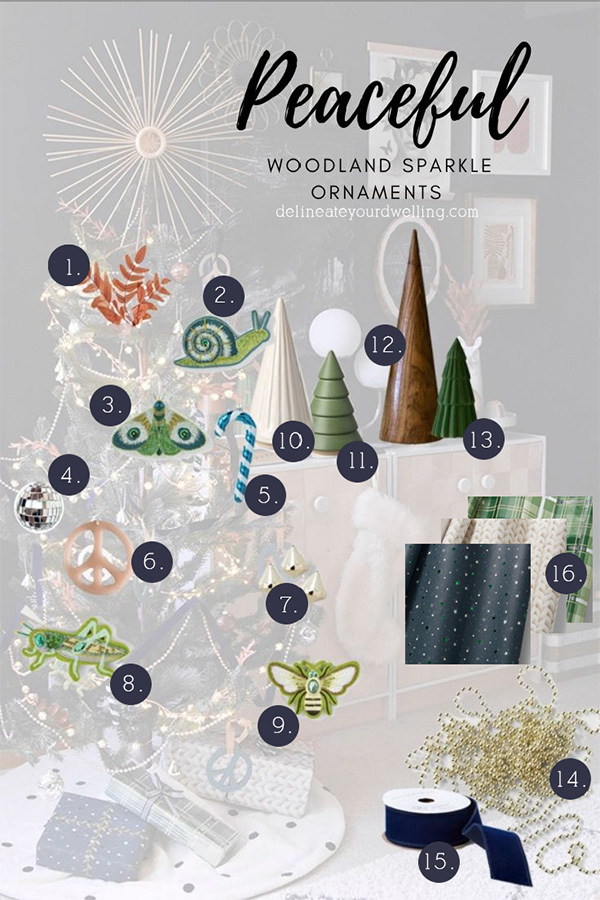 1- Sprigs of Peach + Rust Colored greenery
2- Felted Snail Ornament
3- Felted Moth Ornament
4- Mini Disco Balls
5- Blue Candy Canes
6- Acrylic Peace Signs (Use AMY15 for 15% off entire site!)
7- Gold Gem Ornaments
8- Felted Grasshopper Ornament
9- Felted Bee Ornament
10- White Ceramic Tree Decor
11- Green Ceramic Tree Decor
12- Wooden Tree Decor
13- Green Velvet Tree Decor
14- Gold Bead Garland + Copper Garland Lights
15- 1″ Midnight Blue Velvet Ribbon
16- Midnight Blue Stars, Cream Chunky Blanket + Green Plaid Wrapping Papers
17 – IKEA tree (not labeled above)
Woodland Holiday Ornaments and Decor –
I can't help myself but be drawn to all things woods and forests and large trees. It's in my DNA to love nature and feel refreshed when I am close to it. So, when I found these four felted and sequins bugs in shades of greens and blue teals, well it was pretty much a matched made in heaven.
I also, never thought I could love a moth so much. This Felted Moth Ornament is just the most darling.
Incorporating Nature Elements into a Christmas tree –
Along with simply putting these adorable felted bug ornaments on my tree, I wanted to soften the tree with some more organic shapes, so I grabbed two small floral picks for under $4. I got a peachy – blush succulent looking leaves. And then I also got a red wine – rust colored succulent pick. I pulled them apart and placed into the branches of my IKEA tree for a more full and colorful look.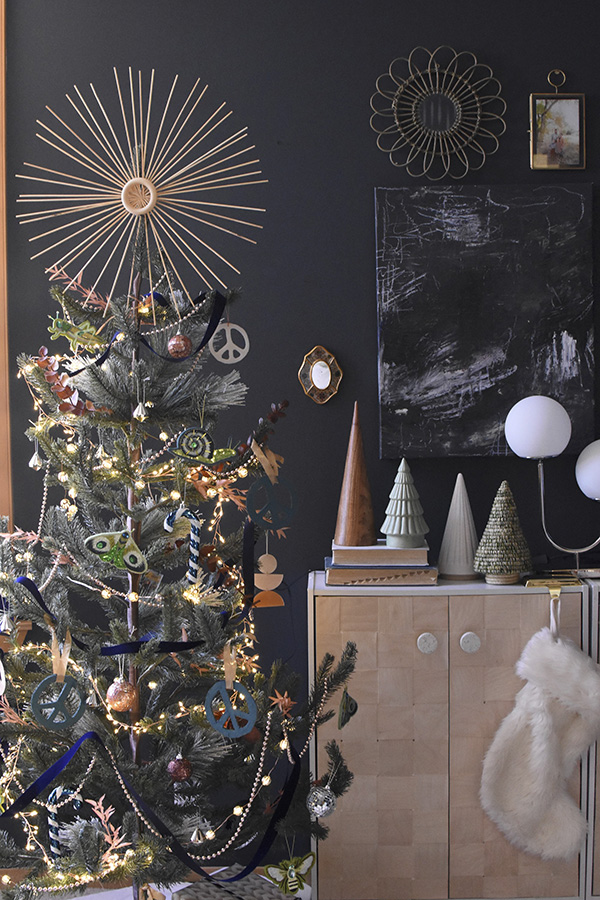 And don't get me started on this adorable little Snail. You can see why I was drawn to it. Target also sold them in complementary shades of light blues and minty greens. So, you can mix and match them perfectly to your liking.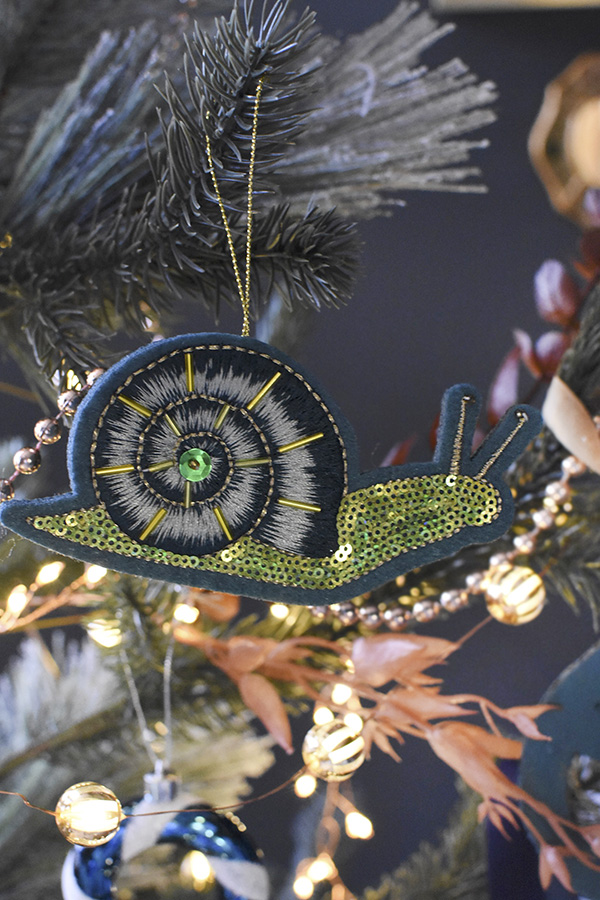 Peaceful Holiday Ornaments and Decor –
As I mentioned, along with the woodland vibe, my friend Kyla's ornament peace signs were a huge draw to this theme. (Use code AMY15 for 15% off her entire site!) I got the beige and cream peace signs and wow do I love them! I bought two of her starburst ornaments last year, they are just lovely.
Sidenote, I also own FOUR pairs of her acrylic earrings. They are my favorite ever and I always wear them.
DIY Baking Soda and Cardboard Peace Signs
Since my bank account couldn't handle an entire tree of her gorgeous peace signs, I decided it was time to get my craft on and DIY some myself!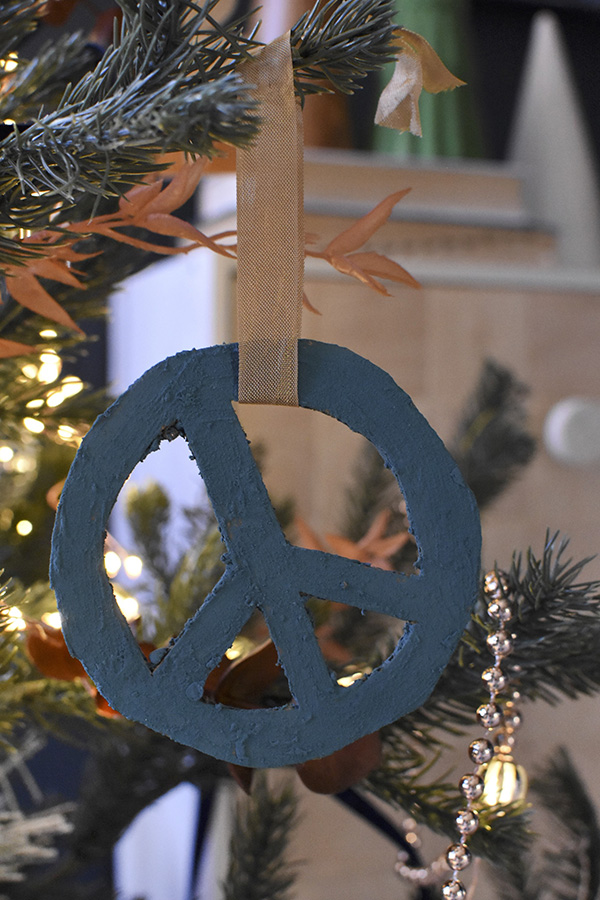 Sparkling Disco Ball Holiday Ornaments and Decor –
Although disco balls aren't per se, very Christmas like… I loved mixing them into this tree for the sparkle and shimmer they add and sparkle is VERY Christmasy. Especially since my tree is made up of darker colors and against my very dark office wall, the silver shine from the disco balls is a perfect complement!
I also used gold gem ornaments and vintage looking Blue Candy Canes for another layer of sparkling shimmer. They are smaller sized and perfect for this tree size.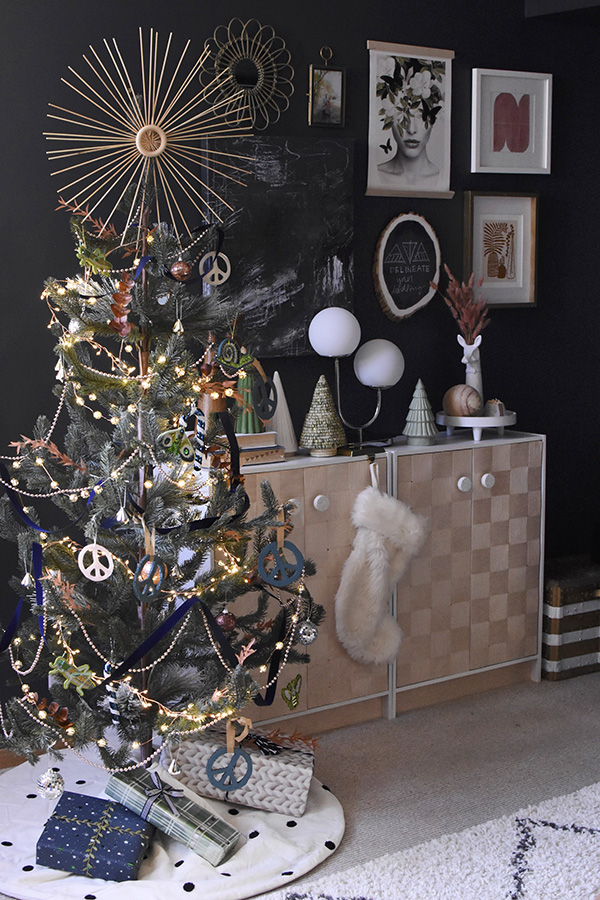 More of the moth ornament because it was my absolute favorite.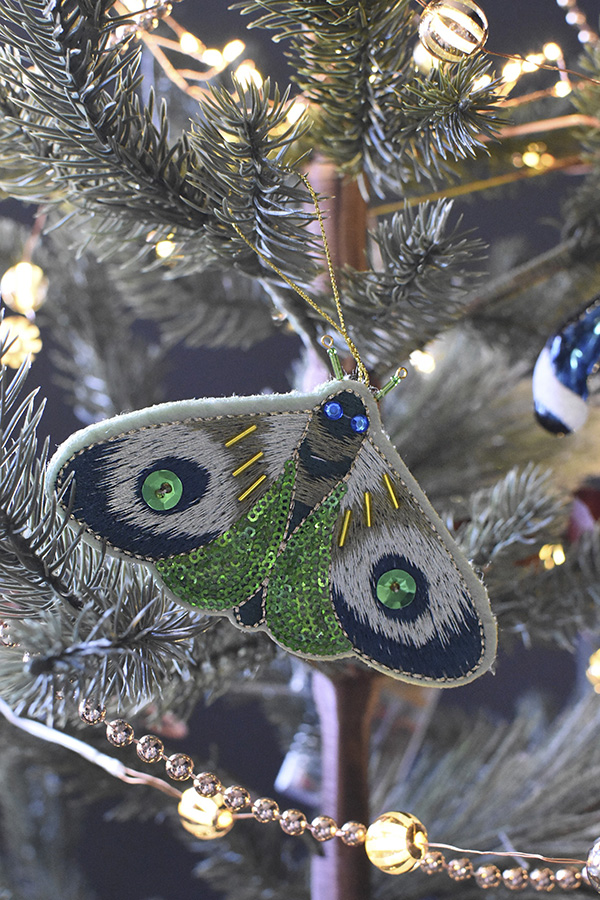 DIY Sunburst Tree Topper –
No tree is fully complete without a tree topper! I was looking online and in-stores for a perfect simple, natural looking topper, but also it needed a bit of wow factor. I kept coming up empty, so I made one!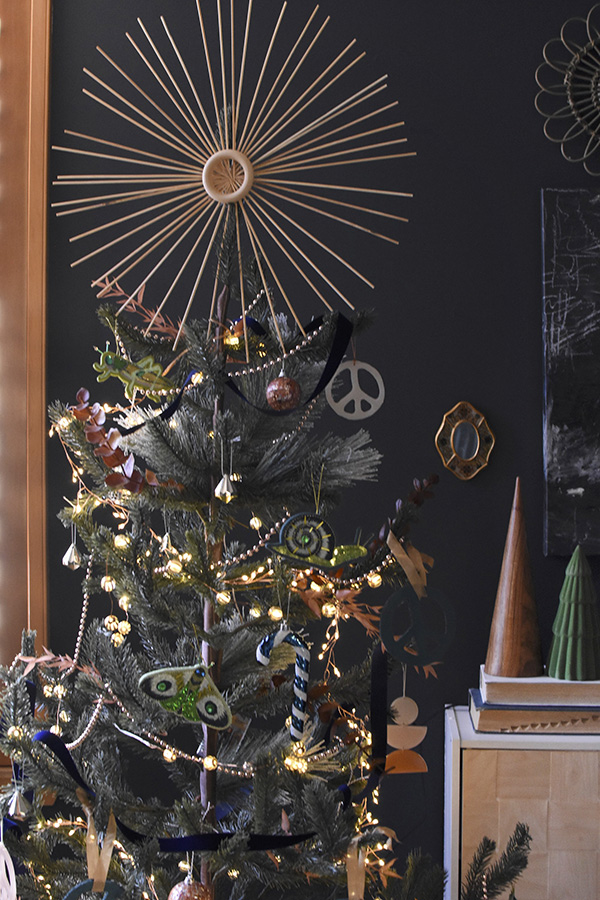 Want to check out the Google Web Story version? Do that here, Peace on Earth tree.
Cutie grasshopper ornament is a close runner up on the fave list.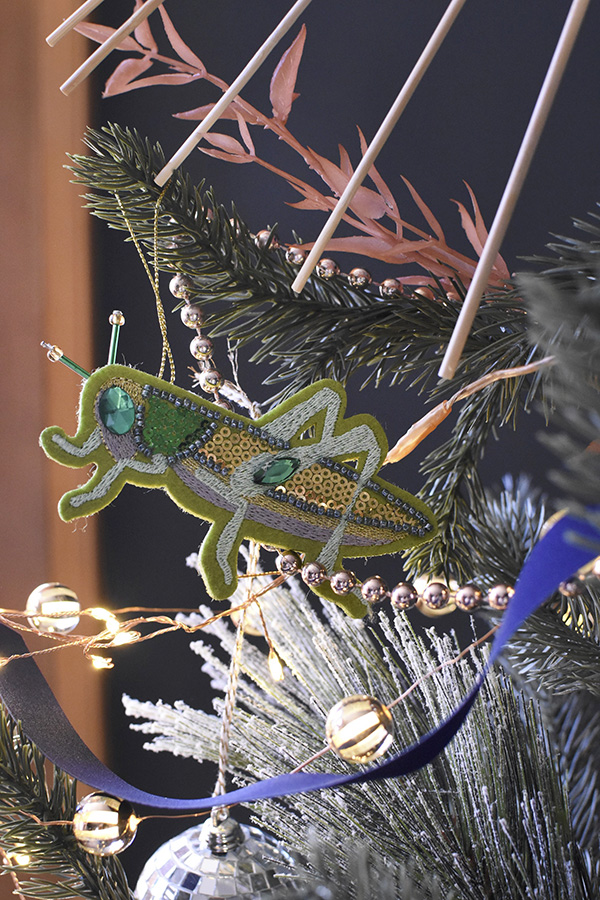 Peace on Earth Christmas Tree decor
Additional decor used –
In addition to the tree setup, I placed a few tree decorations and one of our fluffy cream stockings on my DIY Woven Wooden Cabinets. I love collecting a few new trees each year and this was the perfect display setup spot!
I found similar, if not the actual trees, here – here – here and here.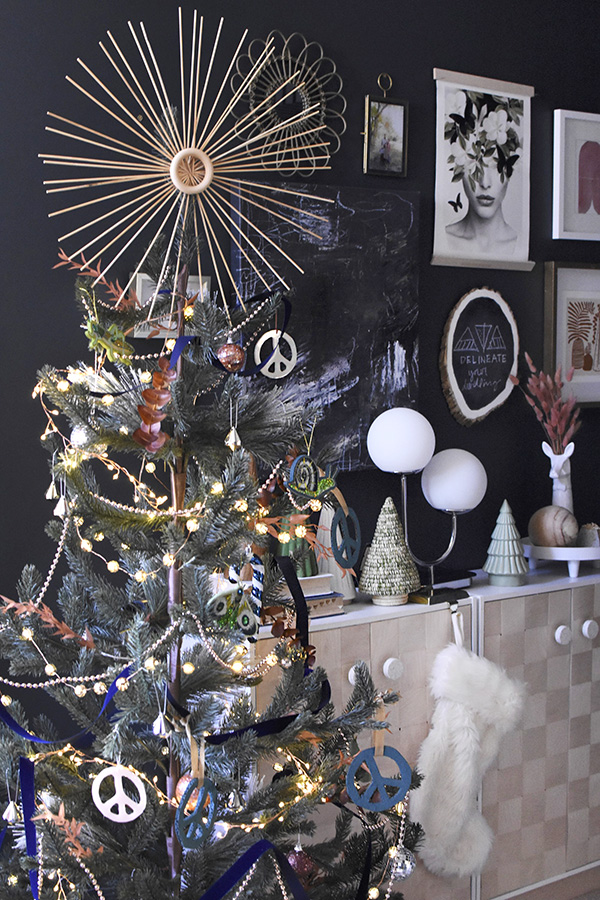 This is quite possibly my very favorite tree to date!!!! Although, I was quite a fan of my Monochromatic Nature tree, too. HA. Looking to shop this tree?
Here is everything I used on my Peace on Earth tree :

Now be sure to hop over to check out the next blogger, my friend Julia from Cuckoo for Design's beautiful Dried Floral Christmas tree!