I was thrilled to have been asked to participate in the 6th Annual – My Home Style blog hop: Christmas Tree Edition! Learn how simple it is to create a Natural Modern Flocked Christmas tree for your home.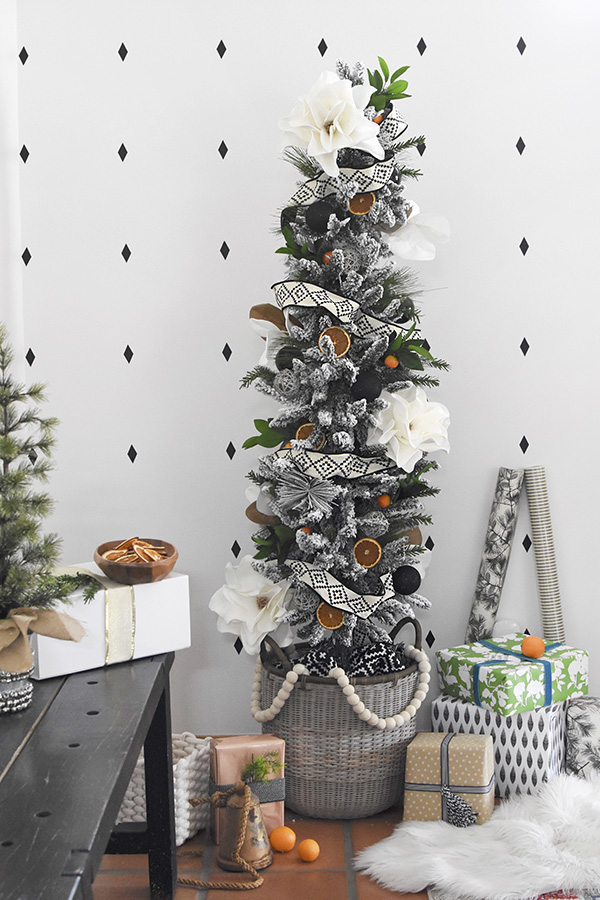 This post may contain affiliate links. See full disclosure here.
And a huge thank you to Stephanie from Casa Watkins Living for hosting this incredible Home Style Blog Hop for 6 years now and welcome if you are here from Julia's blog, Cuckoo4Design! Each day this week, six different bloggers are sharing their take on a holiday tree. Read to the end of the post for the full week's lineup!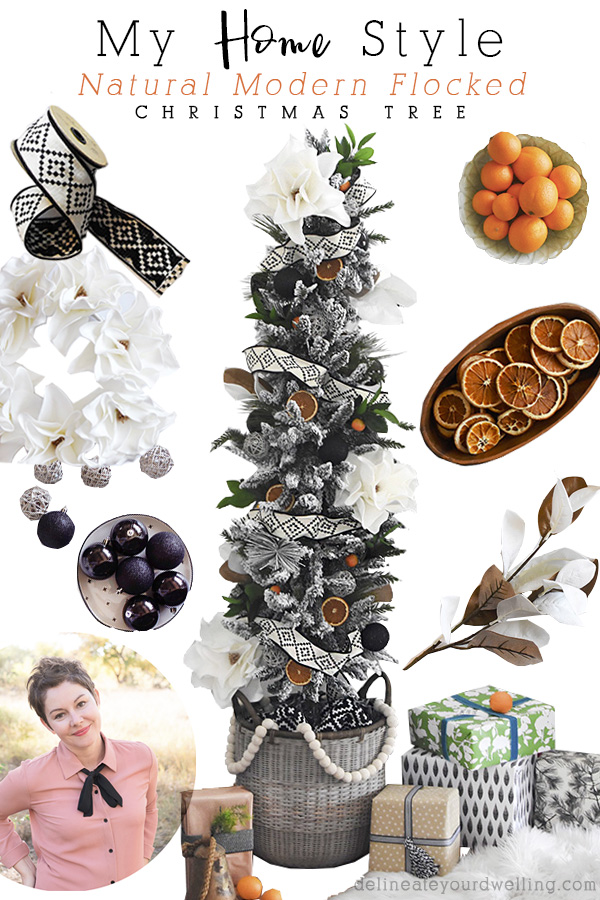 Check out my trees from previous years :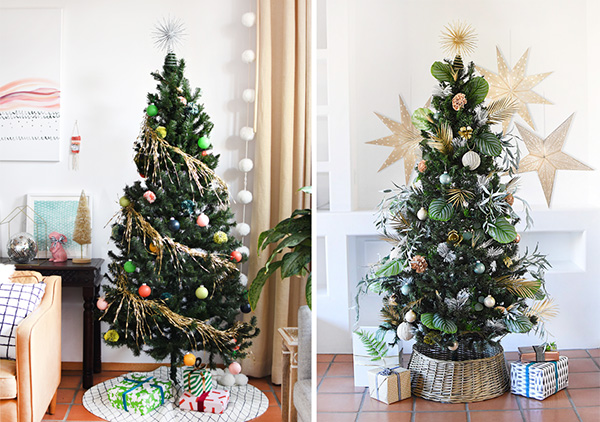 What colors look best on a Flocked Christmas Tree?
I did a little playing around with my new Flocked Tree before settling on the colors I intended to use to decorate it. At first, I was going to use quite a few light colors like peach and cream and white. But when using a Flocked Tree, it's important to use more bold colors so that they will show up against the white flocking.
For my tree this year, I used black ornaments. I also spray painted gray some twine balls I had on hand. Also I added in black and white ribbon, magnolia flowers + leaves, faux oranges and dried orange slices. Be sure to check out my post for how to dry orange slices for decoration.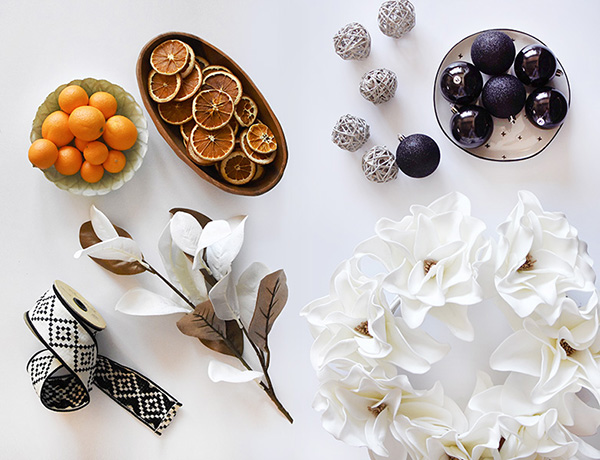 Here is the tree, ribbon, ornaments and flowers I used on this tree!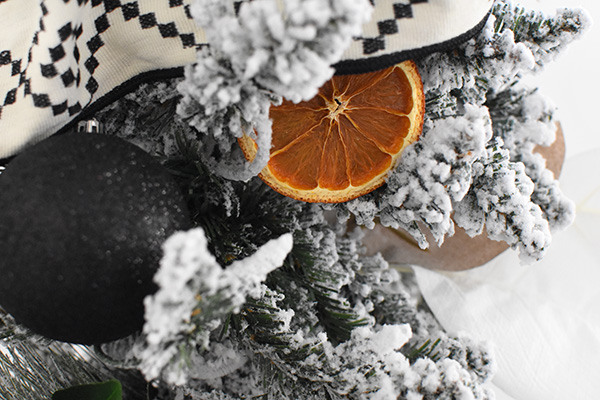 Decorated Flocked Christmas Tree
This year I was inspired by an image I ran across of the most lovely table setting. It had white plates, black candles with tall skinny candlesticks. And in the center of the table with a huge flower arrangement with big white Magnolia flowers, draping deep purple/black grapes and a few small oranges places here and there.
It was so elegant and striking and moody and I knew immediately I wanted to pull many elements from that image into my tree this year. The skinny candles inspired me to try a Slim Tree and all the white flowers in the bouquet made me decide to try a flocked tree. I thought about incorporating grapes into my tree… but since I choose to do a skinny tree, it was already a challenge to fit the ornaments I wanted on there, ha.
So, if you are inspired to create a tree similar to this… please add a few gorgeous draping grapes to yours!!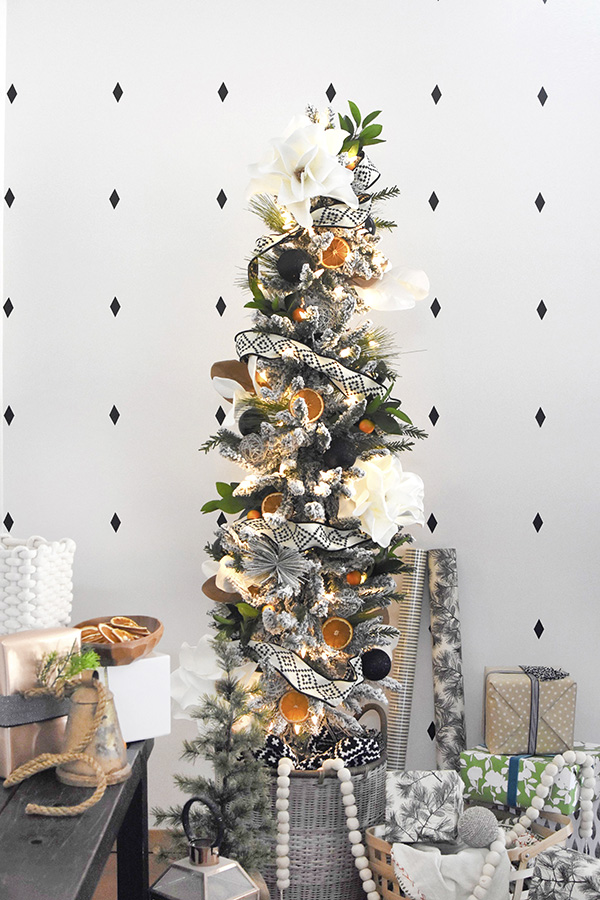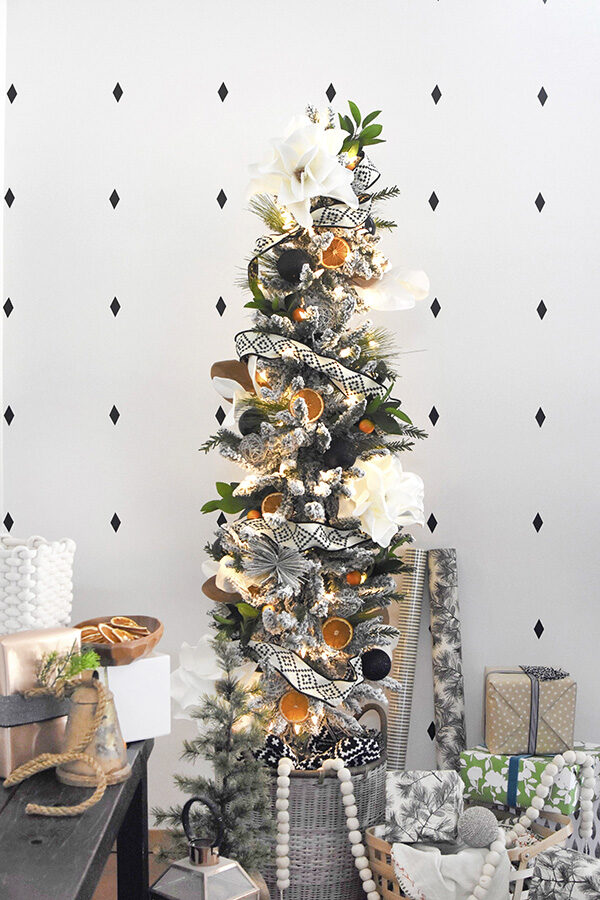 I started my tree placing the largest items first. I put three lovely white magnolia flowers on the top, middle and bottom.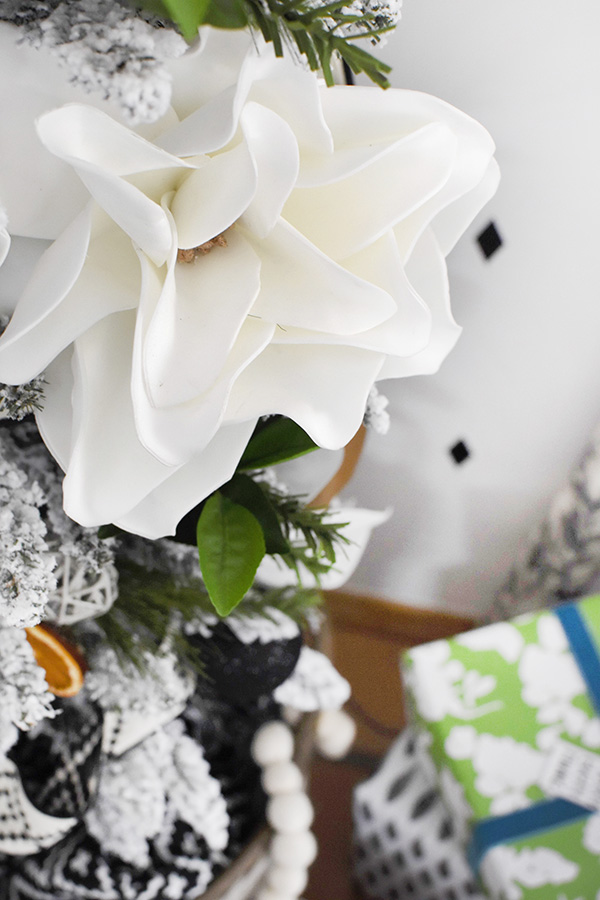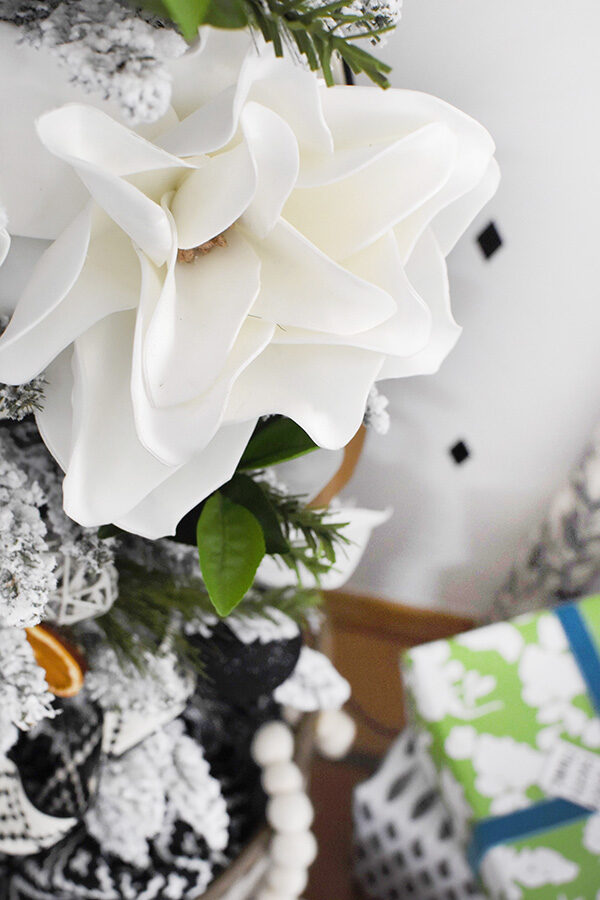 Next, I added in some of the smaller elements, like these adorable faux oranges and their greenery.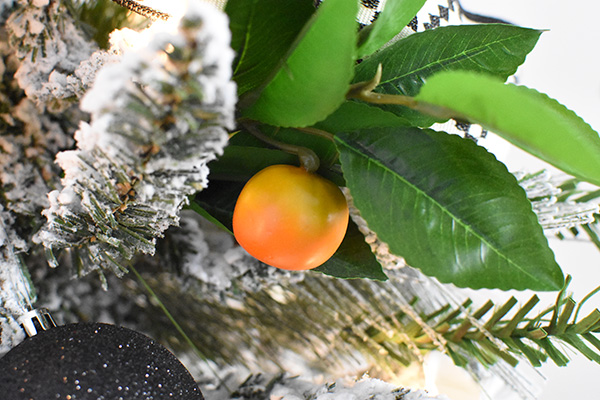 This is the first I have ever owned that was prelit and I've got to say, it was pretty amazing! I just plugged him in and he was ready to shine.
I found the most wonderful white with black felted polka dot tree skirt, but in the end since this tree is in our dining room felt like the tree skirt would compete with my diamond wall. So, I placed the tree in a gray basket I already had sitting around. Win win.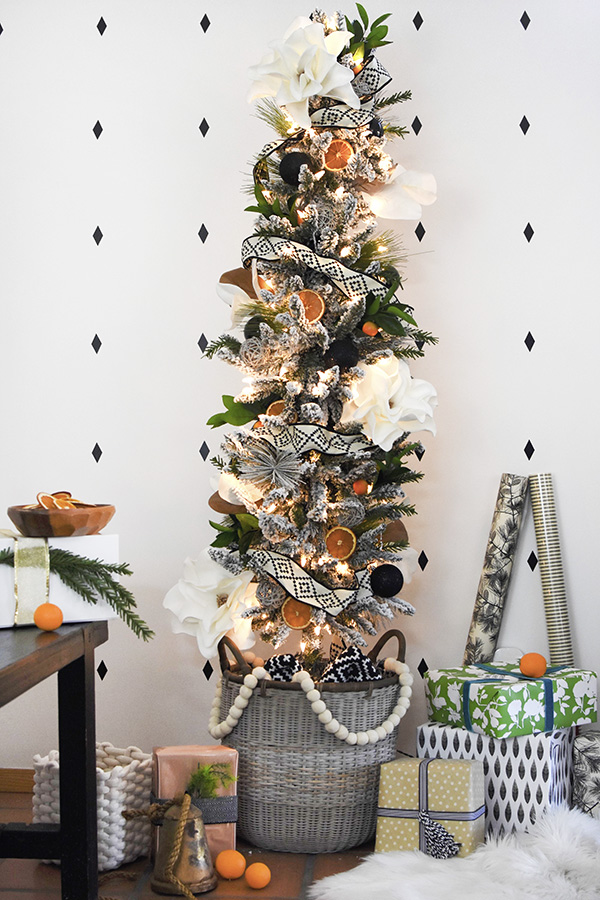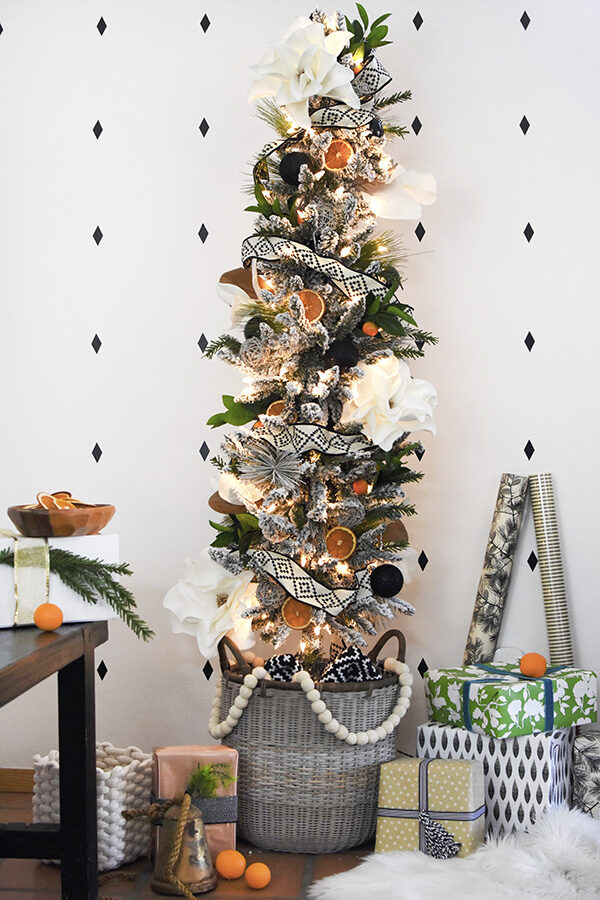 Natural Modern Flocked Christmas Tree
I love how the flocking added another layer of texture to the tree. I mixed in a nice wide ribbon to help break up the tree a bit. And I love how the dried orange slices glow with a light behind them.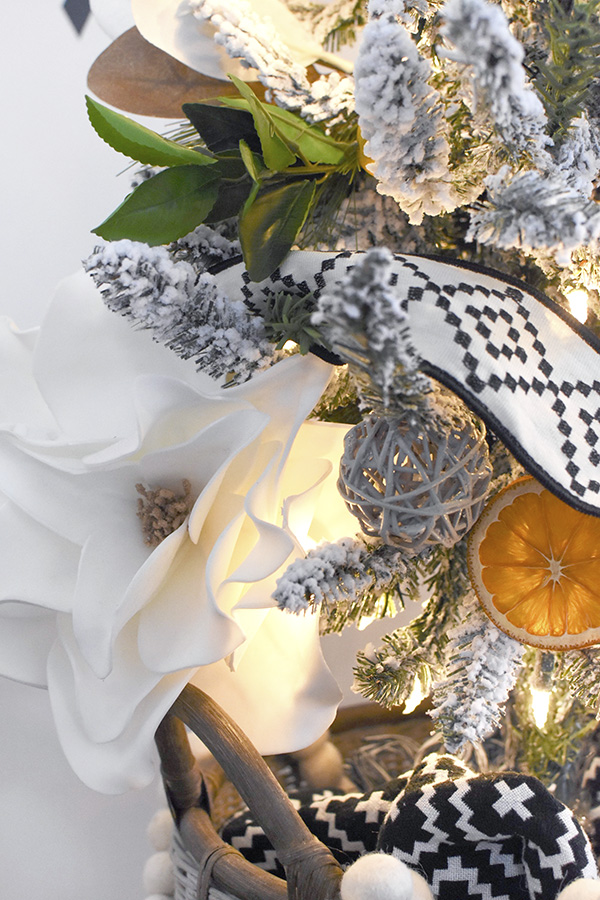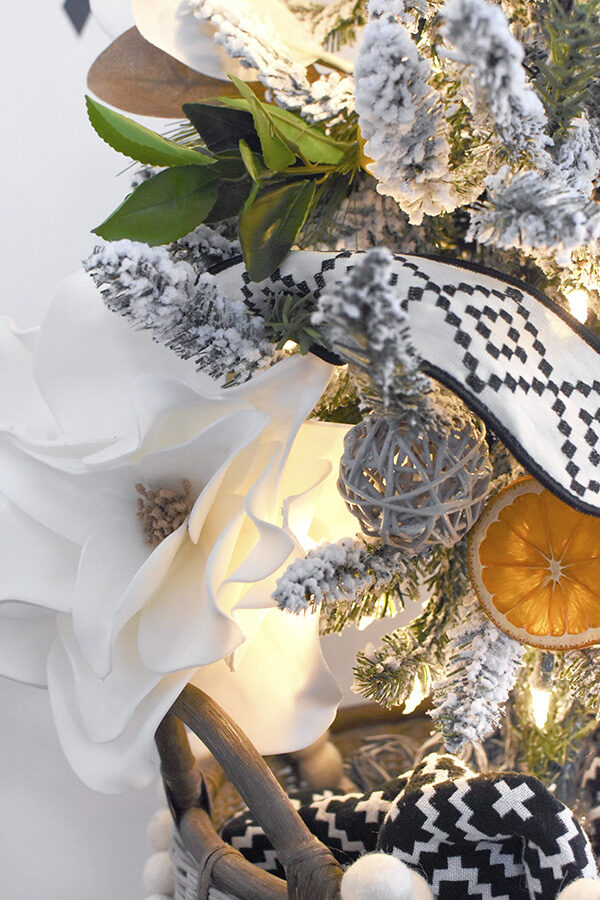 Nighttime Flocked Christmas Tree
And as the lights start to dim, this natural flocked tree looks just as wonderful as it does in the daytime!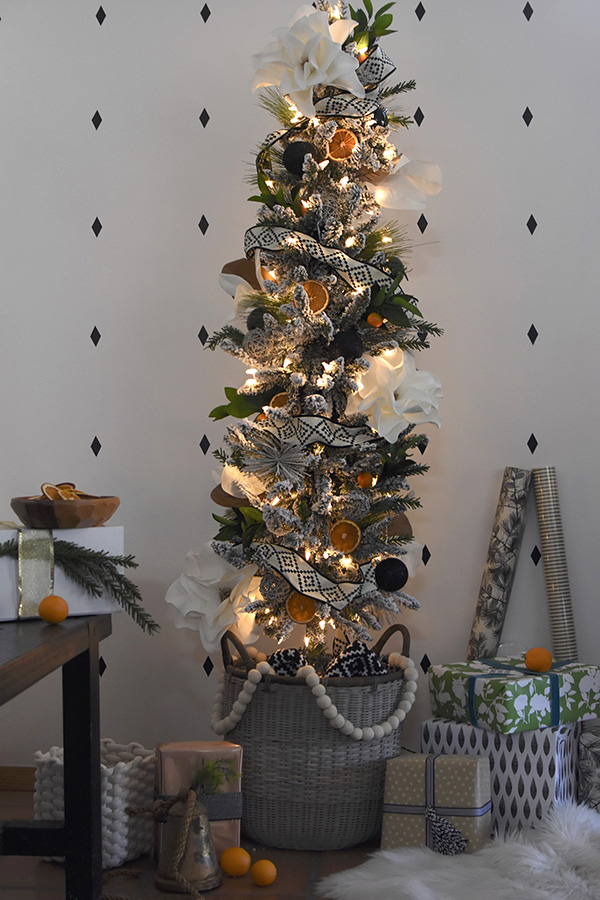 The combination of black, white, green and orange is so refreshing for the holidays.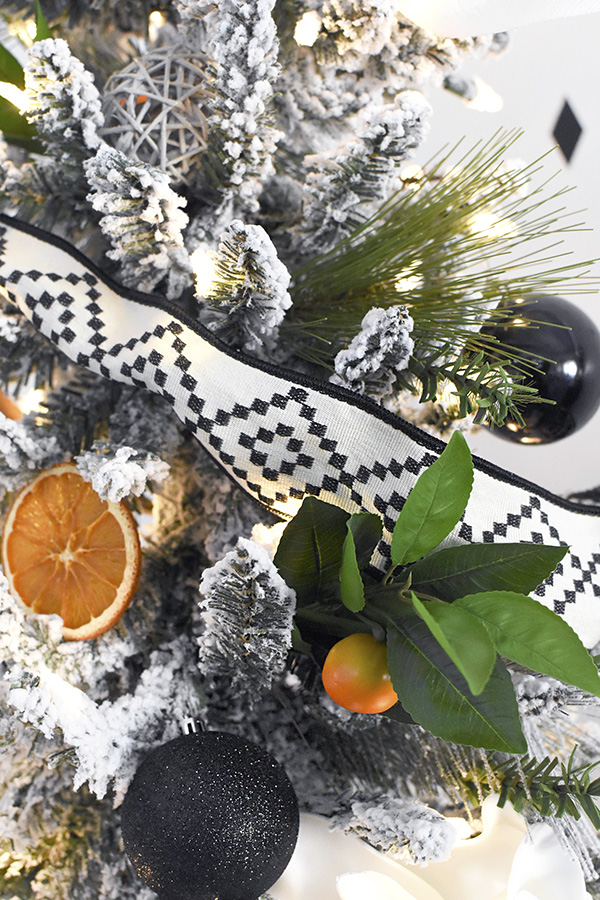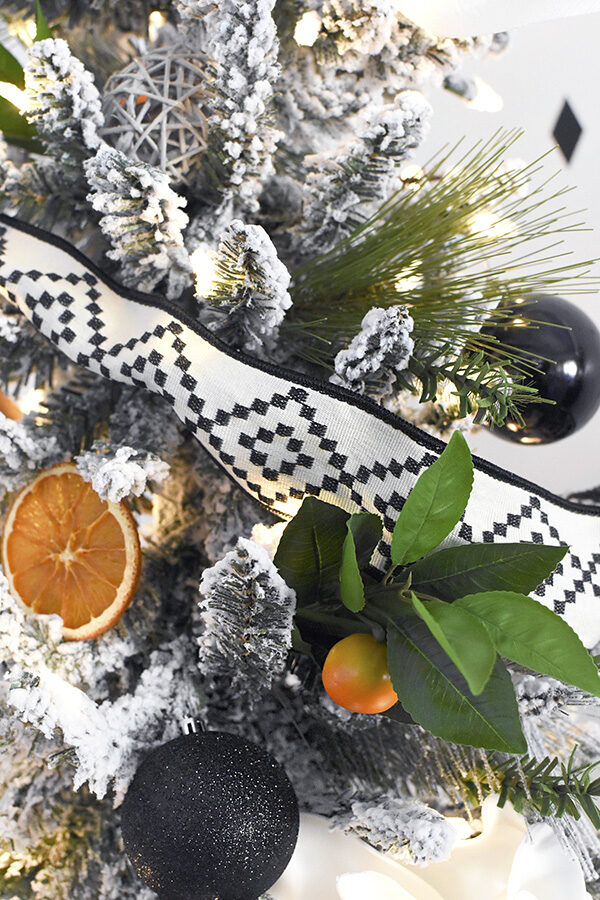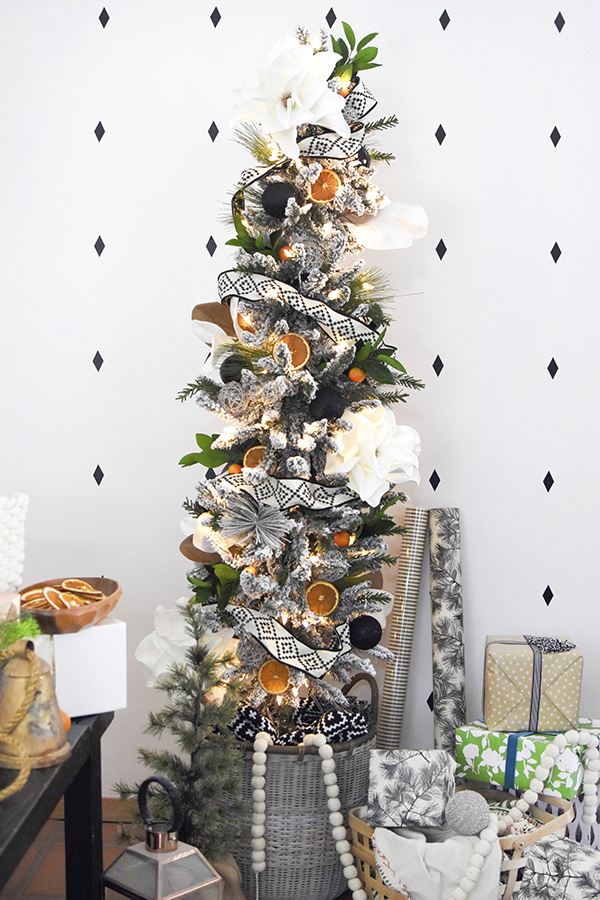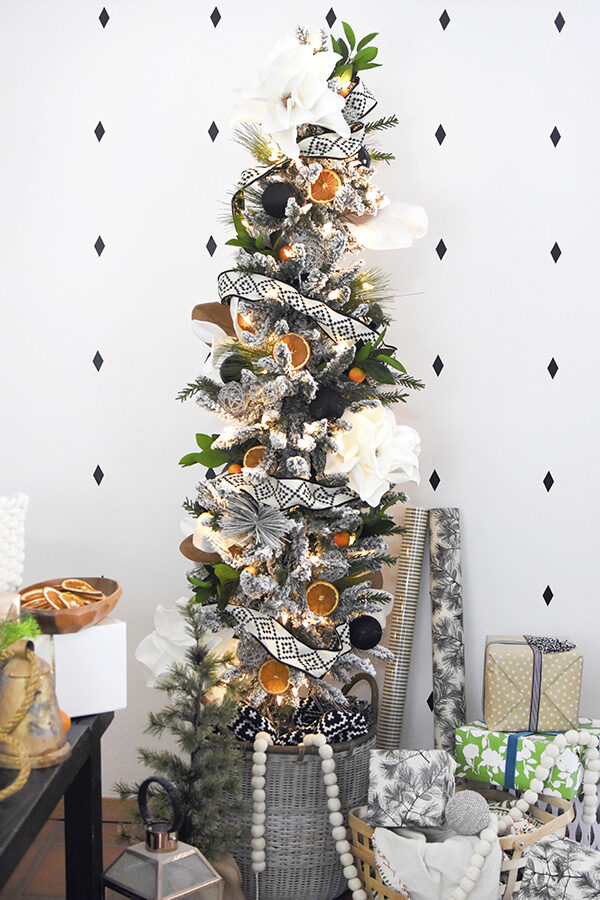 Now be sure to hop over to check out the next bloggers, Lolly and Jane's Pink + White Christmas tree!
And check out the other incredible trees from the rest of the days this week…

Monday:
Casa Watkins Living // Up To Date Interiors // Taryn Whiteaker Designs // Cherished Bliss // Thou Swell // Cassie Bustamante
Tuesday:
The DIY Mommy // PMQ for Two // Jeweled Interiors // Kate Decorates // Banyan Bridges // Making Home Base
Wednesday:
Monica Wants It // House of Hipsters // Cuckoo 4 Design // Delineate Your Dwelling // Lolly Lane // Mango Manor
Thursday:
Two Twenty One // Lemon Thistle // Iris Nacole // Au Petite Salon // Whispering Pines Homestead
Friday:
The Handmade Home // Our Fifth House // Tag & Tibby // Daly Digs // House Homemade // Love Your Abode
Want to shop my Flocked tree?