INSIDE : Learn how to dry Orange Slices for decoration during the winter months. They make great Holiday Ornaments, set out in a dish or strung on a garland!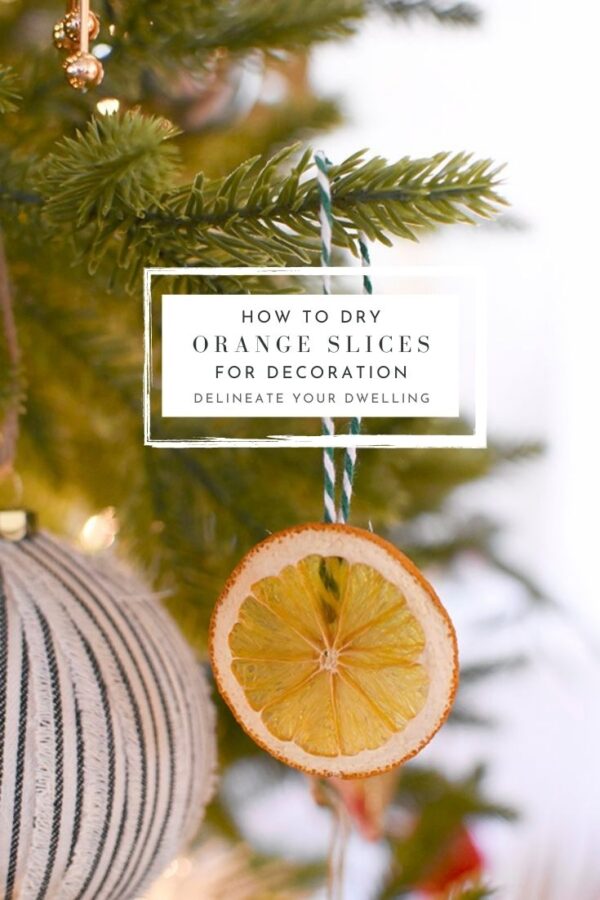 This post may contain affiliate links. See full disclosure here.
Christmas is nearing and I'm so excited to share my newest favorite decor thing! Also, it seems all of the digital world is also sharing about this new trend – but I figured what's a little more citrus fruit love out there!
Today, I am talking how to dry Orange Slices for decorations in your home all winter season long. See how I used them in my Natural Modern Flocked Christmas Tree this year.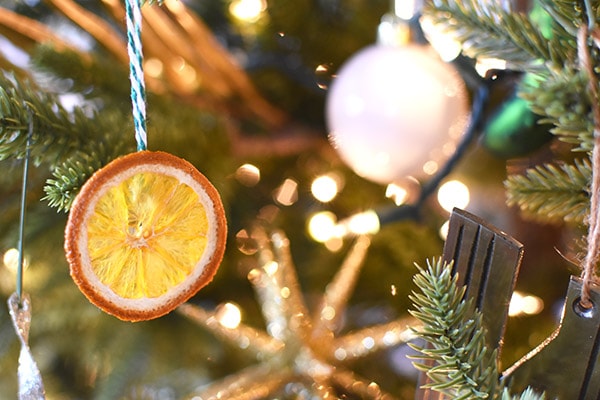 Supplies needed to make Holiday Orange Slices:
Oranges (I used two)
Green Baker's Twine
Hot Glue Gun
Mandoline + Cut Resistant Glove
Parchment Paper
How to Dry Orange Slices for decor:
Start by preheating your oven to 200F.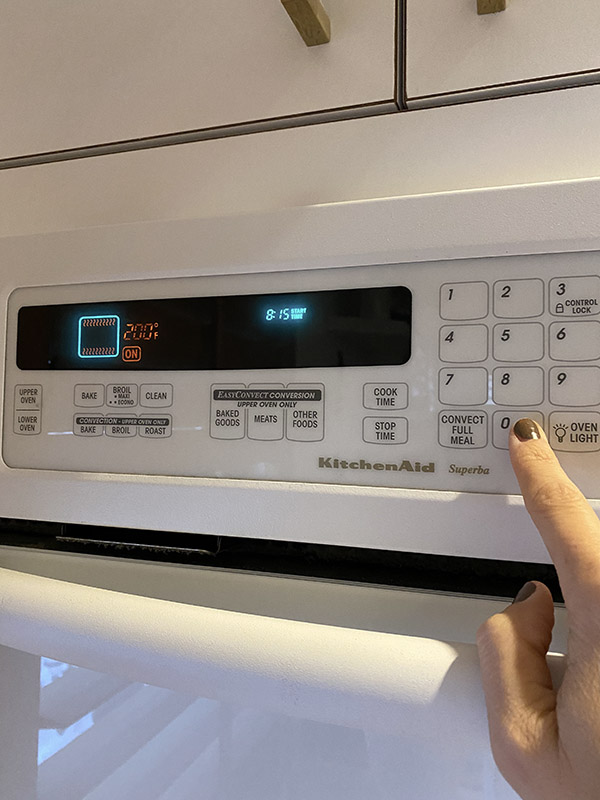 Slice two oranges into roughly 1 cm slices. You can use a mandoline to help create the perfect slices. I just used a knife for mine.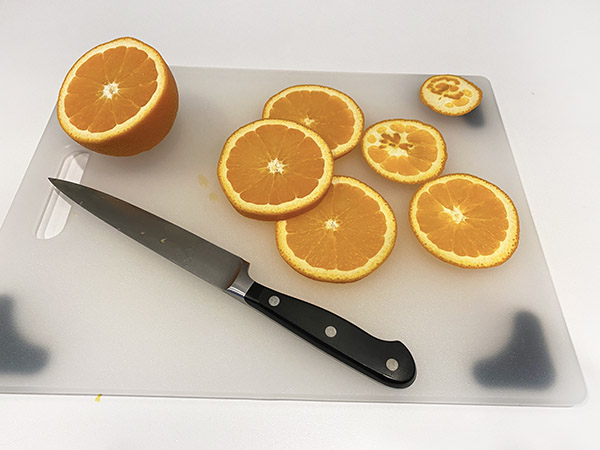 Place orange slices on a piece of parchment paper in the oven.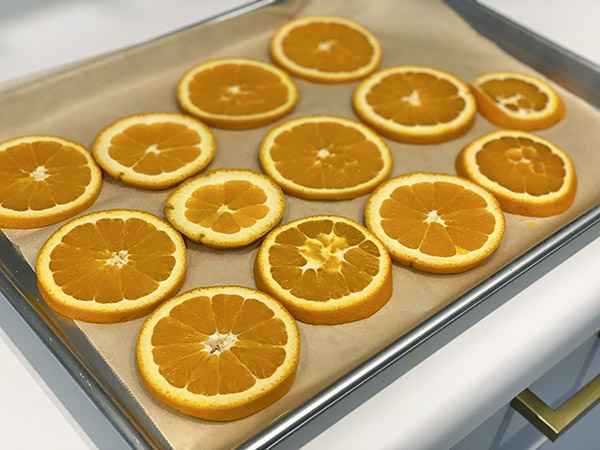 Bake slices for one hour and then flip over.
Then, bake the orange slices for another hour and flip again. You'll start to notice the oranges are just beginning to dry a bit.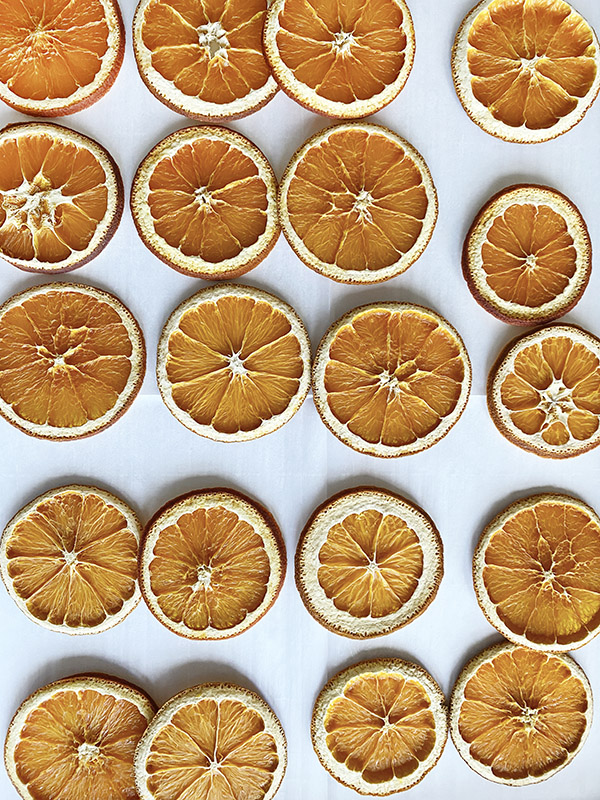 Flip slices every half-hour to prevent sticking and to check on the progress.
Once you notice the orange slices become a bit see through, don't have a plump fruity feel and are dried out, you may remove them from the oven. This process can take about 3-6 hours.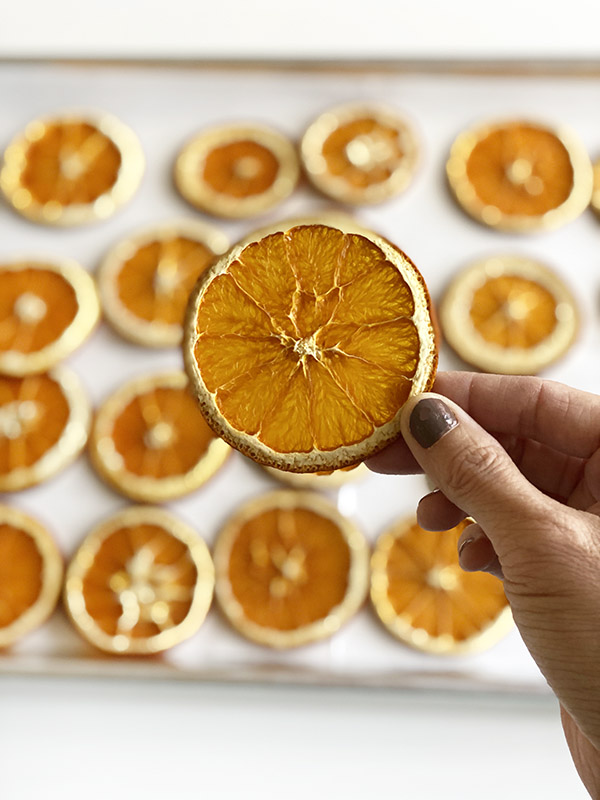 Once my orange slices were dry, I set them out on our countertop for another day. This allowed for any last remaining juices from the fruit to evaporate fully.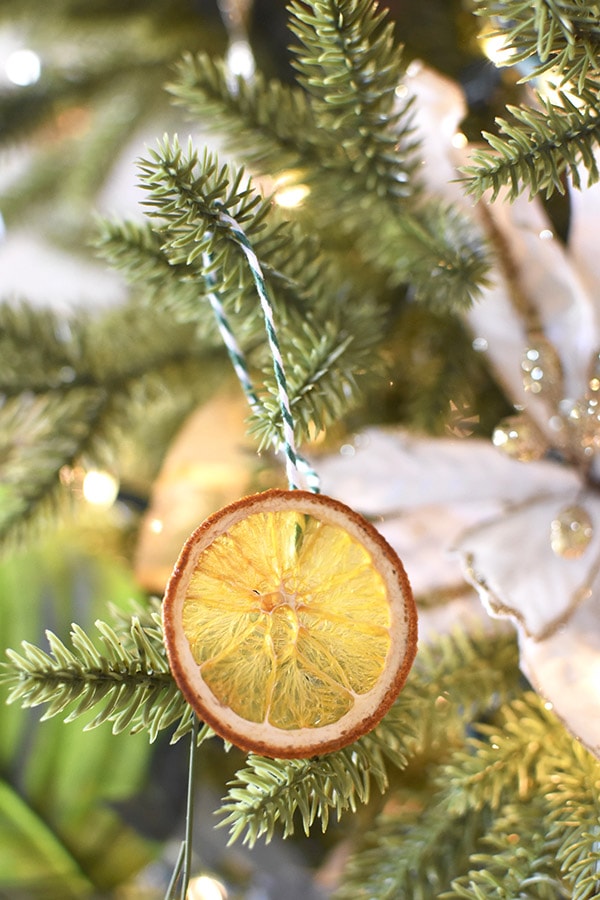 I hung three on our new Merry Christmas Advent calendar and I think this is my favorite Orange Slice garland location in our home!!!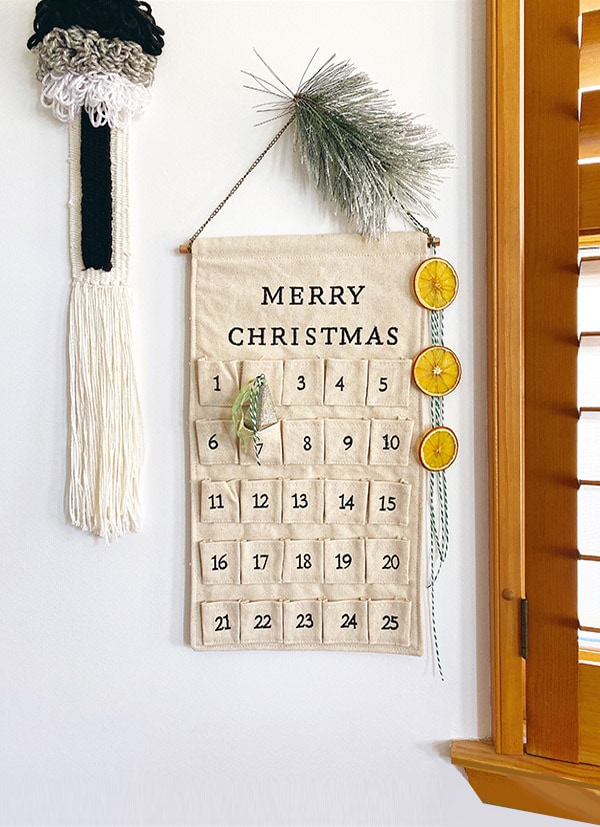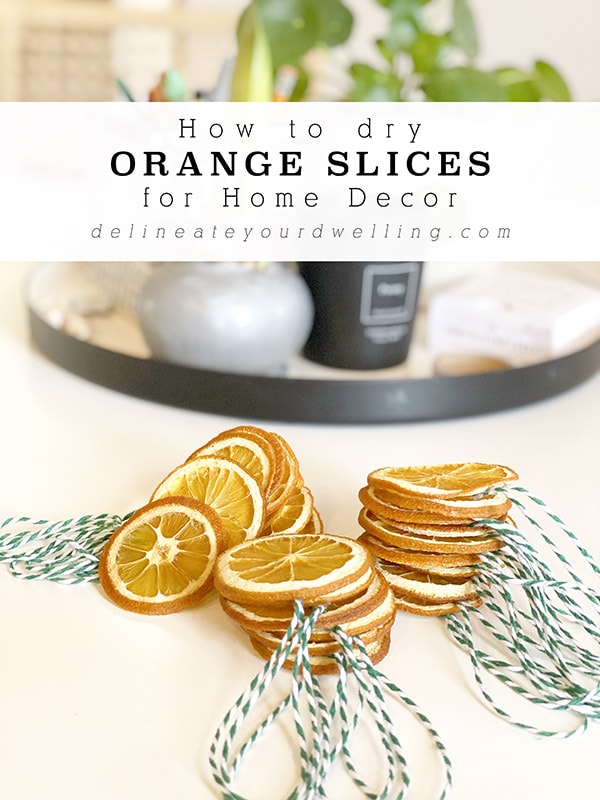 How to Make an Orange Slice garland with Baker's Twine:
Once your orange slices have been dehydrated, you can do all kinds of fun things with them! I made one orange into a few garlands using baker's twine. There are many ways to do this, but I'll share the method I thought was most simple and long lasting.
Decide on the length for your garland and cut a piece of baker's twine accordingly.
Using a hot glue gun, add a small dab of glue to the backside of your orange and adhere it to the twine.
Continue adding your citrus slices with equal spacing until you are satisfied!
I did not like how my oranges hung from the twine due to the thinness of the baker's twine, so I simply cut another piece of twine the same length as the first one and hung it along side the orange slice one. It gave the perfect drape look I was going for!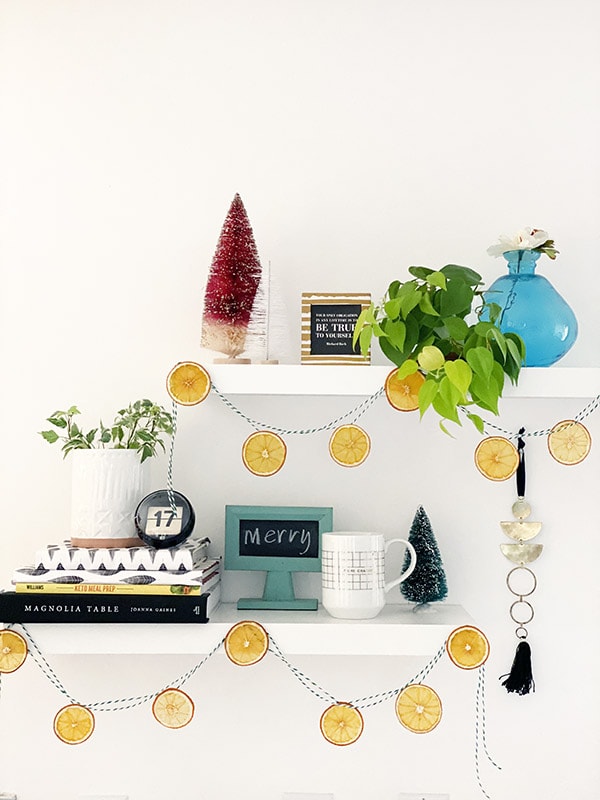 How to Make an Orange Slice Ornaments for your Christmas Tree:
After making the orange slice garlands, I still had almost an entire orange of slices leftover, so I decided to create ornaments out of them!
Cut the length of baker's twine you need to create an ornament loop. Then, similarly to the garland, you add one small dab of hot glue to the backside of your slice. Put the twine on your glue and you are ready to hang them from all the things!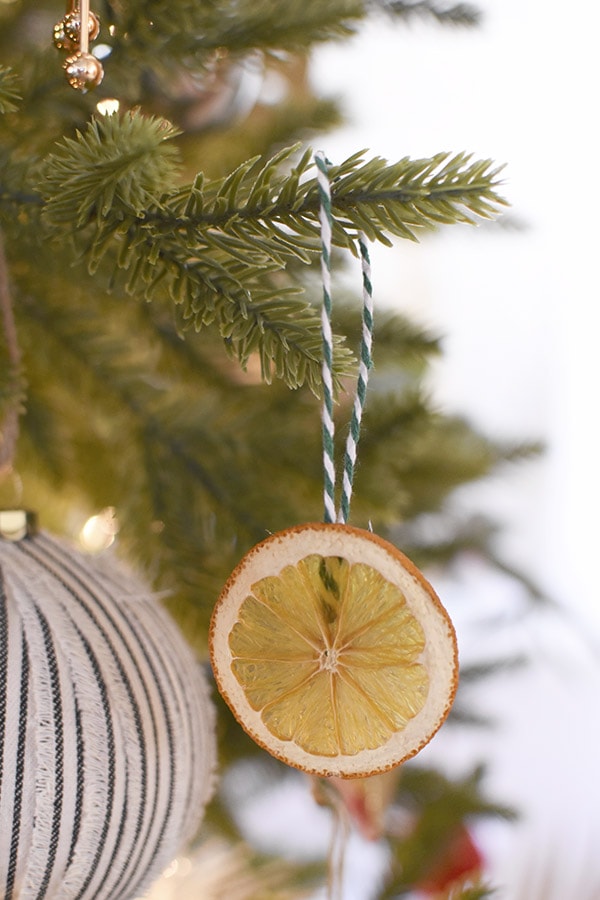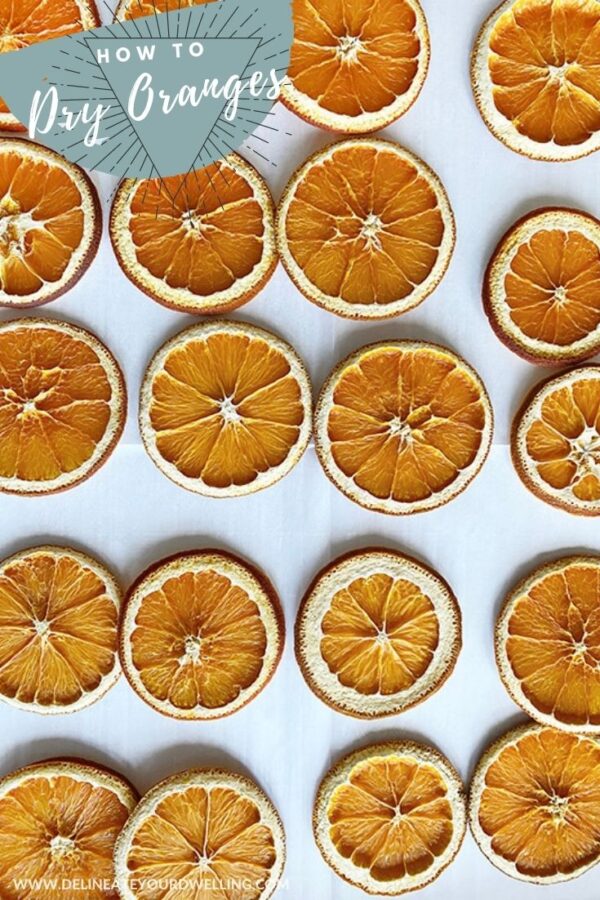 If you liked these orange slices project, then you will definitely also enjoy :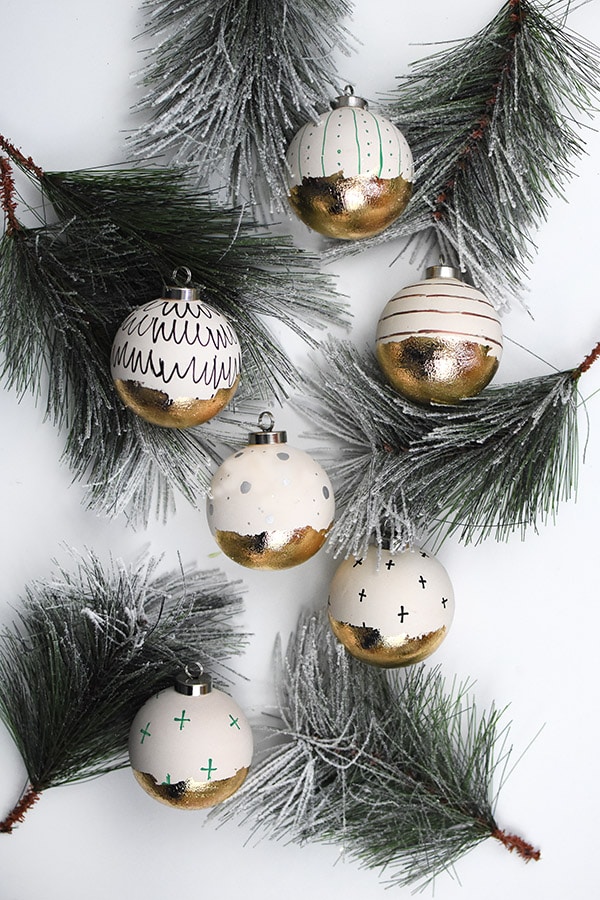 Simple Holiday Evergreen Wreath