A Very Merry Christmas Home Tour
I am thrilled to be participating in A Very Merry Christmas Home Tour hosted by Carrie from Lovely, Etc with 30+ other talented ladies during this entire week!
Over the years, I have collected various Christmas items and sometimes those items don't fit with each other or my current style. I'm here today to say, grab some spray paint, a few of your various Christmas decor items and maybe a few items when they go on sale after Christmas and you can keep your holiday decor on trend without having to buy all new every single year!
Upon entering my home, the first area you step into is our entry foyer. I hung a 4′ hand painted tree. I was inspired by *Ikea's Tree fabric but with no Ikea in our state I decided I could easily recreate it myself! I'll be sharing the tutorial for this soon. I hung some simple white pom garland and a Merry Christmas banner sold at my Etsy shop at the top of my tree.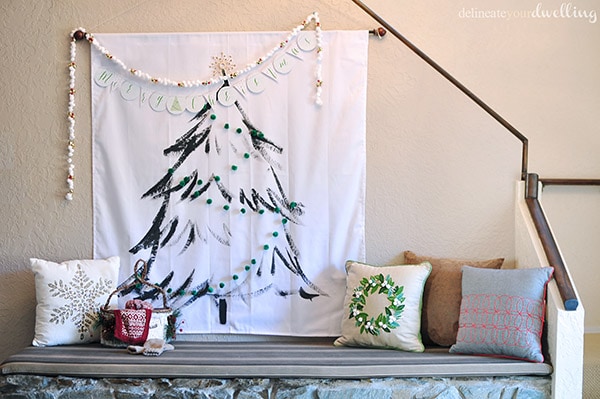 Moving into our living room, I have the fireplace mantle full of evergreen winter loveliness.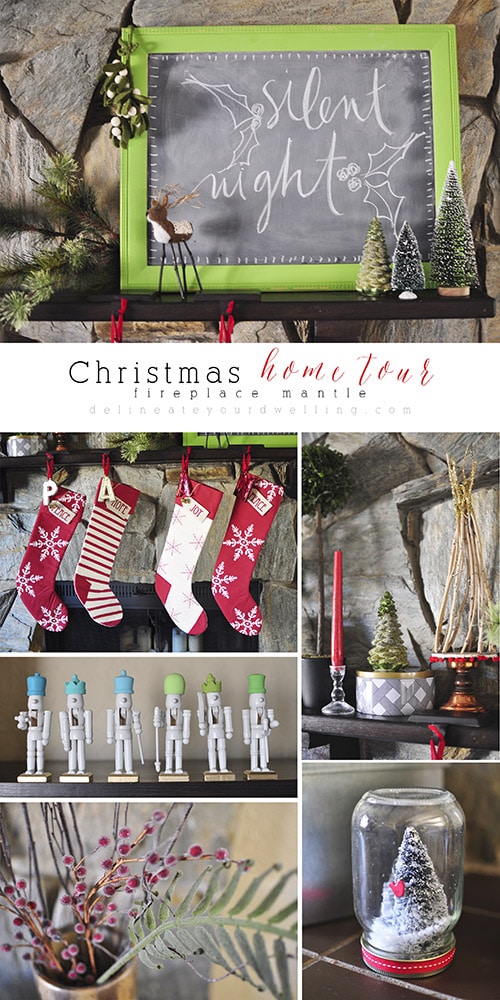 I took an old mirror and gave it a few coats of chalkboard spray paint. Each season I quickly paint the frame and it goes from peachy orange in the fall to vibrant green in the winter.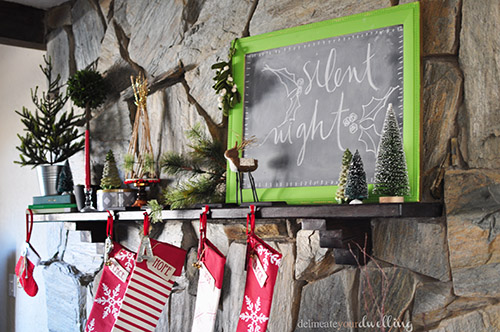 I found these four stockings on sale at Hobby Lobby a few years ago. They can easily be reused year after year and with glass letters to represent each member in the family, we can switch who gets each stocking. It makes the kiddos happy to pick which one they want each year.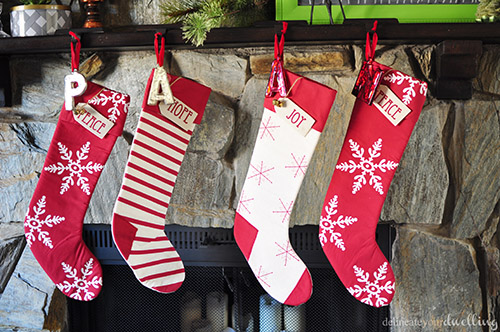 I participated in a thrift store to Christmas decor series and made this fun Rustic Christmas twig Tree which I think fits so well in my home.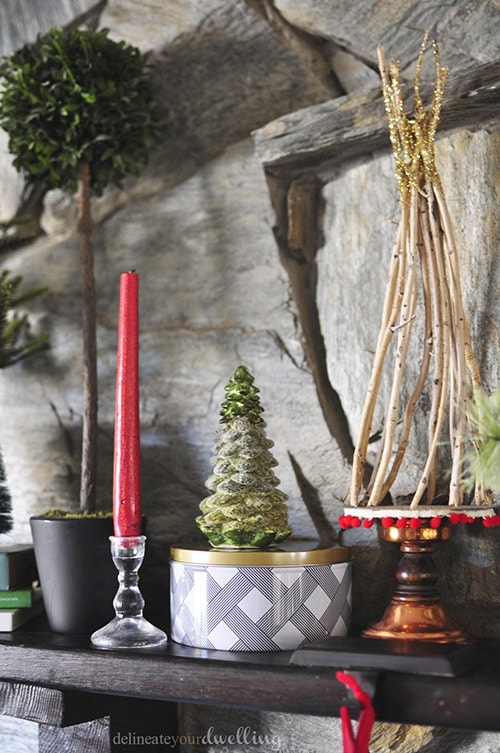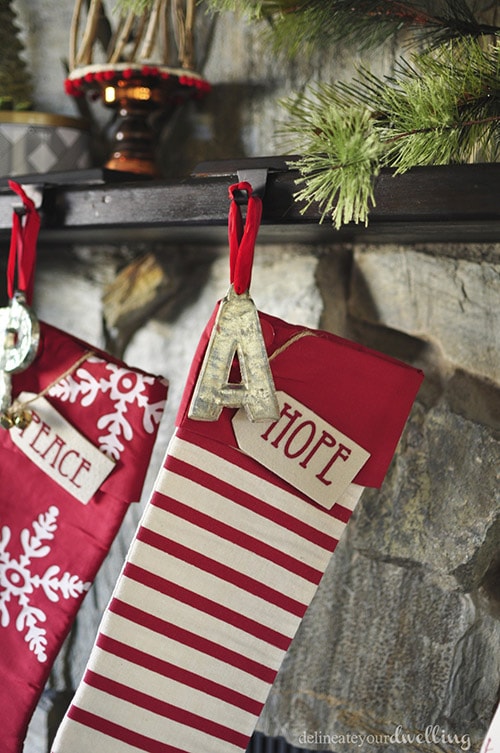 The last area I decorate for Christmas is the main wall in our dining room. Typically this wall holds my clipboard gallery wall, but this year I wanted to try something different.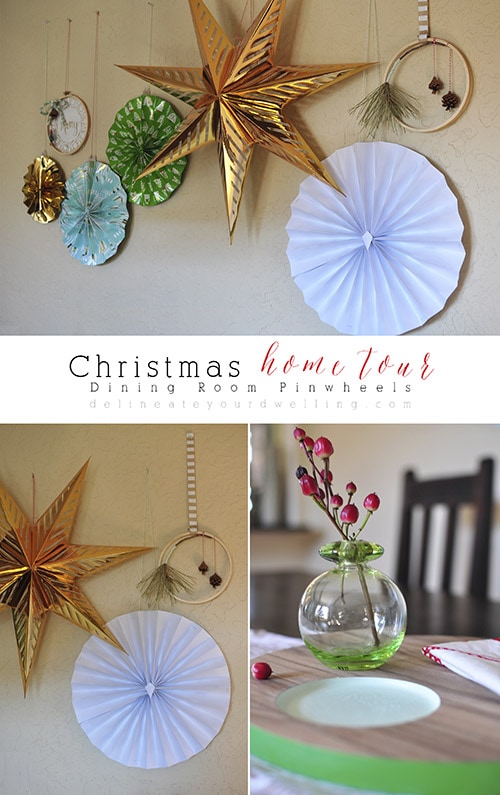 I was so excited for Oh Joy's winter Target line to come out. And here is my secret, if you are patient and wait less time than you think, Target puts everything on sale. That is when I jump into action and get amazing deals on items that are just a few weeks old. Are those three pinwheels (gold, mint green and grass green) not amazing, $6 and they weren't even on sale!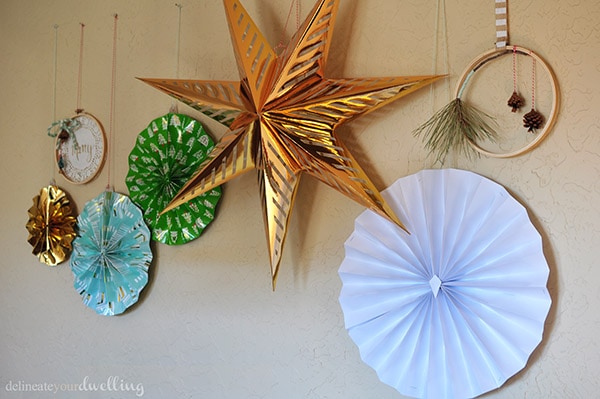 I made the huge white pinwheel in about 10 minutes out of eight regular sheets of paper. So easy!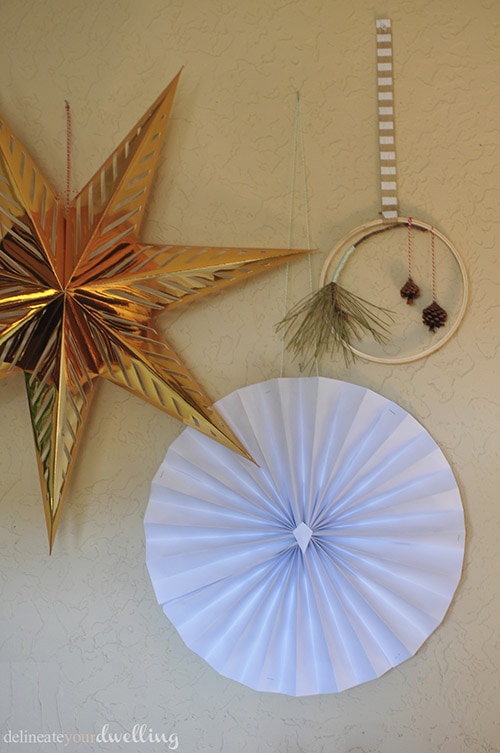 And my table is featuring another Oh Joy favorite. I got this lovely wooden tray during her Summer line and then they reintroduced it in the winter!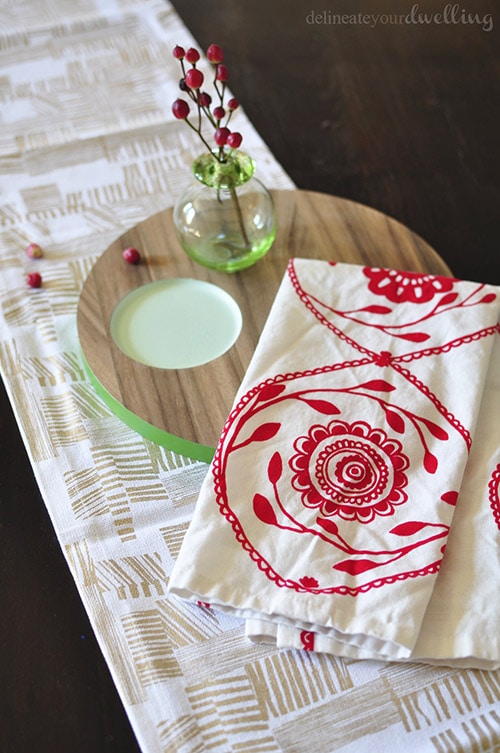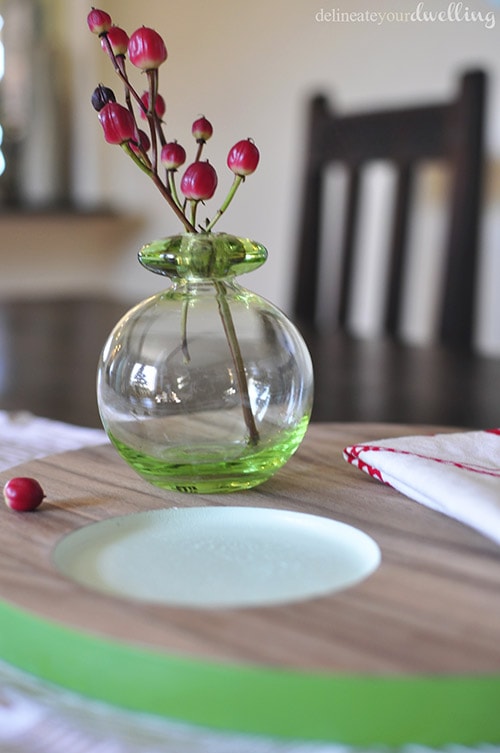 For those of you who are coming over from one of the ladies below, thank you so much for stopping by!
For those who are my readers, be sure to stop by and give the below ladies a warm wintery welcome!
And you can check Lovely, Etc each day this week for the new home tours!
A House Full of Sunshine / Lovely Etc.
Bigger Than The Three of Us / May Richer Fuller Be / Paper and Fox
All Things With Purpose
3 Little Greenwoods
Gingerly Made
Michelle Lea Designs
Designer Trapped in a Lawyer's Body