INSIDE : See the quick and easy tips for these fun DIY Marbled Bracelets, a great craft project for any skill level.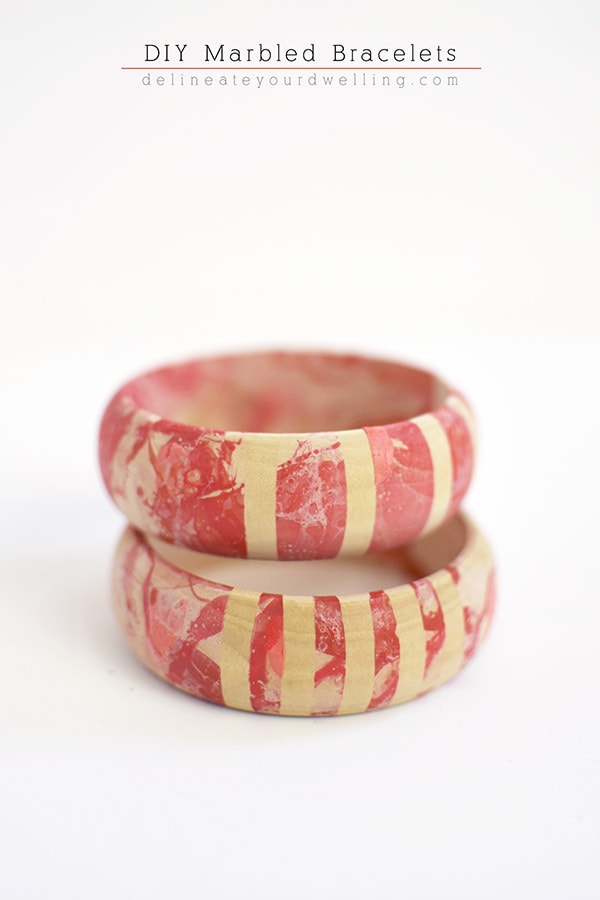 I love nothing more than a quick DIY jewelry project! And these wooden bracelets have to be one of my favorites to work with. They are big enough to really make an impact but simple in their design that they don't have a gaudy look. Today I am sharing how to DIY Marbled Bracelets for your next girl's night out!
If you are looking for more information about everything involving marbling, my Marbling 101 post might be just what you are looking for!
This post may contain affiliate links. See my full disclosure.
What supplies are needed to marble a bracelet?
Plastic Tub
Stirrer
Wooden Bracelet
Narrow Patterning Tape
Nail Polish
Xacto Knife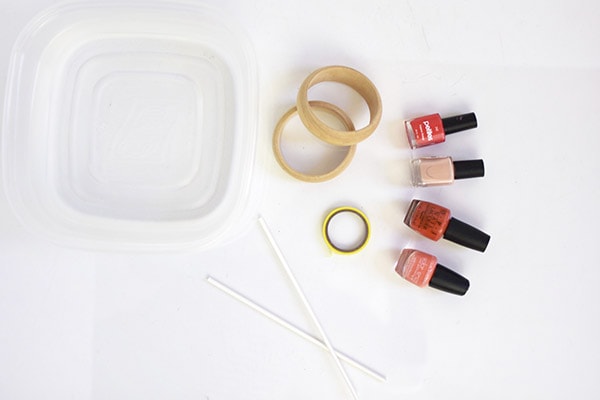 How do I marble a bracelet?
Did you know this is my second marbled bracelet? I also made these gorgeous Colorful Marbled Bracelets.
First, apply your patterning tape along a portion of the wooden bracelet. I only taped off about a quarter of each bracelet. I also added the tape of the two bracelets in different distances for a little variation of look.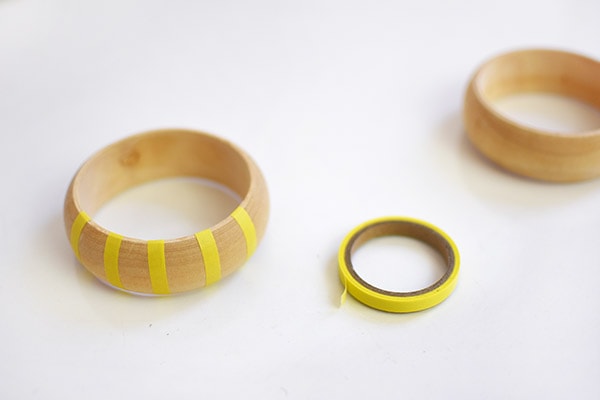 Once the tape is applied, run your fingernail across each seam to ensure a tight seal.
Open the lids of all your nail polish and quickly pour each color into the plastic tub full of water. Using a stirrer, slightly mix the paints and then immediately dip and pull out your bracelet.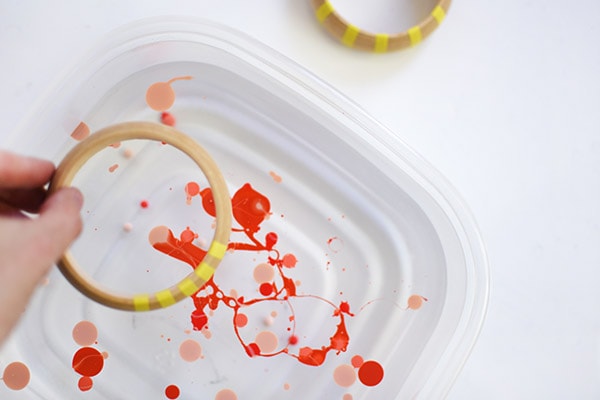 Due to marbling a wooden bracelet, you will need to allow for wood to fully dry out. Once it has dried, I used an xacto knife to gently cut along the edges of the tape.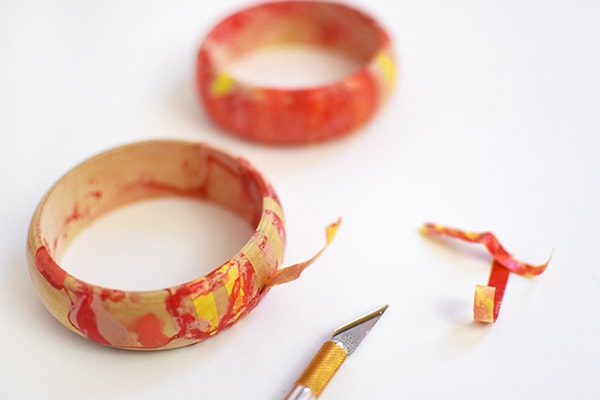 The final product is a gorgeously marbled wooden bracelet!
And did you know I just wrote a REAL LIFE book all about marbling crafts?? Check out my Make Your Own Marbled Creations book!!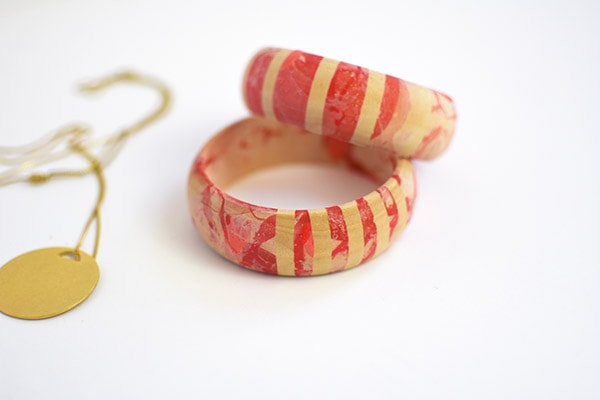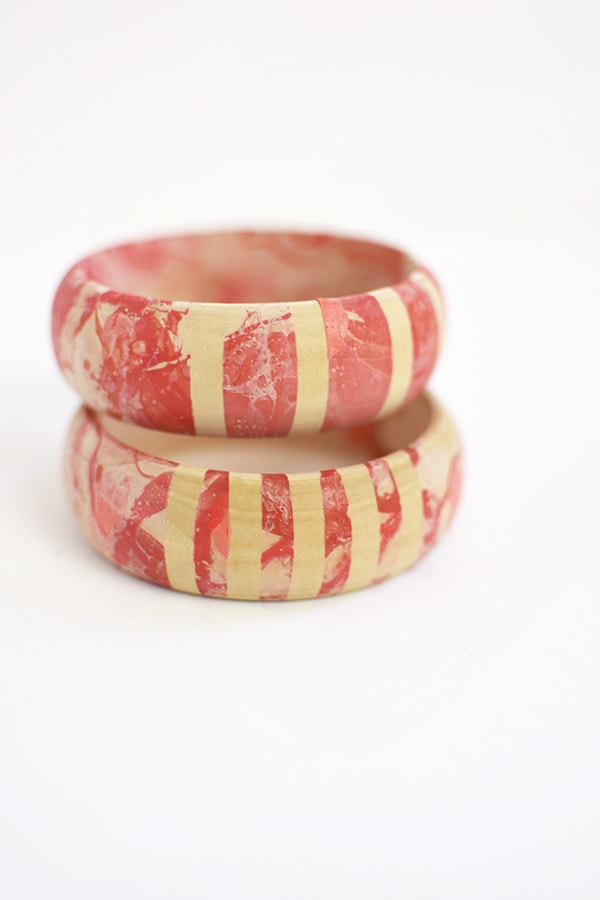 I love the stripes in addition to the marbling. It Is just such a fun technique I can't get enough of it.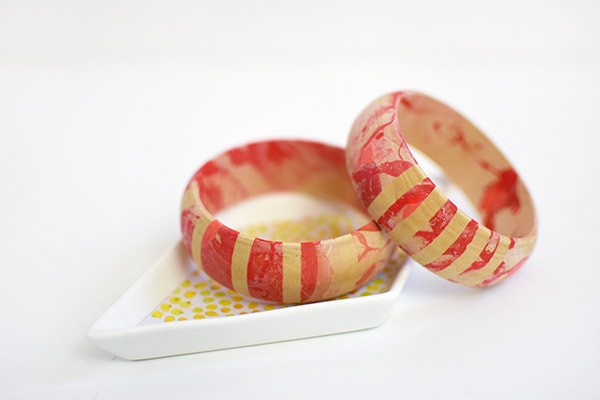 I did a full dip marbling to these colorful marbled bangels and loved that look, as well. These bracelets have a bit of a minimal look to them, though.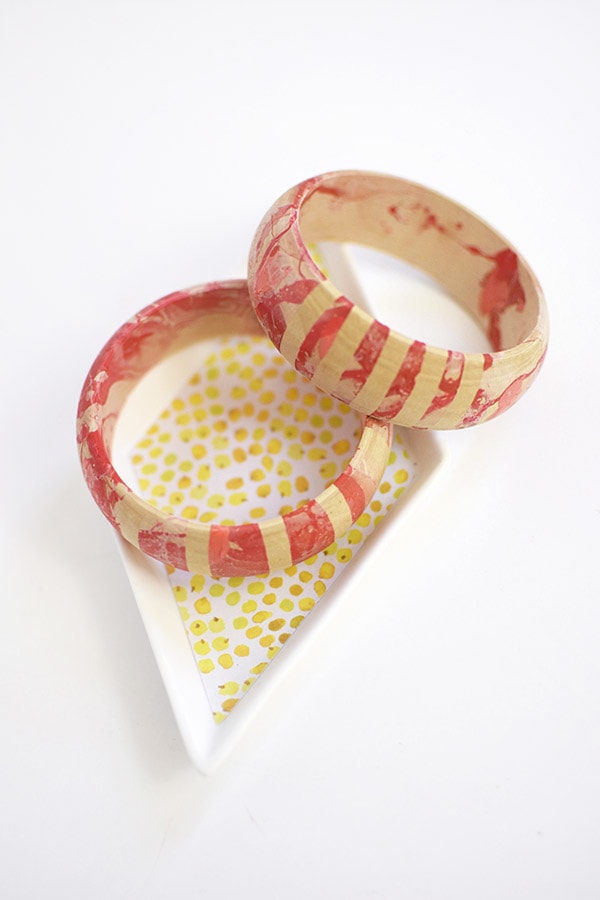 Do you love DIYing jewelry as much as I do? What have you made?
Interested in my many other marbled projects? You can check out some of these!
SaveSave
SaveSave
SaveSave
SaveSave
SaveSave