DIY Floral Painted Wooden Box
INSIDE : Learn how to create a DIY floral painted wooden box using whimsical scrapbook paper! A simple statement piece for any room in your home.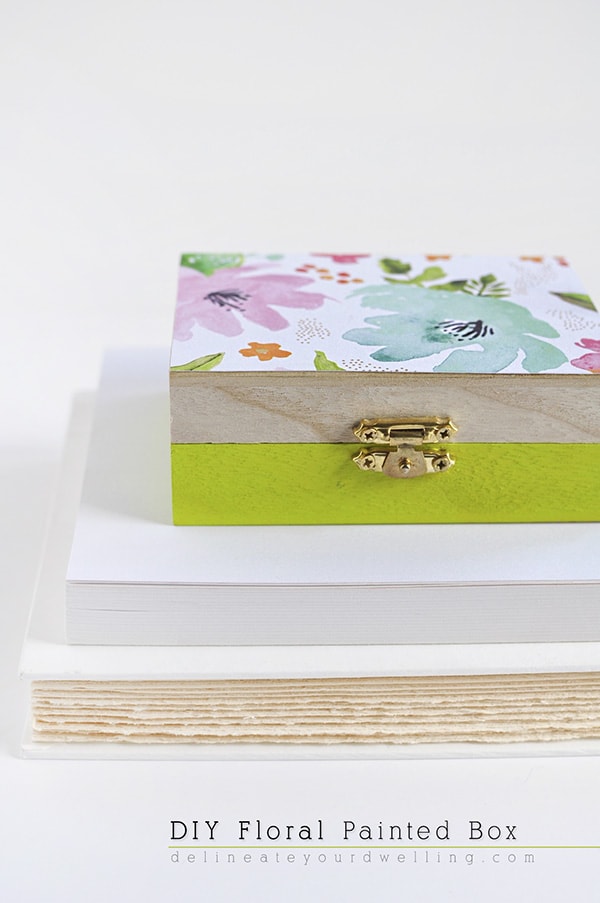 Yesterday I was completely inspired while walking the aisles of JoAnn Fabric! I found some amazing scrapbook paper and knew it belonged on this DIY Floral Painted Wooden Box. (And I may have made two other projects right away using other paper from this scrapbook paper pad because to have florals and pineapple prints in the same bundle… amazing.)
This post may contain affiliate links. See full disclosure here.
What supplies do I need to make a Painted Wooden Box?
Wooden Box
Granny Smith green craft paint
Martha Stewart Decoupage Matte Finish

Scrapbook Paper
Gold Scissors
Paint Brushes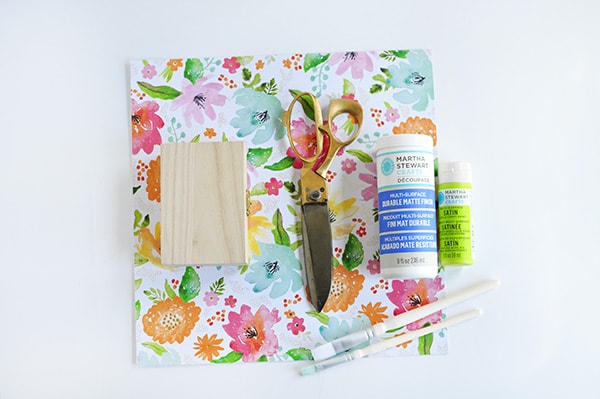 How do I make a Painted Wooden Box with Scrapbook paper?
Start by measuring the lid of your wooden box and cutting down your scrapbook paper to match. I held mine up to the lid a few times and trimmed off small pieces for a perfect fit.
Before securing the paper onto the top, I got all the painting out of the way. I used this vibrant green color as a contrast to the soft florals. I only painted the lower half of the box, including the interior rim.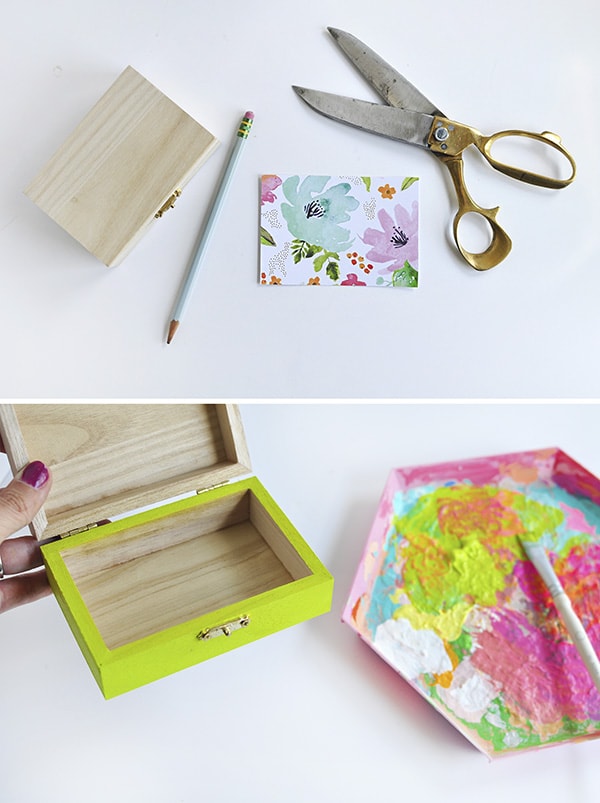 After the paint had sufficiently dried, it was time to adhere my paper to the box. I love Martha Stewart Decoupage Matte because it dries clear and doesn't have any shine. I painted a layer on the wooden box and then a layer on the back of the paper. Then I was sure to push out an excess on the edges and then flipped it paper down to dry flat.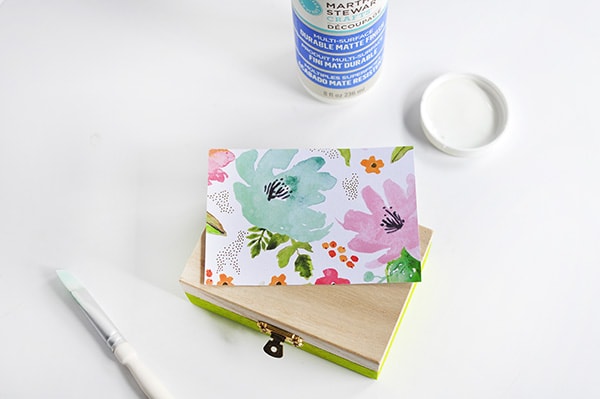 I love the little pop of color when you open the box, having painted the interior rim.

This little box would make a perfect inexpensive gift, as my box was only ONE DOLLAR. And unless you buy new scrapbook paper, this little DIY potentially is under a few dollars to make!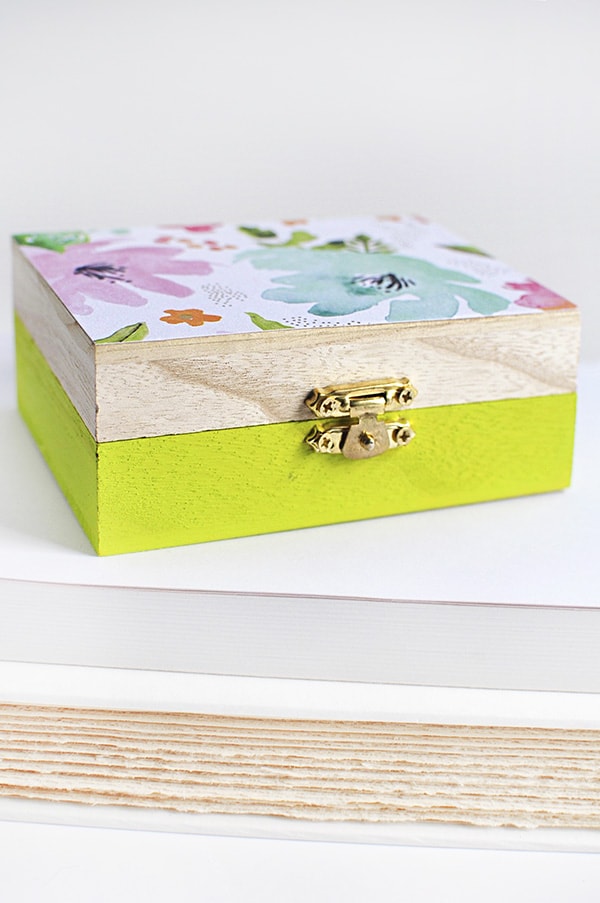 I'm really loving the bold color, natural wood and softness of the floral pattern.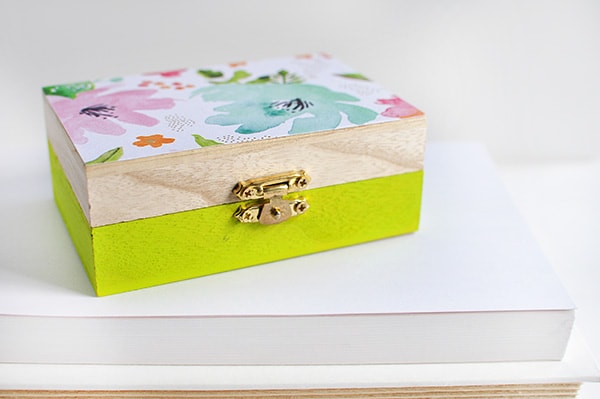 Isn't that paper just gorgeous?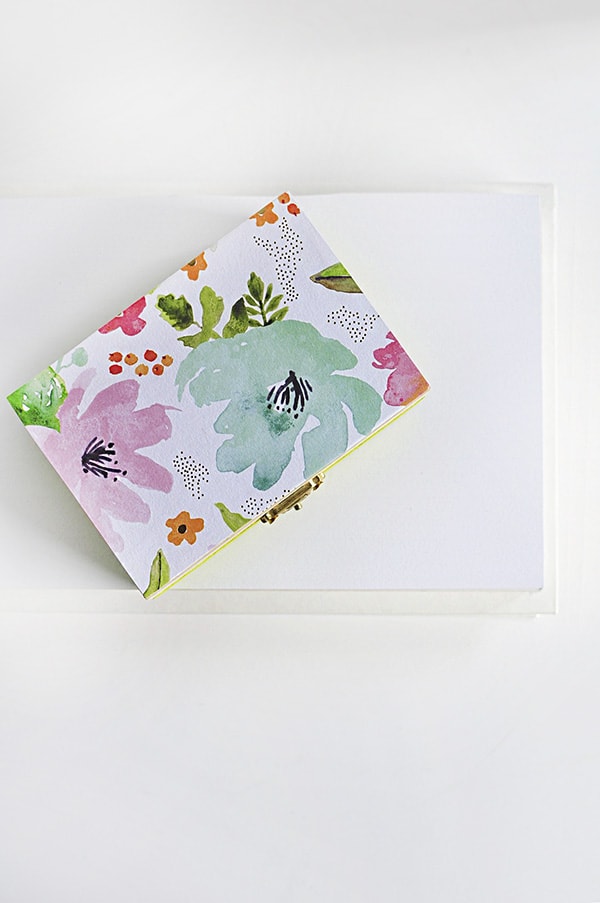 If you liked this fun scrapbook paper project, you might like these two other similar projects I made!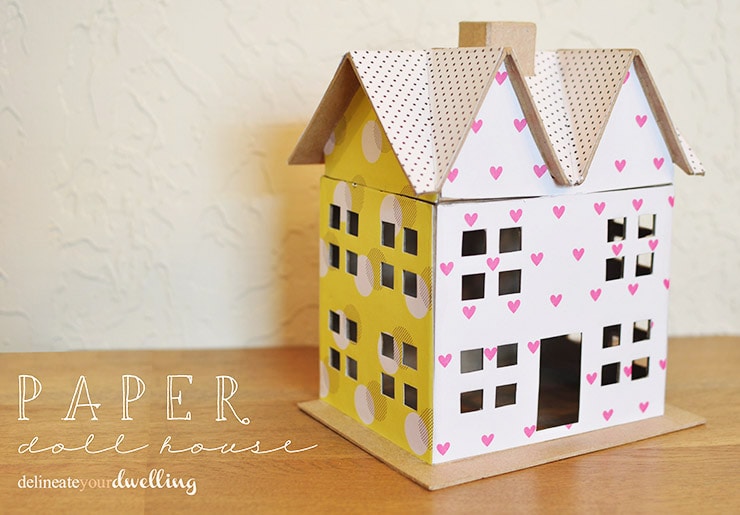 I have done so many fun painted and patterned boxes over the years!
Here are a few of my favorite ones.
Floral Painted Wooden Box | Cacti Embroidered Box | Marbled Box | Button Box
Geometric Thread Box | Memory Box | Onesie Shadow Box | Floral Painted Box