INSIDE : Learn to make your own DIY Custom pillows using software to design the fabric patterns! I even turned my daughter's handwriting into fabric and it will make the most precious family heirloom!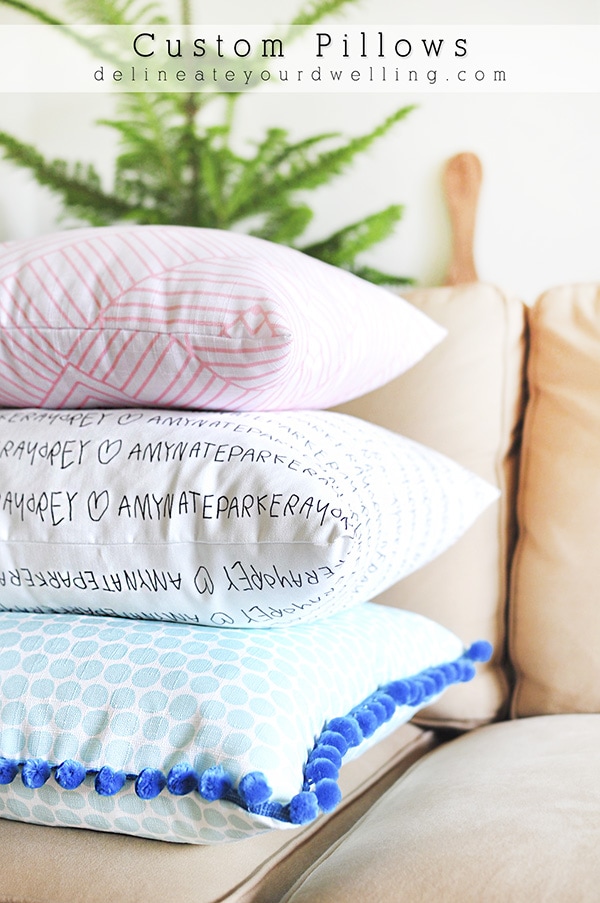 This post may contain affiliate links. See full disclosure here.
Fabric can completely transform a space by adding curtains, pillows, throw blankets and more. However, sometimes it can take so long to find just the perfect fabric to meet your decor. I often will find the perfect pattern but wish the orange was a little softer peach or the blue wasn't quite so cobalt. Well, friends I have found the answer to all your fabric needs! I am thrilled to share how I made my perfect DIY Custom Pillows using WeaveUp. This site is truly amazing.
I knew I wanted to create two custom color fabrics and then take a handwritten note of my daughter's and turn it into fabric. I did not know how much fun I would have creating the fabrics. Let me take a moment to talk about how easy (and addicting) this was on WeaveUp's website.
You can pick from what seems like thousands of fabric patterns (it's 10,000, I just checked!). They also have a "trending fabrics" section to help narrow down, if you don't want to have to search for a popular style. I knew I wanted to go with simple geometric shapes, so I searched out two fabric patterns I liked.
Once you have a fabric selected, the real fun begins! There is a "Customize Design" button on the right hand side and after clicking it, you have an entire color wheel to select from. Each of the lines within your fabric can be changed and it is SO FUN! I ended up designing eight different fabrics just because I couldn't stop. You can also play around with the repeating of the pattern and scale to make it just as you would like.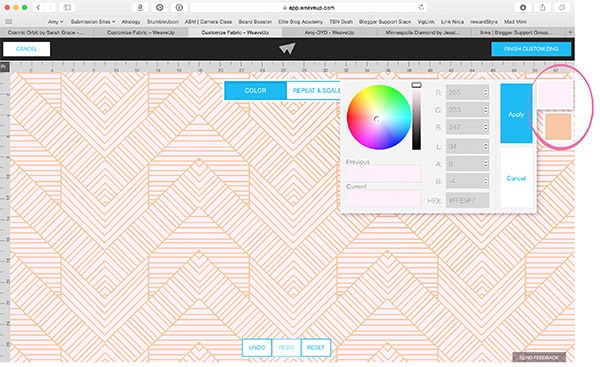 After your fabric is complete you can save it to private design boards or save them in public boards. Another neat perk, if you sign up and register with the site, you can create your own original designs to earn commission on your fabrics if others end up buying them!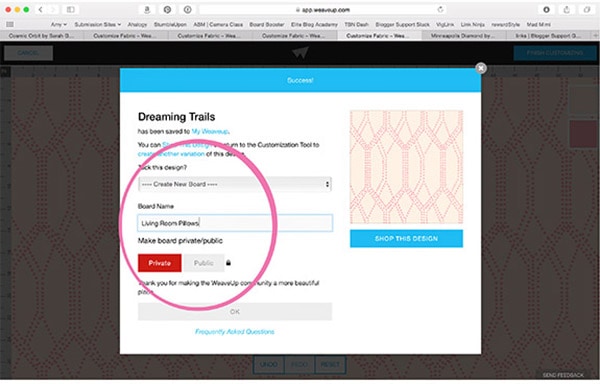 My supplies for making my custom pillows were basic. I found a gorgeous blue Pom Pom trim to embellish my blue pillow. Otherwise, I needed sewing scissors, measuring tape, three pillow inserts and my stunning fabric.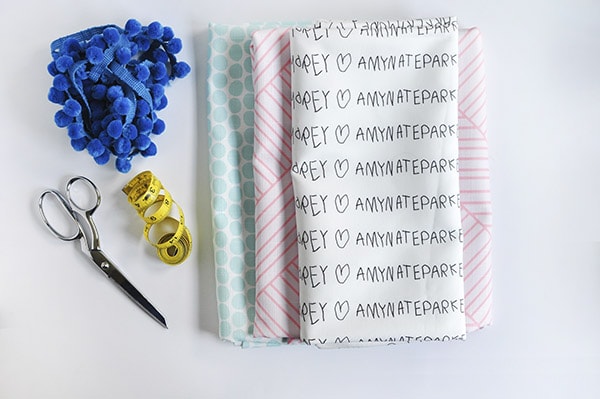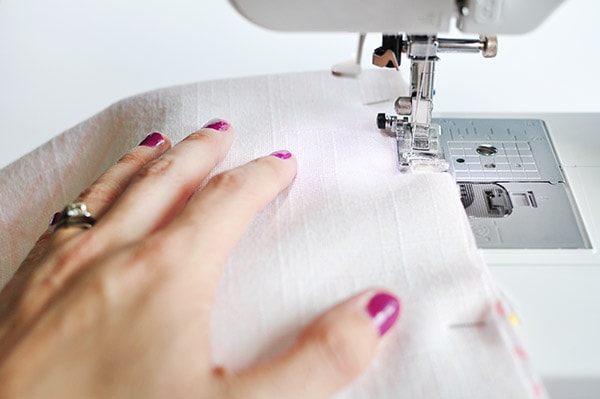 WeaveUp also allows for creating a custom pattern using an imported graphic file, which is how I used my daughter's hand writing! I repeated the pattern to create 'stripes' of our family's names and just LOVE how it came out.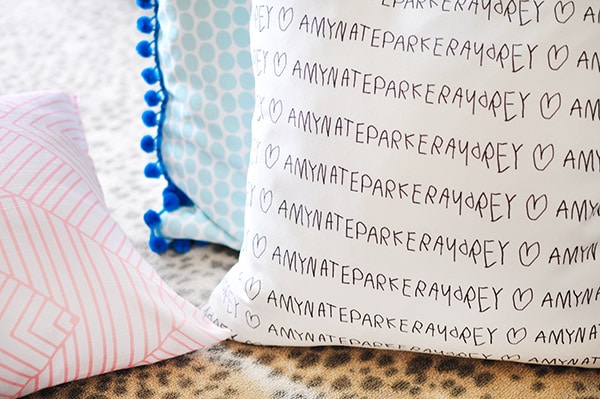 Honestly, these pillows change the entire feeling of my living room and I had such fun during the entire process from creation of the fabric to the end product. Ready for some other great WeaveUp news? They are soon to be coming out with wall coverings AND apparel! Can you even imagine being able to customize your wall coverings? Mind blown.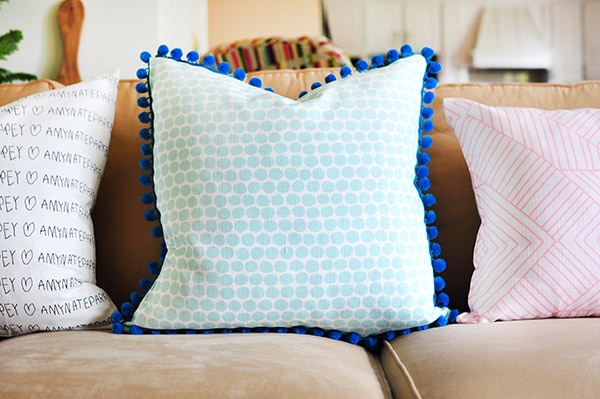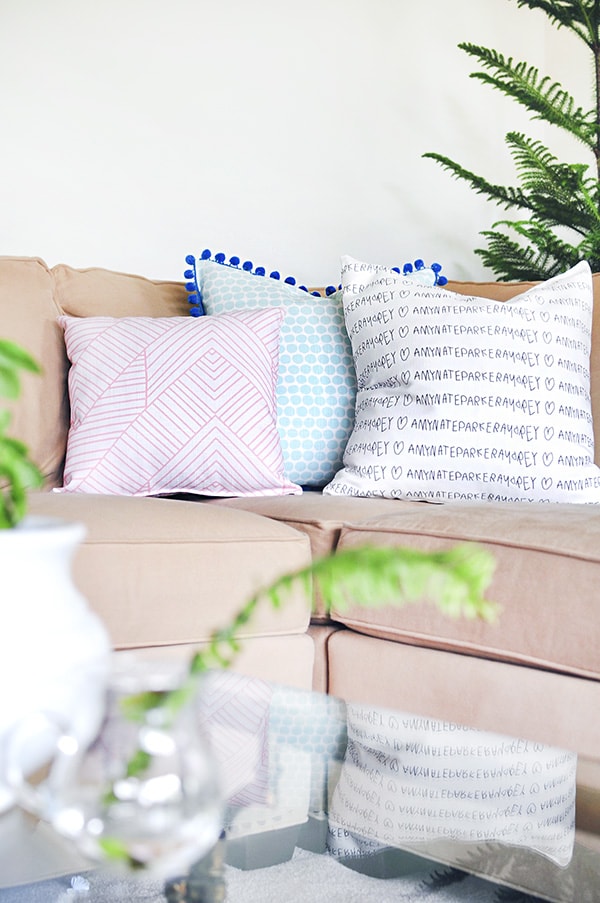 If you would like to stay up to date with all the new features WeaveUp has coming, you can follow them on Facebook, Pinterest or Twitter!
Thank you to WeaveUp for supplying the gorgeous custom fabric! All opinions were 100% mine as I'm really quite smitten with them.
Looking for other wonderful pillow ideas? Check out these…