INSIDE : Learn how to use Acrylic Paint and created a fun DIY Painted Retro Pillow! This colorful throw pillow is perfect to style in any room of your home.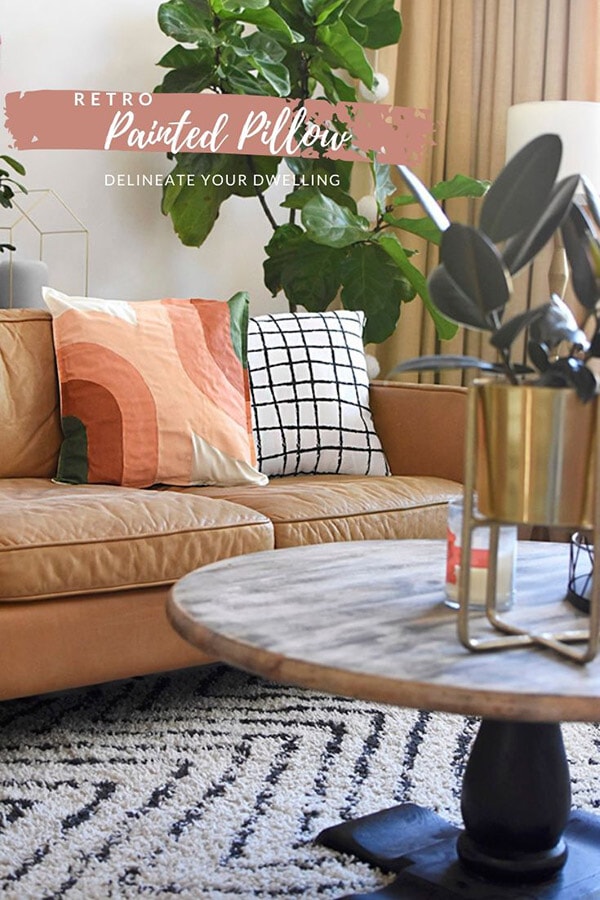 This post may contain affiliate links. See my full disclosure.
I was moments away from pushing click and buying myself a new throw pillow. I had been looking for just one little pop of color to add to my Master Bedroom. But I was sad about the long shipping time and $29 for the pillow, plus tax and shipping and quickly I was getting less excited about the whole thing.
Then I remembered I had a plain IKEA pillow case and I knew that painting a pillow was the way to go!
What supplies do I need to decorate a pillow?
20″x20″ Canvas Pillow Cover
Acrylic Paint
Short Tipped Paint Brush (for edges)
Bigger Paint Brush
Paint Palette Dish or Tray
Textile Medium (not shown, but very important for this project)
Pencil
Ruler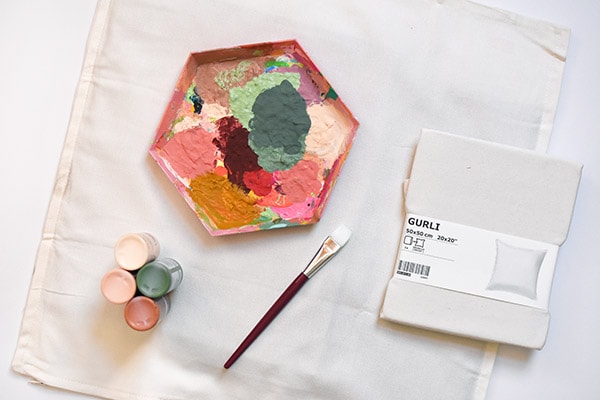 Can I use acrylic paint on a throw pillow?
YES, you can! Here is the secret to using any type of acrylic paint on pillows and all fabric projects… adding Textile Medium to your paints. I love the Delta Textile Medium and use it all the time. The best part of using it is that your paint is much less likely to crack on the fabric and you can officially wash the fabric without issue.
Follow the directions on your textile medium for the measurements of paint to medium. Note : I never follow the directions, I just sort of make it up as I go. Eeek.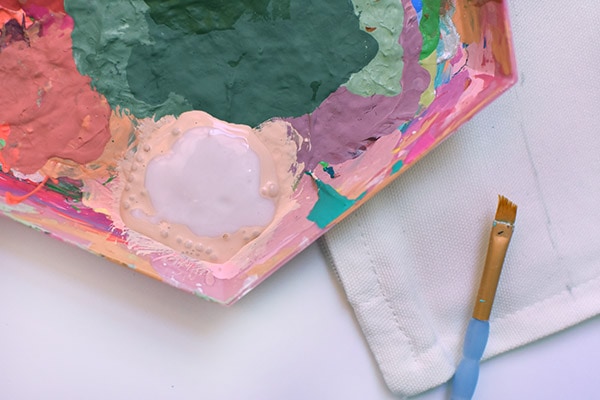 How do you paint a Retro pattern on a pillow?
I did some sketching on paper first to come up with the retro styled pattern for this pillow. After I had my design, I started figuring out the actual dimensions.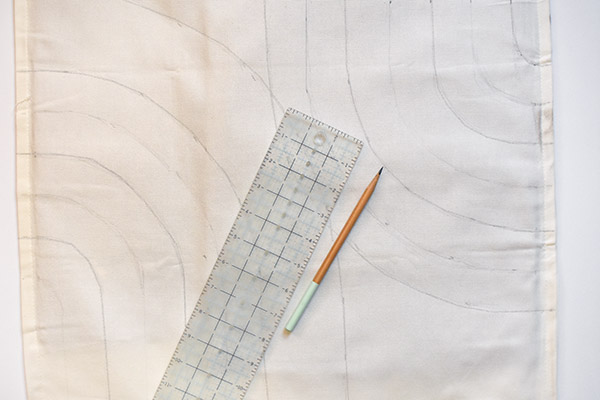 I put together this sketch-up plan to help explain exactly how I drew the pattern. I used a ruler and starting at the bottom left hand corner, measured and marked 3″ spacing for all four of my paint colors using a pencil.
Then, going back to the bottom left hand corner, I measured up 6″. Then, I just free handed a nice arc over to the side. Then, I measure from the top of that arc up in 3″ increments.
I free handed all my arcs, but you could get fancy with fancy curved rulers, if you really wanted to. I'm all about the perfectly imperfect designs, though.
Once I had one side drawn out with my pencil, I rotated the pillow and matched the same pattern on the opposite corner.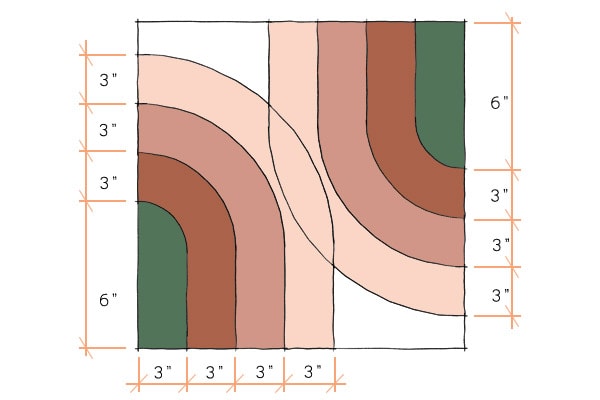 Painting on a Throw Pillow :
I cut two paper grocery bags and placed them inside my pillow cover to make sure the paint didn't bleed through to the other side. You could use cardboard or even magazines for this, too.
I started with the deep green paint first. Using a short tipped paint brush, just go nice and slowly and paint in your shape. I found it helpful to use the small tipped brush and do the outline of the shape and then fill in the color with a bigger brush.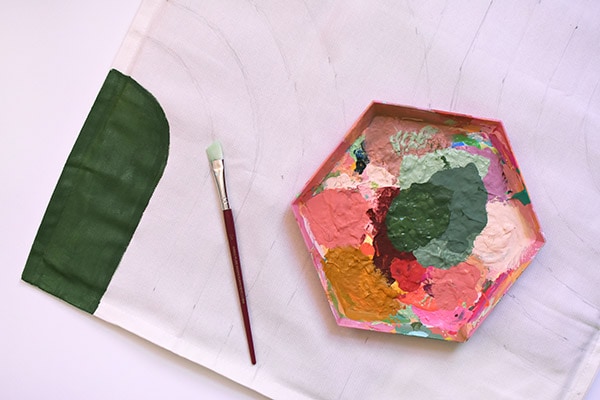 After I would complete a section, I would flip the pillow around and paint the other corner's same color. This allowed for each area to dry a little before I painted the color beside it and also helped with time – as I wasn't having to switch back and forth between colors.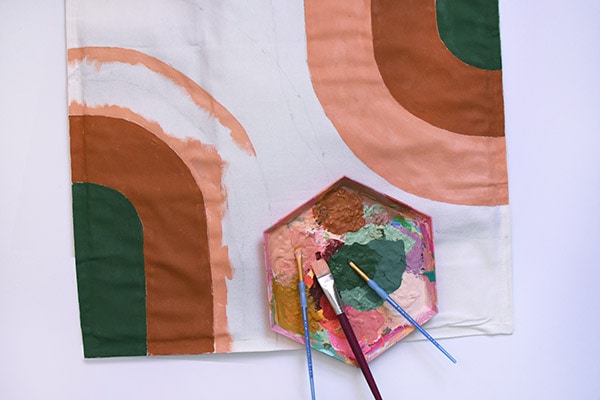 Retro Pillow
Once all the painting was complete, I just allowed the paint to fully dry for the afternoon. I already had a 20″x20″ poly-filled pillow sitting around, so I put it in my pillow case and presto!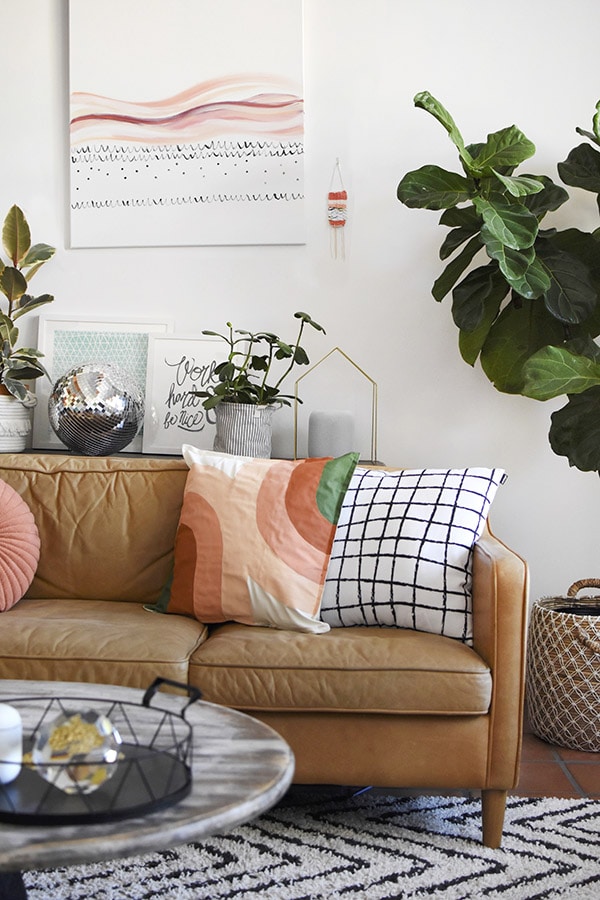 Although, I intended this pillow go in my Master Bedroom, I sure do love how it looks out here in our living room. The colors could not be more perfect!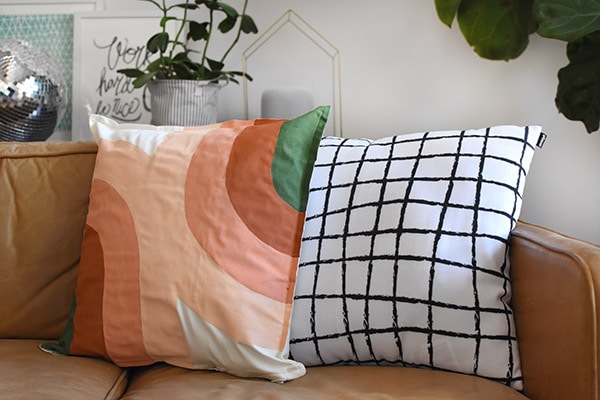 Did I mention I have one more plain pillow case? I am so tempted to paint myself up another pillow and then I can have one pillow in each room, ha.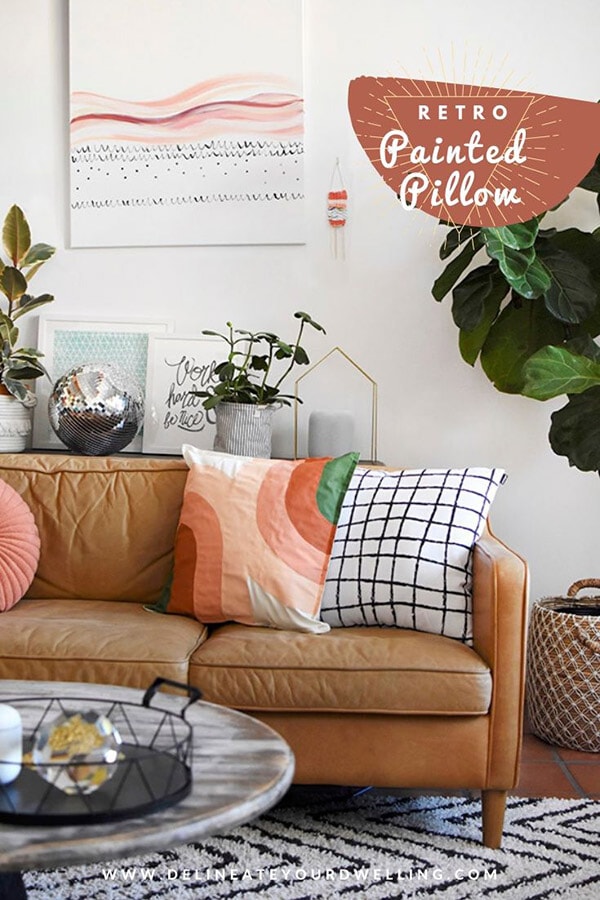 I love simple painting projects like this! I love easy art even more. I have created many of the art pieces in my home with a canvas and a set of acrylic paint. You should check some of them out in my Make Easy Art Projects post.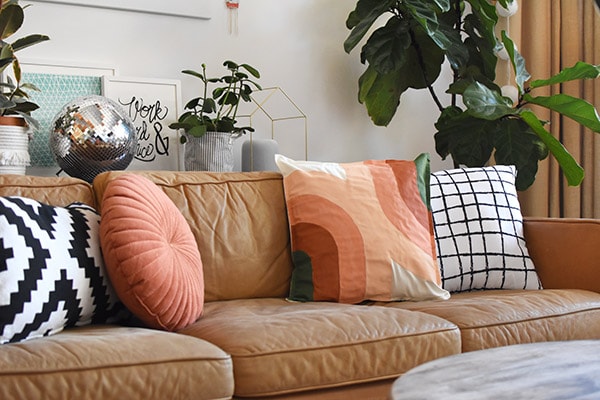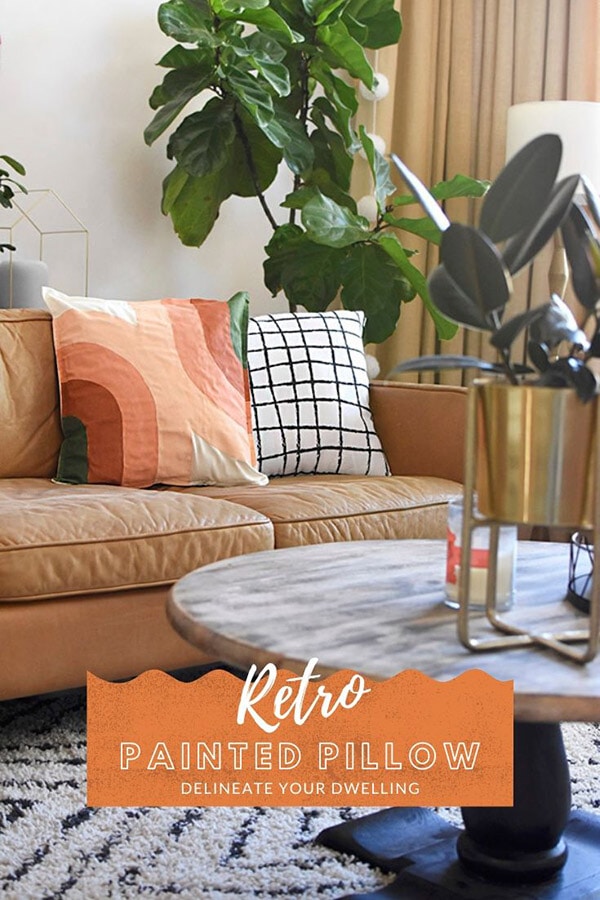 Looking for other creative pillow ideas? Check these out…