Earth toned Tie Dye Pillows
INSIDE : Learn how to create gorgeous Earth toned Tie Dye Pillows for any room in your home. Check out the three different Shibori folds I used to make colorfully dyed pillows!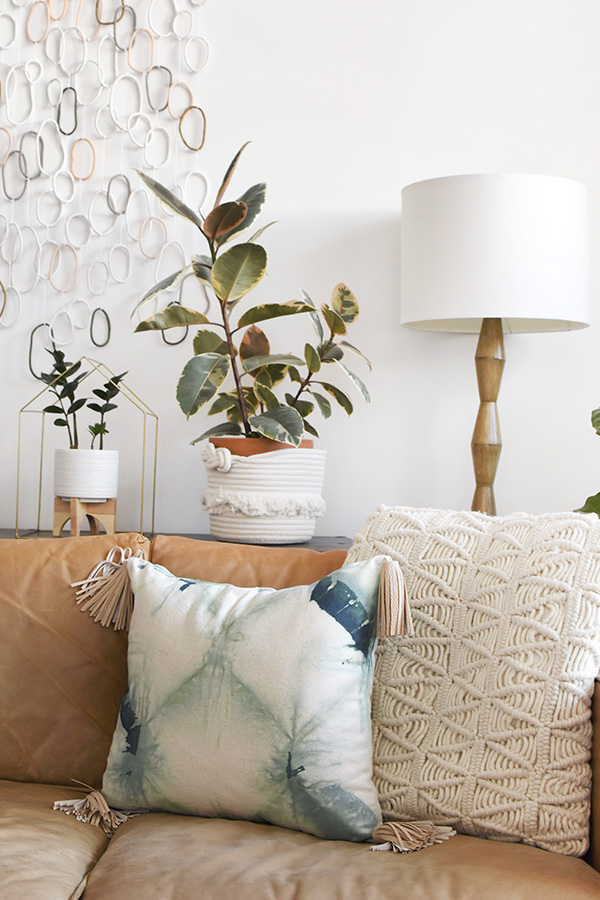 This post may contain affiliate links. See full disclosure here.
I have wanted to try tie dye for so long, but always was a little turned off by the bright rainbow colors that I saw in many of the dye projects.
Imagine my excitement when I saw that Tulip came out with an Earth Tone Tie Dye kit. I was thrilled to give it a try and goodness, did I end up with some fun pillows as a result!
And check out my post on how to make those gorgeous Leather Tassels for your pillow.
What supplies do I need to make a neutral tie dye pillow?
Cotton Pillow cover (be sure to wash and dry without a dryer sheet prior to starting this project.)
Tulip One-Step Tie Dye Kit
Down Pillow
Faux Leather
Sewing Scissors
Hot Glue Gun
Sewing Thread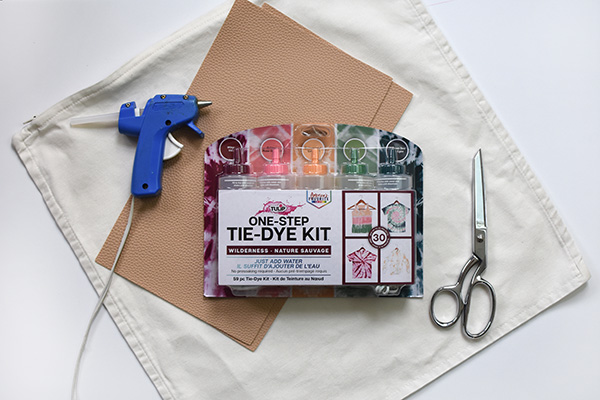 What are simple folds for tie dye pillow?
There are endless folding techniques for creating a tie dye pillow. I couldn't decide on just one style, so I tried three different styles out!
Tie Dye Stripe Fold Technique –
To create a striped pattern on your pillow, start by laying the pillow out flat. I loved that this Tulip One-step Tie Dye Kit came with 40 rubber bands because I used a ton of them.
Slowly fold the pillow into an accordion pattern and wrap the rubber bands around every few inches.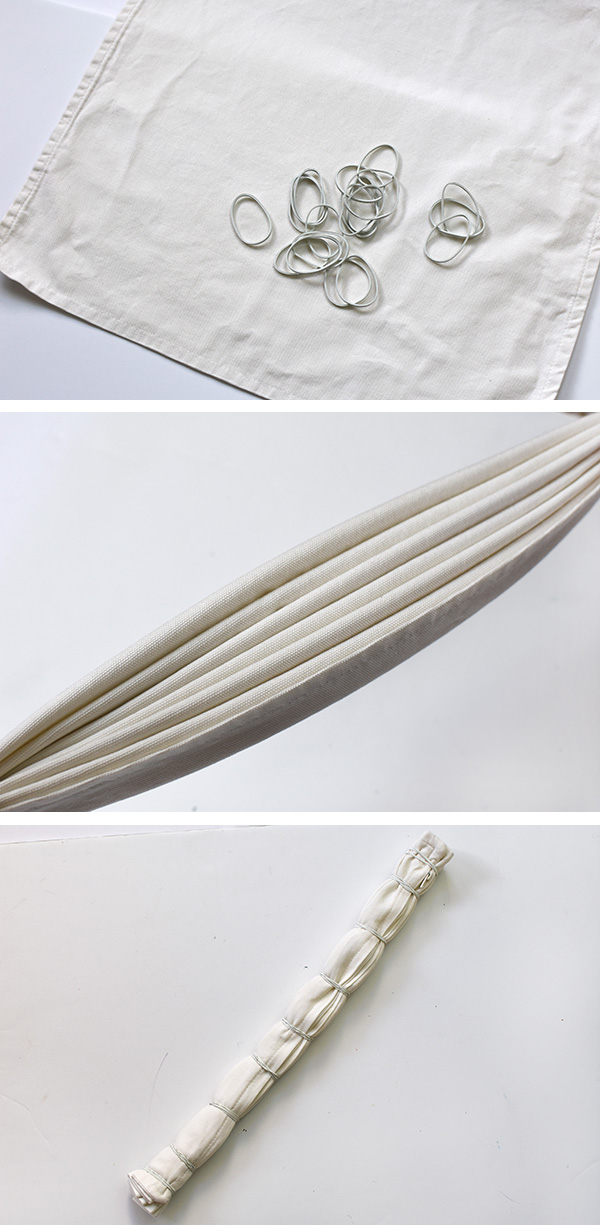 Shibori Fold Technique –
The next fold technique I tried was a traditional shibori wrap. I used a wrapping paper roll, rubber bands and a little bit of twine.
Start by rolling your pillow cover around the wrapping paper roll and then wrap as many rubber bands and twine around it as you can!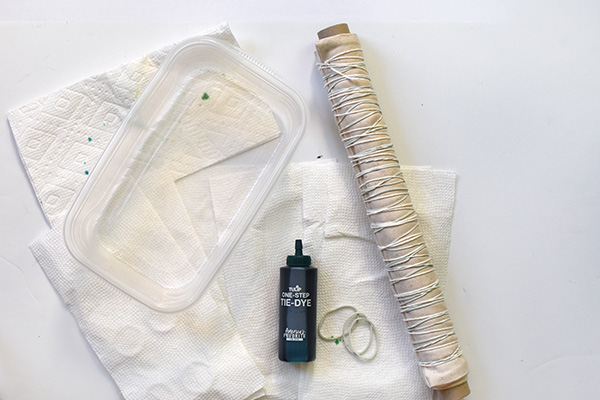 Tie Dye Triangle Fold Technique –
Lastly, I did a fun triangle folding technique. Start by laying out your pillow cover and fold into an accordion pattern. Next, starting at the bottom left hand corner, fold up to make a triangle.
Next, fold your little triangle shape to the right and then fold your shape down. You will be creating triangles that then fold over until you have reached the end of your accordion shape.
How to use an Earth tone tie dye on a pillow?
Now that you have your pillow covers all folded, it's time for the fun part Earth tone tie dye!
Using a simple Earth tone tie dye kit makes a world of difference. The Tulip One-Step kit comes with five different colors : Wine, Salmon, Butterscotch, Sage and Aegean Sea. I choose to use all the colors but Salmon.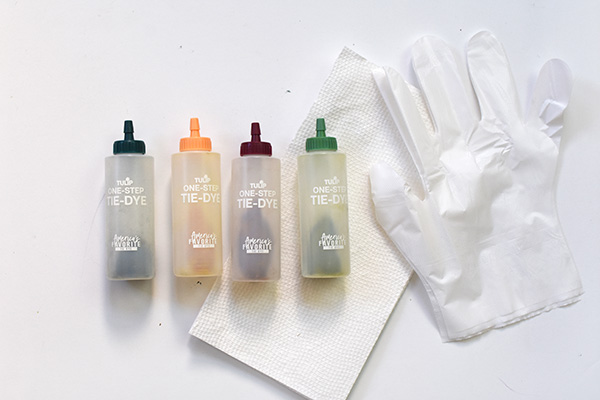 I put down a sheet (over a waterproof tablecloth) to protect my work surface and then got busy!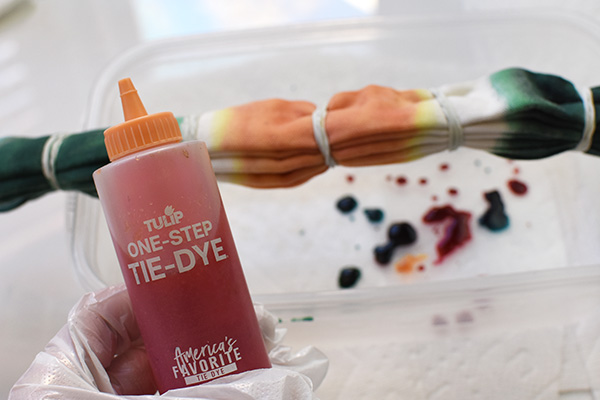 I slowly added the four colors to my striped pillow. And note that the cotton soaks up the dye easily so you want to go slowly and allow for it to spread a bit in the fabric.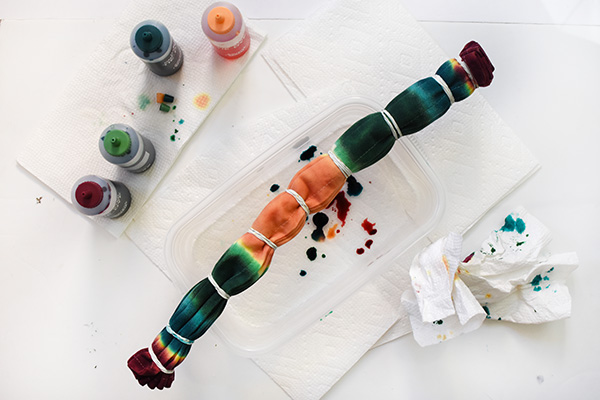 For my triangle patterned pillow, I only used sage green dye. For that design, I added dye just to the bottom portion of my folded pillow. I also squeezed a bit of dye into a plastic container and let the pillow sit in it for a few minutes to soak it up.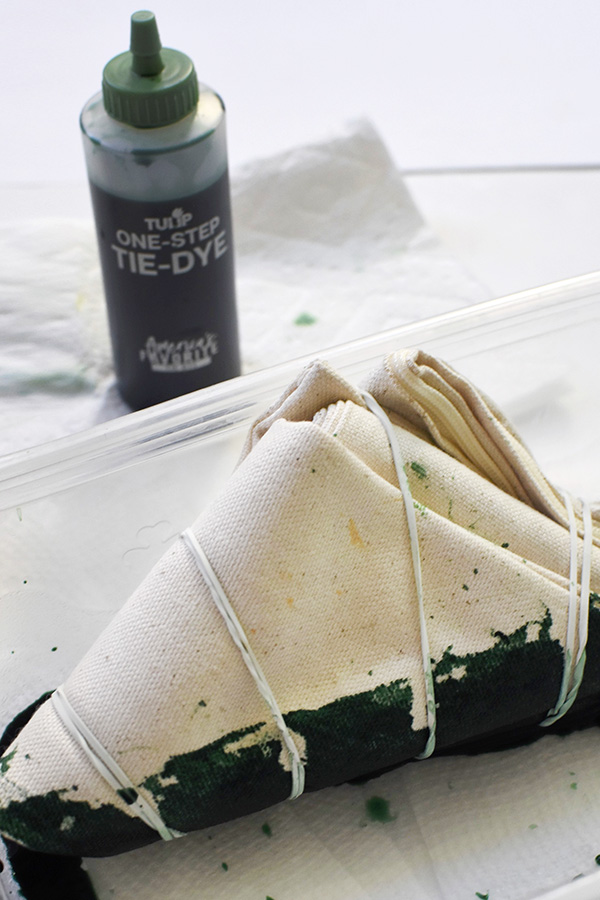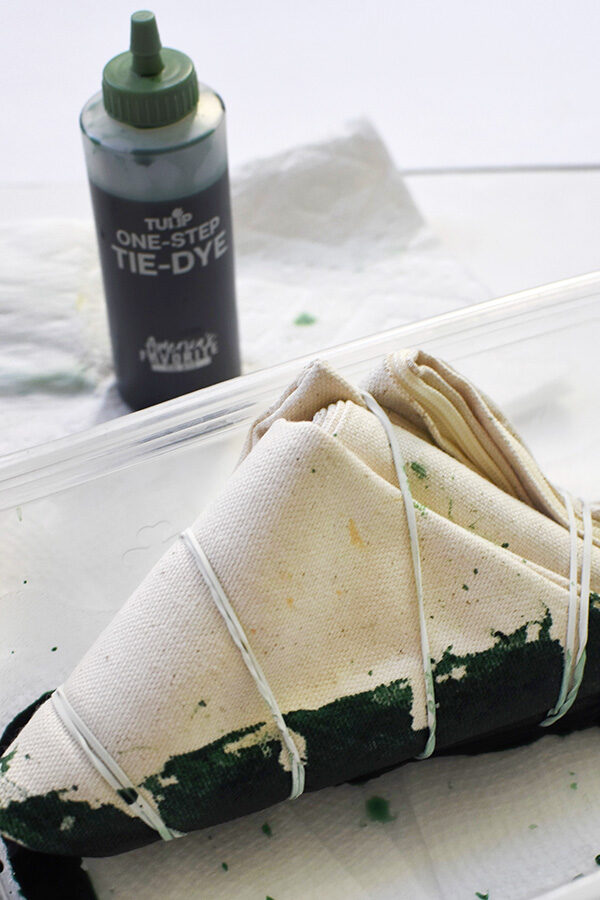 And lastly, for the shibori fold, I uniformly applied the Aegean Sea blue color to the pillow cover. I did this over a plastic container to help contain any spill over.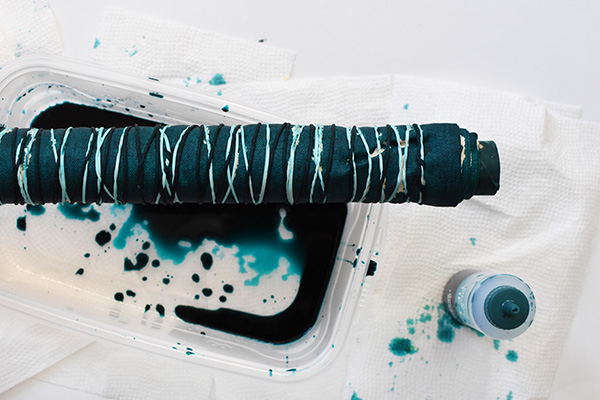 Allow Tie Dye to set
Per the instructions on my Earth tone tie dye kit, I then wrapped my three pillow covers so they would stay damp. And then set them aside for a few hours.
Then comes the rinse step. I took my striped pillow out of it's wrapping and rinsed and rinsed in the sink. You are looking to rinse until the water doesn't run colorful. You can then remove the rubber bands.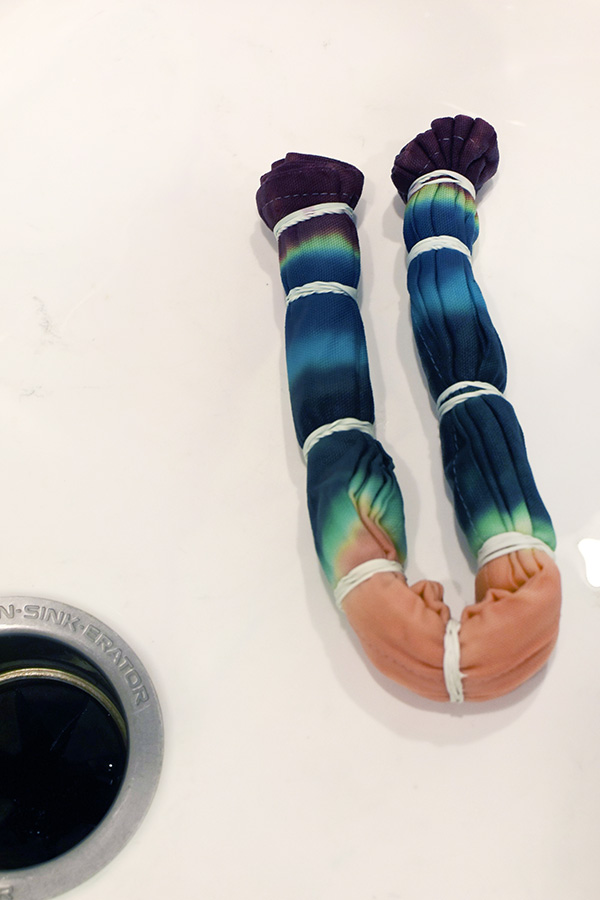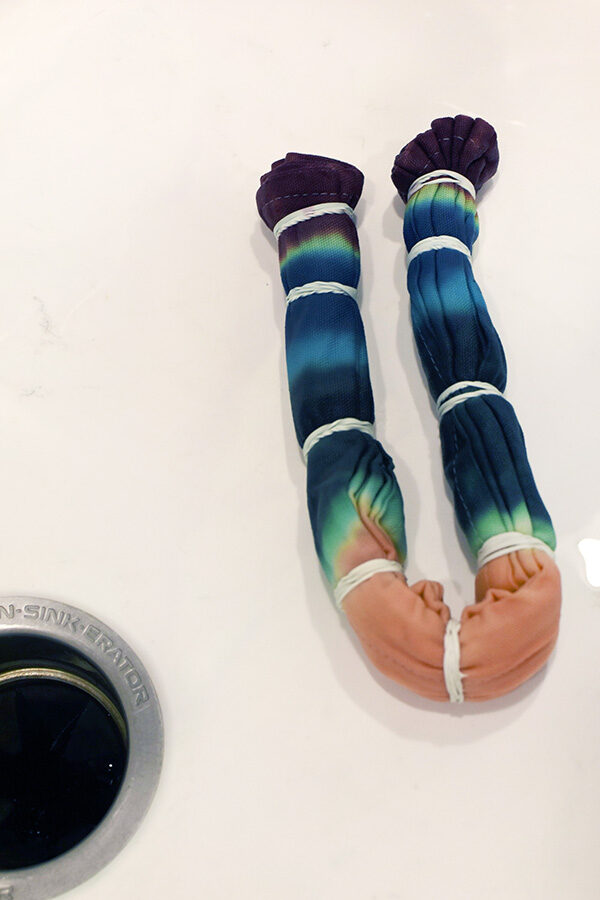 Shibori style Tie Dye Throw Pillow
Per the instructions in my kit, after you have thoroughly rinsed your pillows, wash them separately in your washing machine on a cold cycle with just a little bit of detergent.
Outdoor Tie Dye Pillows
This would be an excellent project to try with Outdoor Tie Dye pillows. However since you need the tie dye to absorb into the pillow fabric, I think it would be smart to dye the pillow and then spray a few coats of Scotchgard Sun and Water Shield. It will help to repel the water and sunrays from your new throw pillows but still allow you to bring pattern and color to your outdoor spaces!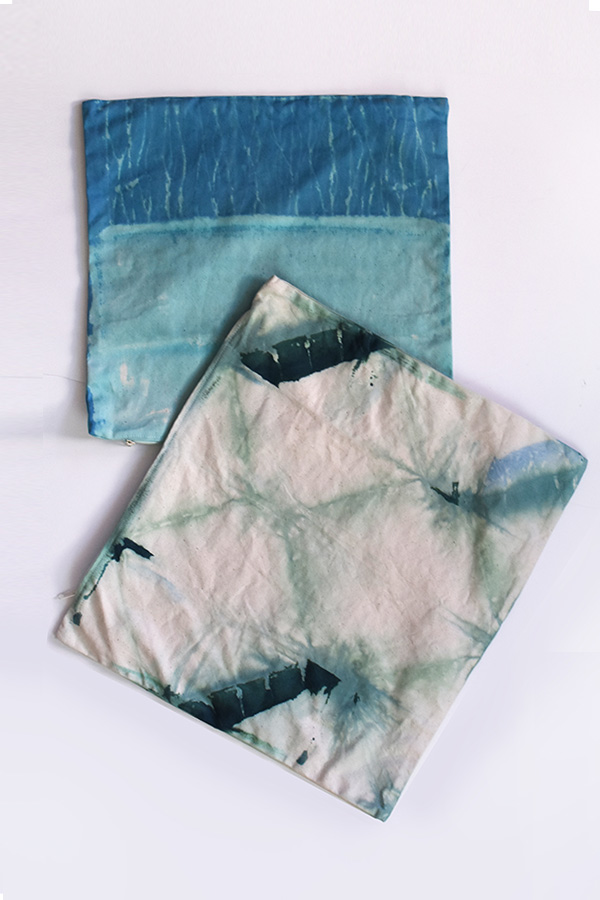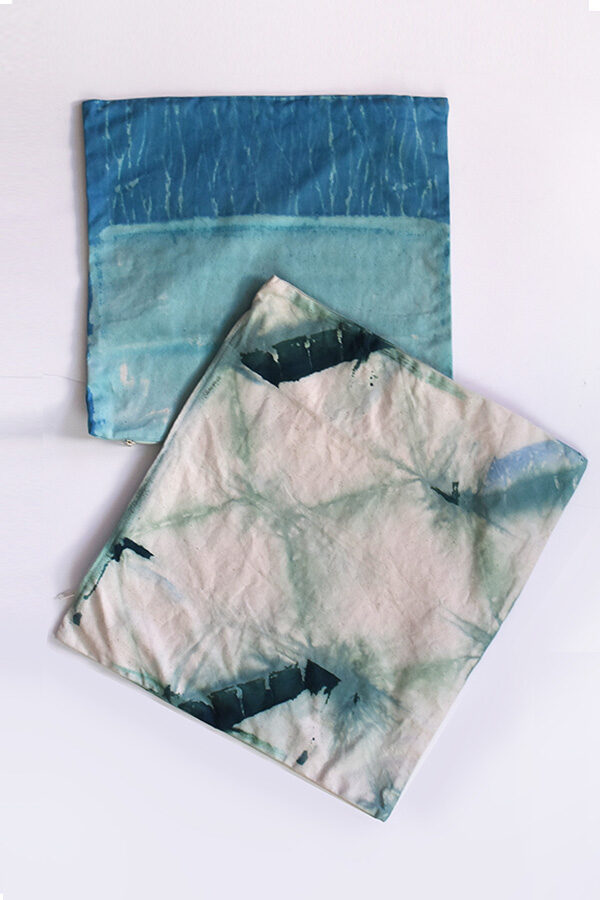 Earth tone Tie Dye
I was SO in love with how the blue and green pillow patterns turned out!!
And the colorful stripe pillow was so fun, too!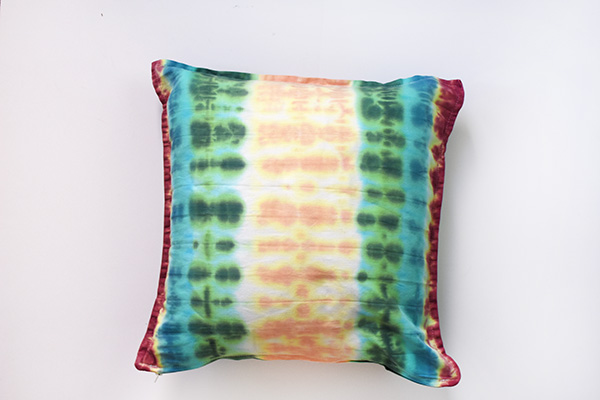 I added leather tassels to the green tie dye pillow and set them out in our living room.
These Earth tone pillows are the perfect craft project! And having all the supplies in one kit made everything so much easier.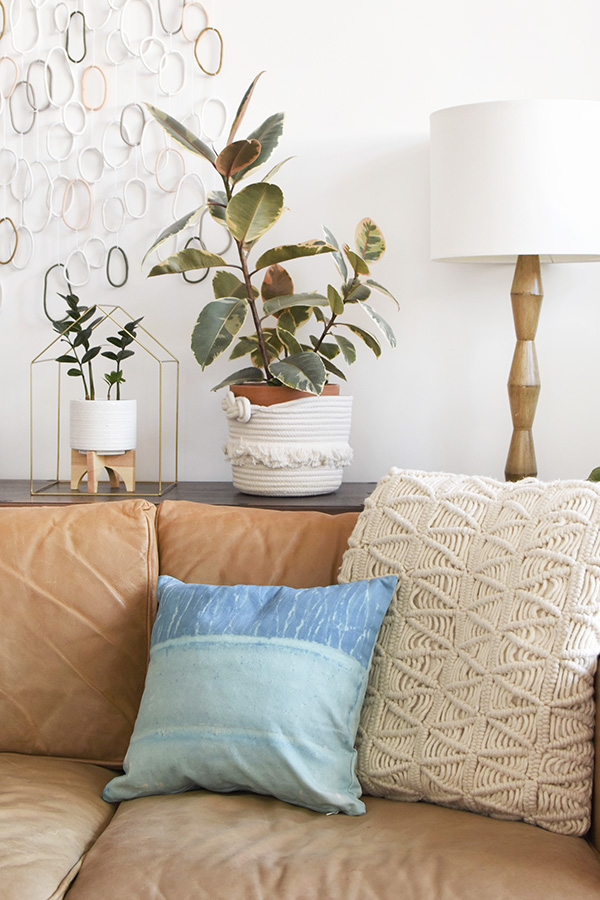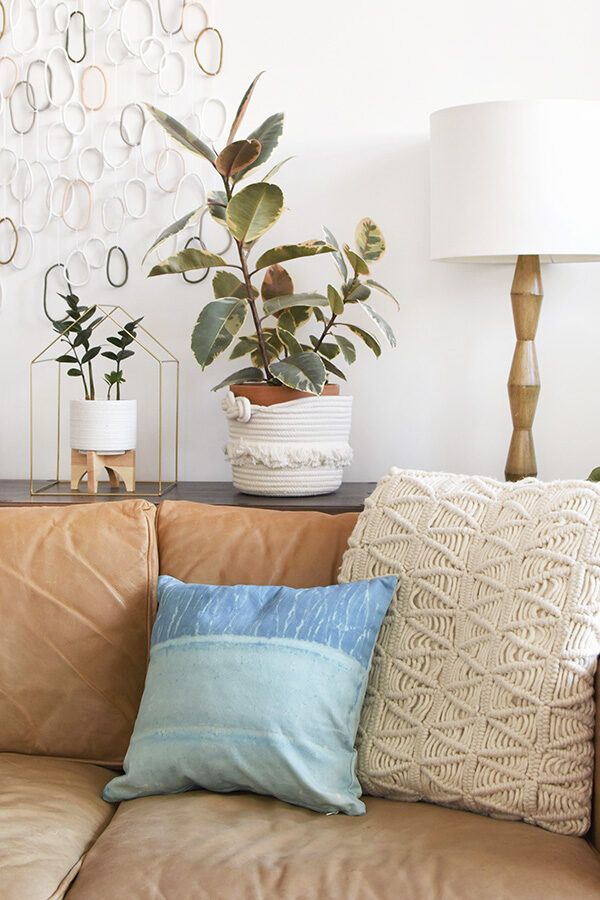 This is a sponsored post by Tulip and Duncan Paint. All opinions are 100% mine.
Looking for more pillow ideas? Check these out…
Looking for more creative Home Decor Ideas? Check out some of these.
How to make and add Leather Tassels