INSIDE : Learn how to create a Modern Geometric Peach piece of artwork! Combine acrylic paint and copper washi tape to make a fun piece to hang in your home.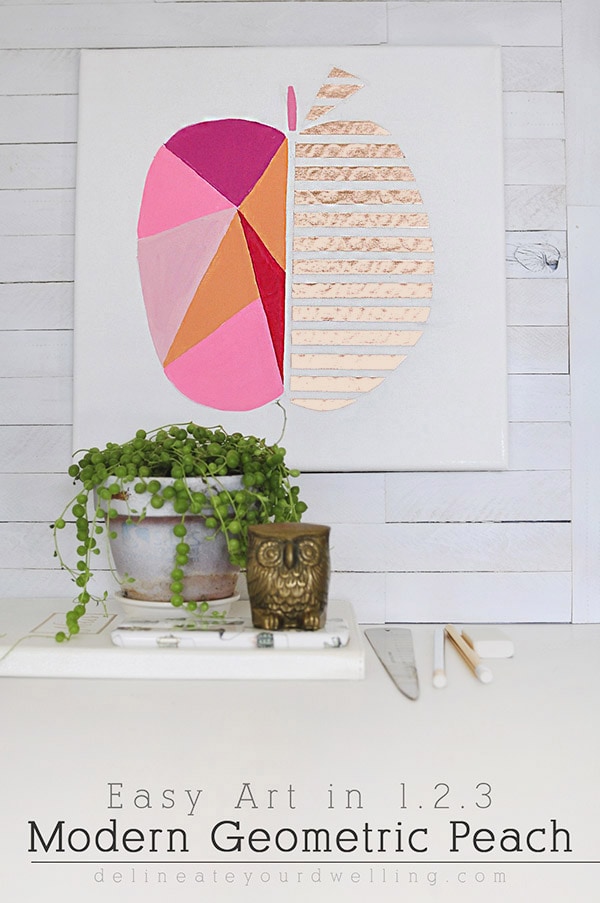 This post contains affiliate links. See my full disclosure here.
I have had such a fun time creating all kinds of different and new art work! So far, I have made
Guess what today is? It's the third of my new mini series called Easy Art in 1.2.3 : Modern Geometric Peach. In light of warmer weather, cheerful colors and just getting a little creative with some fruit, I am going to go step-by-step on how YOU can make your own art work for a fraction of the cost! I love this painting, too because it really could be any fruit or object, for that matter.
What supplies do I need to make a Modern Geometric Peach?
Canvas or Heavy Paper
Angle Brush Set

Copper FOIL Washi Tape
5 acrylic paints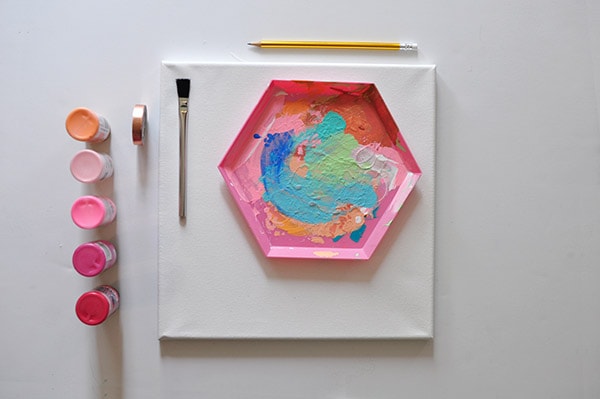 How do I make a Modern Geometric Peach piece of artwork?
To create my peach shape, I got "very technical" and used my open hand as a basic guide.
Using a pencil, I then drew a light line down the middle of my peach and created a simple geometric pattern on one side.
Then, using my different colors, I started to fill in each shape. Go nice and slow to keep those crisp lines.
Once, the painted side of my peach was completed and dried it was time to apply the copper foil tape!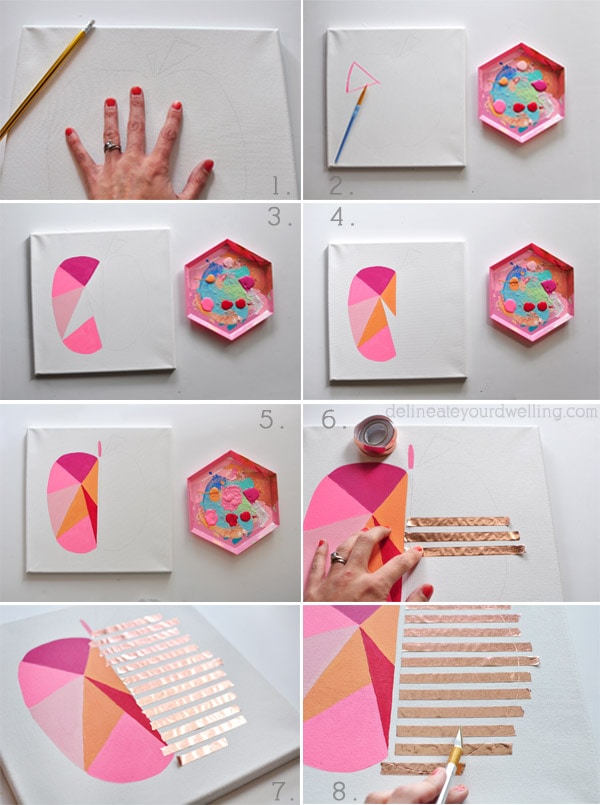 I applied the tape and then used an x.acto knife to gingerly cut away the excess. Follow the light pencil peach shape you drew during the very first step.
The result is a perfectly modern geometric peach! Perfect for adding some summer to your home.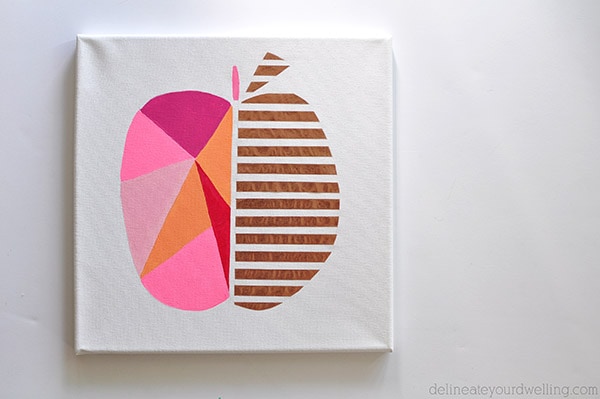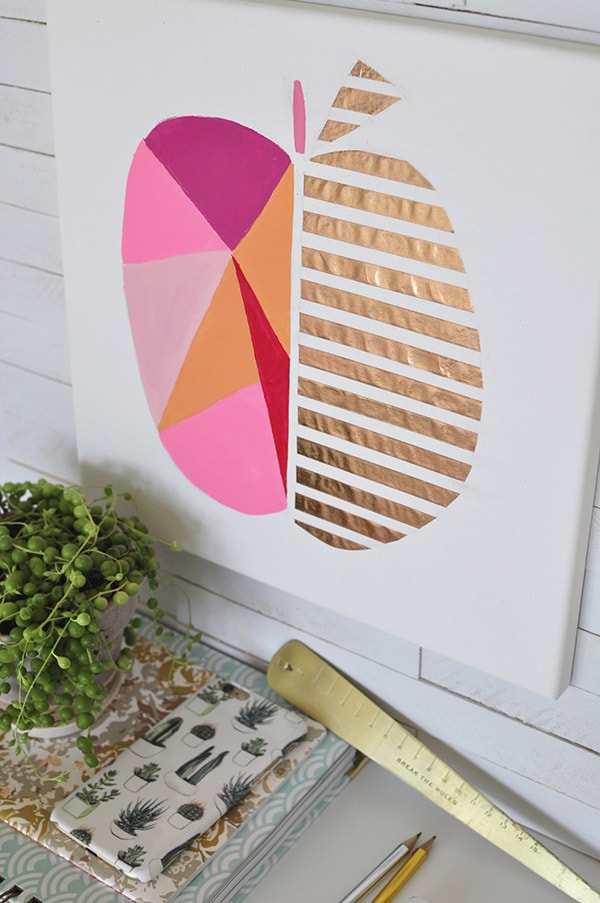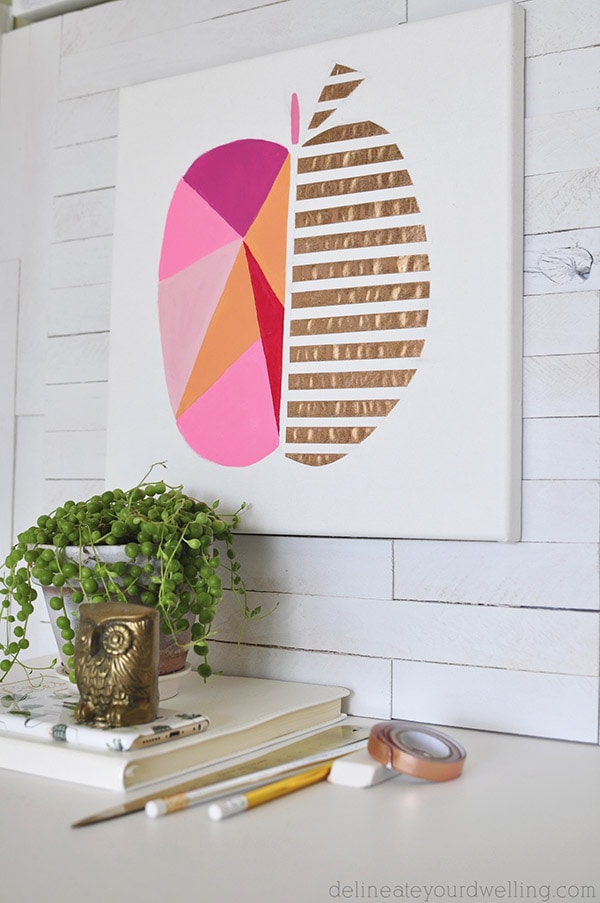 I am trying to decide where to put this little beauty and I think it might go so sweetly in my little girl's room.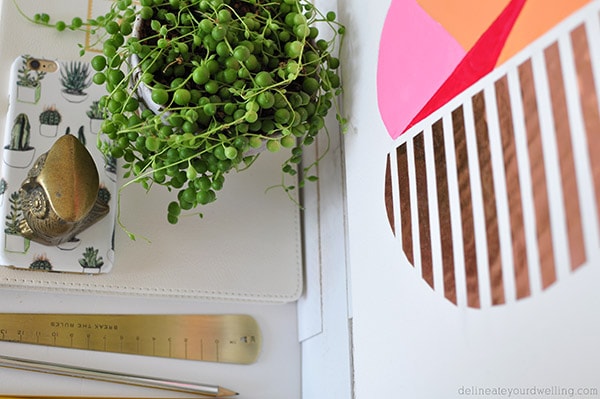 Do you like this project? If so, be sure to pin it for later!
I have been loving this monthly art series because it's pushing me to sit down and be creative with paints? Do you enjoy getting out paint brushes and taking time to paint? I'm wanting to try watercolor soon, but I'm nervous!
If you are looking for more Easy DIY Artwork, you might want to check out these simple tutorials I put together for other paintings.

ALL THE SUPPLIES FOR ALL THESE EASY PIECES OF ART:


SaveSave
SaveSave
SaveSave