Must Have Tablescape PARTY Items Under $40
I've learned I'm a "gather". I love to entertain and bring people together. I love having friends over and relaxing over a lovely meal, a glass of wine, some lemonade, dessert, a happy hour, sharing life… you get the idea.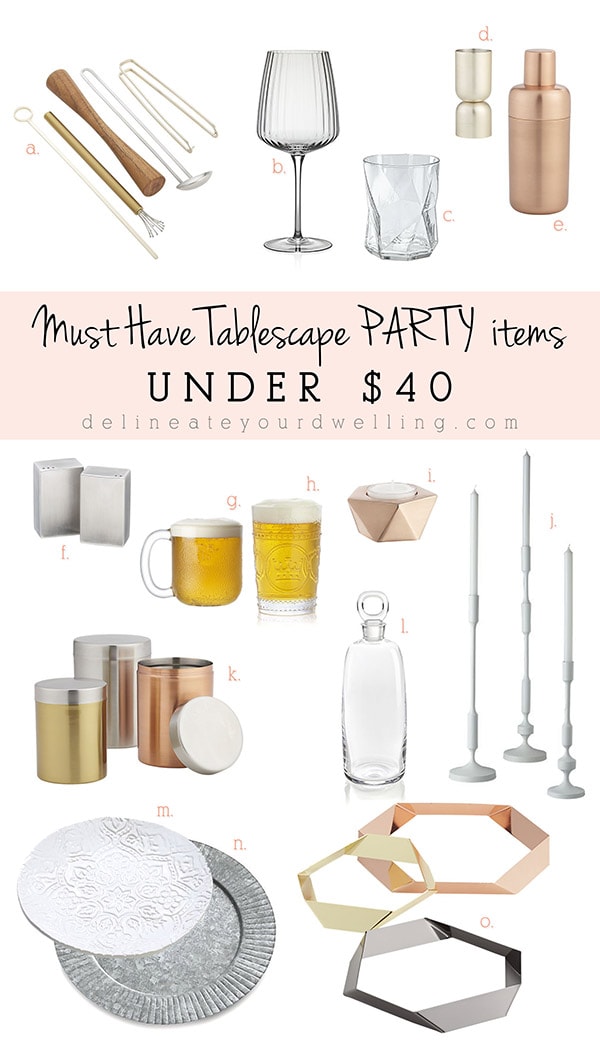 This post contains affiliate links. There is no additional charge to you.
By nature, I am always starting themed 'groups'. Shortly after moving to NM without knowing a soul (ten years ago), I invited a few new-to-the-area ladies from work to my studio apartment for my first cocktail party, and thus began my love of hosting.
Gathering people together and sharing an evening together is something that makes me deeply happy and makes me feel connected to friends.
I've since started craft nights, monthly dinner clubs, a 4pm mama/kid happy hour each Friday (this is the best idea I've ever had for all of you stay at home mamas) and I organized a group of my closest girls who we read through Shauna Niequist's Bread and Wine and each month made meals from her book. We actually bring our ingredients to each other's home and chat over wine, sharing life while cooking our meal together. (Sidenote, I can not recommend ALL of Shauna's books
enough!)
Because my love of bringing people together has been ongoing for 10+ years now, I love collecting fun entertaining items. They are often on my birthday and christmas lists! So, today I am sharing some of my recent Must Have Tablescape PARTY Items Under $40.
a. Wood Muddler
b. Wine Glass
c. Faceted Drinking Glass
d. Copper Orb Jigger
e. Cocktail Shaker
f. Stainless Steel Salt and Pepper Shaker
g. 20 oz. Beer Mug
h. Pint-style Beer Glass
i. Rose Gold Candle Holder
j. White Modern Candle Holder
k. Metal Canister
l. Glass Decanter
m. 9.5″ White Plate
n. Stainless Steel Charger Plate
o. Link Marble Trivet
And to end with one of my favorite quotes from Bread + Wine, "The heart of hospitality is about creating space for someone to feel seen and heard and loved. It's about declaring your table a safe zone, a place of warmth and nourishment."
Have fun shopping for these Tablescape Party decor items!