Plaid, the new little black dress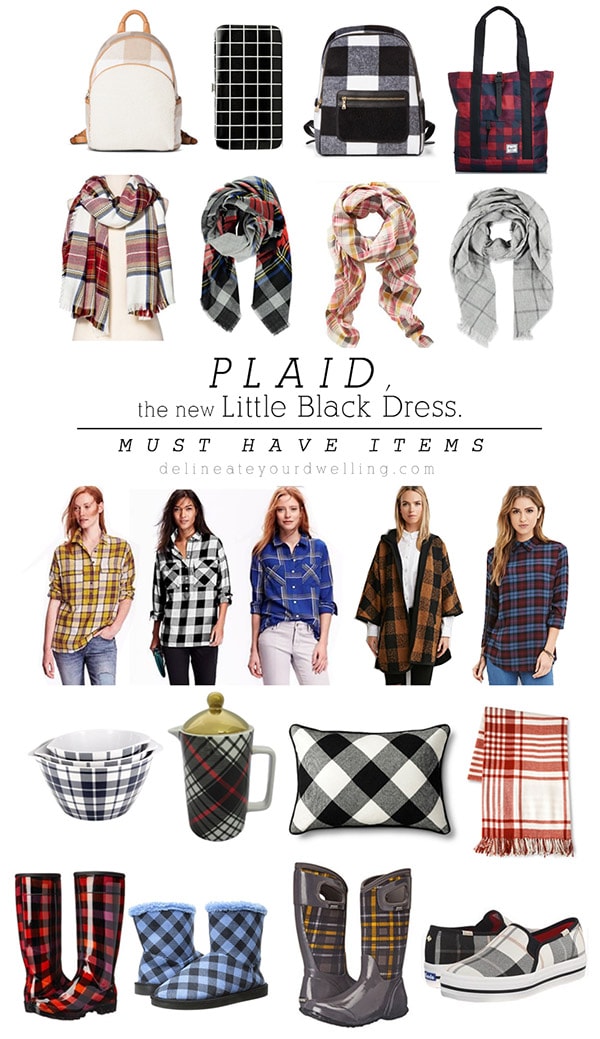 INSIDE : The best plaid, check, grid and buffalo check gift items out there!


Updated from original October 2015 date.
Have you been to pretty much any store recently? I'm seeing lots of PLAID and this is a trend I'm excited to jump on! I love that it's a classic trend. We all loved chevron until we hated chevron. It was too much and in the end, just a fleeting trend. Chevron patterns reminds me of the owl, pineapple (I still love that one), chalkboard, mason jars and burlap trends.
The difference however is plaid has been plaid forever. So although it's hugely trending now, buying and owning plaids will never really die. Today I am sharing Plaid, the new little black dress and all my favorite must have fall plaid items.
This post may contain affiliate links. See my full disclosure.
PLAID ACCESSORIES:

I always seem to want a new purse for every season and with fall here and winter approaching what a wonderful way to finish off your look than with a cozy plaid backpack, wallet or tote? I seem to go through wallets often, so that black and white one will be on my Christmas list this year!
Oatmeal Backpack | Black + White Wallet | Black + White Backpack | Buffalo Picnic Tote
PLAID SCARVES:
Scarves are an essential from October to at least March in most areas of the country. They've gone from being just an outdoor item to a key part of your fall/winter outfit. I love all of these scarves but that black check will be going on my wish list this year!

Red + White Wrap Scarf | Frayed Tartan Scarf | Herringbone Scarf | Gray Grid Scarf
PLAID TOPS:
I quite possibly already own two of these fun tops (the first I was wearing here and I own the second one). I am thinking that brown and black hooded jacket is calling to me and it's hard to tell but the last maroon + blue top has a peter pan collar, which I always am drawn to!

Yellow Popover Flannel | Boyfriend Flannel | Blue Classic Plaid | Brown Poncho | Collared Blouse
PLAID HOME GOODS:
I love decorating with small trendy home good items. It's such an easy way to bring a trend into your home without breaking the bank on a large priced sofa, for example. Switching up your pillows or adding a fun French Press for when company is over, is a great way to sprinkle in some great plaids.

Plaid Bowls | Red French Press | Buffalo Check Pillow | Orange Plaid Throw
PLAID BOOTS + SHOES:
Oh mercy. So many good boots and shoes out there! Now that I'm back in the Midwest where fall is here but my little desert body is used to WARM winters, I'm already in need of slippers in the evenings. So, the Vera Bradley booties will be on my wish list and probably also the Kate Spade shoes. I would never guessed a pair of Kate Spade shoes would be so affordable!!

Red Rubber Boots | Vera Bradley Cozy Booties | North Hampton Boots | Plaid Shoe
Okay, now that you are drowning in a sea of pretty plaid, which will you be adding to your wish list?