Gorgeous Creative Artwork
INSIDE : Check out my new Favorite Artists and their gorgeous creative online artwork! Stunning imagery, mixed media, botanics and even portraits to hang in your any room of your home.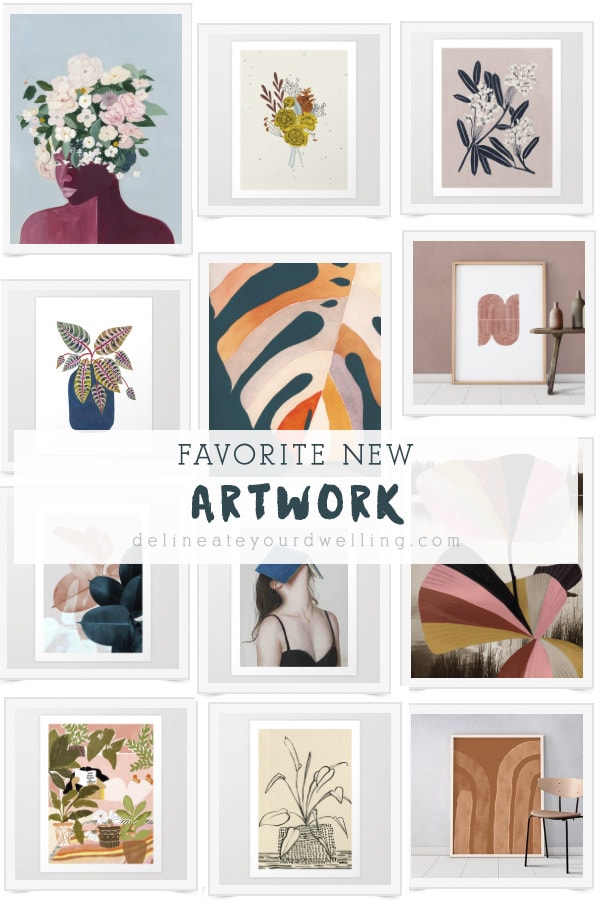 This post may contain affiliate links. See full disclosure here.
A few weeks ago, I asked my Instagram Story readers to share some of their favorite places to get gorgeous creative artwork or even just their favorite artist. And wow, did they have some amazing recommendations.
The inspiration and ideas were so great, that I actually spent hours sifting through all the new to me artists accounts both on Instagram and going to all of their websites, blogs, shops.
Some art was moody and some was cheerful and light hearted. But the colors, patterns and line work on all of them were amazing!
Here is a list of some of the amazing talents I found and then I will share some of my favorite prints from each of them below.
Favorite New Artwork:
You can shop a few of my favorite prints from the below artists here!
Not all my new favorite artists have prints in this selection, so you can always view their stunning work above in the list shown. Click on the images below to check out the links.

Favorite New Artists:
Check out some of my favorite new artists.
Favorite New Artists
A roundup list of my new favorite Artists.
Photo Credit: rstyle.me
Abstract Art Mid Century Modern Art boho prints
Photo Credit: juliehamiltoncreative.com
Fresh Handcrafted Art and Design for Everyday Products
Photo Credit: www.etsy.com
Printable contemporary wall art for your modern home by fornStudio.
Photo Credit: www.artfullywalls.com
Curated online shopping destination, bringing quality art to art lovers looking for affordable solutions.
Photo Credit: rstyle.me
Bold & Bright Midcentury Modern Paintings.
Photo Credit: rstyle.me
Whimsical graphic elements on poster prints.
Photo Credit: www.elementclaystudio.com
Gorgeous ceramics in gorgoues simple patterns.
Photo Credit: www.winkwinkstudio.com
Photo Credit: juniperprintshop.com
Thoughtful artwork for your home.
Photo Credit: rstyle.me
Trendy wall art for modern bohemians.
Photo Credit: lindsayletters.co
Photo Credit: society6.com
Affordable Art Prints, iPhone Cases and T-shirts
Photo Credit: laurieanneart.com
Photo Credit: bffprintshop.com
Gorgeous artwork for all.
Photo Credit: www.megancartyart.com
Known for her abstract floral paintings that are vibrant and color-drenched for people who have a flair for bold statements and tailored style.
Be sure to let me know : number one – which is now YOUR new favorite artist? And number two – do you have any other artists that I need to add to my list?
Looking to make some easy artwork of your own? You might be interested in some of these simple art posts I have done.