Let's Gold Leaf All the Things!
INSIDE : Learn the difference between Gold Leaf and Gold Foil, as well as the best products to use when crafting. Plus, check out so many creative ways to use Gold Leafing in your home!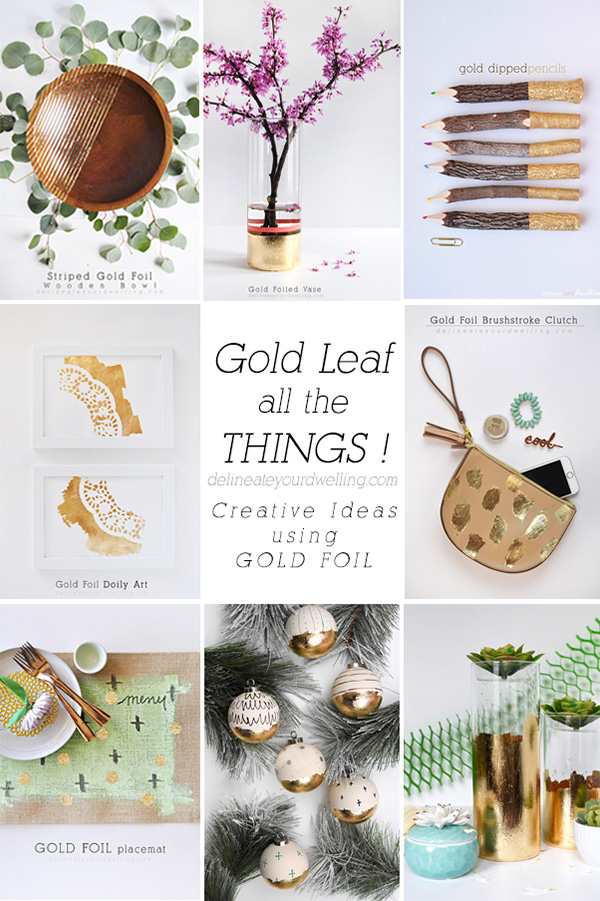 This post may contain affiliate links. See full disclosure here.
This post has been updated since it's original publish date of July 2016.
I have been a fan of gold for years and years. The metallic trend is still going strong and I am going to say it – dip me in gold and make me a happy lady.
I have used gold leaf on so many projects and every single time I used it, I think – why am I not using this product even more?! It's so easy to use, there are so many forms of gilding and it's such a fun process!
If you have not tried a gold leaf craft yet, let me encourage you to give it a try. Check out the eleven creative projects below. See which of the crafts most speak to you, go out and get yourself the supplies!
What is Gold Leafing?
Gold leaf is simply gold that has been hammered into thin sheets and then often used for gliding. It can come in various karats and colors, but most commonly the gold used is 22-karat yellow gold.
What is Gold Foil?
Gold foil is another name for the gold hammered into very thin sheets. Gold foil and gold leaf are often interchangeable terms for a very similar process.
My favorite Gold Foil and Gold Leafing products :

Note: Please pin from the original source.
What is the best way to applying Gold Foil on your project?
Start by applying your gold leaf metal adhesive glue to the item you will be gilding. Allow to dry fully per the directions on your glue.
Next gently place your gold leaf sheets on the item until all the area is covered.
Using a clean sponge brush or a wide angled brush to start removing any access gold leaf. Be sure to complete this step in an area that can be easily cleaned up as you may have gold leaf pieces flying in the area a bit.
Step back and admire your newly gilded Gold Leaf project!