DIY Brushstroke Gold Cork Board
INSIDE : Learn how to create a gorgeous DIY Brushstroke Gold Cork Board to stay organized. No matter if you have a small or large bulletin board, they can look pretty and be functional.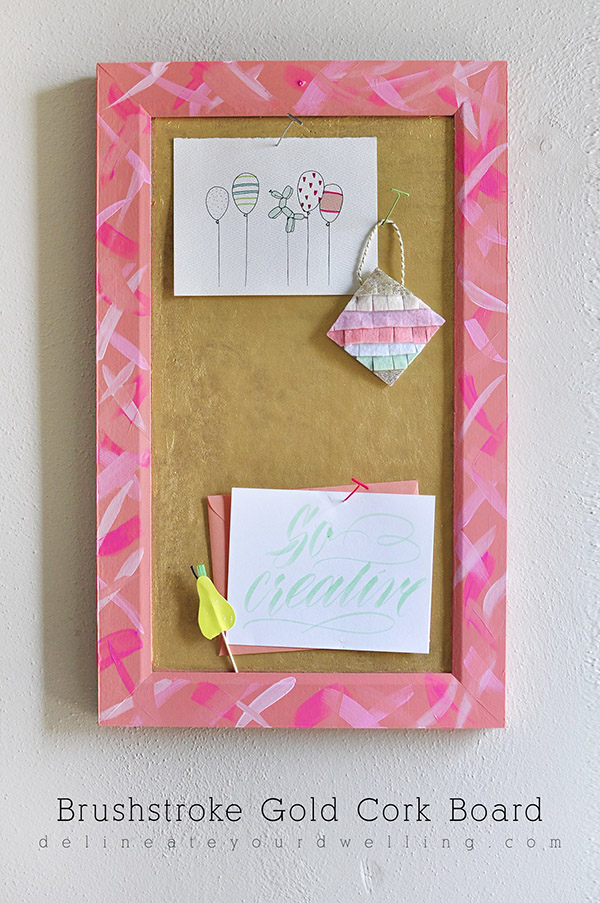 This post may contain affiliate links. See full disclosure here.
Being organized is something I love and value. It helps me keep a clear mind, it allows me to stay on task without worrying that I'm forgetting something and when I can do all that AND make it pretty… it's icing on the organized cake!
Today I am glad that I'm a collector of things and that I kept this old cork board around because it got a makeover! Check out how I created this cheerful DIY Brushstroke Gold Cork Board.
Looking for fun bulletin board accessories? Check these out.

What supplies do I need to make a Brushstroke Cork Board?
Acrylic Paints
Gold Leaf Paint
Paint Brushes
Paint Tray
OLD Framed Cork Bulletin Board
Also now available – Paint Palette No. 1 Photography Print of my paint palette pictured below!!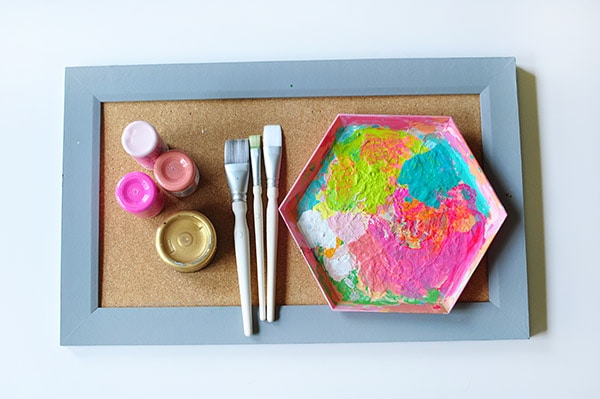 Recently, my friend Marlene, from Idle Hands Awake, revealed her gorgeous workspace and my mouth DROPPED when I saw her Copper Magnetic board.
It made me start thinking… and I decided to give PAINTING a cork board with Gold Foil paint a try. I'm sure after tons of use it will crack off but I poked pushpins in and out and it looks like it's there to stay for a good long while. Cool!!
I have used this Gold Leaf paint on numerous projects and I just love it. It paints on so easily and really has the perfect gold foil shimmer. (I also have it in Copper and equally love it.)
How do I make a Brushstroke Cork Board?
No matter if you have a small or large bulletin board, the first step was to paint the gold leafing onto the cork board. I gave the entire board one coat and then after it dried, did a few touch up areas.
Next, I painted the frame a bright coral pink color. Then it was brushstroke time!
Using a Barbie Pink and a soft pink paint, I added layers of brushstrokes to the frame. There really is no technique or pattern, just have fun with it.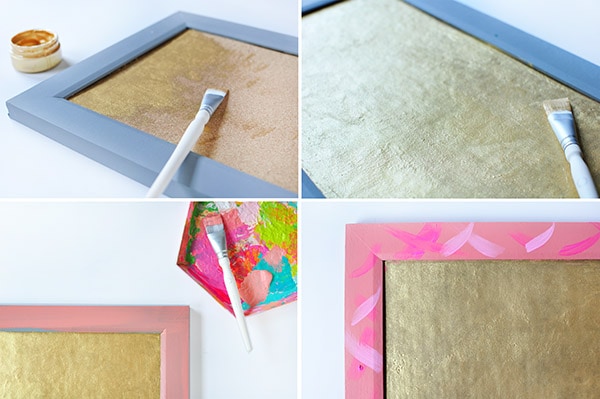 After it was dry, up on the wall it went! You can see a little more detail of how the gold foiling cork portion turned out, below.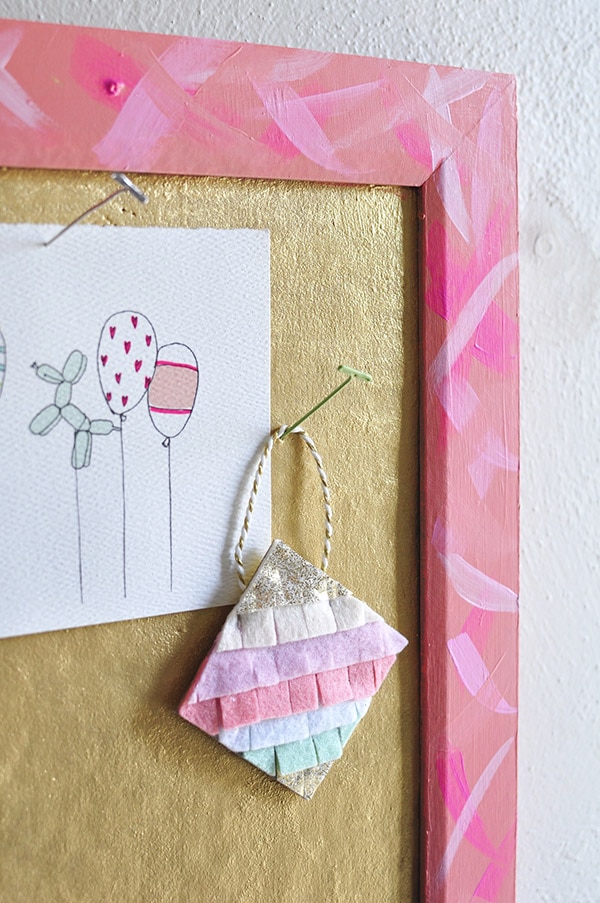 I also painted a few pushpins because… why not.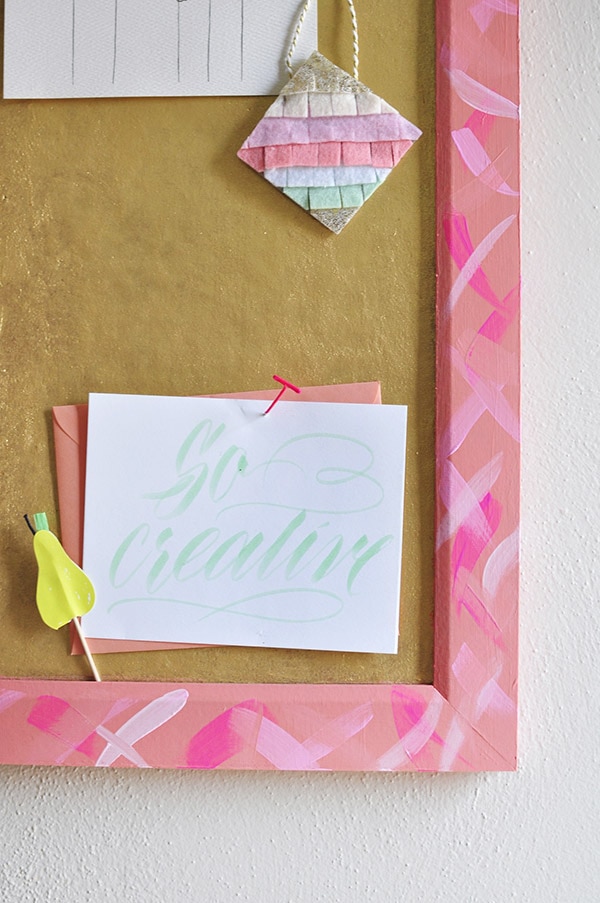 Such a fun and quick little upcycle project. Gold Foil is just the best.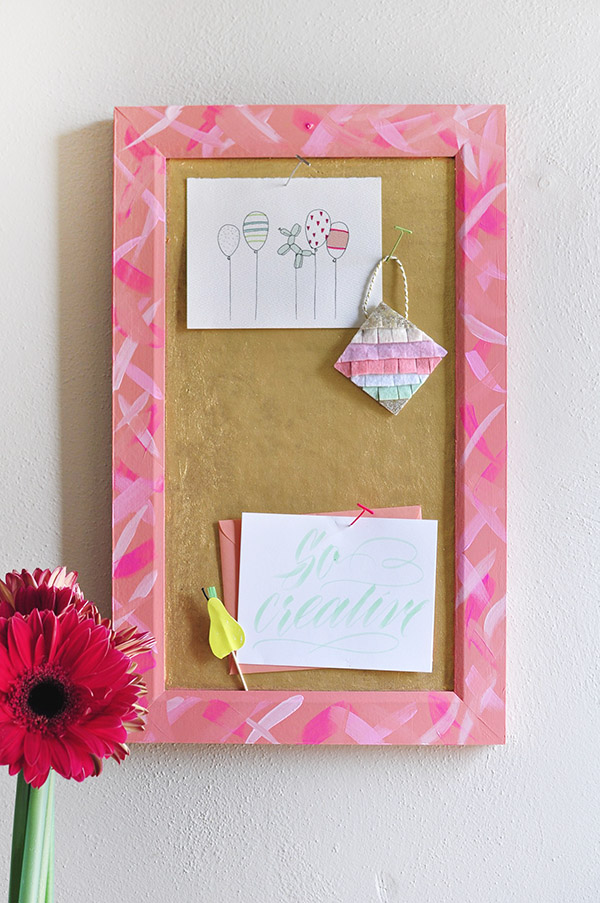 And if you thinking being organized and making it pretty are as important as I do, then you will probably want to check out some of these, too!