Summer weather feels like it is here to stay. The sun is out, flowers are blooming bright + bold and the birds wake me up with their chirping early. every. single. morning. I love almost everything about summer, not a big bird fan. However, overall summer is wonderful and all I want to do is cover my house with cheerful color! Summer is my favorite season and I'm fully ready to embrace it. Check out these wonderful Colorful crafts, you'll want to try this weekend!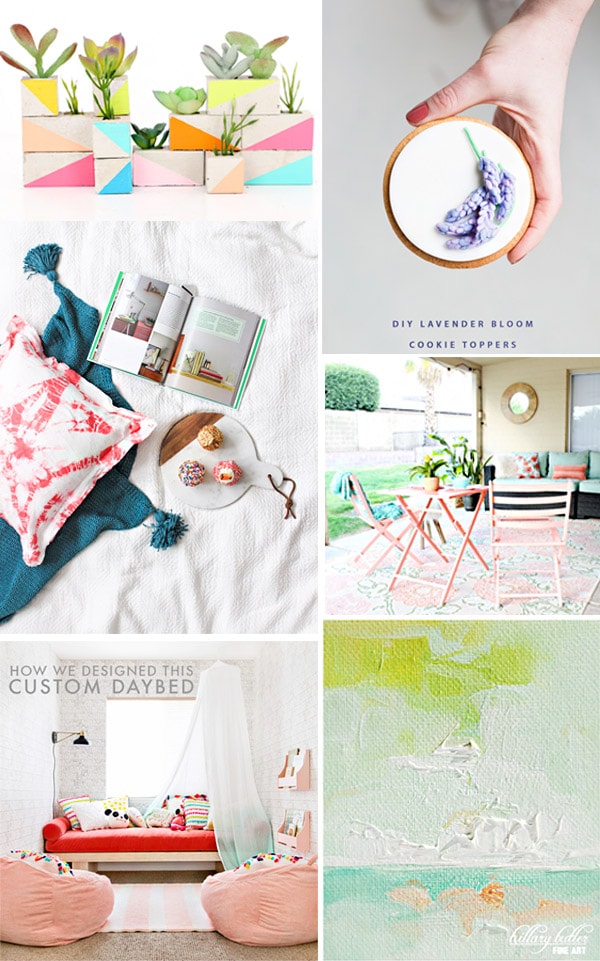 Please pin from the original source.
Mini Succulent Desk Garden : When I saw this, I didn't even realize it was mini because it was just so perfect. And once I realized it was a MINI succulent garden, I loved it even more!
DIY Sugar Lavender Bloom Cookie Toppers : You had me at cookie. And then you triple had me at that GORGEOUS Lavender Bloom cookie topper. What can't Fran do, is what I'm asking myself.
Dr. Seuss Crosses the Delaware : I met Hilary a few years ago at a summer Alt Summit conference and I loved her art immediately. I've just recently re-discovered her and I'm more in love than ever! Please you can get super reasonably priced prints!!
Custom Daybed Story : I can't even. Emily Henderson knows my heart sometimes before I even know it myself. She gives the inside scoop on custom furniture not always being easy… but wow, it sure does look great.
How to draw a Ranunculus : I could watch these videos alllllll day. Plus, I think it's safe to say Ranunculus is just about everyone's favorite flower. (Is it yours?)
Pink Shibori Pillow : Hit. It. Out. Of. The. Park. If you love shibori, then you'll double love pink shibori.
DIY Outdoor Lounge Space : Something about soft pastels, even outside – it makes my heart sing.
Delineate Your Dwelling this week: DIY Painted Circle Summer Tote + June 2016 Digital Hand Lettered Calendar
What are you doing this holiday weekend?