INSIDE : Learn how to make a stunning DIY Gold Foil Flower Vase using the most simple materials. There is nothing quite as lovely as a gold foil craft project.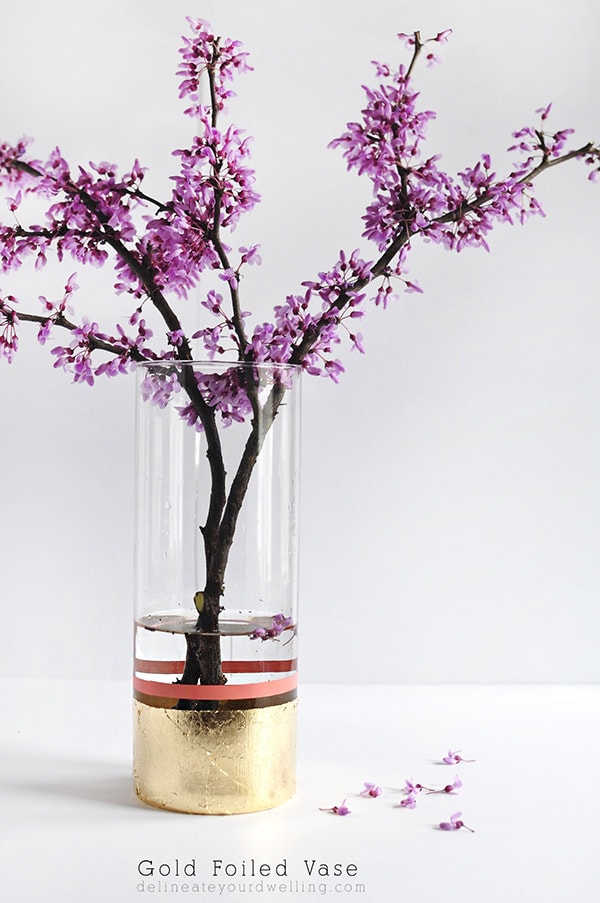 This post may contain affiliate links. See full disclosure here.
The Redbud tree in my backyard is at full bloom capacity. Every time I look at the window or I walk out to my car, it takes my breath away. The tree is probably about 25′ tall and equally as wide. It elegantly arches over a large corner of our yard and often looks like it's raining flower petals when the wind gently blows.
I am so excited to share this neat DIY Gold Foil Vase with you because it is a simple but elegant solution for housing a little bit bulkier florals.
What supplies do you need to make a Gold Foiled Flower Vase?
Straight Glass Vase
Martha Paint Brushes
Martha Acrylic Paints
Gold Foil
Martha Painter's Tape

Metal Leaf Adhesive(not shown below)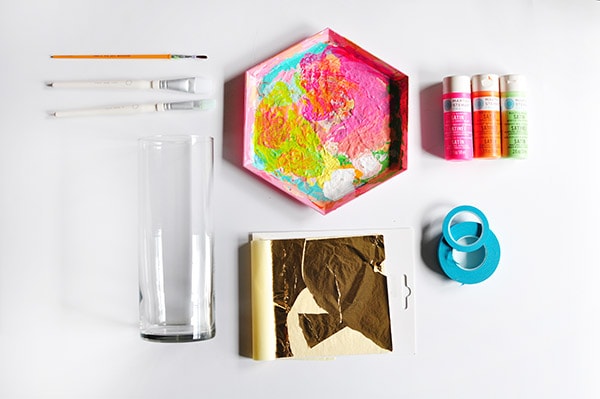 Looking for more creative Martha Stewart projects? Check out the 20+ crafts I've made using her amazing supplies!
How to create a gold foil flower vase:
There is something about adding gold foil to an object that is simply magical. It's a fairly easy process, although it takes a little time.
Start by cleaning the inside and outside of your glass vase. To hold bulkier plants and branches, be sure to use a straight cylinder type glass vase. Then, tape off using Martha Stewart's painter's tape the area that will be covered in gold foil.
Apply your gold foiling glue to the vase. THIS IS KEY! Allow your glue as it appears on your instructions. You want the guy to be sticky to the touch.
Next, gently cover all areas of glue with sheets of gold foil. I used a soft bristle brush to help gently smooth the foil out, as I go. Once the foil is set in place, it's time to make the magic happen! Brush away all excess foil to reveal the clean elegant step one of this vase.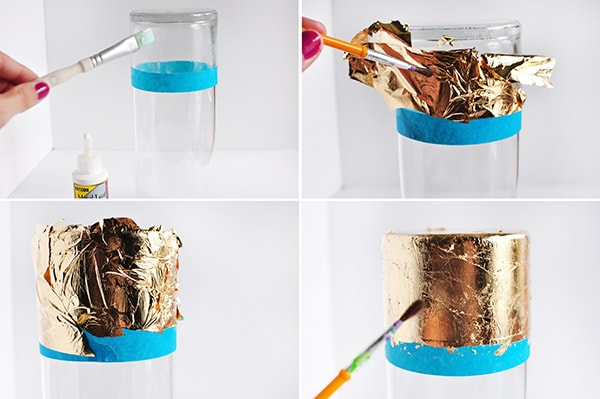 I then, added one additional row of Martha's painter tape to help create straight lines for my coral stripe. It took about 3 coats of paint to give it full coverage.
And after your third coat of paint, gently remove the painter's tape from the vase.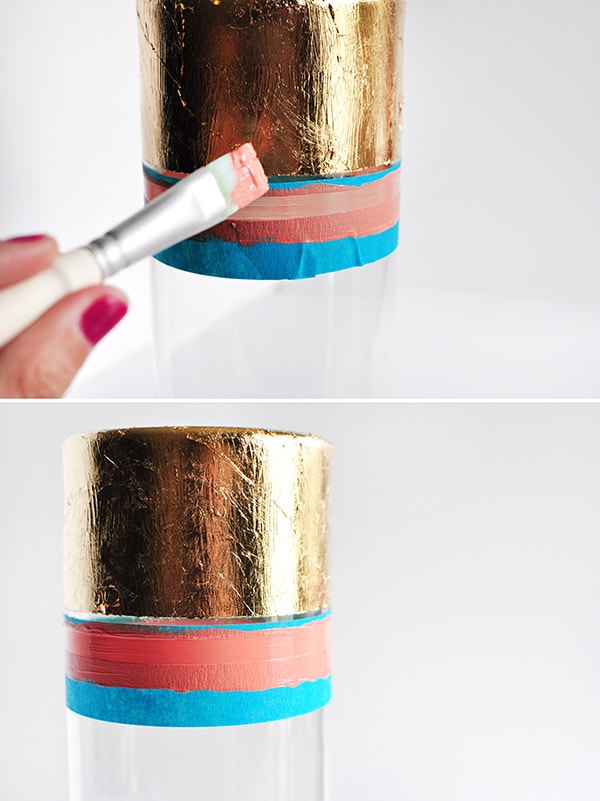 Because the glass doesn't have curves, it more easily handles the weight of my flowering Red Bud branches.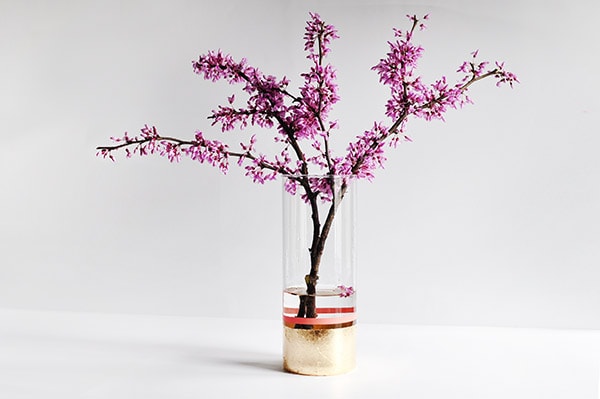 I just adore the simple gold and the small pop of coral color!
If you liked this plant related post, you will definitely like my easy checklist to help Keep Your Plants Alive? Sign up for my newsletter to get your FREE copy today and access to my how-to care for plants ebook coming soon!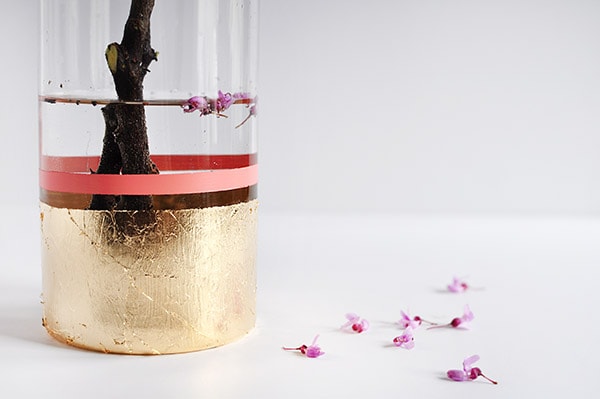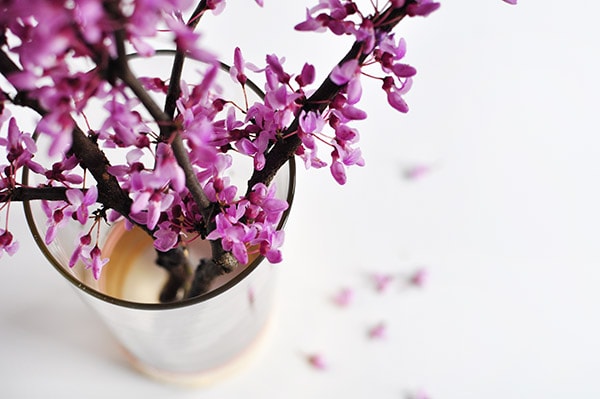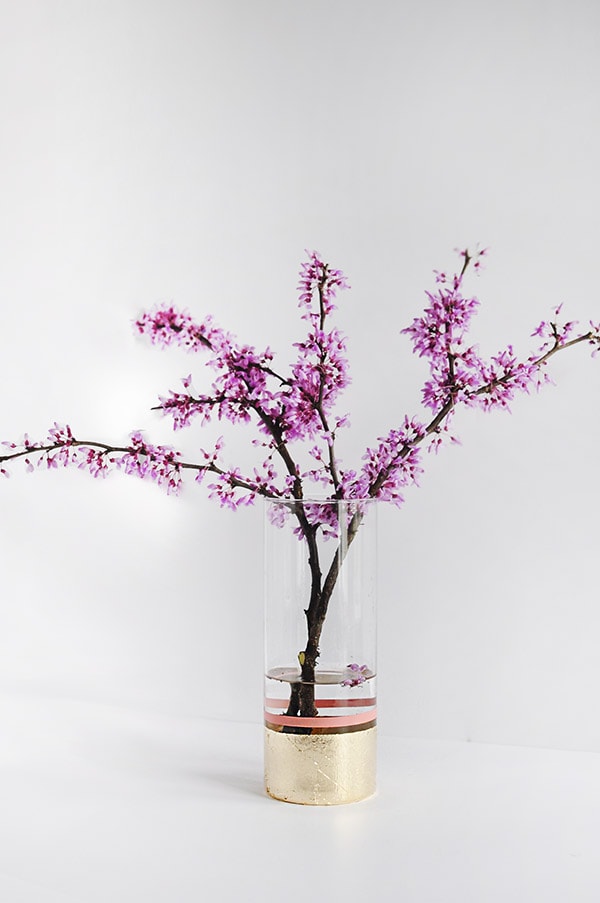 Are you bringing any of your backyard flowers or plants into your home? I wish I had some tulips in my yard, but maybe I can plant some bulbs for next year!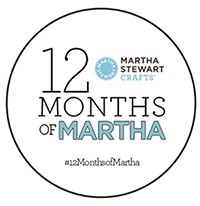 Interested in my other 12 Months of Martha projects?

And you might like these other Gold Foil Projects I've done!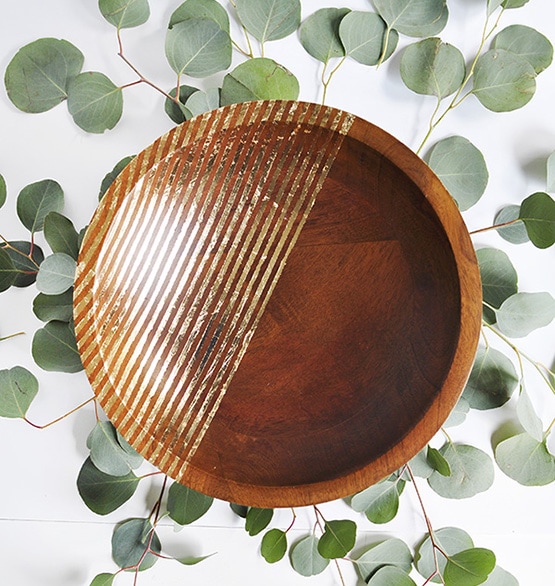 Interested in some of my other GOLD FOIL craft projects? They are some of my favorite.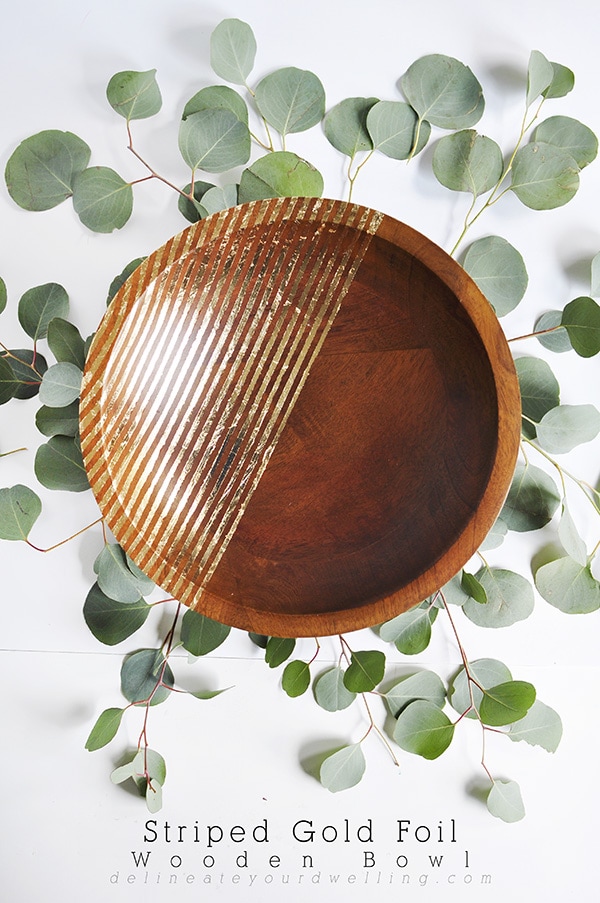 Gold Foiled Brushstroke Clutch