INSIDE : Learn the best tips for using Air Dry Clay. There are endless techniques and tricks for creating beautiful crafts with Air Dry Clay. I have learned so much information after using this simple clay over the years! Plus I have tons of great kid and adult craft clay ideas, too.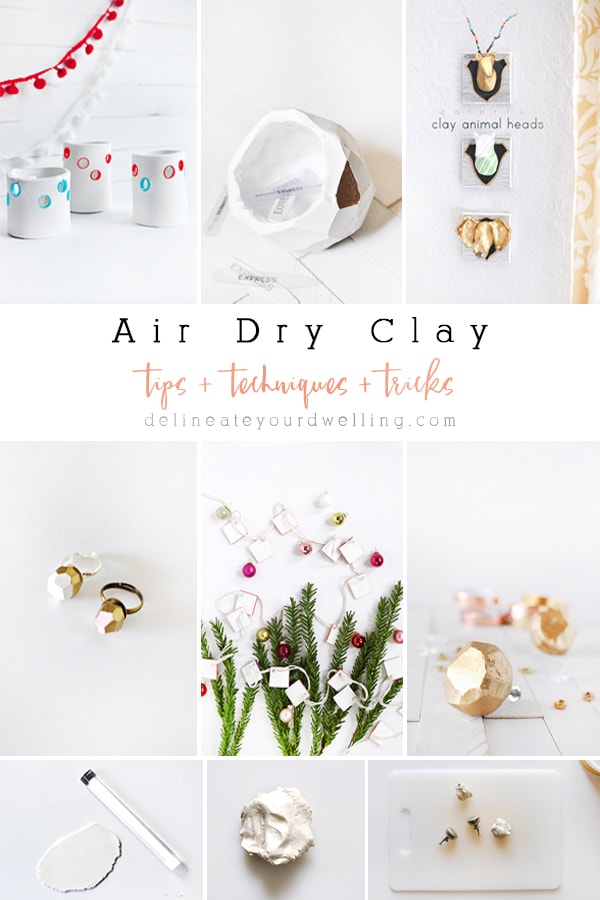 This post contains affiliate links. See my full disclosure.
This post has been updated since it's original Feburary 2018 publish date.
Air Dry Clay is really an amazing product. Not only is it fun to use, but there are endless amazing ideas to create using it. I love that no matter you age, everyone loves crafting with clay!
Best part of Air Dry Clay
The best part about air dry clay is that it dries via the air – I know!
No longer do you need to spend time throwing pottery in a studio and having to wait days beyond that to then paint and then 'fire' your project in a kiln.
With air dry clay, your amazing creation is ready to use as soon as it is dries out!
Today I will be sharing my favorite Tips, Techniques and Tricks for How to use Air Dry Clay.
Over the years, I have created quite a few air dry clay projects and crafts. And each time I learn a little something new or figure out a neat new supply that helps make the crafting process go so much easier.
You might also enjoy these two VERY POPULAR posts I wrote.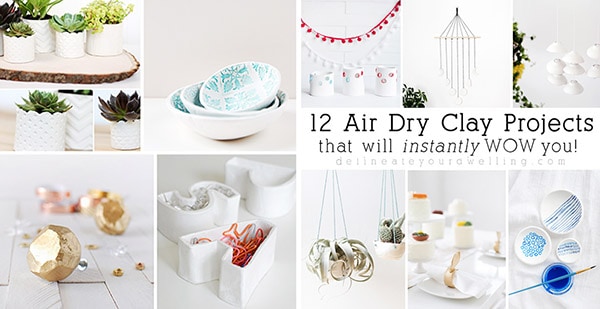 What is Air Dry Clay?
Air Dry Clay is a natural clay that dries in the air, into a hard solid form. It is a versatile clay that can be used in many projects. You can use it to make clay sculptures, decorative items, plaques or miscellaneous home decor items.
There is no baking or firing needed and once it becomes dry, you can paint and decorate the clay. There is also very easy clean-up with this kind of clay.
How does Air Dry Clay work?
Air Dry Clay is a pliable soft clay product that you are able to roll, bend and mold into shapes, sculptures or enjoyable items. Once your clay piece has been created, simply allow the clay to sit out in the air. With time, the air dries out your clay and it becomes hard.
What type of Clay is the best to use?
I used to exclusively use white Crayola Air Dry clay. I loved that it came in a 2.5 lbs container for such a reasonable price. I also loved that it came in a resealable tub and it stayed moist for quite a long time, even after opening it. You could easily pick it up at your local craft shop, but I found buying it on Amazon a little more convenient. I have made most of my older clay projects with the Crayola brand clay.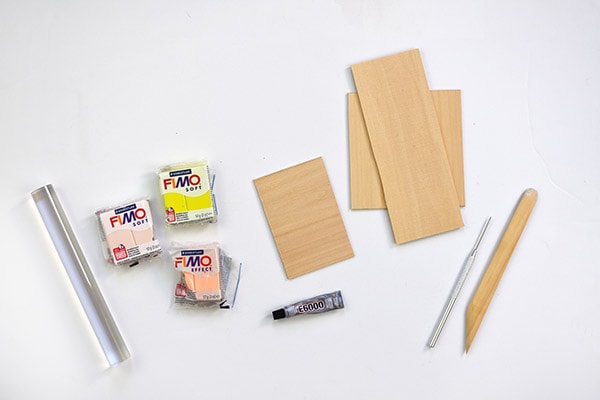 However, one day I tried Sculpey white Air Dry Modeling clay and I don't think I'll stray away from this brand. I think Sculpey is the best clay because it dries a little more clean and a purer white color, as opposed to the Crayola clay with dries a light gray/white color. I do keep it sealed in a large zip-lock bag to keep it from drying out, but overall it just seems like a higher quality product.
If you are wanting to make a clay project with your kids, the Crayola clay is a great choice. However, if you are wanting to make something for your home or a piece of clay jewelry, I would recommend the Sculpey brand.
How long does it take Air Dry Clay to dry?
It depends on how big and dense of an air dry clay project you have made for how long it takes to dry. Typically my smaller craft sized projects take around 24 hours to dry. However, if you are making something a little larger, it may take 48 hours.
Be sure to check on your clay projects as it dries and rotate it every few hours, so it can dry evenly on all sides.
How to make AIR DRY CLAY stronger?
I have read a ton of information and from what I can tell if you are looking for a superior air dry clay that is strong and will hold up for intricate and ultra-fine detail work then ACTIVA La Doll Premier Airy Dry Clay is the best product for you.
It is pliable and easily worked for wonderful results. There are highly refined pumice, talc and special binders for a hard, satin smooth finish. Another perk of it, is it's long open time and it can be worked indefinitely by keeping it moist.
Again I have not used this particular brand of clay, but it seems to be touted as the strongest Air Dry Modeling Clay available.
How do I make Air Dry Clay waterproof?
Air Dry Clay by nature breaks down when subjected to water, so it can be tricky to use your new clay project with much water. However, there are some things you can apply to give make your project more waterproof.
You can use Dishwasher Safe Waterproof Mod Podge to Seal your Air-Dry Clay but then your clay will not be waterproof and Mod Podge will yellow eventually if it is exposed to the sun regularly. If you are needing something to use outside, Outdoor Waterproof Mod Podge is a good option. Otherwise, you can use varnish, acrylic sealer or liquid epoxy resin to seal your Clay if you want it to be waterproof.
What are the BEST CLAY TOOLS to use?
Once you have your clay purchased, it is time to look into some of the other supplies and materials you can use for your air dry clay project. I have found this basic set of clay tools is appropriate for most air dry clay projects that I have done. And I like this clay tool set that comes with a zippered bag to hold them in.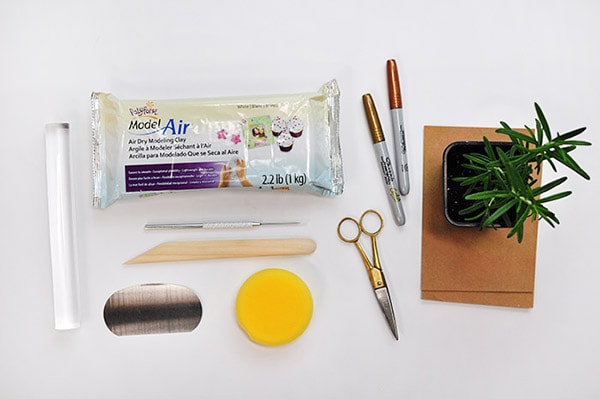 Occasionally I have needed to roll out the clay nice and smooth and have found this clear acrylic roller to work best.

How do I make MODELING CLAY PROJECTS, how to work with Air Dry Clay and other TECHNIQUES?
After all your supplies are purchased, you can finally begin making! A few clay technique tips include:
Always work on top of a clean surface. You would be surprised how many times I am just about done with a project and then notice that there is something small stuck in my clay. I've tried working on a piece of wax paper before thinking it would help with clean up, not smart. A clean table is the best surface choice.
Have a small jar of water nearby to help smooth out and patch cracks as the project starts to dry. I took ceramics classes in high school and this is called 'slip' (a clay + water mixture to repair cracks in your ceramics).
You can always paint your clay after it dries! I like using the white clay best, but there are also many colored clays now available. To paint, simply allow the clay to dry and you can either use spray paint or acrylic paint.
Do not be afraid to mix other materials into your air dry clay project. I have incorporated small twigs, live plants, cut up pieces of a plastic straw and jewelry items.
What can I make with Air Dry Clay?
The projects and crafts you can make with air dry clay are really endless! As creative as your imagination can take you, you can probably make it with air dry clay. Here are a few of the projects I have made with it.
Colorful Clay Animal Heads | DIY Clay Garland | Geometric Place card Holders | Clay Rings | Clay TDAY Banner | Colorful Clay Animal Heads | Geometric Clay Jar | Fourth of July Tea Light Holder
Are you looking for EVEN MORE Air Dry Clay? You might like these, then.