INSIDE : Learn to create a gorgeous DIY Geometric Clay Place Card Holder with Air Dry Clay for your Thanksgiving meal. You can even add a fragrant sprig of Rosemary for extra aerobatics at your table!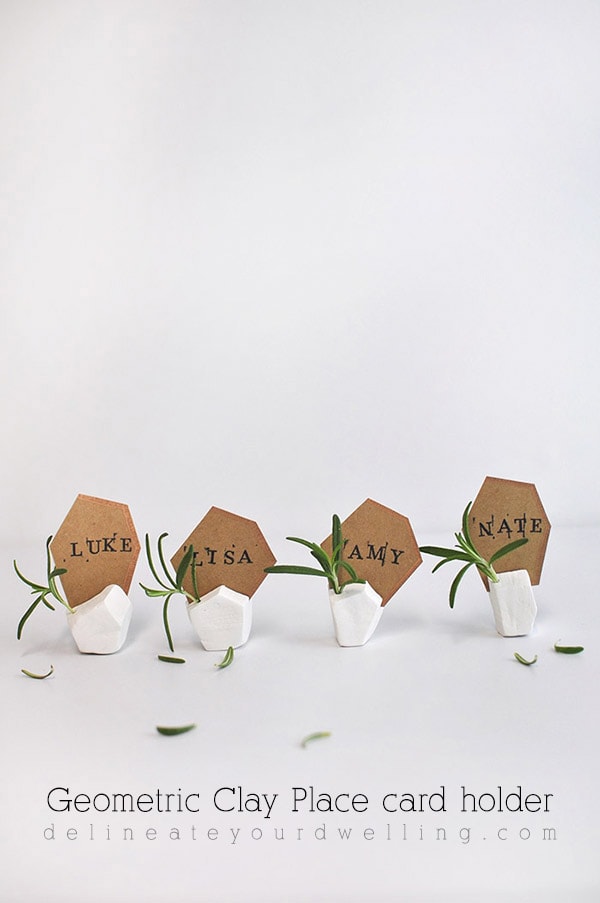 This post may contain affiliate links. See full disclosure here.
Now that November is here, it is time to start thinking about Thanksgiving! It's always so sad to me that Halloween is so hugely celebrated and the moment it's over – it's full speed ahead to Christmas.
Come on, let's just stop for one little second and cherish the loveliness of fall and being thankful and enjoy a delicious meal spent with family and friends.
Today I am sharing a post from last year that I made for Design Sponge. (Yes, I cried a very real tear when I guest posted on that dream blog.) Today I am sharing how to create simple DIY Geometric Clay Place card holders.
What supplies do you need to make Air Dry Clay place card holders?
Air Dry Clay
Simple Clay working tools
Brown Card Stock paper
Metallic Sharpie Markers
Scissors
Rosemary Plant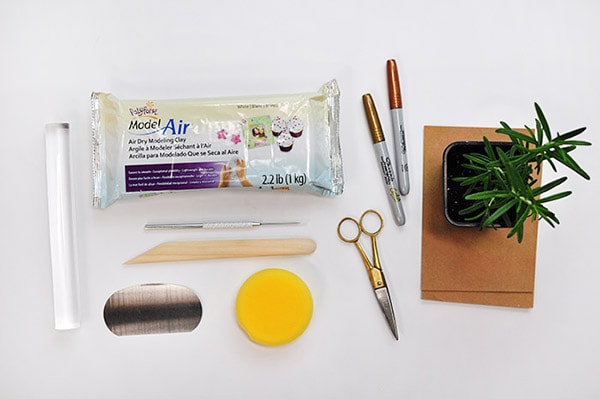 How to make simple Air Dry Clay place card holders?
First, put out a sheet of wax paper or a cutting board to work on. Pull off a small amount of air dry clay, about the size of a golf ball size. Roll into a circular shape.
Next, using your hand, start shaping the clay into basic geometric shapes. I then VERY lightly dampened sponge to help remove most of the creases and cracks out of your air dry clay. Then, set aside and allow to start drying.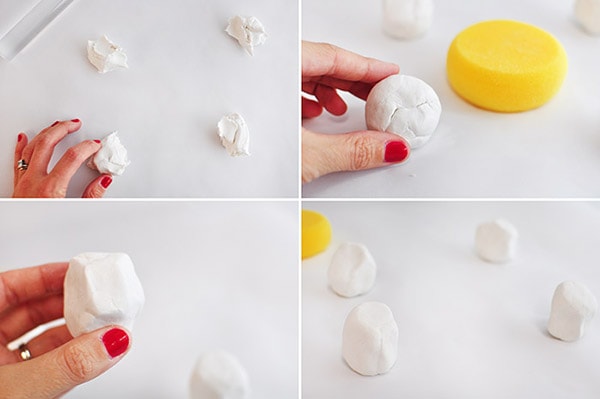 Once the clay is still damp but not sticky, use a metal kidney scraper (if you don't have any clay tools, you could also use folded card stock paper) to create the place card slot.
At this point, you can also add in the hole for the rosemary sprig, too. I used a metal point and then while the clay continued to dry, inserted a toothpick to keep it's shape. NOTE: Be sure to make it big enough for a rosemary stem.
Now, allow the clay to dry about another hour. The clay should be fairly dry to the touch on the outside and still a little damp on the inside. Use a knife to begin cutting the geometric shapes more precisely. Once your cuts have been made, set aside to dry out completely. This takes 24 hours.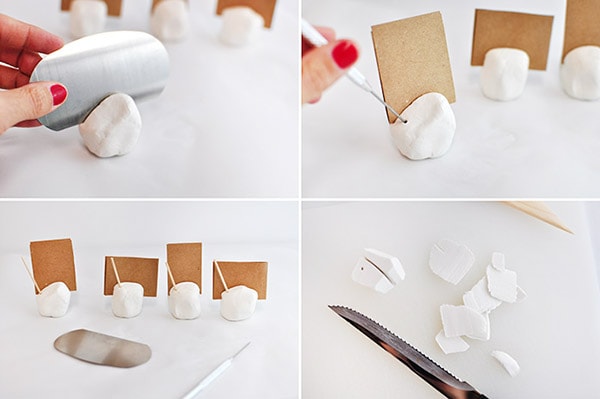 After the placecard holders were fully dried, I noticed a few additional cracks had formed. Using just a small amount of new clay and a wooden smoother (or your finger), fill in the cracks.
You might be interested in my post about 7 tips to keep Air Dry Clay from getting cracks. Allow for additional drying time.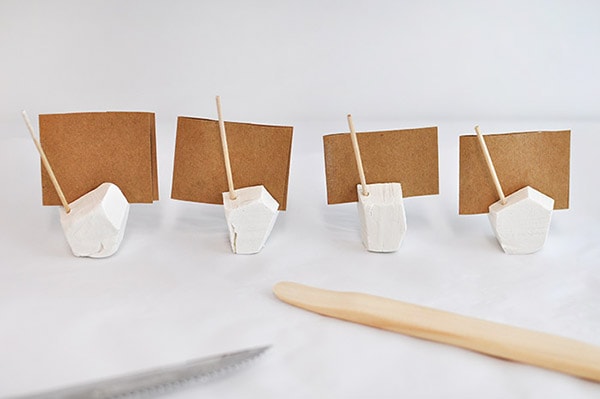 The last place card step is after all the cracks have been filled and dried completely, do a quick sanding. This removes any small bumps and rough spots. I used a sponge sanding block and was done in a few moments.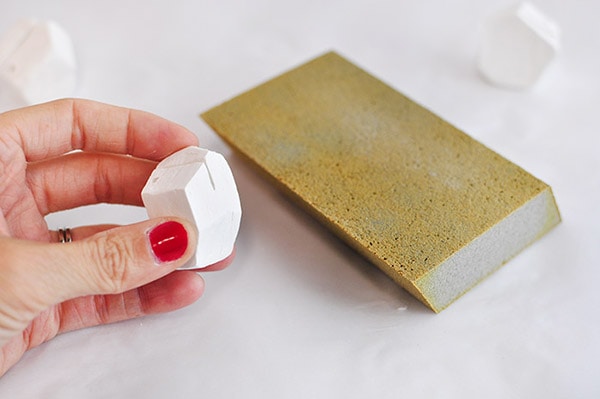 To create the actual place cards, cut brown card stock and add copper and gold metallic outlines using sharpie markers for a little holiday festive shimmer.
Cut a few small sprigs of Rosemary to add to your place card holders and enjoy!
Rosemary Place card Holders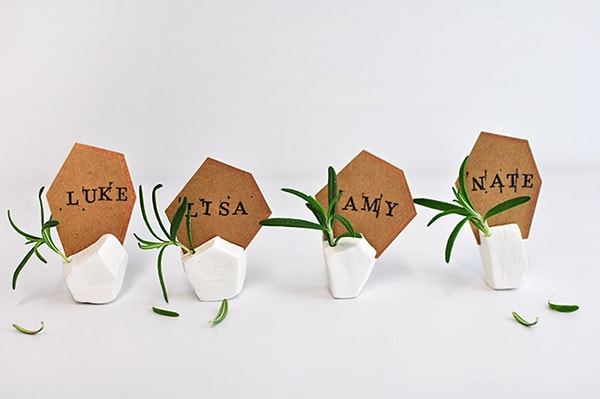 These simple place card holders look and will smell so lovely on my Thanksgiving table.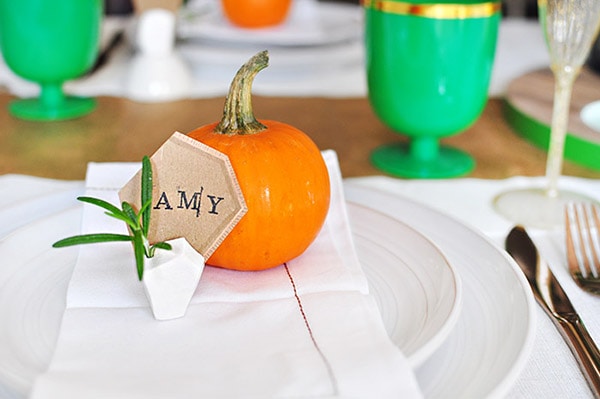 I paired my place card holders with Emerald Green goblets, a few orange and white pumpkins and rose gold silverware.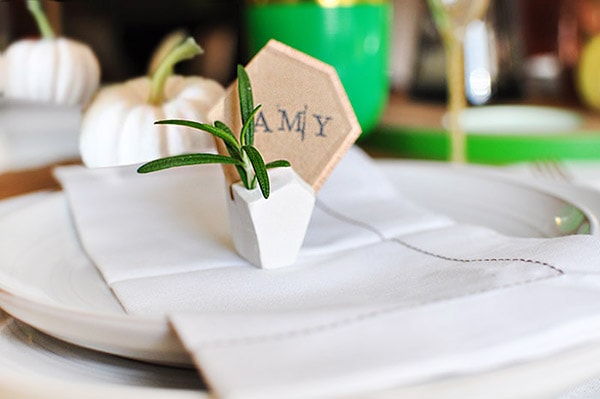 The rosemary is the perfect touch to encourage your guests to gather around the table for a closer look!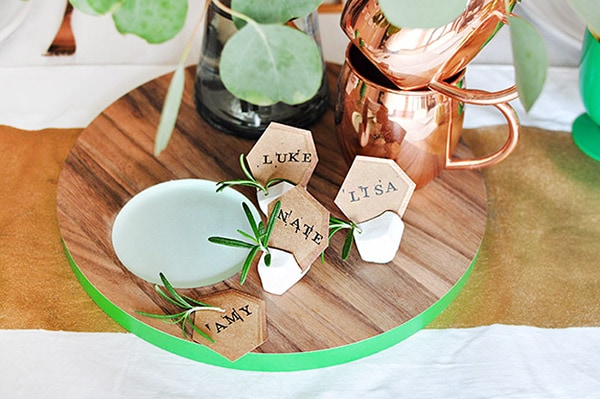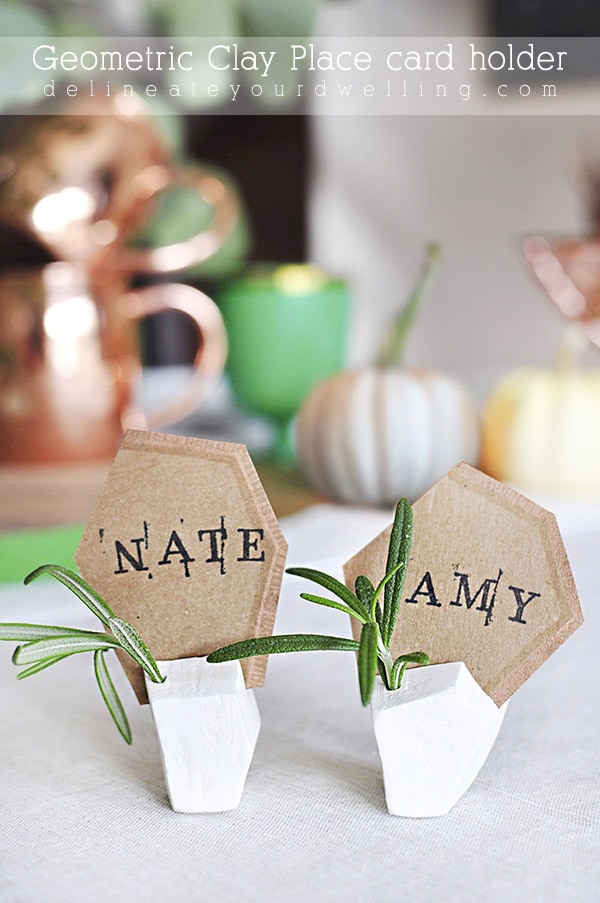 Looking for MORE Air Dry Clay projects? Hope you are inspired by them!
TIPS, TECHNIQUES + TRICKS FOR USING AIR DRY CLAY.
Colorful Clay Animal Heads | DIY Clay Garland | Geometric Place card Holders | Clay Rings | Clay TDAY Banner | Colorful Clay Animal Heads | Geometric Clay Jar | Fourth of July Tea Light Holder
SaveSave
SaveSave
SaveSave
SaveSave
SaveSave
SaveSave