INSIDE : Learn tips for Updating your Master Bedroom for under $100. DIY homemade crafts like a painted pillow, clay face wall decor and a painted flower banner to bring fresh color and expensive decor to your space.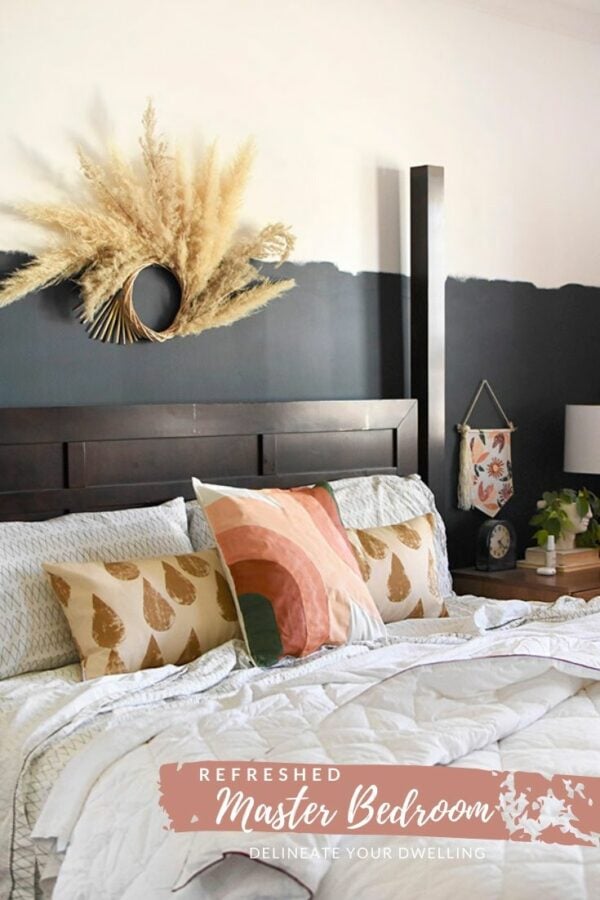 This post may contain affiliate links. See my full disclosure.
This past January, I participated in a 6 week New Year, New Room Refresh Challenge and I tackled my Master Bedroom. The space went from a sea of tan, brown, cream and white before (yikes) to a bold organic paint line accent wall, new modern nightstands and a gorgeous Pampas Grass Wreath display. The room improved about 1000% in every single regard!
Now that Spring is here and Summer is showing its face, I realized that my bedroom feels kind of dark and moody. Not moody in a bad way, but it was lacking some lighter more fresh feeling colors for the cheerful warmer months.
I decided I wanted to give my bedroom a refresh without spending anything, or at least very minimal. So, DIY and crafting to the rescue with a new handmade colorful feel!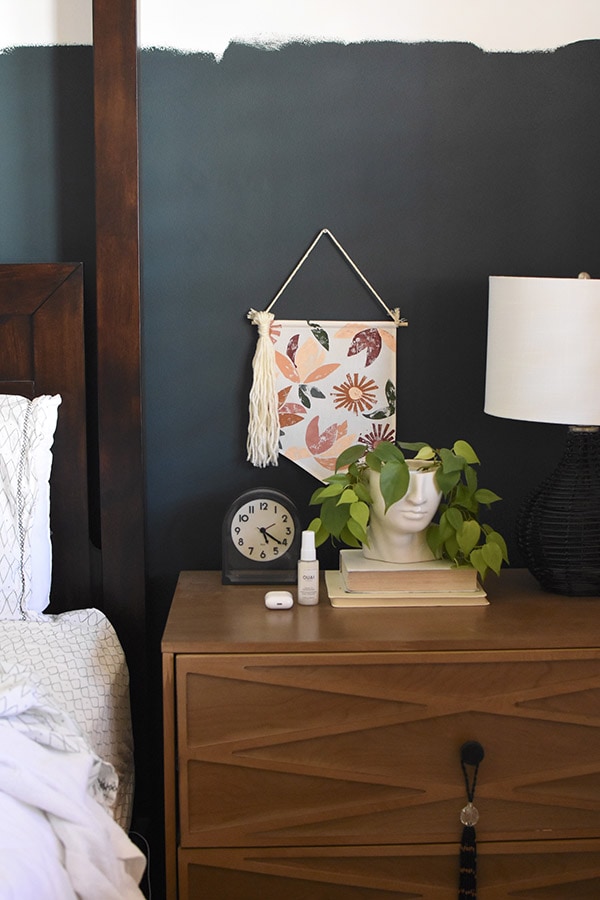 Tips for Updating your Master Bedroom for under $100
There are a few simple ways to give your bedroom a quick update for under $100 and almost all of them involve crafting, making, DIY and handmade goods. I did get one new thing, but otherwise all other improvements were homemade projects that ANYONE could easily replicate for a more cheerful seasonal look!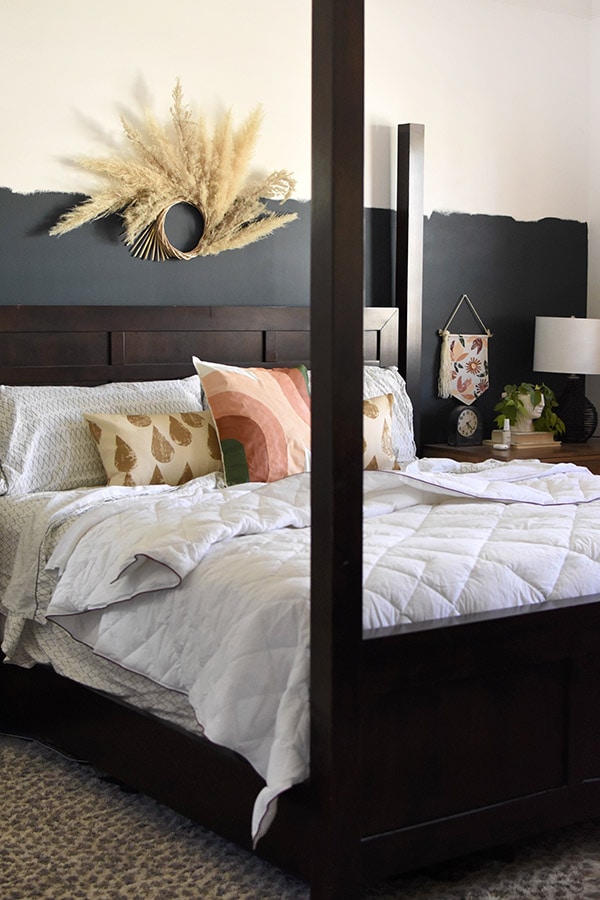 1. Add plants to your bedroom to give an immediate lighter feel.
Let's be clear on this one. I already had lots of plants in my bedroom, I am a crazy plant lady after all. (Looking to be a plant lady but having some trouble? Check out Happy Houseplants.)
Adding in plants to your space and especially your bedroom, brings immediate life to the room. Not only does the green of plants add a healthy cheery color to your space, but plants help clean and filter the air. And what more could you ask for while sleeping each night? Thanks plants!
Use this post on the Best Sunlight Levels for Indoor plants to help figure out which plants are best for the light amounts you have in your room. Hint, snake plants are almost always a good bet for lower light.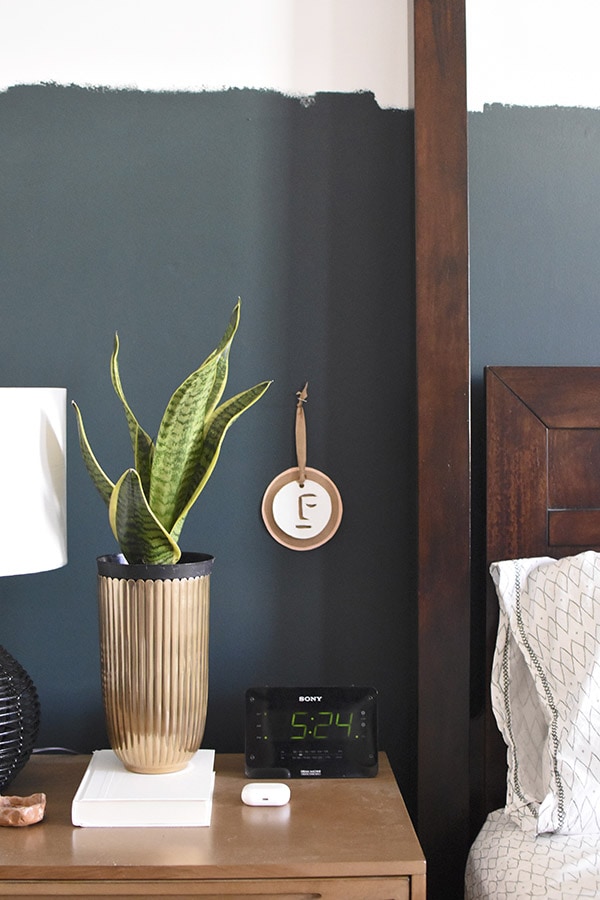 2. Bring in color with throw pillows.
You don't have to tell my twice to add a pillow! Most of us are decorative pillows hoarders. So, you can often times shop your own home and swap a few pillows around for a completely new and different more cheerful look.
In our room's case, I kept two of the pillows I had been gifted for the New Year, New Room Challenge and then painted a fun Retro Pillow for the brighter pop of color. I was moments away from pushing purchase on a new pillow, but with shipping costs and delivery time, etc… I decided to pull out a blank pillow cover and paint my own design for $Free.99! I already owned the pillow cover and paints so really it was a major win.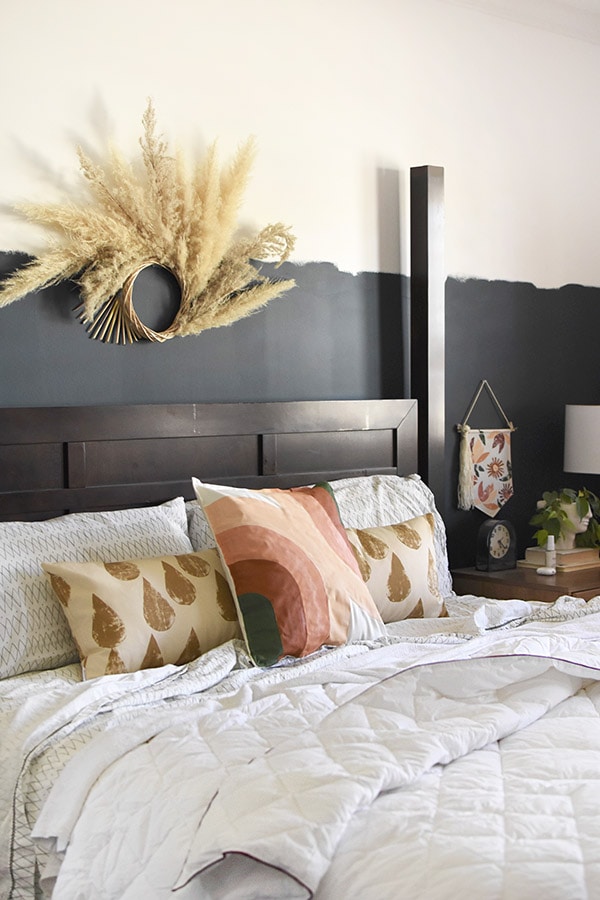 And I thought for a moment about replacing my Dried Pampas Grass Wreath, but decided in the end it still felt right for the space, even if it wasn't green and Spring filled.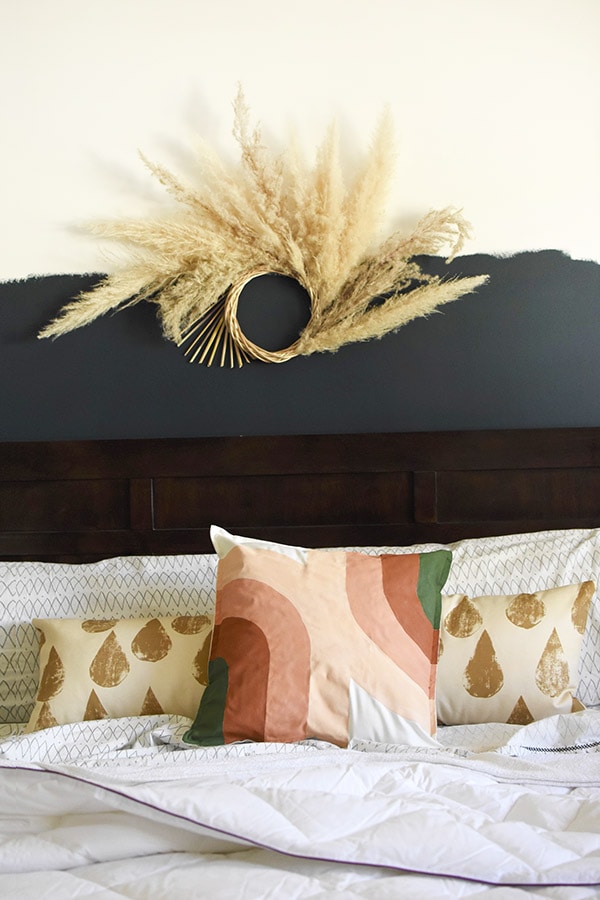 3. Painted Wall Hangings are a great way to bring in a seasonal look to your bedroom.
Ready for another completely simple way to add color and cheer to your bedroom… create your own art! I had recently painted this Flower Wall Hanging and after stepping back, couldn't believe how well it matched my few moments of color in this room.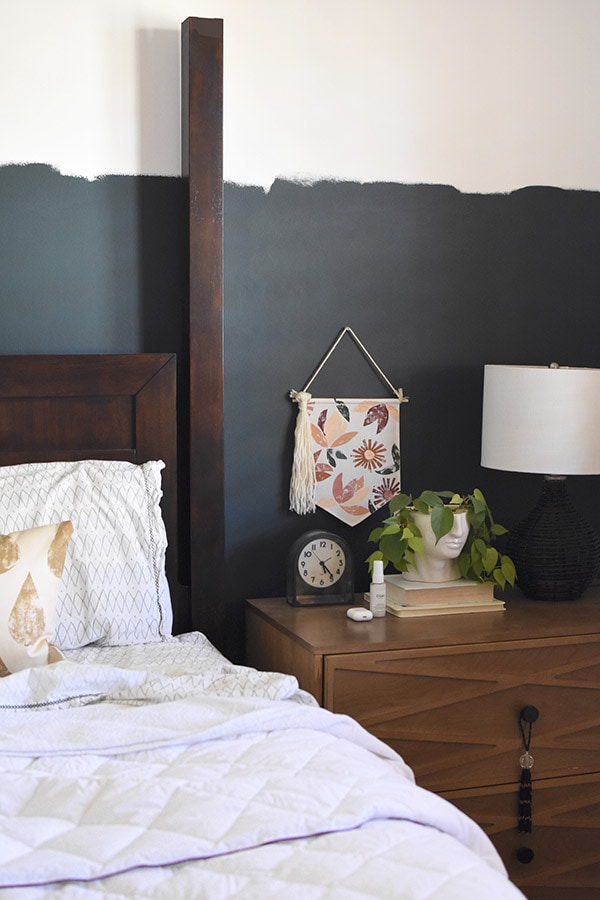 Against the deep Thermal, Behr paint I love how the wall hanging reads so well. It pulls in all the same colors as my Retro painted pillow and keeps with a more botanic feel perfectly.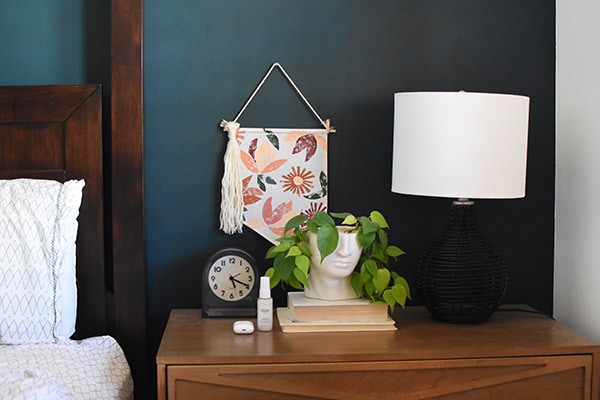 4. Swap out heavy bed linens and comforters for lighter weight quilts and duvets.
When I was getting ready to update my master bedroom, the only item in my entire bedroom refresh that I was gifted and did not make was a new All Season Comforter from Intellipedic. We still had our heavier winter comforter and thick blankets on our bed and I would wake up so hot every night!
The thing we have been enjoying about this Intellipedic All Season Comforter is that is has a comfort quilting design that helps regulates temperature and keeps fill in the right spots. The fiber fill responds to changes in temperature & humidity to keep you at a more comfortable level. The fabric is 100% cotton, so it's breathable, lightweight and super soft with moisture wicking & anti-microbial technologies. And it pulls moisture from the body for cool uninterrupted sleep all night long. We've been really happy with it so far!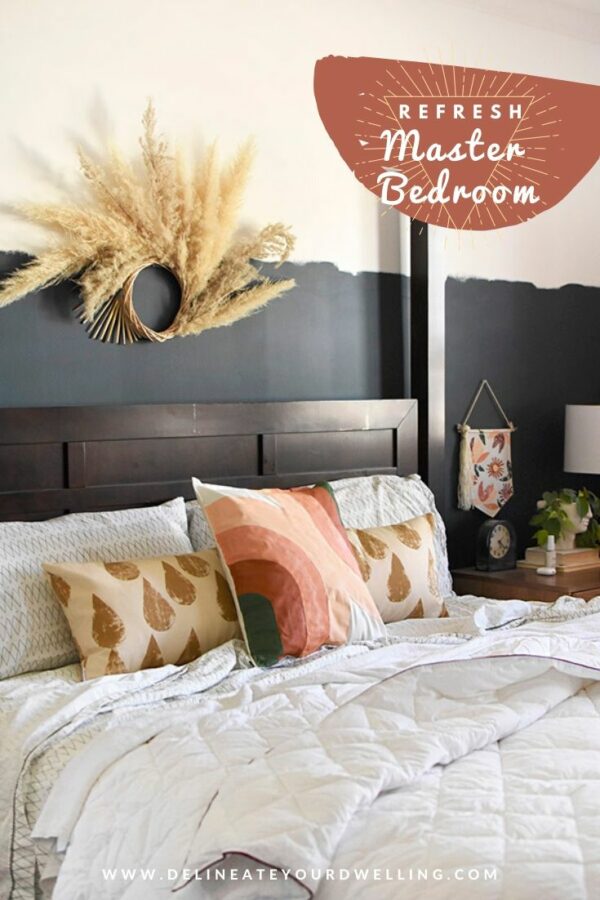 MY Home –> Want to check out my each room in my home?
I have shared inspiration, tips and inexpensive ways to make your home YOU.
Thank you to Intellipedic for gifting me their All Season Comforter. All opinions are 100% mine.