INSIDE : Learn the benefits of slow and steady Interior Design. It allows you to save and budget wisely for your space. By creating a master bedroom dream list you can smartly plan as to how you can to make your space feel the way you want it to.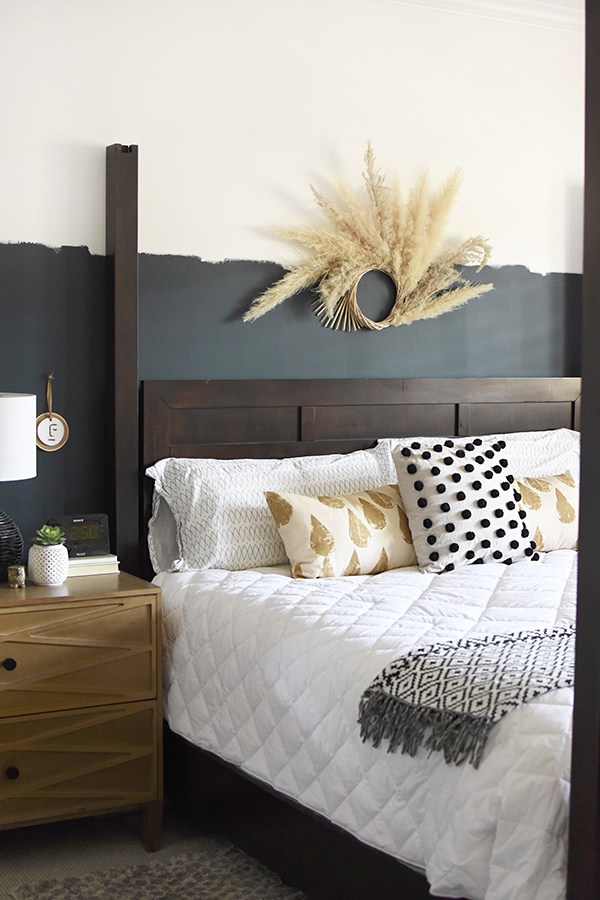 This post may contain affiliate links. See full disclosure here.
Earlier this year, I participated in a new year, new room refresh challenge. I tackled giving our Master Bedroom a refreshed look because to be honest, it was a lack luster cream disaster. What a huge difference some paint and a few new cool focal points made to the space.
Here is a quick run down of the items that I tackled for that update :
–Remove the clutter + "catch-all vibe" of the room
-Paint the cream walls a fresh white
-Paint a dramatic accent wall
-Create a focal point on main bedroom wall
-Bring in a few new pieces of small furniture/lighting to get away from the matchy/matchy feel
-Add texture, pattern and color to the room
-Create our personality in the space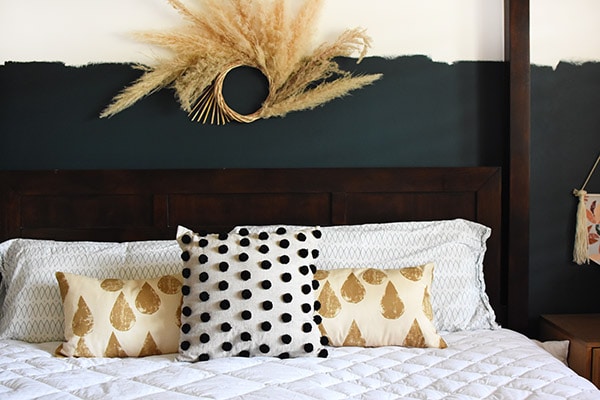 Although the room got quite a lovely refresh, one of the big things I really wish we would have been able to do was get new bedroom furniture. We did get two new nightstands, but after having our much more traditional styled bed and dressers – we are in need of some updating!
Master Bedroom Dream List
I'm partnering with All Modern today to share some of my bedroom favorite picks that would really help elevate our bedroom's style, look and give it a richer Midcentury Modern feel.
Bed :
One of the most essential pieces to give our room that updated feel is the bed. We currently have a lovely four poster bed, but my style has just moved past this look. I am so crazy for this Aviator Platform bed and I love it in the gold color.
Double Dresser :
Our room still has a bit of a matchy matchy look because all the big pieces are the same exact color tone and style, but with this gorgeous Marcel Double Dresser we really break from that. I love the simples lines of this piece and thing the walnut would bring a lovely wood tone to our room.
Side table lamps :
The next favorite update on my dream list would be these Kinzey Table lamps. Their base is made from concrete and it's shaped into a modern, geometric take on the classic hourglass shape. I would love a set of two for either side of our bed.
Slow and Steady Interior design :
I am a huge proponent of rooms taking their time to be completely where you want them. Not only does that allow for you to save and budget wisely for your space. But it also allows you time to collect and perfect your aesthetic!
I love that I was able to give our bedroom such a dramatic new look a few months back. But creating a dream list or even a dream mood board can really help you smartly plan as to how you can to make your space feel the way you want it to.
To see more of the fun DIYs I did in my bedroom, you can check out these posts :
Week 1 Master Bedroom Refresh Plan
Week 2 Painting + Colors
Week 3 How to create an Organic Paint Accent Line
Week 4 Dried Pampas Grass Wreath DIY
Week 5 Master Bedroom Refresh Reveal