Today is the 3rd of a six wonderful maker mini series!! We are halfway through these powerhouse ladies. We officially arrived in the Southwest LAST NIGHT, so while I am busy getting our lives back in order, I asked some pretty sweet ladies to help me out. This week, Rae Ann Kelly is sharing the most adorable House Warming gift basket and including a free printable!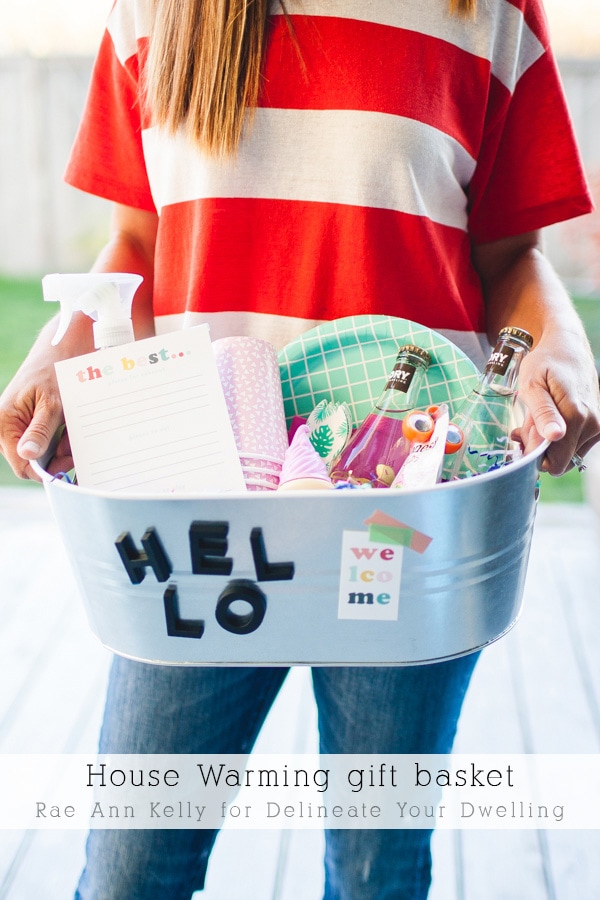 Rae Ann Kelly is a lifestyle writer, designer, style guru and mom of 5 (woot woot). She is a creative powerhouse with a flare for kid friendly living. Rae enjoys finding ways to celebrate motherhood through travel, holidays, everyday moments, easy DIY's, yummy food and (of course) good design. She is just plain cool and you might have seen her around here before!
Friends, let me introduce you to Rae Ann…
Hiii! My name's Rae and I'm really excited to be here with you today! I'm also a graphic designer, blogger (at raeannkelly.com), and mom to 5 cuties. In the spirit of celebrating Amy and her new digs and moving season in general, I'm sharing this really fun, happy, and functional housewarming gift — including printables you download below!
Most of us either know someone who is moving or will be welcoming new neighbors. What better way to celebrate them while also rewarding all their hard work than with a basket full of goodies that will save them a trip to the store or from having to dig through boxes!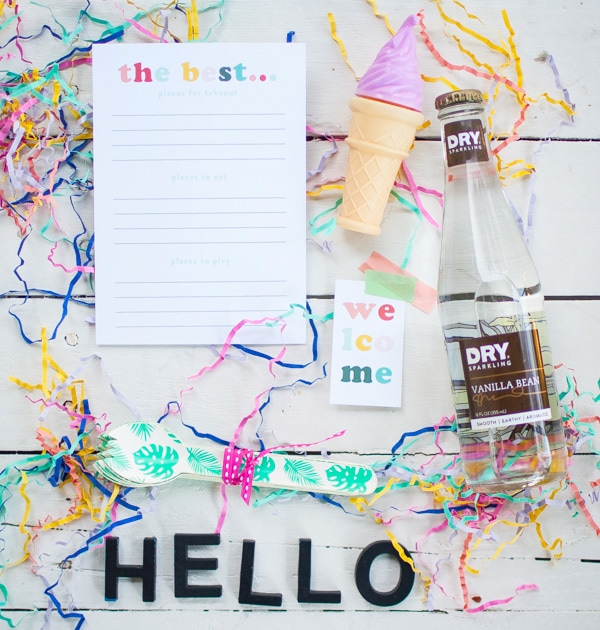 There are endless options, themes, and items that would be great to give new homeowners but here are a few ideas and must-haves to get you started:
Start with a bin or basket that's versatile and will also come in handy for serving, storing or organizing at a later date — I chose a galvanized bin from Target
Cleaning supplies
Toilet paper and paper towels
Something to cheers and celebrate with like a bottle of rose, champagne, or other fun drink
A fun treat, such as cookies, donuts, or yummy chocolate
Dishtowels and washcloths are always a good idea
Paper plates, cups, napkins and utensils — so nice to have on hand even for the sake of not doing dishes
Hammer and nails for quick decorating or repairs
Don't forget something to drink and play with for the kids
Magnets — I spray painted some alphabet magnets
Complete with a colorful gift tag and "BEST OF…" card that makes eating, getting around and playing in their new town a little less stressful!
CLICK HERE to download. Then print on card stock and cut along dashed lines. Fill-in with your favorite spots to order out, eat at and play.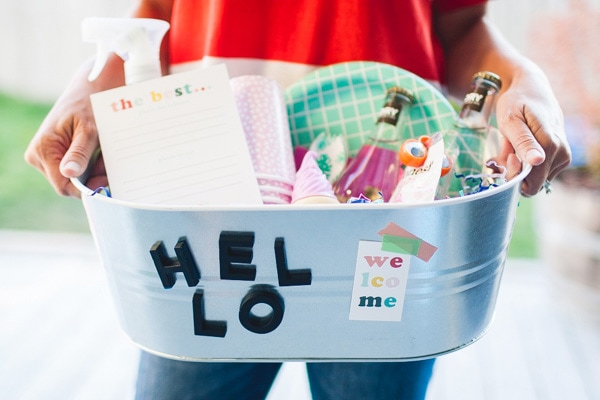 We have new neighbors moving in next week. Knowing I'd be able to give it away soon made this project extra fun. Hope you'll be able to use the printables and gift idea soon too!
Thanks so much for playing along with me today! Would love for you to come say "HI!" over at raeannkelly.com!
XO, Rae
Thank you again, Rae Ann! I love the thoughtfulness of a simple Welcome Basket and with these few cute touches, it becomes even better! Be sure to head over to Rae Ann's site and give her some Delineate Your Dwelling love!
You can also follow along with her here!
Blog | Instagram | Pinterest | Twitter

SaveSave
SaveSave
SaveSaveSaveSaveSaveSave
SaveSave
SaveSave
SaveSave
SaveSave