It's Monday, do you know what that means?! It means I have my fourth guest post up today while I am transitioning into our new home. Today is the 4th of a six wonderful maker mini series!! (1, 2, 3) We have been in our new home for six days and are making great progress of unpacking but while I'm busy with that I have Kara from A Kailo Chic Life sharing one of her famous soaps, a Colorful Abstract Soap!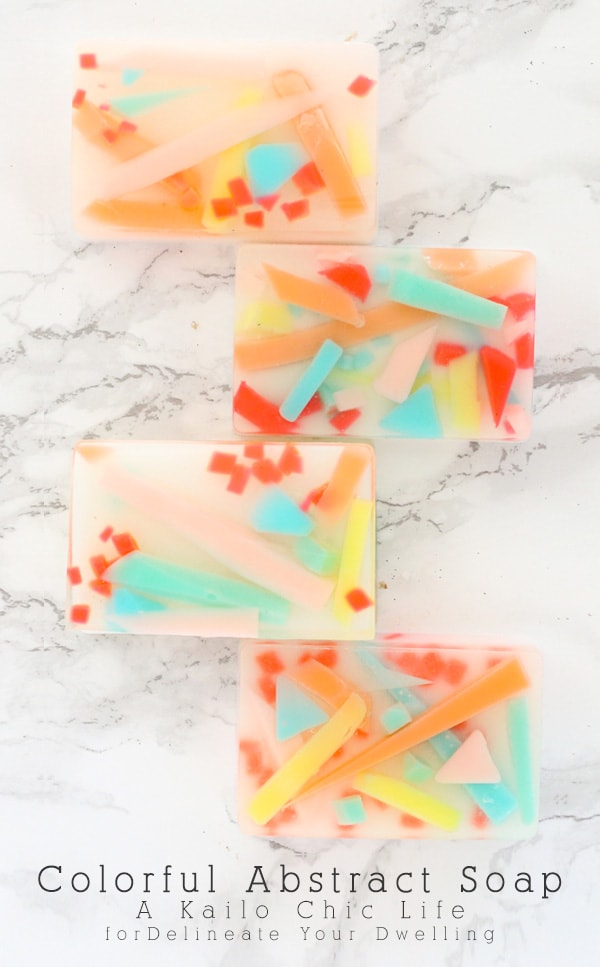 Kalio Chic strongly believes in bringing color and pattern to work, home and play… everyday! Kara is a rockstar with rainbow ombre's and crafting up about any and everything in sight. I'm so excited to share her talents with you all.
Friends, let me introduce you to Kara…
For the full supply list for this fun project, please head to A Kailo Chic Life.
And keep reading to see the tutorial for these awesome soaps.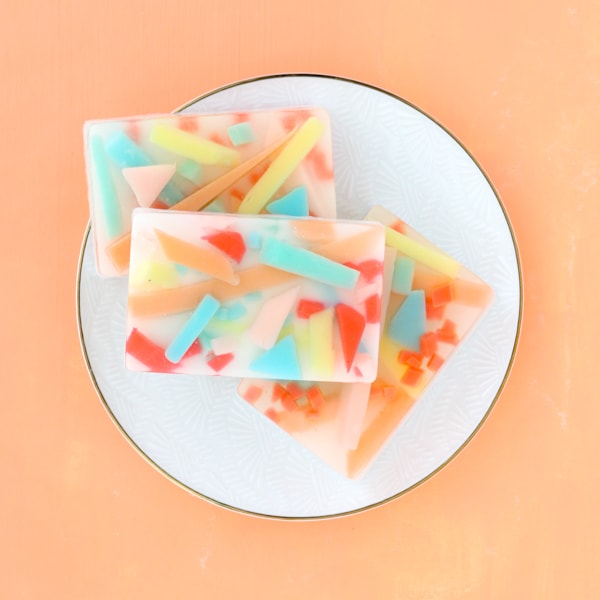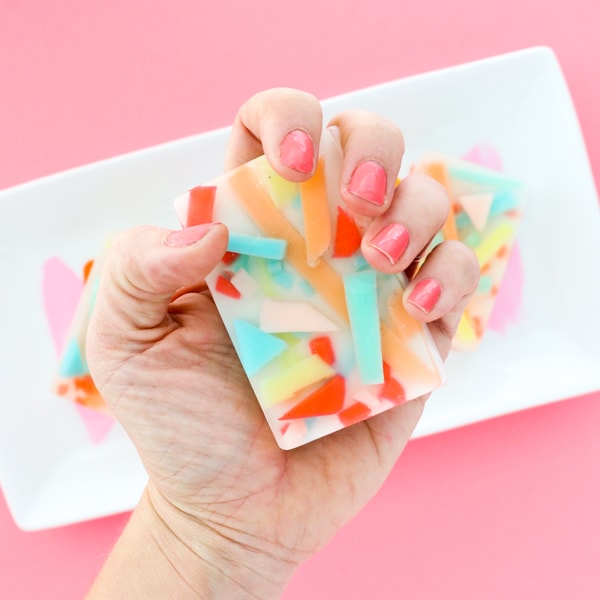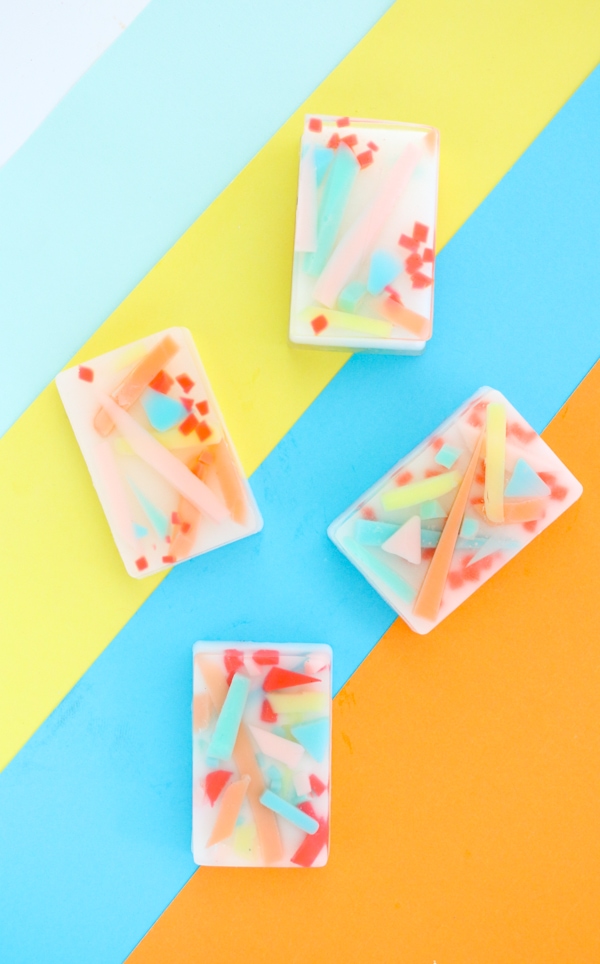 The Supplies:
Clear Melt and Pour Soap Base (You can also find this at the craft store)
White Melt and Pour Soap Base(also at the craft store)
Rectangle Silicone Soap Mold
Spray bottle with rubbing alcohol
Fragrance (optional)
Knife
Microwave safe bowl
Spoon


Start by cutting up the white soap base into 1″ cubes. Melt 1/2 of a cup of the soap in a microwave safe bowl by microwaving the soap in 10-15 second increments until it is just melted. Do not let it boil. Add a few drops of your soap colorant and fragrance and stir.


Pour the melted soap into one cavity of your soap mold, then repeat with the other colors you want to use in your soap. I used seafoam, turquoise, hot pink, light pink, coral, and yellow. Once you have all your colored soap melted and poured. Let it cool until hard and then remove from the mold. Use a knife to cut up the soap into long strips, little triangles, and even tiny little confetti sized bits.

Once you have all your pieces, its time to melt the clear soap just as you melted the white soap (just make sure you are using a clean bowl as you want to make sure the soap stays crystal clear). Once the soap is just melted, pour appx. 1/4″ of soap into one mold cavity and immediately spritz the top with the rubbing alcohol, then layer your soap pieces into the clear soap. Be sure to press the pieces into the soap all the way to the bottom of the mold. There is no rhyme or reason to this step, just try to cover as much of the container with the soap bits to create a fun abstract pattern. P.S. It's okay if some of the soap is sticking up above the clear soap.


Once all your pieces are in, you can repeat the process with the other molds. Then let the soap cool and harden. When the clear soap has fully hardened (about 20-30 minutes), melt more white soap. Let the white soap cool slightly in the bowl until it just starts to thicken up a bit. Then spritz the soap pieces with alcohol and pour in the white soap to the top of the mold. If you pour the soap to hot it will start to melt the colored soap, so you want to make sure it has cooled a bit before pouring.

Once the white soap is hard, you can unmold your bars and wrap them for gifting or just put by your sink and in your shower for a colorful, clean time!
Thank you again, Kara! I love how you can customize these soap bars to all your favorite colors. Be sure to head over to A Kailo Chic Life and give her some Delineate Your Dwelling love! She's done about 100 amazing soaps (and so many other fun projects).
You can also follow along with her here!
Blog | Instagram | Pinterest | Facebook | Twitter

SaveSave
SaveSave
SaveSaveSaveSaveSaveSave
SaveSave
SaveSave
SaveSave
SaveSave
SaveSaveSaveSave
SaveSave
SaveSaveSaveSaveSaveSave
SaveSave
SaveSave
SaveSave