INSIDE : Learn how to make a Foraged DIY Advent Wreath this holiday season using upcylced plates, baking soda and copper fittings. Celebrate the countdown until Christmas Day with this beautiful tradition.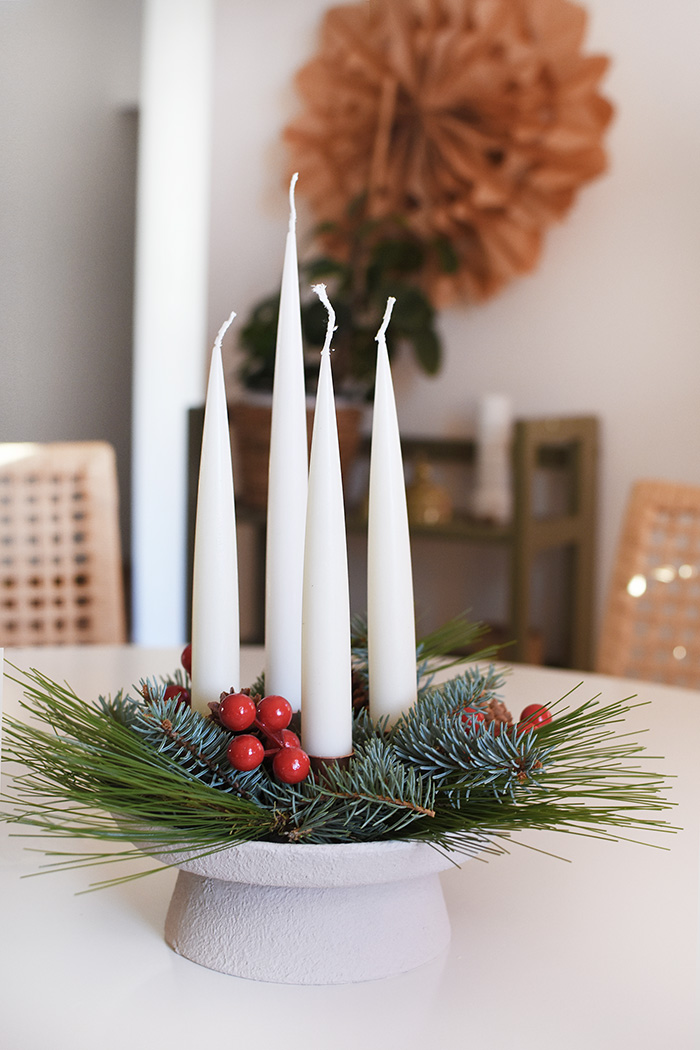 This post may contain affiliate links. See full disclosure here.
My church follows Advent during the Christmas holiday season and for a few years now, I have been on the lookout for an advent wreath to hold my candles. I was looking for something simple and beautiful, but had a hard time finding one that I liked. So per the usual, I decided to make one myself!
The meaning of an Advent Wreath
The Advent wreath and the candles are full of Christian symbolism. It is a tradition that started in the 1800's in Germany.
The circle of the wreath, which has no beginning or end, symbolizes the eternity of God and the everlasting life we find in Christ.
The candles also have special significance. In a modern Advent, there are four candles representing the four weeks of Advent : hope, faith, joy and peace.
However, in a traditional advent wreath, there are five candles : three purple candles, a pink candle and a white candle. The three purple candles symbolize hope, faith and joy. The pink candle is the final candle lit and symbolizes peace. The center white candle is lit on Christmas Eve and is called the Christ Candle and represents the life of Christ.
Celebrating Advent is an excellent way to prepare your mind and heart for Christmas.
Let's get into how to make your very own Advent Wreath below…
Supplies for a DIY Christmas Pedestal Advent Wreath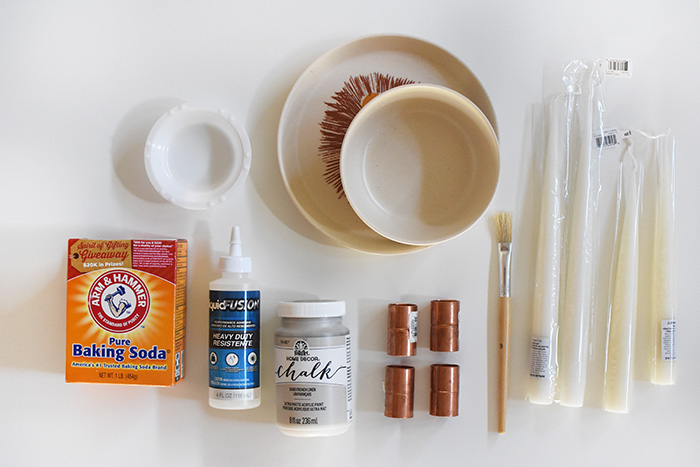 Looking for other beautiful DIY Advent Wreath ideas?
My friend, Marlene of Idle Hands Awake has a lovely pedestal Advent Wreath.
My friends from The Merry Thought have a gorgeous Hanging Advent Wreath.
How do you make an Pedestal Advent Wreath at home
To make a DIY pedestal advent wreath, you need to start first with a plate and bowl.
Turn your plate upside down and using a ruler, mark the center lines on the plate with lines all the way to the edge. Repeat this step on the underside of the bowl as well. This helps you line up the bowl and plate in the center.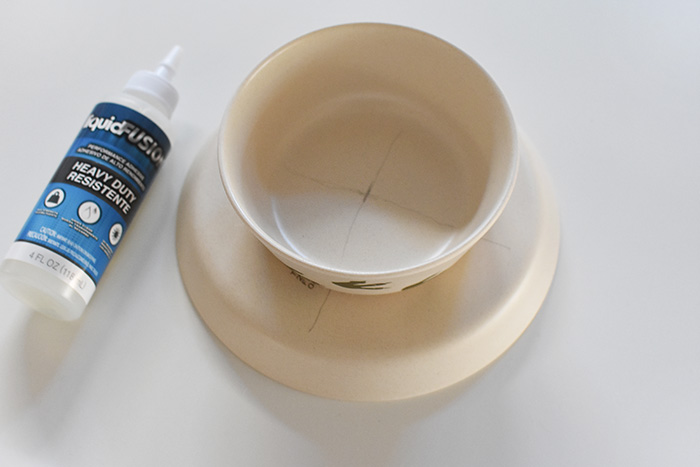 Once you have your two center marks made, add glue to adhere them together. I used Liquid Fusion, but any strong glue will work.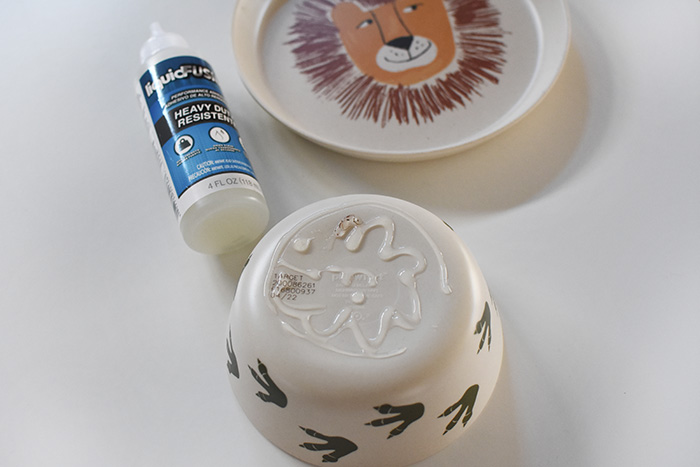 Once the two pieces have completely dried, you have your pedestal shape built!
Baking Soda Advent Wreath
Now it's time to add the baking soda texture to give your wreath a more professional "store bought" look. You can read more about the baking soda and paint technique in this post. In my opinion, this painting technique is incredible for giving virtually anything a more "finished" look.
One thing I have learned with painting with baking soda is the more layers, the better. Some people do exact measurements for their paint to baking soda ratios, however I find it just as easy to pour your acrylic paint into a container and add baking soda until you like the consistency it creates.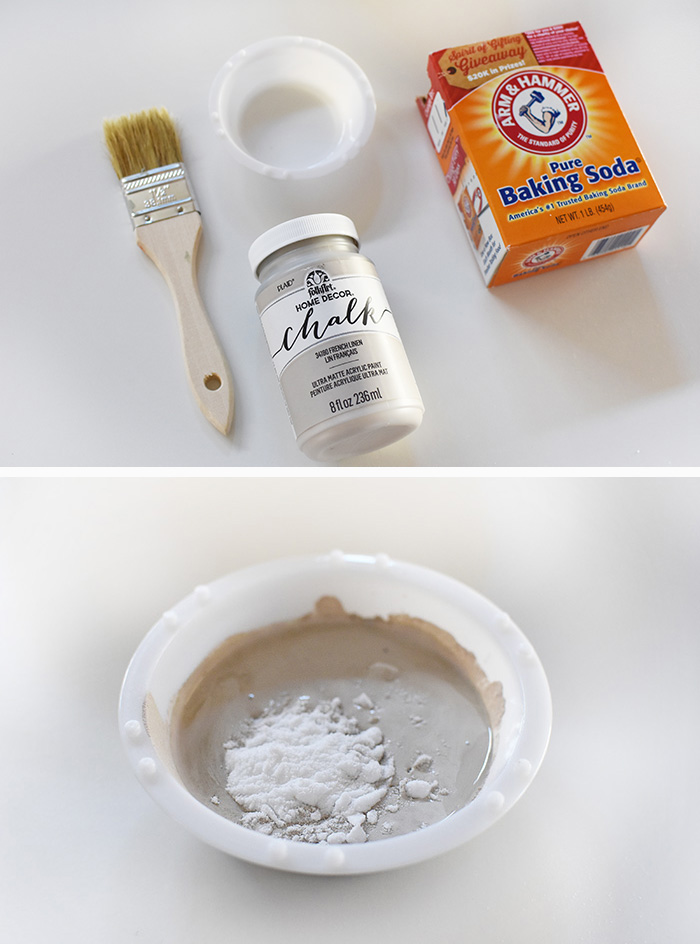 For the first layers, I use a little less baking soda to help with even coverage. You can see below how adding just one layer gives very minimal texture.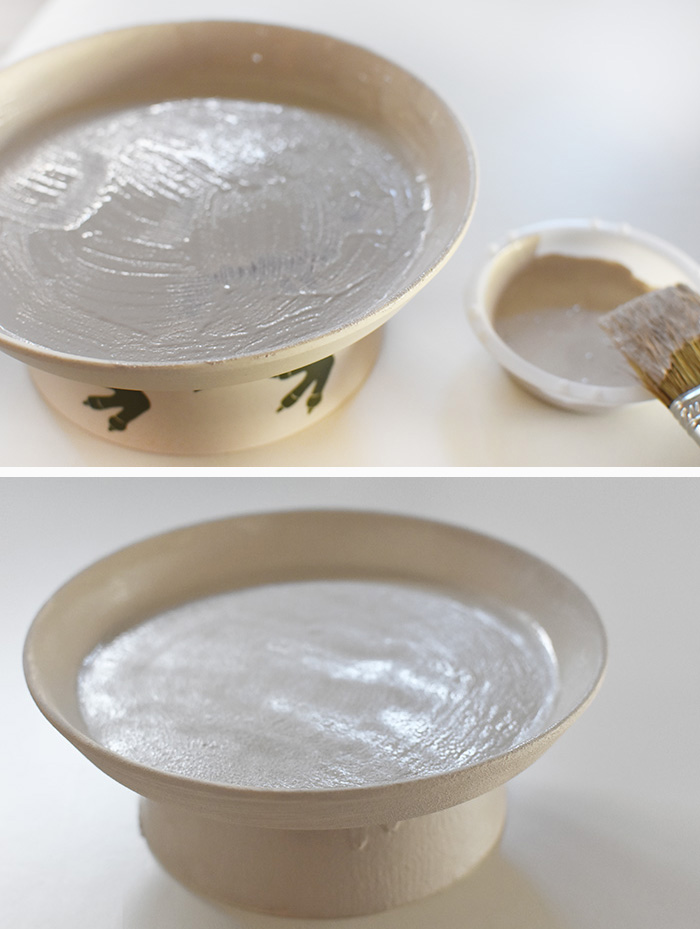 As I get to the third coat, I like having more texture (more texture = more baking soda). You can add as many coats as you like, but I think three coats is just about right.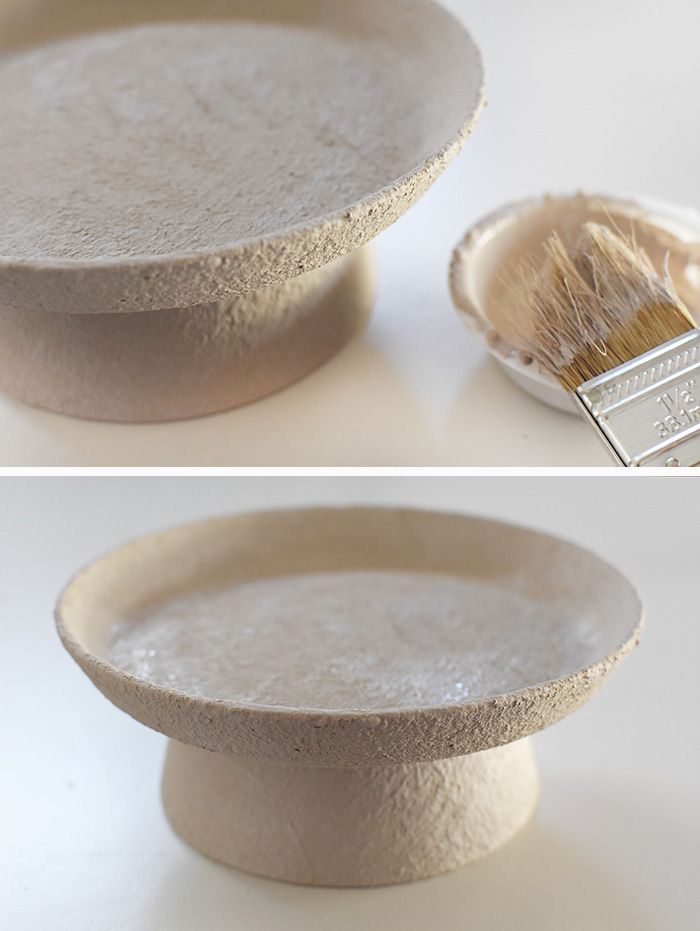 Adding Copper Candle Fittings
After the baking soda texture has completely dried, you can start to place your copper coupling fittings. These are what will hold your candles up properly.
NOTE : Make sure your candles fit snuggly in the copper fittings before gluing. I brought my candle with me to the hardware store, just to make sure.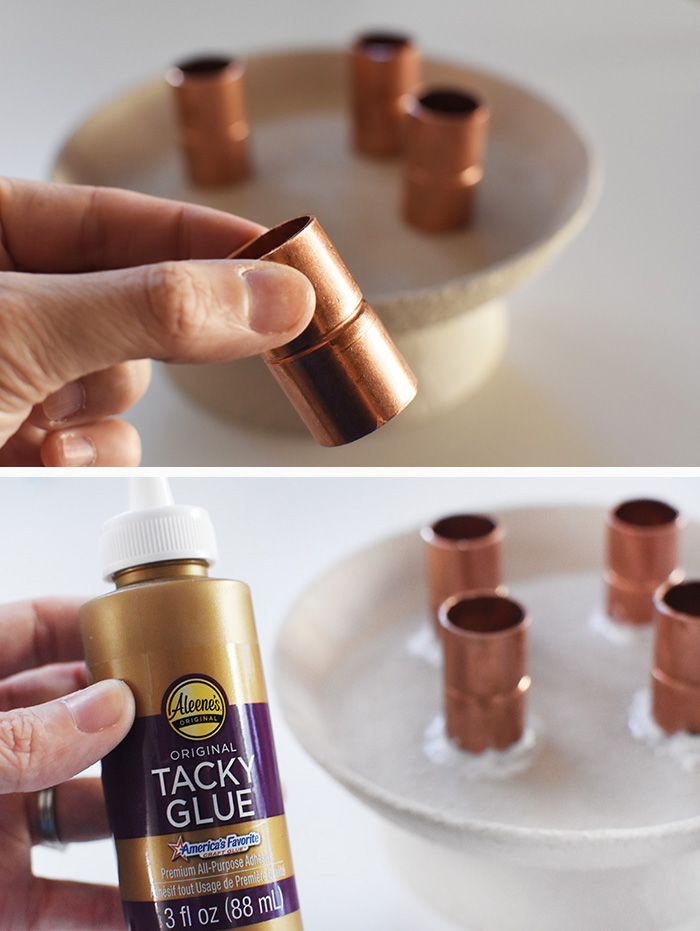 I switched to Tacky Glue for this step, as the Liquid Fusion wasn't adhering to the baking soda adequately. Tacky Glue dries clear, so be liberal with the glue.
Foraged Advent Wreath
The final step to this project, is foraging for greenery to fill in my advent pedestal wreath. I walked around our yard and collected pinecones and two types of evergreen boughs.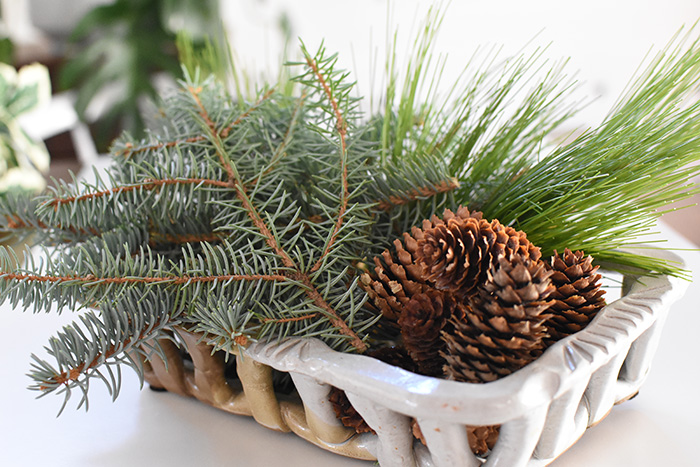 Simply tuck these in and around the copper fittings for your final look.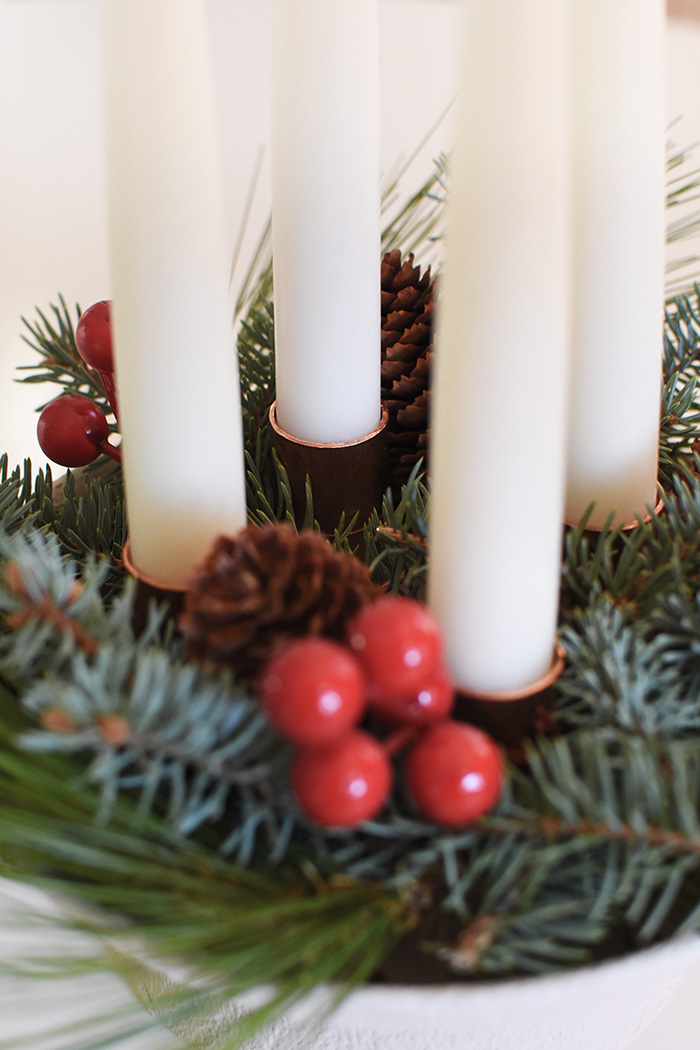 You could also use faux greenery, pinecones or berries for this step, if you want to keep the greenery for longer than a season.
Shop the supply list now :

Lit Christmas Advent Candles
Traditionally, each Sunday starting with the last Sunday of November, one candle is lit. This weekly lighting continues until Christmas week. (I lit all four candles for the pictures, but will only plan to burn one at time.)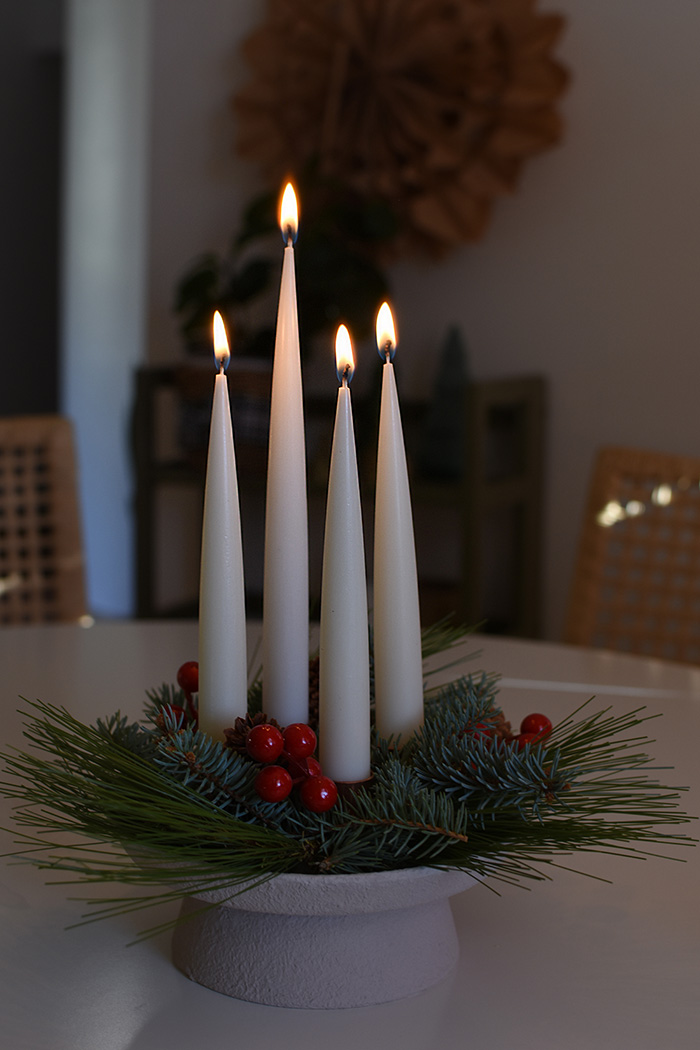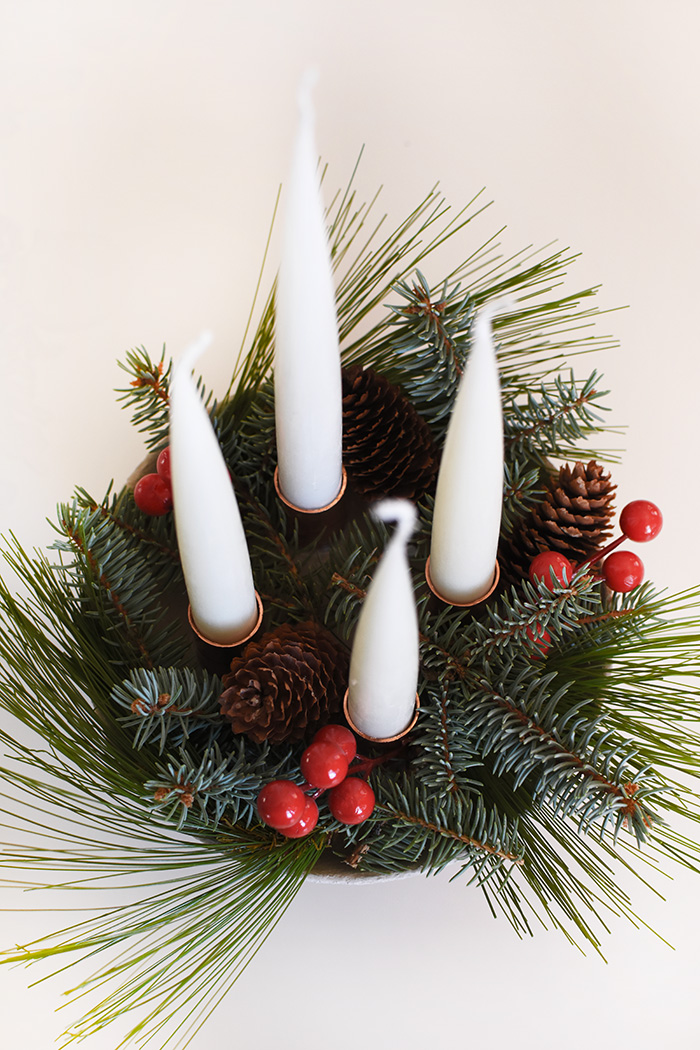 Advent Wreath Candle Holder
I can't wait to celebrate Christmas this year with my family as we anticipate Christ's birth using our new Advent Wreath Candle Holder.
If you are looking for other beautiful holiday decor ideas, you might like these…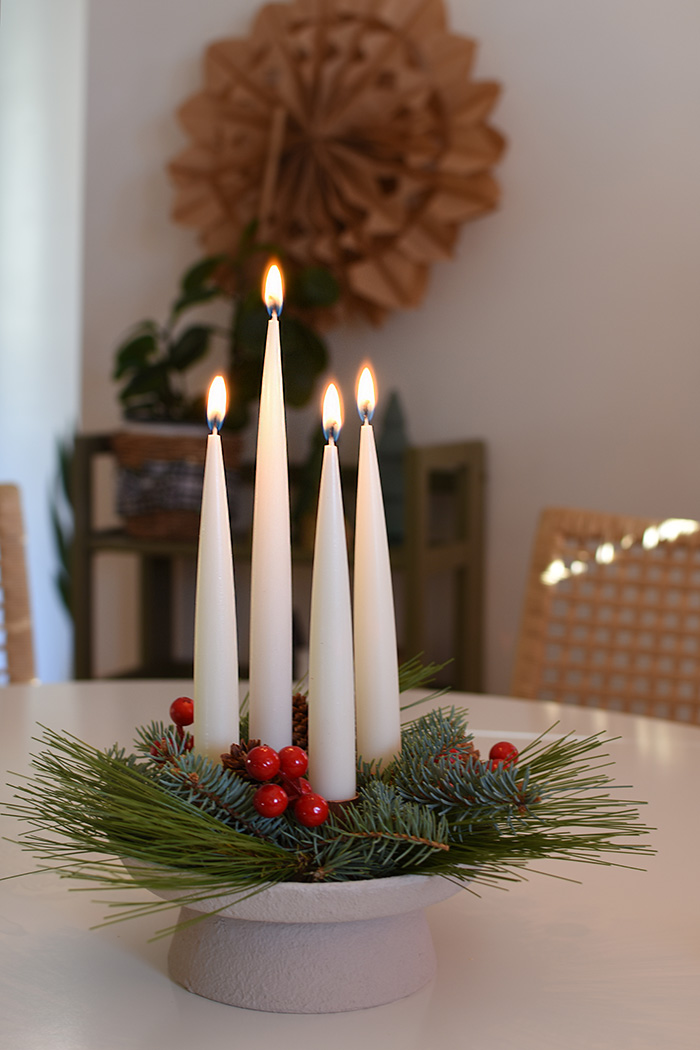 Looking to buy a beautiful Advent Wreath? You might like these :