So often bloggers stress about coming up with an idea, executing said idea, taking pictures, editing pictures, writing a blog post and clicking publish.  Phew, you can finally cross that one off the list…  But not so fast, the real work has just begun.  Today I am sharing, I published my blog post.  Now what?  Tips for Social Media Blog Promotion.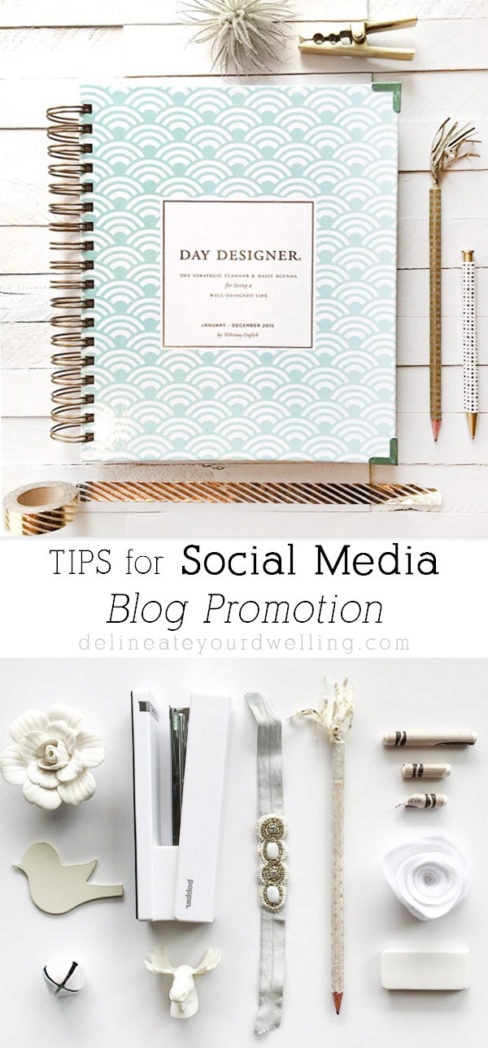 The morning after a post goes live, is when it really comes alive through scheduling and promoting out in the social media world.  When I first started blogging, it would take me two+ hours to do all the "social media marketing stuff" I did.  With time, I slowly learned how to be more productive and efficient.   With a few HUGE tips, I now can wake up and have all my main promotion stuff done in about an hour max!

Tip 1 : DAILY LINK PARTIES (morning routine – 0 to 5 minutes spent)
(2018 update – LINK PARTIES  are not nearly what they used to be, but you can still benefit from them now and again.  I still link up at 2 parties a week.)

If you don't know what a link party is, they are typically a weekly posts where the hosting blogger allows you to "link up" your past week's creative DIYs, crafts, recipes, etc.  I normally don't see tons of traffic from simply linking up at a party, however if you are one of the featured bloggers the following week, you can see some decent traffic.  And the bigger the bloggers hosting the party are, the more traffic you will see.
Most bloggers have a link somewhere on their site, stating where "they party".  This is a great way to find new link parties to join in on.   Many of these link parties start in the evening, so it's not typically something that you need to sit down in the morning and set aside hours to link up to every single party going on.
Also, after a few weeks of joining in on these parties, you'll notice which ones you gain traffic from and which ones you don't.  It's best to quit spending your valuable time linking up to non traffic driving parties.
Tip 2 : SOCIAL MEDIA CHECKLISTS (morning routine – 30-45 minutes spent)
Instagram –
Oh Instagram.  I have such a love/hate relationship with the Insta!  I wrote about switching to a business account and my best IG tips here, but goodness with algorithms things are changing all the time it seems.  I think it's important to share consistently on Instagram, whatever that looks like to you.  You can follow me here.
Pinterest – 
I was previously HUGE on using BoardBooster to help grow my Pinterest traffic and help with pinning consistently.  Since Pinterest came out specifically saying, DO NOT USE BoardBooster and then BB straight up shutting down, I've moved on.  HA.
I am now using Tailwind and although there is a learning curve after using BoardBooster for so many years, I am really liking it.  Each time I have a new post go live, I go in and schedule my pins in Tailwind.  I also am really liking the Tribes feature of Tailwind.  If you decide to sign up, I'd love you to use my affiliate link.
Then, I schedule to Facebook, G+ and Twitter.  I schedule on Facebook using their scheduler.  And then I use Hootsuite for Twitter and G+.  Scheduling all these items only takes me maybe 10 to 15 minutes now that I have a system down.
Tip 3 : SUBMISSION SITES (morning routine – 15 minutes spent)
Ah, lovely submission sites.  Some folks gain great traffic from simply doing the top two tips I mentioned.  However, I also gain A LOT of daily traffic from submitting my projects on various submission sites.  These sites will greatly depend on your blog niche.  Some of very favorites for my particular (crafty/DIY) niche are Craftgawker, Dwelling Gawker, Tip Junkie's FB page (so much easier to just share a link there than submit it on her site), and Craft Gossip.  You'll see me submitting to these sites every single week!
Tip 4 : SUBMISSION SITES (weekly routine – 60 minutes spent)
I have been steadily growing my email newsletter list.  I try to send out a new newsletter each week, typically on Tuesday mornings.  This is a space I use to keep readers updated on the recent blog on-goings, but also a place to share behind the scene, insider type info.  You can sign up for my newsletter here to check it out.  You also can get access to my entire DYD Printable Library as a thank you for signing up.
Looking for more BLOG related topics?  You might like these.


SaveSave
SaveSave
SaveSave
SaveSave
SaveSave
SaveSave
SaveSaveSaveSave
SaveSave
SaveSave