8 Tips for Growing your Instagram
INSIDE : Tips on how to organically grow your Instagram account the right way! I'm sharing the 8 tips I used to get to over 10,000 followers on Instagram.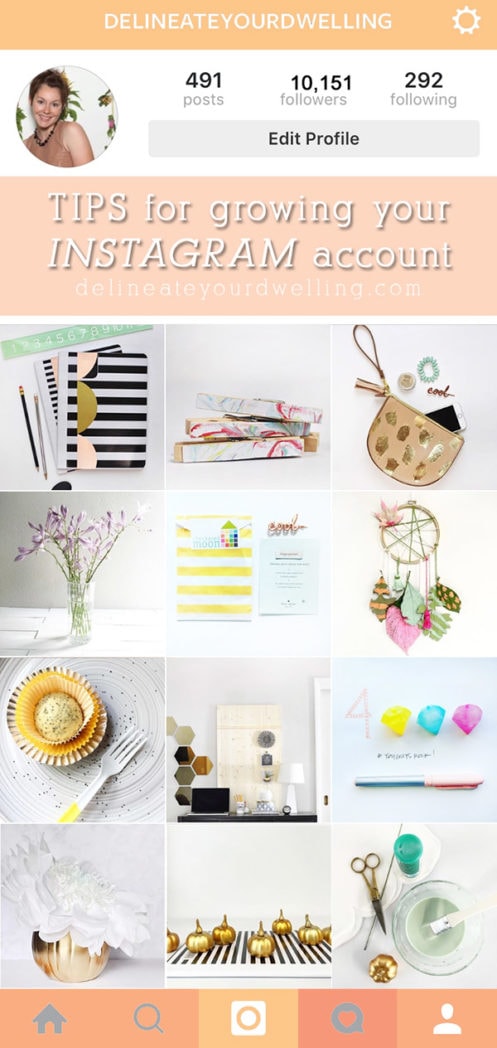 Oh Instagram, I love you. With 400 million (WHAT!) users, it definitely is a universally loved social media outlet. As a user, when you find an account you love, you have the ability to scroll and scroll finding endless inspiration! As a blogger or creator, Instagram can equate to more views on your blog, a stronger community for your brand and an excellent way to easily communicate with your followers. Today, I am sharing 8 Tips for Growing your Instagram.
I have been on Instagram for 1.5 years as Delineate Your Dwelling and it wasn't until more recently that I really started putting daily effort into my account. As soon as I implemented these tips, I started seeing daily growth. I have a long way to go to get to my year end goal, but it's exciting to see my efforts aren't for naught.
UPDATE – Not even a month later after posting this and I've met my 5,000 followers by the end of 2015!
UPDATE 2 – I am now past 10,000 followers.
TIP 1 – Create a cohesive theme for your Instagram brand.
This is so key. First, go to your blog or website. What is your overriding color scheme, your go to colors? Those colors should be VERY predominate on your Instagram account. I don't mean every single picture needs to be in that palette but when scrolling through your IG, you should see the connection. I've had people tag me in other Instagram picture and say, this looked like YOU and it was something in a bright but soft color palette. That is my brand working for me!
If you don't have specific colors in your brand, what is your overall message? Maybe you are a mama blogger, share images that relate to being a mama. Maybe you are an organic textile company. Maybe you shouldn't share that slurpie you just enjoyed over the weekend. #justsayin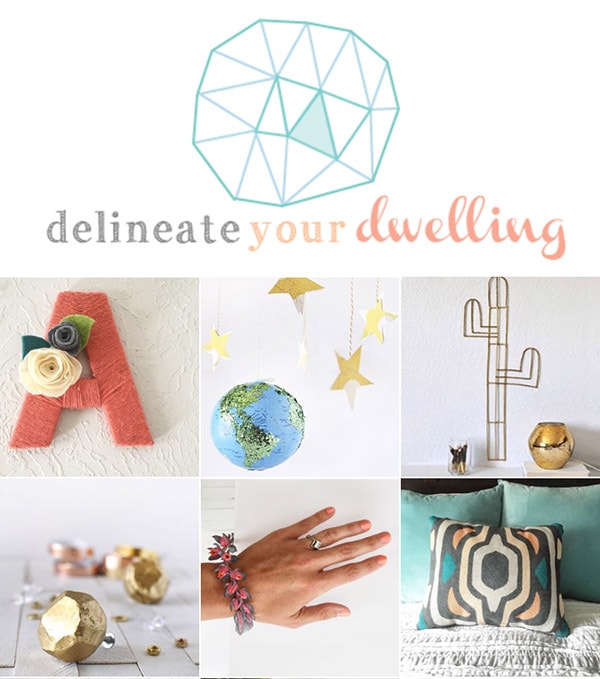 Also, don't be afraid after the fact to go through your feed and delete pictures that don't seem to fit. I often will post something and realize, hm… maybe that coloring is off more than I thought from my brand colors. Or wow all the pictures in my feed are pretty simple and one is very busy, delete. No harm, no foul.
TIP 2 – Share crisp clean photos.
Since you are already on Instagram which can only import picture via a mobile device, I think we can safely assume you own a smart phone. It's time to start exclusively using your phone or your digital camera for IG photos. I can't tell you how many feeds I've been on with grainy, low resolution images. No one feels inspired by pixelated pictures. I know many folks keep their phone handy while shooting their DIY or food post. I often go to www.delineateyourdwelling.com on my phone and screenshot the main image from that day's post.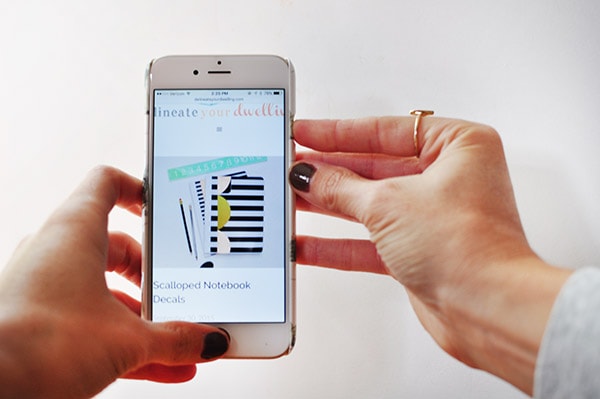 Another quick comment more of personal preference. Try to limit if not, do away with in total the text in your Instagram pictures. Again, this is more of a preference item. But if you are going for a crisp clean look, try to keep things looking crisp and clean.
TIP 3 – Use those hashtags!
Hashtags are our friends. They are an excellent way to find others in your niche and start building a community. I post my IG picture, add my hashtags and instantly then click on all the hashtags I just included. If I'm posting a fun Leaf Dream Catcher I made that day, I'm interested to see other #fallcrafts people are sharing. Too many in the caption can be confusing to a reader and annoying. I've started including my brand hashtag #delineateyourdwelling shortly after my caption and maybe one or two others max and then the remainder of your hashtags follow in a comment. If you wait and comment with additional hashtags an hour after your Instagram pictures goes live, then your picture along with it's hashtag will be an hour down in the list of other pictures using that hashtag. So, be sure to post your picture and then comment with your hashtags right away.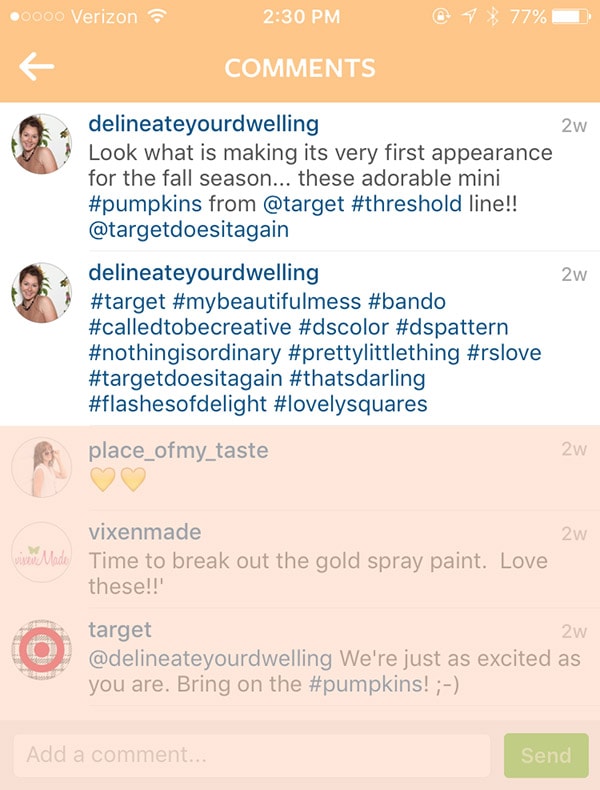 I found other bloggers in my niche and started making a list of hashtags that they were using. There are also tons of posts devoted just to popular hashtags. Now when I post to Instagram, I have my list open on my computer and just add the appropriate hashtags.
TIP 4 – Become a presence in your niche.
The entire point of social media is to be social. No one likes a post and run kind of person. As I mentioned in tip 3, as soon as I add my hashtags, I visit those hashtags and like or comment on a handful of pictures that my eye is drawn to. Often times, shortly after I leave a thoughtful comment on someone's picture, they will like mine or even better follow me.
I'm ALWAYS surprised when someone tells me, "Oh I LOVE your blog. I follow everything you do." Hm… really? I've never seen a single like or comment on any of my posts. You would be surprised how many people view only. How hard is pushing one tiny 'like' button? To become a presence in your IG niche, plain and simple just start liking and comments on at least 5-10 people's post a day. You'll be surprised what a difference it makes.
TIP 5 – Connect your Instagram account to Facebook + Twitter.
This is such an easy tip and I can't believe how many aren't doing it! Every single time I post to Instagram, it also goes to Facebook and to Twitter. Although I'm not a huge Twitter follower, I've had quite a few companies retweet my Instagram tweets. My Facebook Instagrams also always get a much higher reach than my normal posts (see Facebook image below). To connect your accounts –> Under settings, click on linked accounts. There are at least 8 accounts you can link to your Instagram. It takes 3 seconds, so you might at well get at it.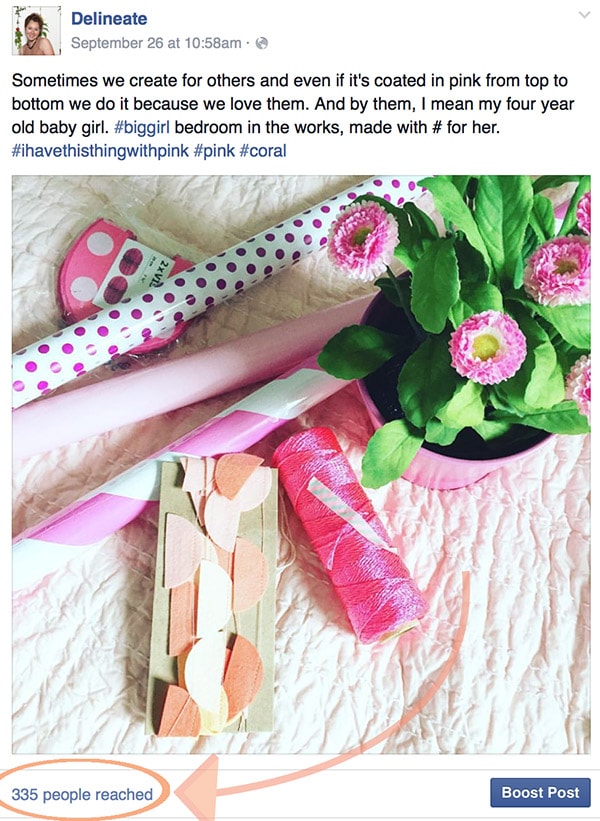 TIP 6 – Tag companies and brands.
Are you enjoying a delicious carrot cupcake from a new local cupcake shop? Take a picture and TAG them! Did you just get out some fun mini pumpkins to display in your home from everyone's favorite, Target? Take a picture and TAG them! Did you just get some happy mail that made you want to squeal with delight from a favorite store? Take a picture and TAG them! Did you have a bad day and bake some box mix Almond Poppyseed muffins that were out of this world? Take a picture and TAG them! All four of those examples were pictures I posted in the last two weeks and all four of them received likes and/or comments from the company. The muffin company has my post scheduled to regram on their site. It's worth the effort of tagging companies and brands because they are looking to self promote just as much as you are and you never know when they will regram you to all their followers!


TIP 7 – Post consistently.
For the first 6 months of using Instagram I posted pictures at random. Then, I started only posting on the days I wrote on my blog (MWF). I am currently uploading pictures to Instagram every single day. I am noticed a big increase since posting every single day. On the days my blog posts go live, I share a picture and link to those posts. On the other days, I share maybe a behind the scene picture of a post's materials and supplies. Or maybe the muffins you made after a bad day.
TIP 8 – Start an IconoSquare account.
I just started using IconoSquare recently. It's a site that give all sorts of behind the scene information about your IG account. I just use the free version, so when I want to data I have to log in and generate it, however it's been a great resource so far. You can see what are the best times to post IG based on your personal followers, what filter gets the most likes, who engages in your posts the most, etc.
I hope you are able to take some of this information and put it to use! I really believe Instagram is a creative and useful social media that is worth the effort of your time. Now, go out and try to tackle some of these tips and let's get your account grow, grow, growing!
If you'd like to follow along, check me at https://instagram.com/delineateyourdwelling/ be sure to say you read this post and I'll follow you back!


Looking for more BLOG related topics? You might like these.

SaveSave
SaveSave
SaveSave
SaveSave