INSIDE : Learn how to create the perfect Fall Boho Bat Fireplace Display this Autumn season. All you need is pumpkins, dried grasses and some black bats to make this fun setup at your home!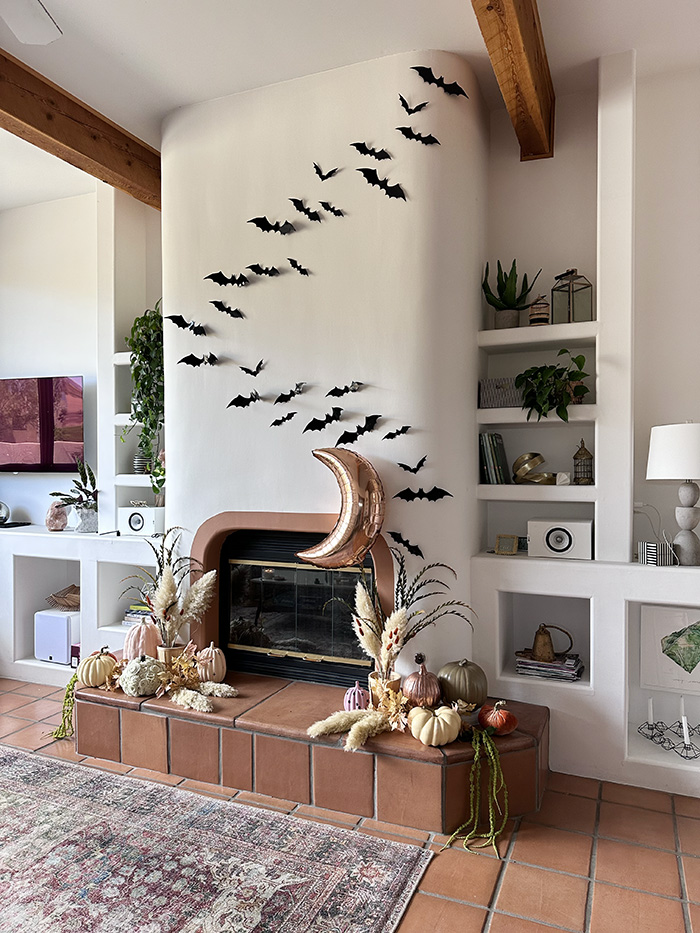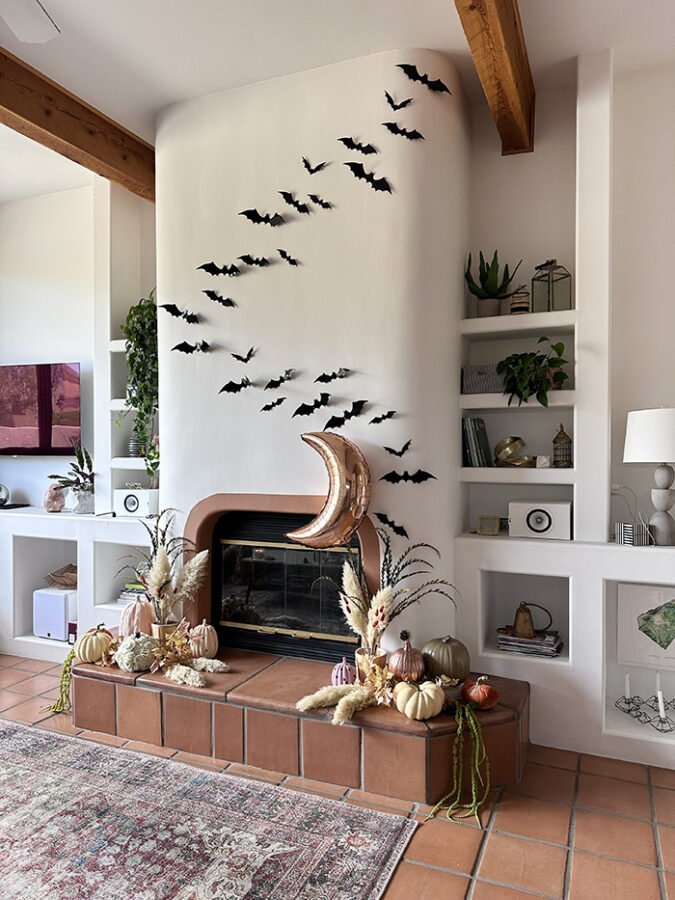 This post may contain affiliate links. See full disclosure here.
Typically my indoor Halloween decor is almost zero. I maybe set out one of my fun pumpkin DIYs from previous years, but I don't really do much else. However, something over took me this year and I had SUCH fun decorating my fireplace with a fun Fall Boho Bat and dried grass display!
I can't wait to share how I did it all because immediately my entire family (husband included) was like, let's do this for every year!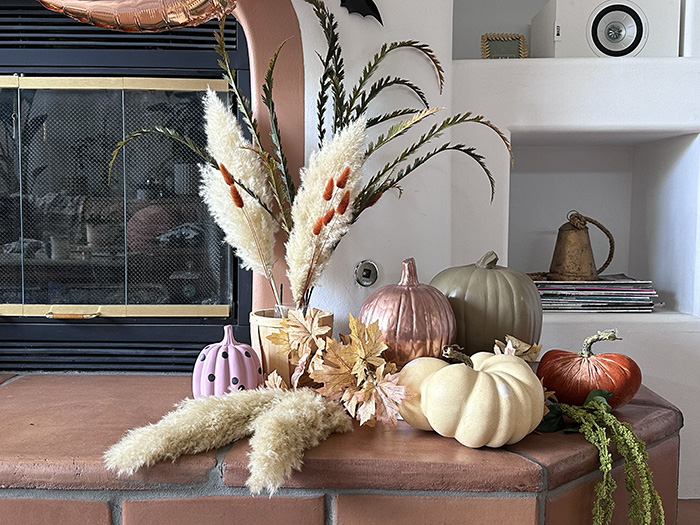 What supplies are needed to create a Boho Bat Fireplace Display?
Fall Bat Display
The first step to creating a fall scene on your fireplace is placing the bats. The package of bats I purchased came with 60 bats in four different styles.
I am a visual person, so I drew a super quick sketch of the bats on a piece of paper and then divided the bats into their four different styles.
Note : I read that the adhesive that came with the bats, slightly damaged some walls. So I didn't want to take any chances and just used sticky tacky on my bats.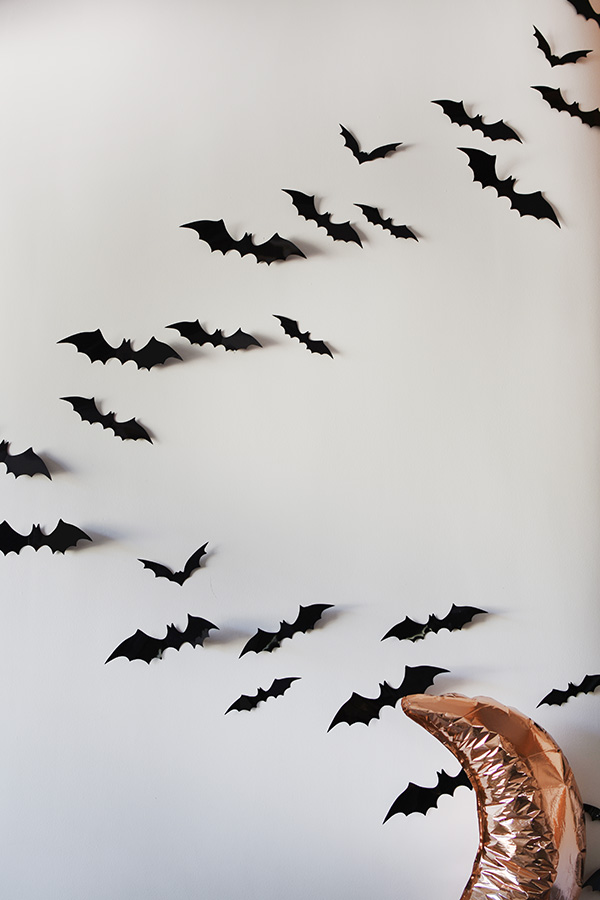 I wanted some movement in my bats, I often see pictures of bats in people's home and they are often times placed in almost a straight line. I think have them slightly curve around our fireplace added a fun unique touch!
Be sure also as you are placing your bats to slightly vary in direction even when all going the same way. Some a little bit up and down, some a little bit left, some a little bit right, etc… this helps create a more natural real look.
Rose Gold Moon Balloon
After my bats were secured, I blew up the rose gold Moon balloon I had got. It was a self closing balloon and I was able to just tape it up to the wall.
I loved this balloon and the nod to a Fall Harvest Moon it brought to my display!
Fall Fireplace Display
After your bats and moon are set up, you can start to add in the other fall decor elements.
Next, I set up my pumpkins. I have quite a collection of faux pumpkins from over the years, but you can use any type of pumpkin you would like.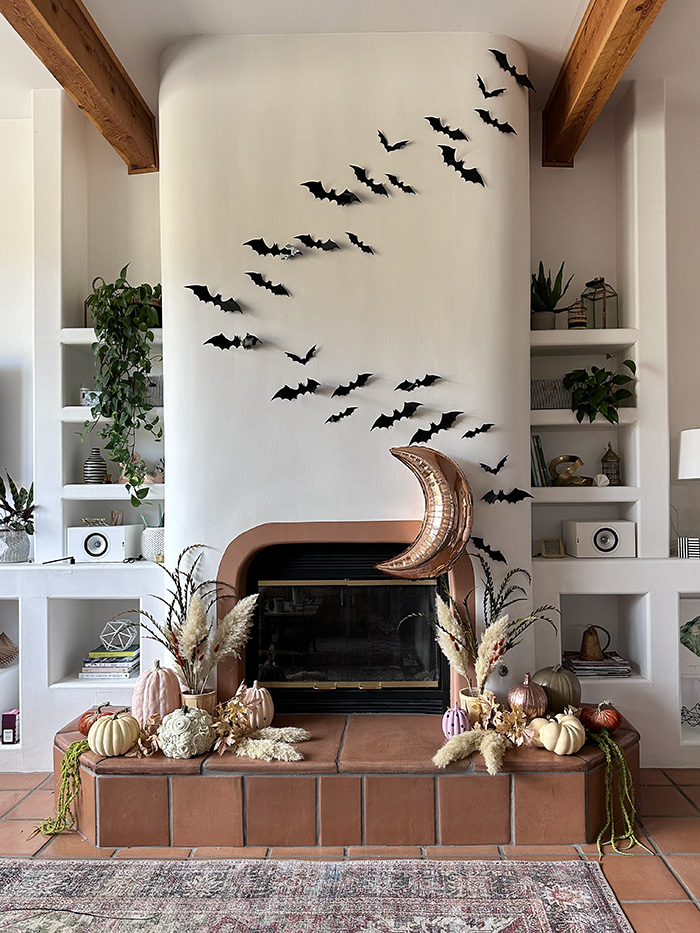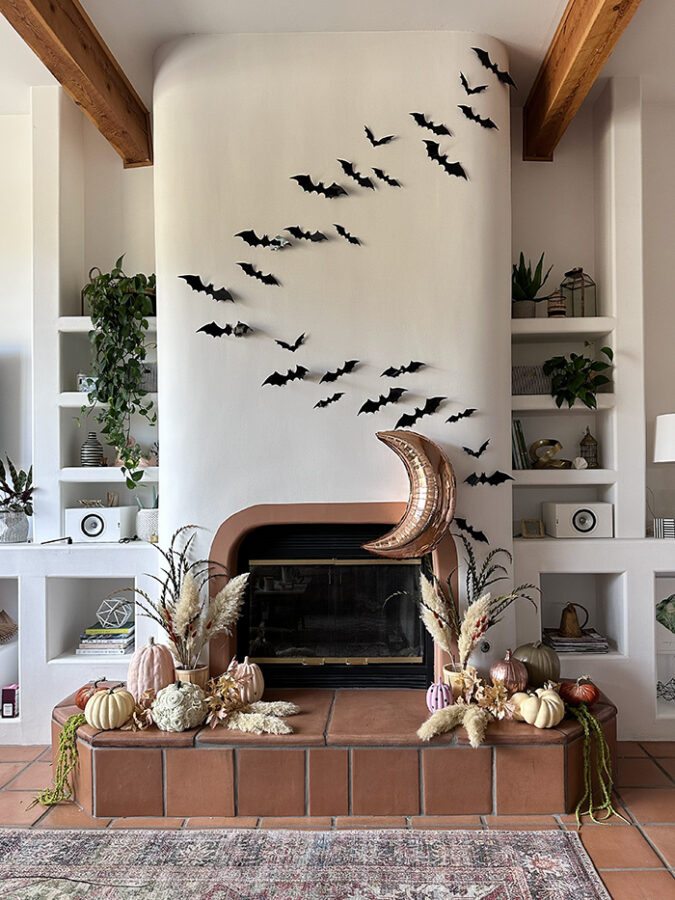 I placed five pumpkins on each side of our fireplace. Depending on how large your mantel space is, depends on how many pumpkins you can use. Using odd numbers is always visually best, too.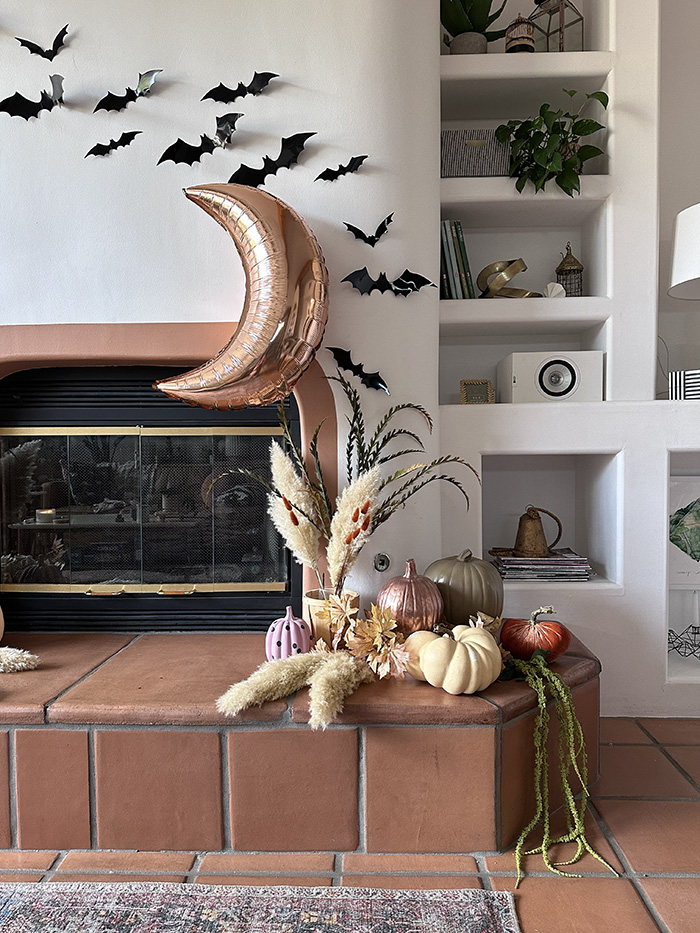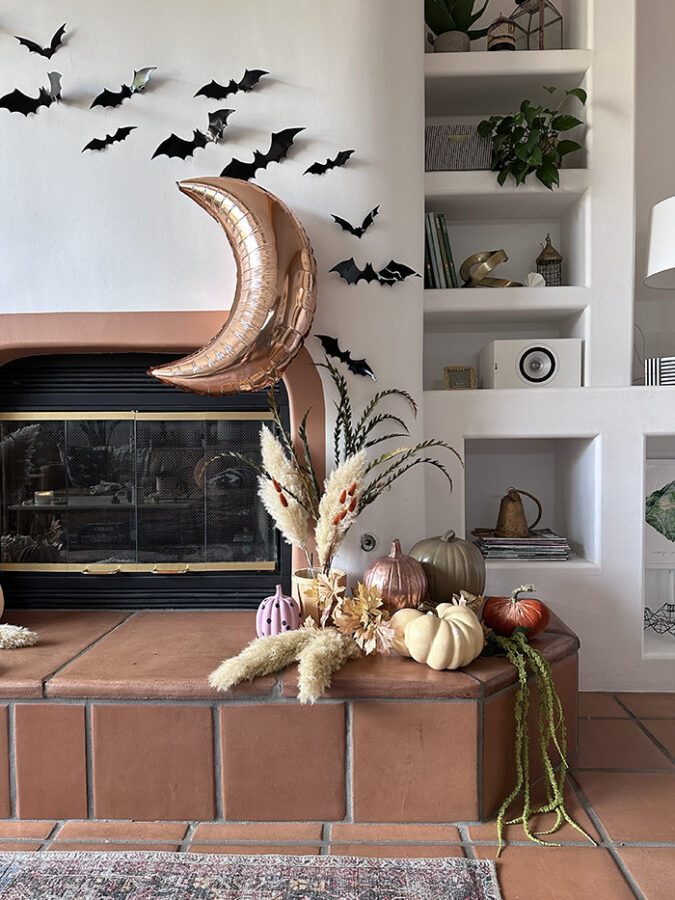 Dried Grasses and Faux Leaves Fireplace
After your pumpkins are all laid out, it's time to place the dried and faux grasses and leaves!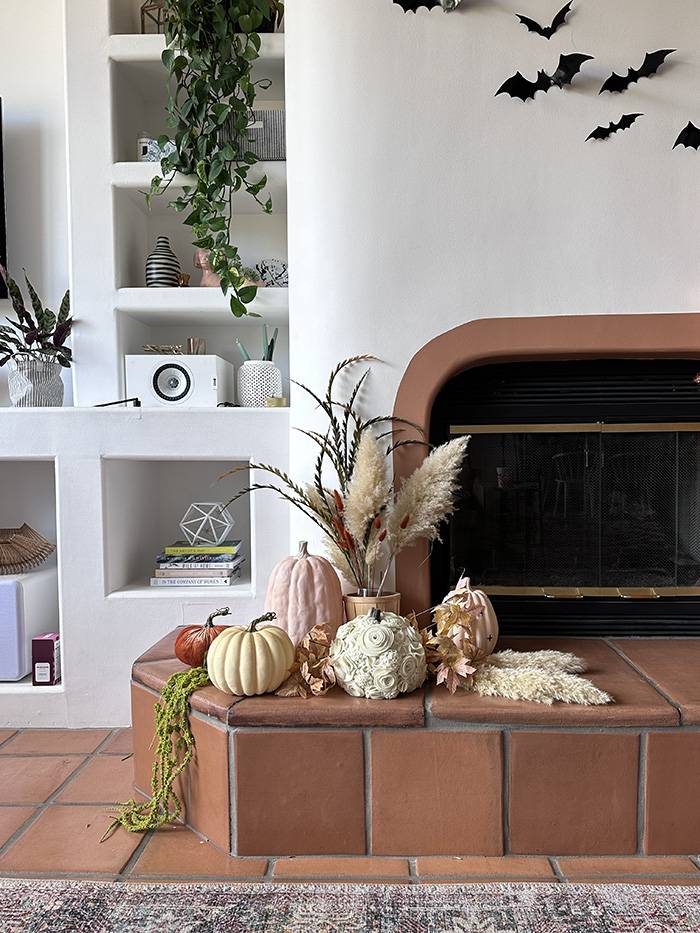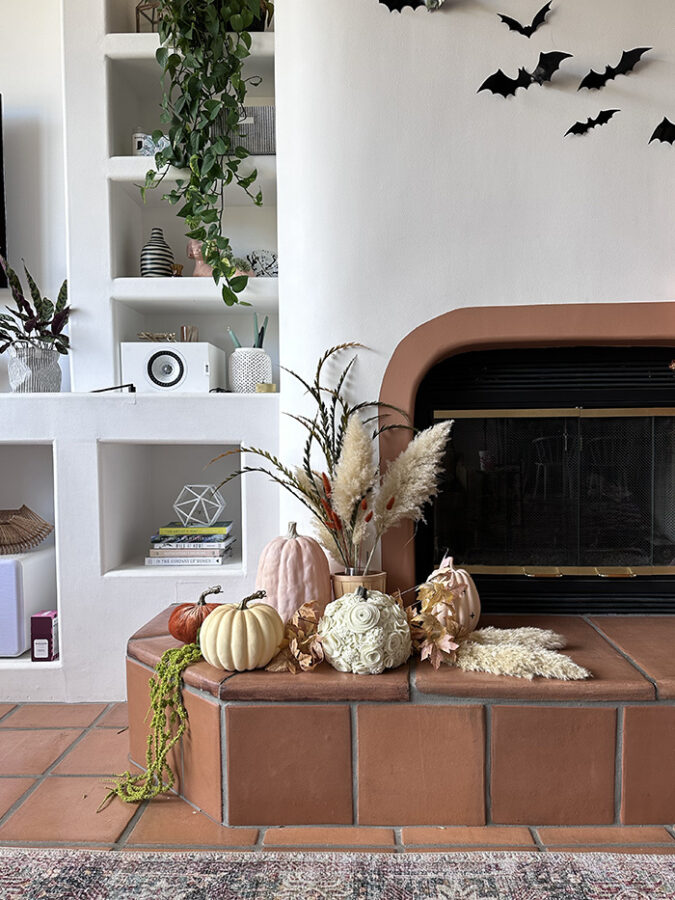 I tucked faux peach colored Maple leaves, dried pampas grass and my trailing greenery around the pumpkins as a base for everything to be sitting on.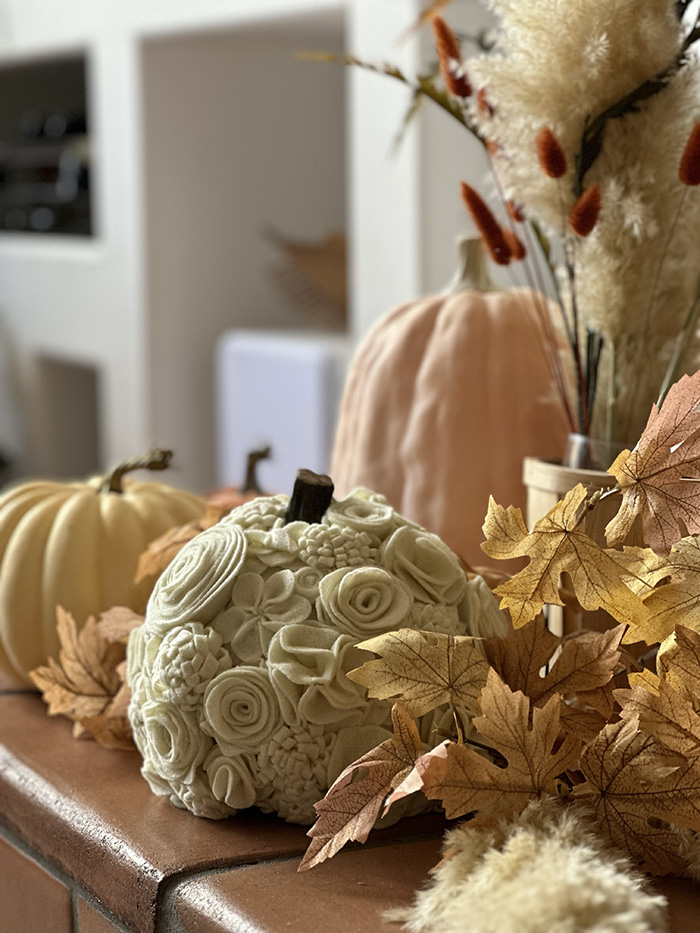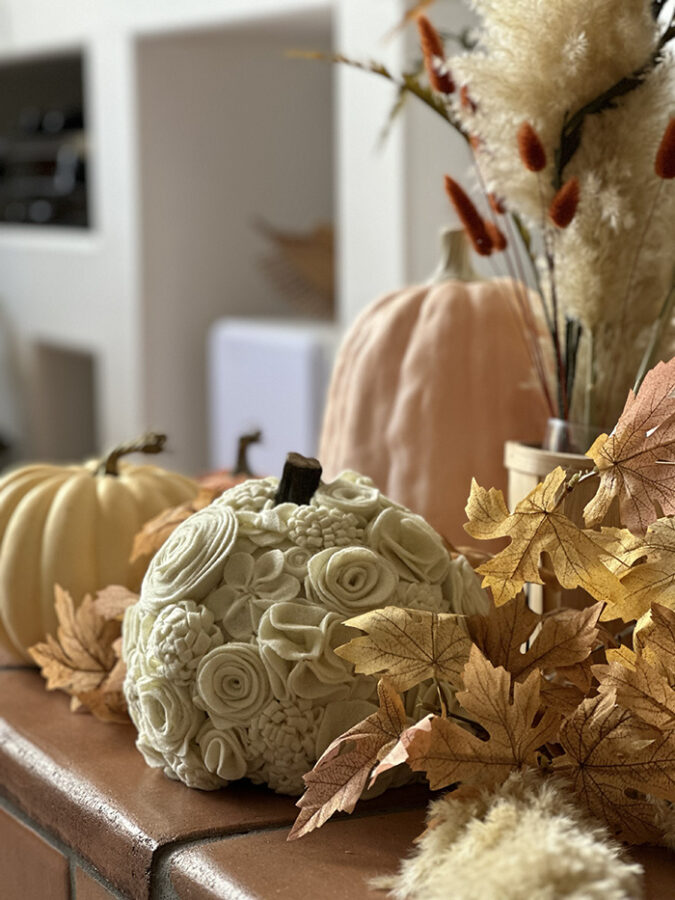 The final touch was creating mini bouquets and placing in baskets for some vertical height.
I used tall green grasses, dried pampas grass, dried palms and orange bunny tails.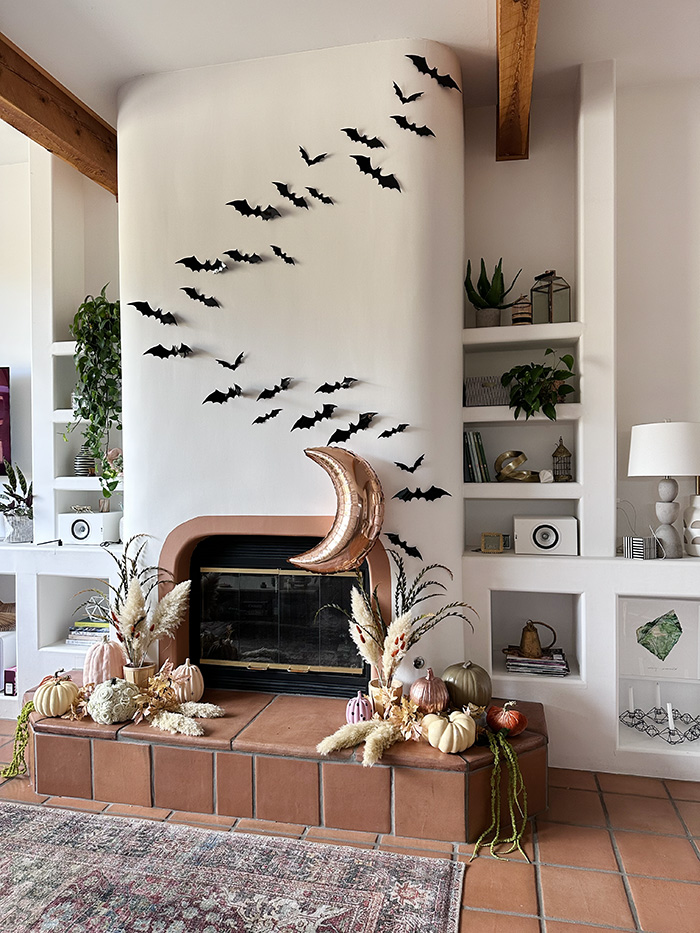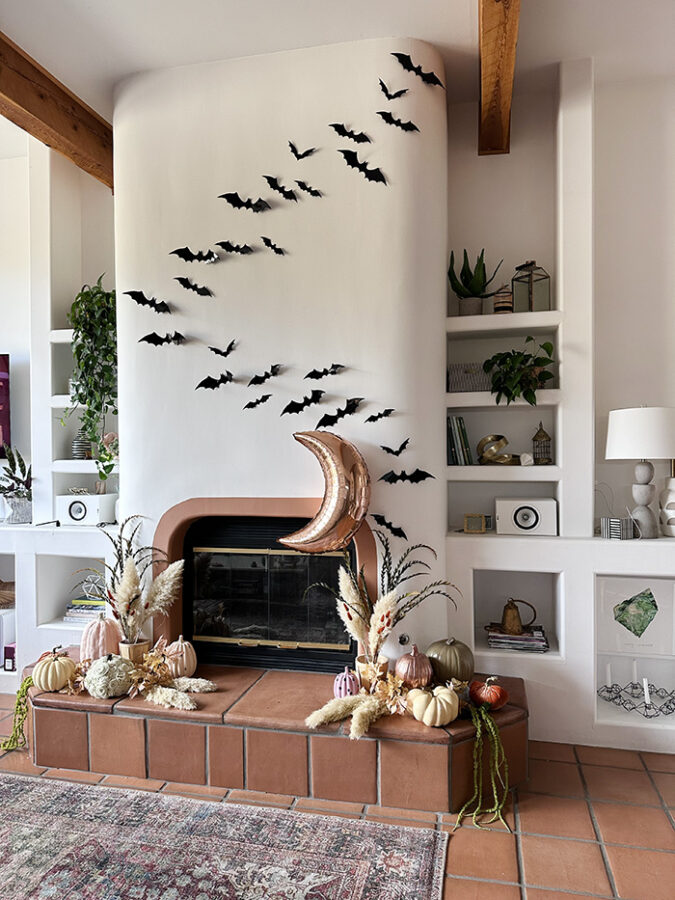 I couldn't get them to sit upright how I wanted in the baskets, so I placed them in a tall drinking glass and then placed the glass in the basket. It worked perfectly!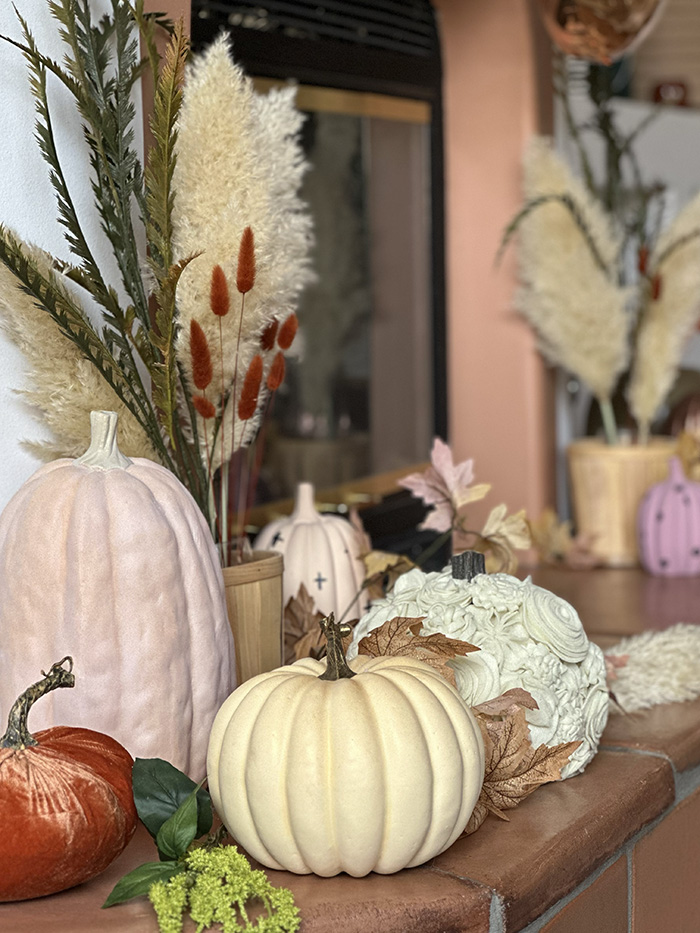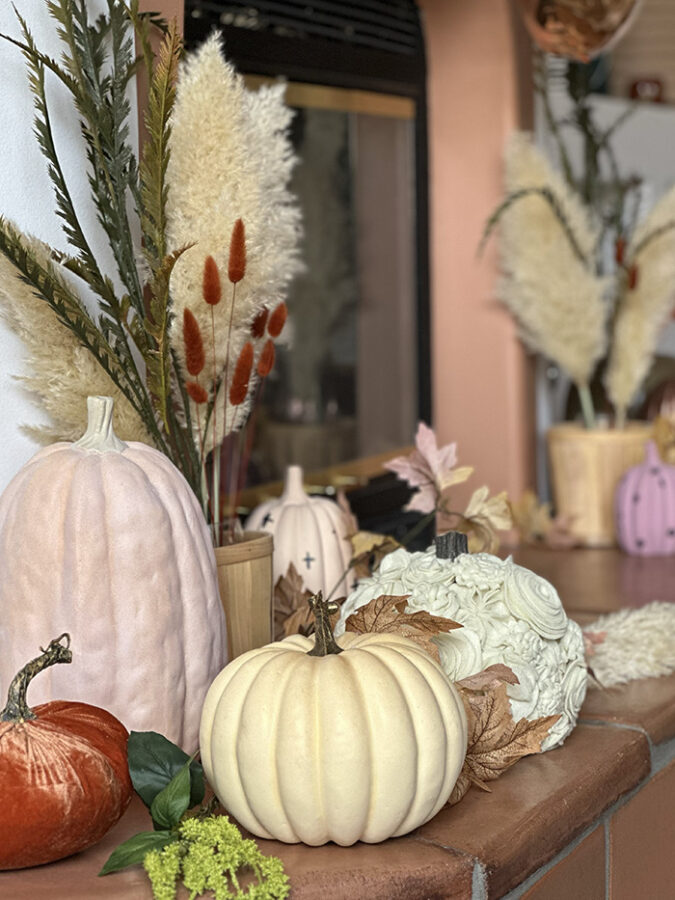 No matter how many pumpkins you have and how many dried grasses you have, you can take these basic layout ideas and make them work for your home!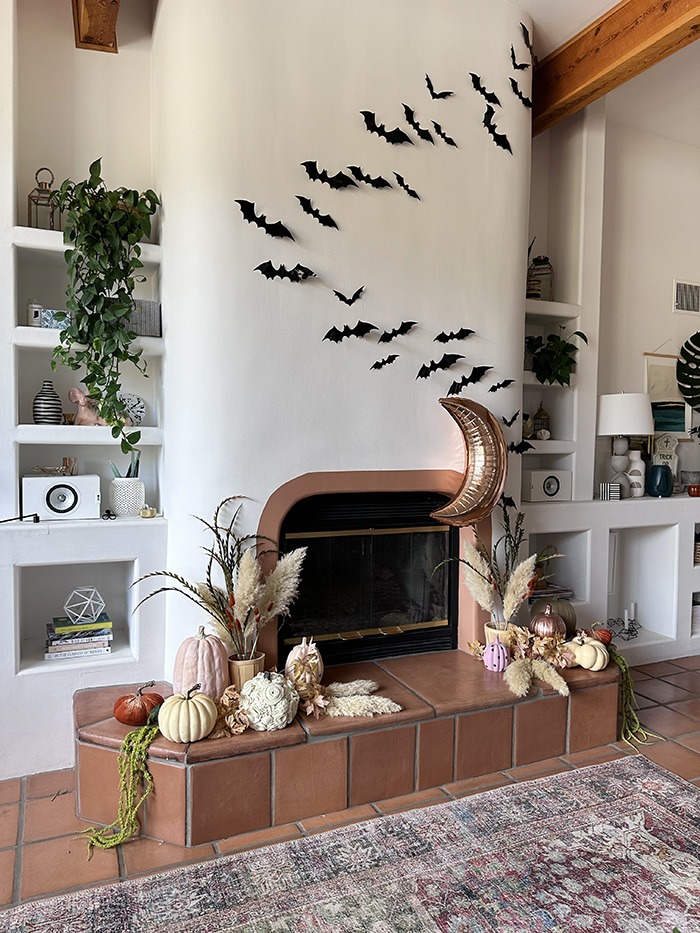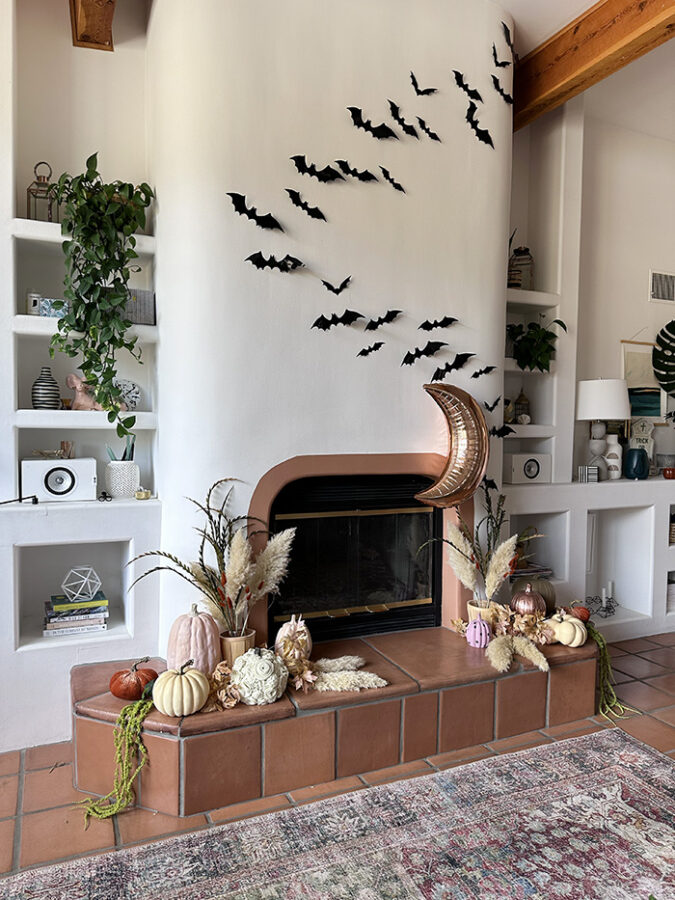 I am so excited to leave this up through Halloween and into Thanksgiving. I love seasonal decor that really can last more than just one month.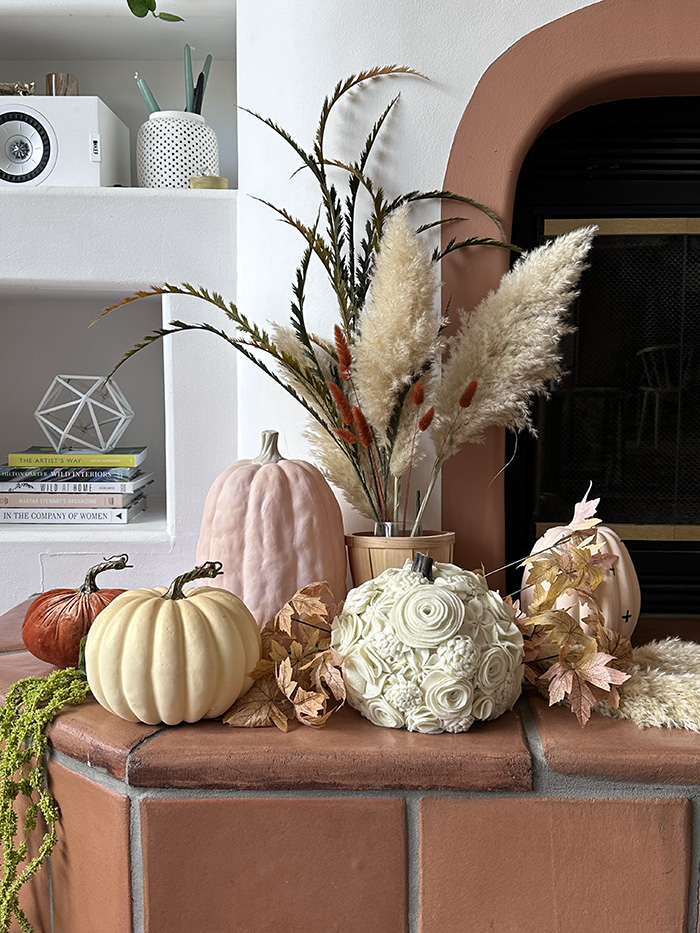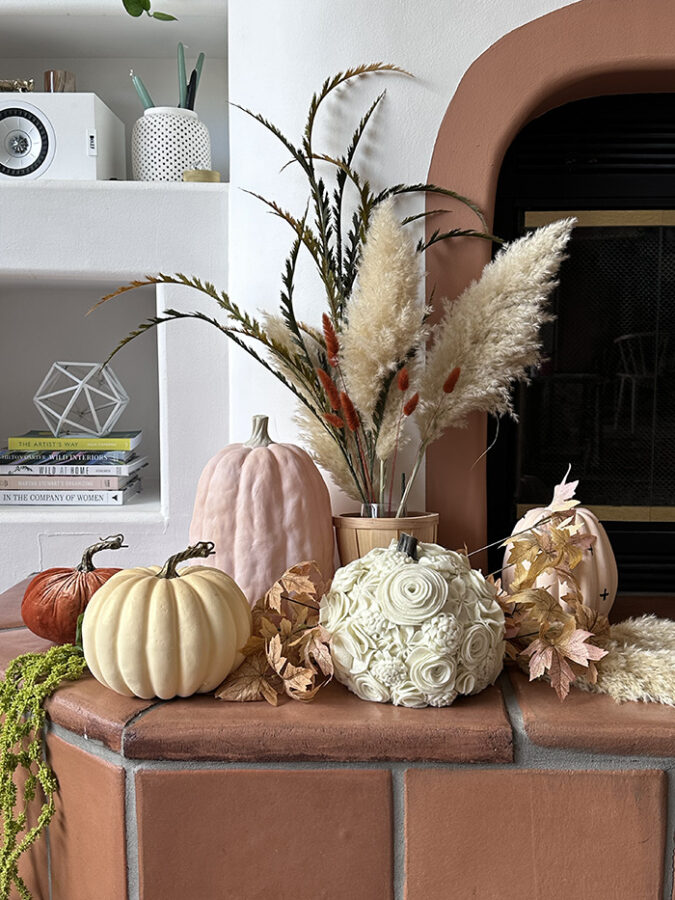 And if you are looking for other Fall decor ideas, you might like some of these :