INSIDE : Learn how to make a gorgeous cream colored Floral Felt Pumpkin for this Halloween season. Display it as Fall home decor on your table, mantel or even at your front door.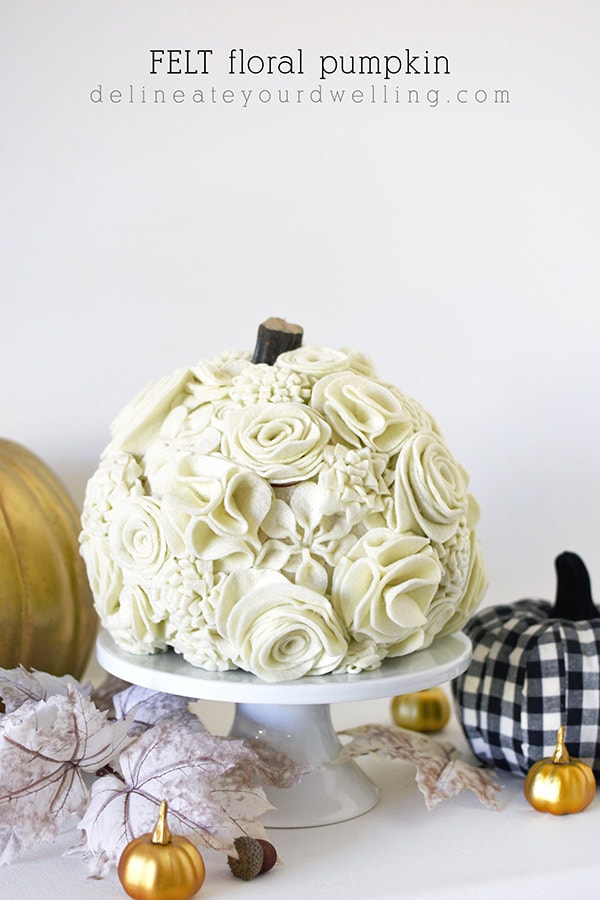 This post may include affiliate links. See my full disclosure.
Sometimes I get so tired of the same colors used for every holiday and season. So, this year I am going with cream, blue, green and gold for the fall. It certainly is not the typical or traditional color palette most people use, but it makes me happy so I'm going with it. Today I am sharing how to create this lovely Felt floral Pumpkin.
In keeping with my non traditional colors this fall, I wanted a non traditional looking pumpkin, too. I got the crazy idea of making a Felt floral Pumpkin. I felt like I had seen about every pumpkin out there but not many felt flowered ones. And let me tell you, after I completed this pumpkin, I realized why there weren't many like it out there… it takes a long long time to make, ha!
What supplies do I need to make a Floral Felt Pumpkin?
I went to my local craft store and bought eight sheets of cream, four sheets of gray and four sheets of white felt. Also a lovely faux pumpkin. I already had scissors and a hot glue gun on hand.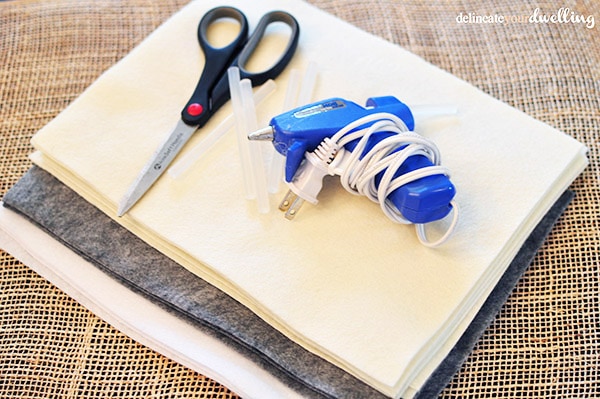 After some playing around, I decided to go with an all cream color pumpkin and had to run out for more cream felt. In total, I used about twelve sheets.
How to make a Floral Felt Pumpkin?
I started by making felt flowers. Some I actually followed patterns from tutorials on Pinterest but others I simply cut petal shapes and hot glued them together in fun ways.
Once I had a few felt flowers made, I started at the top of the pumpkin and slowly, slowly, slowly worked my way down.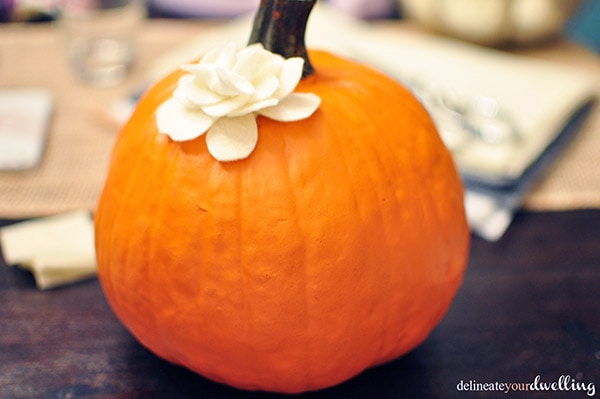 Even after adding just a few rows of the felt flowers to the pumpkin, I thought it looked so stunning. And slowly, I began making progress.
I would do a few rows each evening… this was a great activity while you are watching Netflix!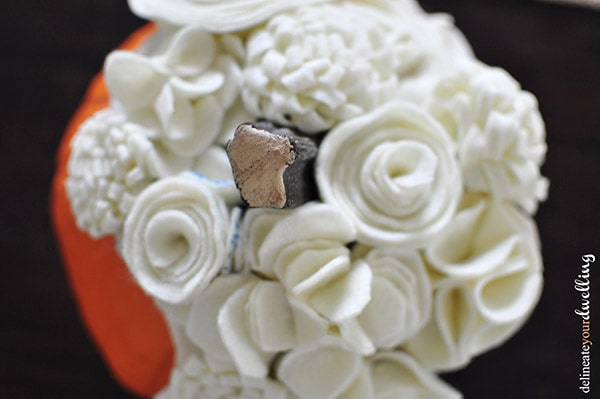 And after a few evenings of Netflix, finally I had completion! And also maybe a few hot glue burns, ha.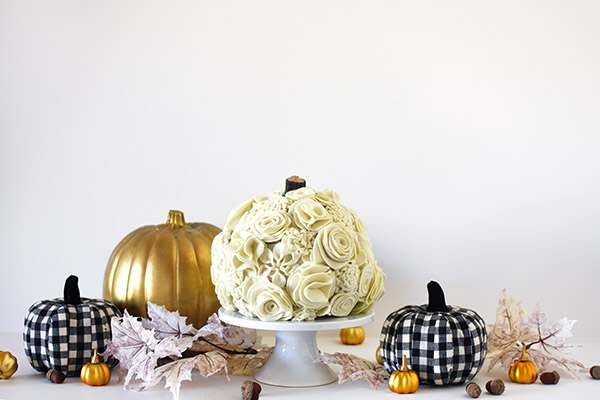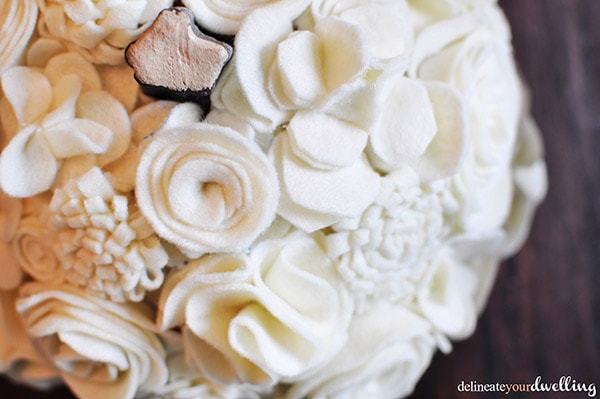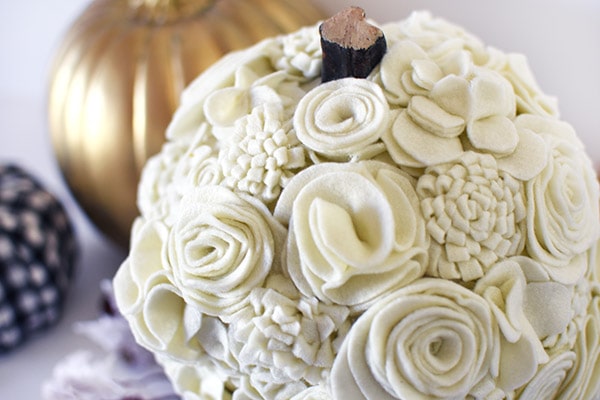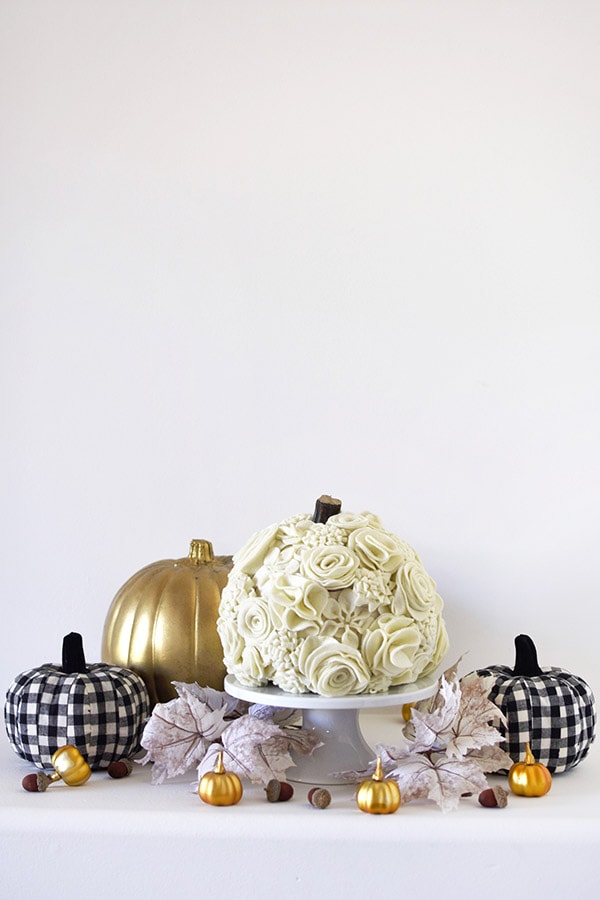 And after my pumpkin was all done, I put that little felt beauty on a white cake plate to give her the perfect perch she needed. A few additional bronze and buffalo check pumpkins and some leaves tucked in there and we have ourselves a perfect fall moment!

Ready to check out some of my other fun pumpkins from over the years?
Looking for fun kid Halloween costumes? See these adorable DIY Scuba Diver Halloween Costumes, Baker + Cupcake Costumes or Little Planet Halloween Costumes!
SaveSaveSaveSave