INSIDE : First, learn how to make tassels using Embroidery Floss. Then apply those tassels to any type of basket, making a simple and fun DIY Tassel Easter Basket for Easter this year!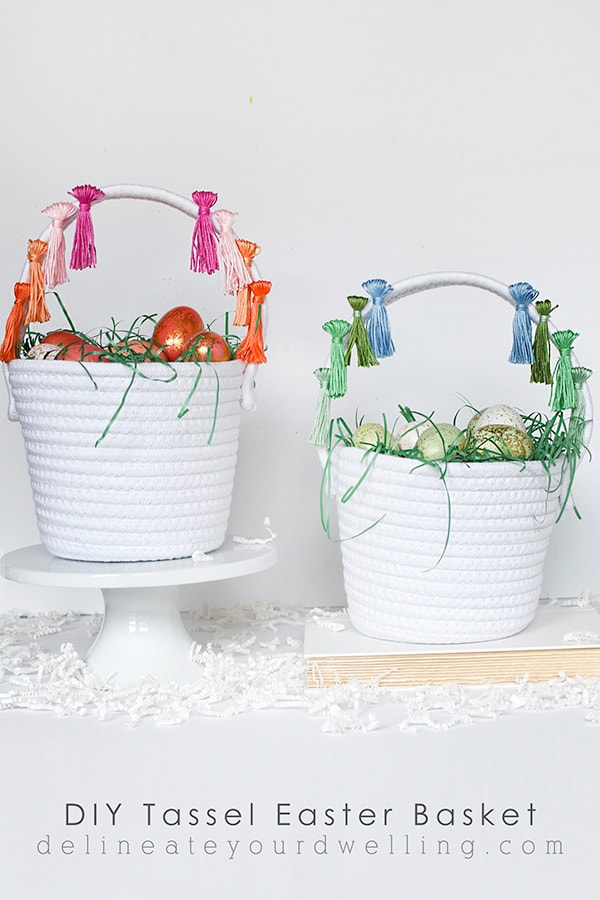 April is here and I am officially ready to embrace that warm spring weather that keeps showing it's face. Easter is on it's way and it is making me so happy! I always say that summer is my favorite season, but I really love the cheerful colors of spring time. And to me, Easter really kicks off the beginning of the season. Today, I am sharing how to add a little something special to your DIY Tassel Easter Basket!
This post contains affiliate links. See my full disclosure.
What supplies do I need to make a Tassel Easter Basket?
Embroidery Floss
Scissors
Hot Glue
Pencil
Easter Basket (Can't find my exact rope basket any longer : (similar + similar)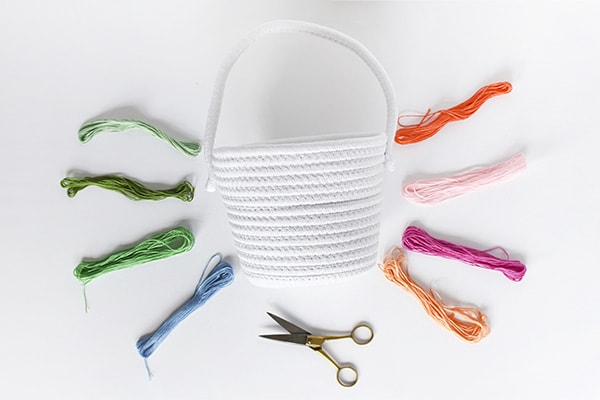 How to make Embroidery Floss Tassels:
Creating tassels from embroidery floss is the simplest thing! First, remove the paper label from the middle of the floss. Gently cut about 15″ of thread from your floss and set aside, but be sure not to tangle the thread. Keep the remainder of the floss still looped if possible.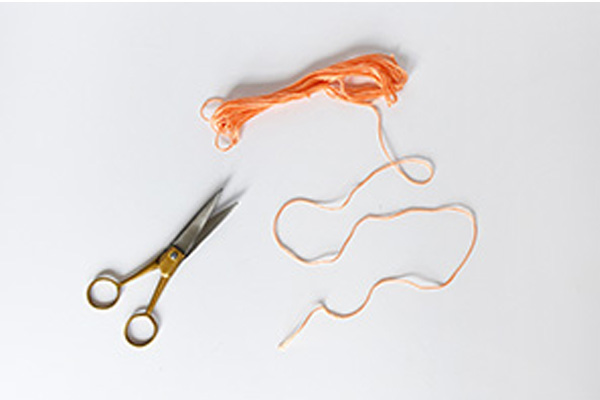 Using a pencil, loop one end of the floss creating the top of your tassel.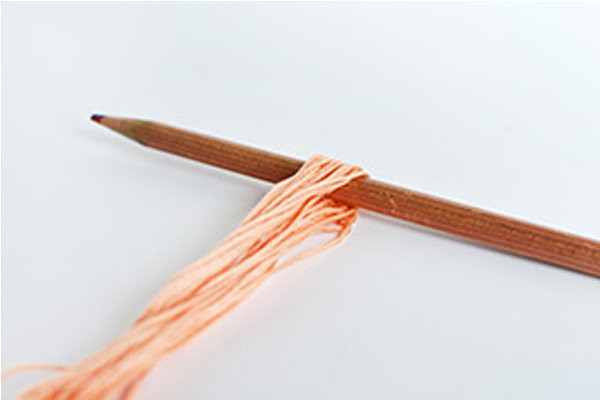 Using the 15″ of thread you previously cut off, make a knot and tie it off right at the pencil. Then, wrap the excess floss around the remaining thread about five or six times. Use a little hot glue, secure and then cut off the remaining string of your 15″ thread.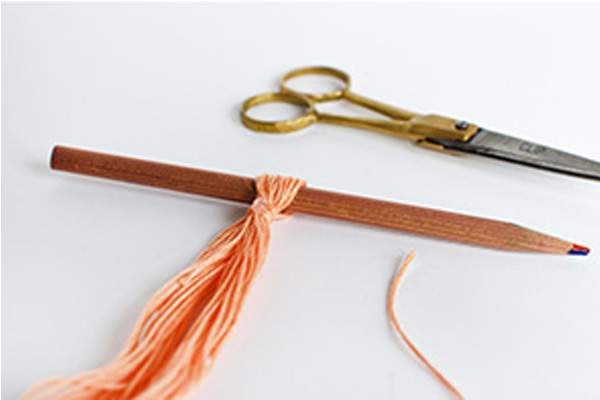 Trim the tassel to your desired length and repeat on the other side of the loop. This technique gives you two tassels per color of floss.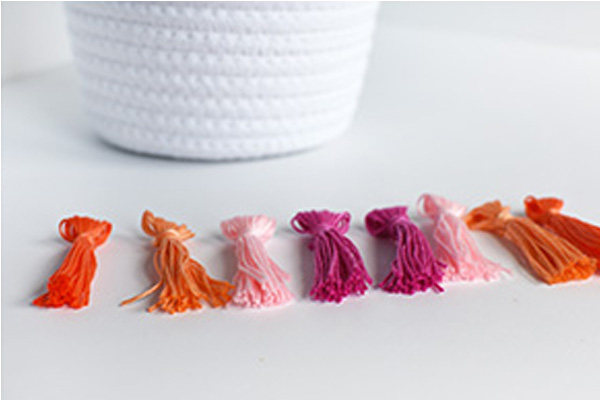 Adding Embroidery Floss Tassels to a Basket
Once all my tassels were made, I had eight tassels (2 of each color). I had originally planned on sewing each tassel to the basket handle but ended up using simple hot glue instead – so much easier!
And depending on what your exact basket looks like, it might be easier to glue your tassels to the top edge. Take this idea and make it work for your basket!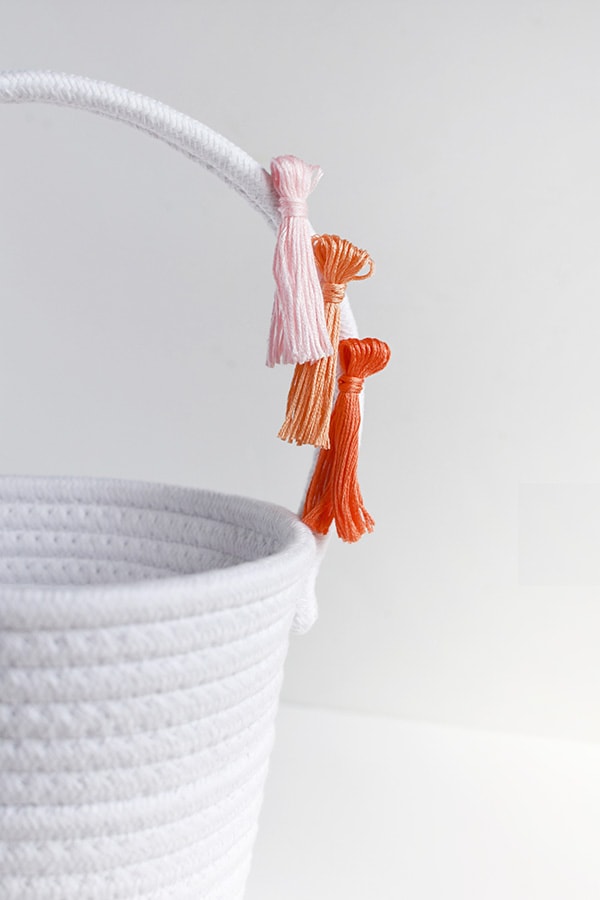 I left an open area at the top of each basket handle for my children to easily grasp. I went with pinks + oranges for my daughter and blues + greens for my son.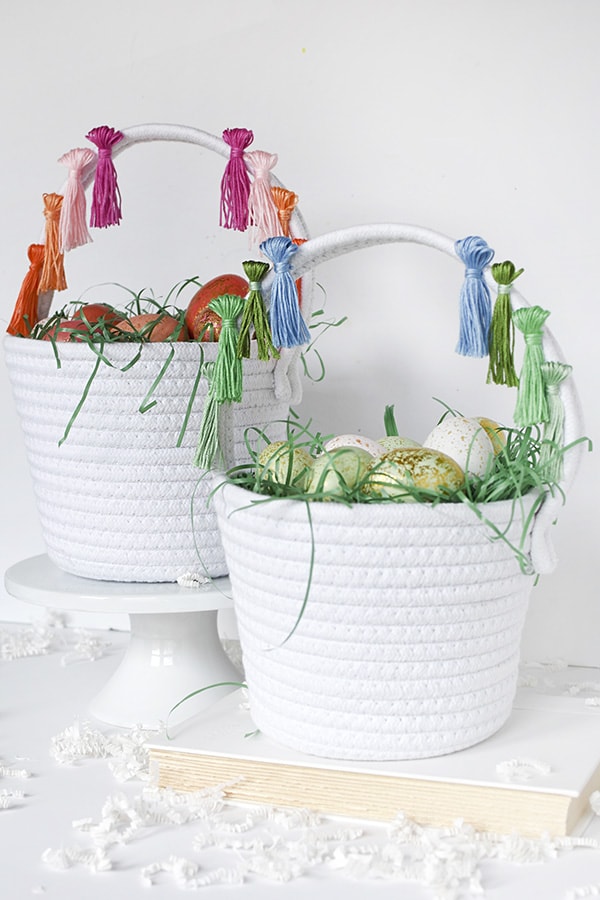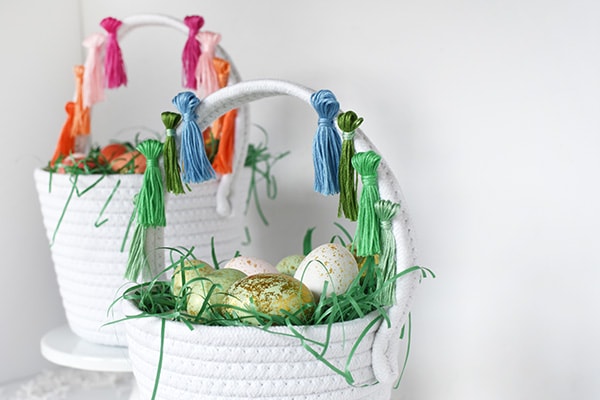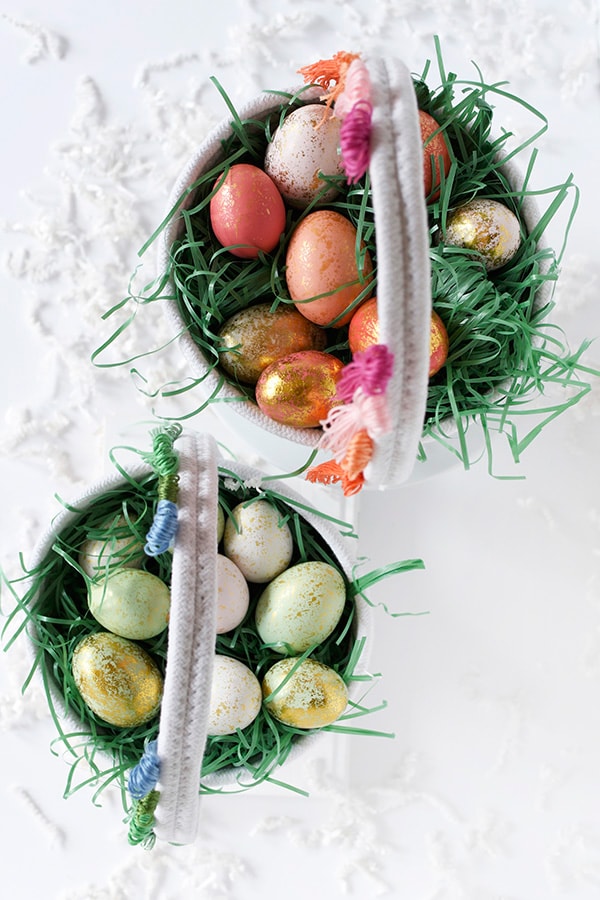 I love the added texture and color these DIY tassels give to each of the Easter Baskets!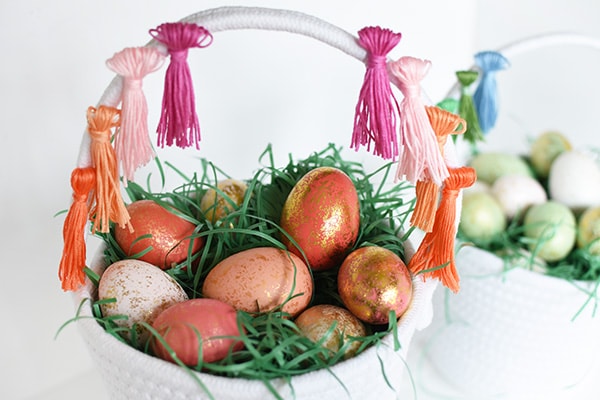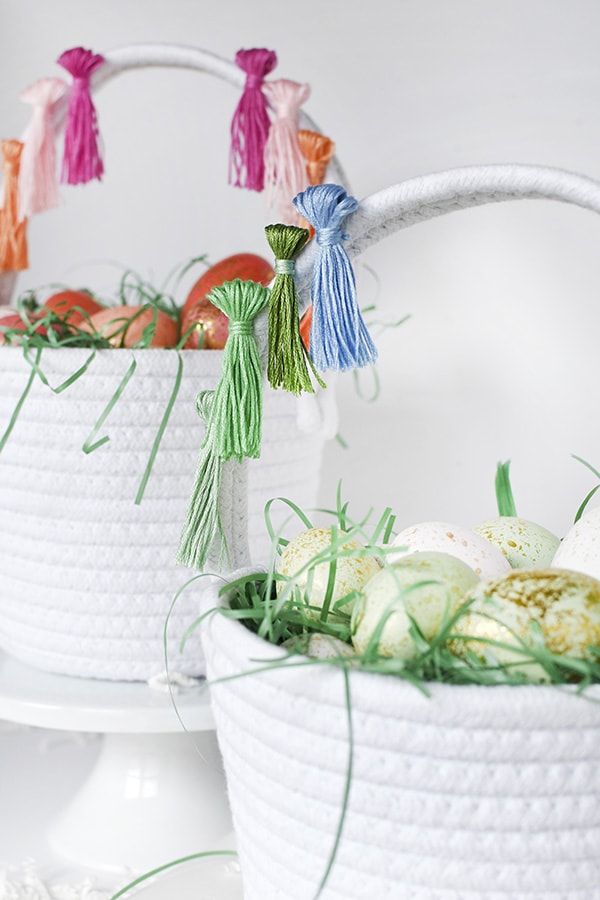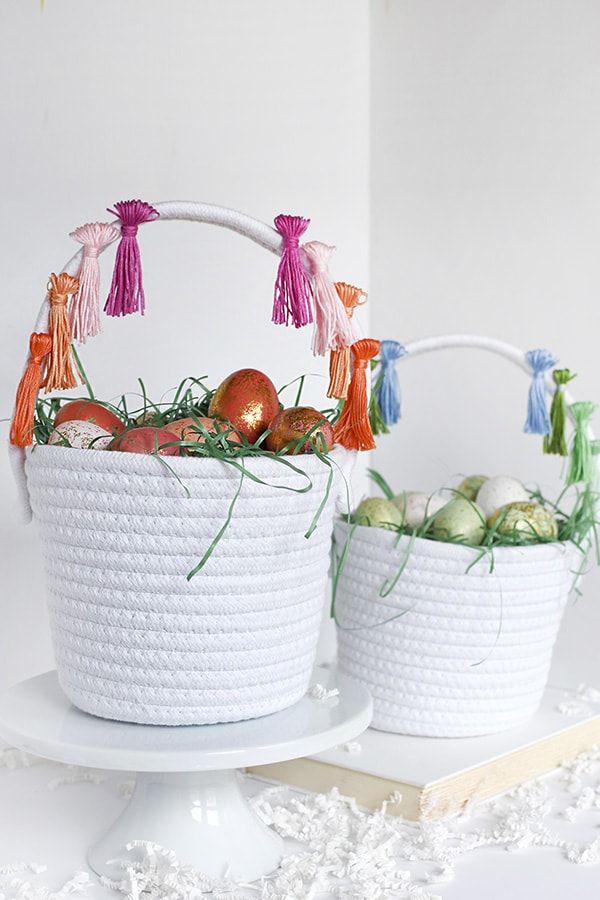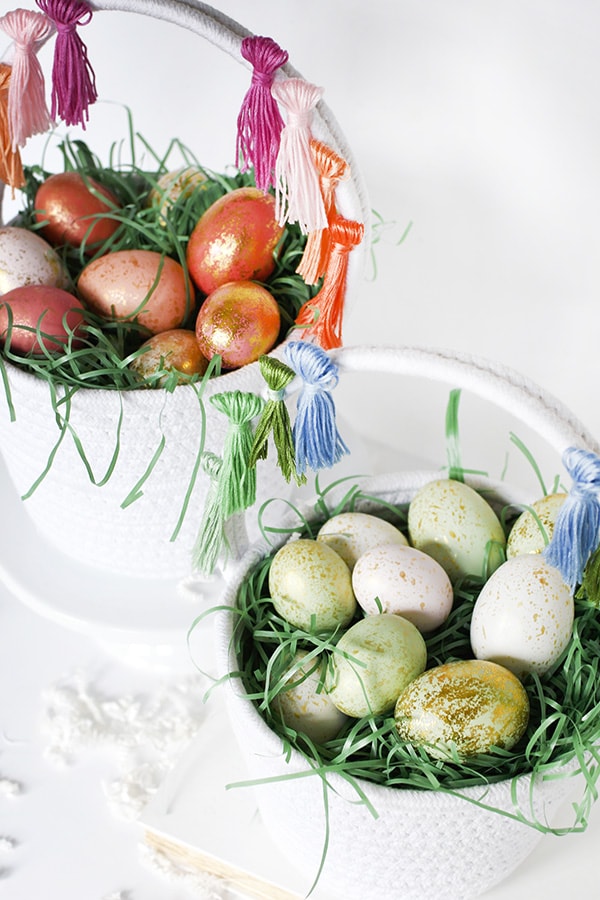 Looking for other fun Easter Egg ideas? You might want to check out some of these!
You might also like these popular Easter Egg projects:
Published Fruit Eggs in Rachael Ray Magazine