INSIDE : Learn how to create a gorgeous DIY Striped West Elm inspired tote bag! Perfect for carrying your miscellaneous items around in style.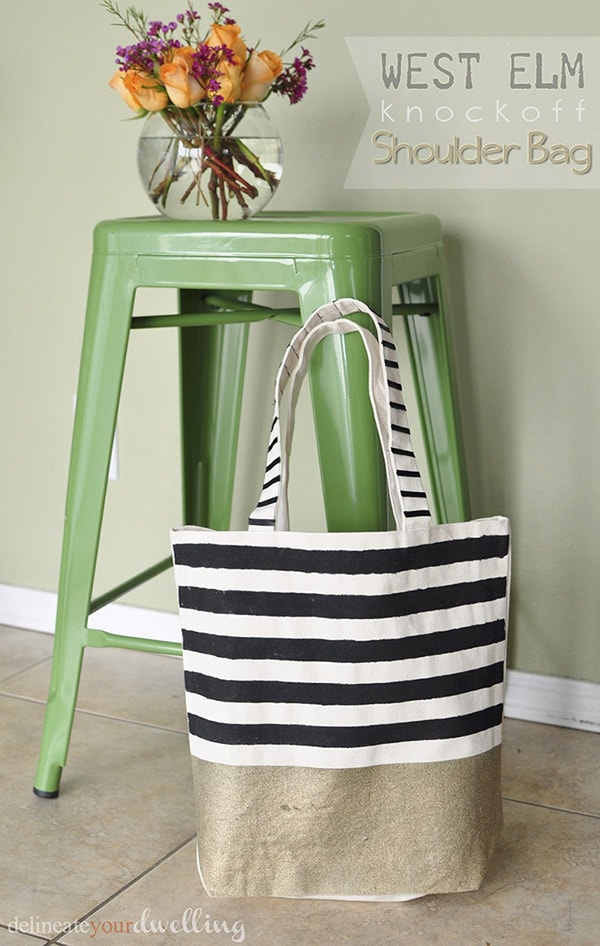 This post contains affiliate links. See my full disclosure.
I love West Elm. If I had to pick one single store to literally bring my toothbrush and move right in, it would be West Elm. Today I will be sharing how you can create this West Elm knock-off bag for a fraction of the cost!
Here is my inspiration bag, the Baggu Dipped Tote in gold. It comes in at a price of forty five dollars. I did a little photoshop action and added my knock off Canvas Shoulder Bag for a side by side comparison. My bag came in at a total of eight dollars.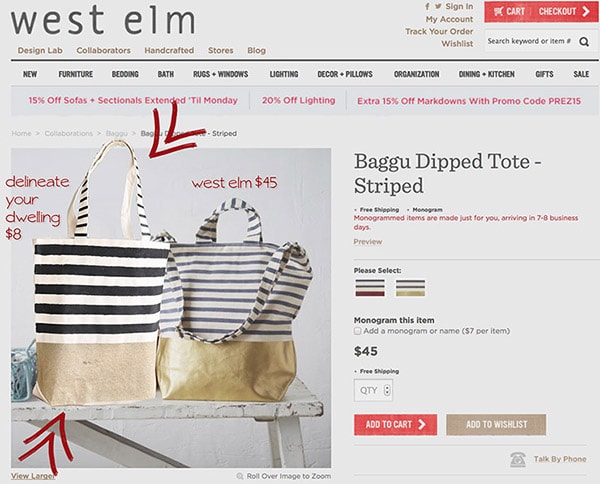 What supplies do you need to make a Striped Tote Bag?
How do I paint a Striped Tote Bag?
The first order of business is to purchase your canvas totes. I got mine at Hobby Lobby but there are a ton of options as to what type or style of bag you can select. I went for simple no frills tote bag.
I then took masking tape (I can't locate our painter's tape to save my life) and started blocking out the stripe pattern. I started at about 2/3 from the bottom and worked my way up. Leave the strap as is for now.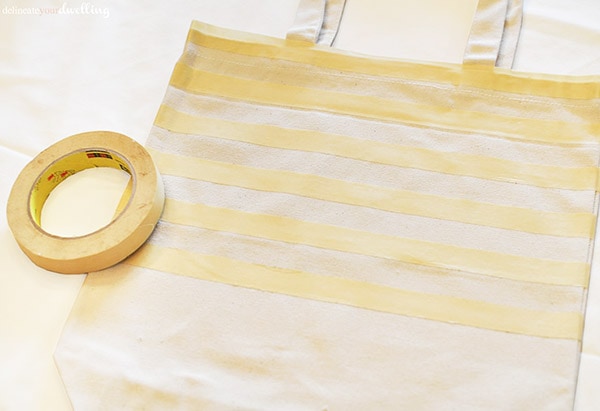 Next, I used my black acrylic paint and added some acrylic fabric paint medium
as per the directions. The fabric medium helps prevent the paint from cracking once it has dried.
I slowly started filling in the blank spaces using my pouncer. Make sure your tape is pushed down all the way so no paint sneaks underneath it.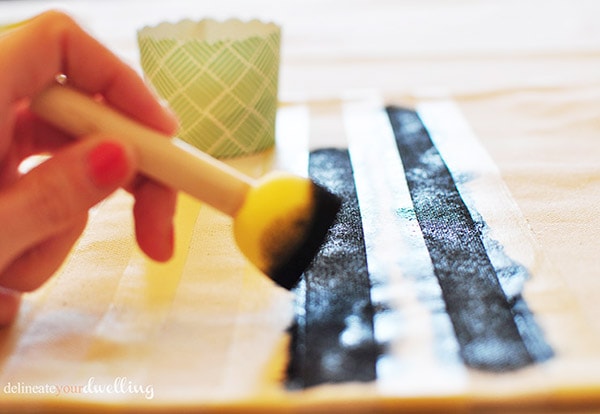 After about an hour, I removed the masking tape. Phew, what a lovely surprise so far.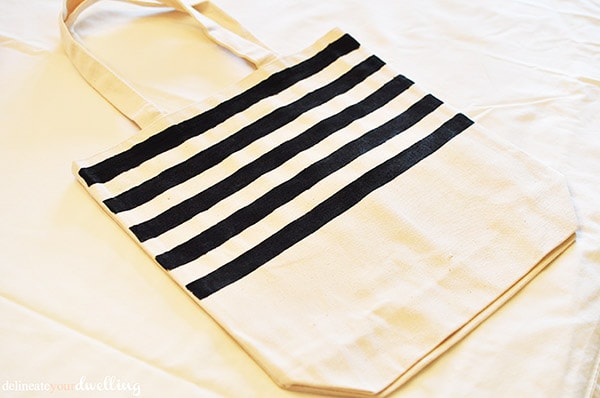 Next, I wanted to mimic the black stripes along the West Elm bag's handles but didn't want to paint them.
I was worried even with using acrylic fabric paint medium that the paint would bleed onto the shoulders of my clothing. So, I grabbed some black ribbon and my sewing machine. I'm absolutely not a fancy sewer and hate being precise with things like measuring. So, I just eye balled the spacing at fairly regular intervals.
I also cut each ribbon to be about 3″ in length and left the excess hang over each side of the strap.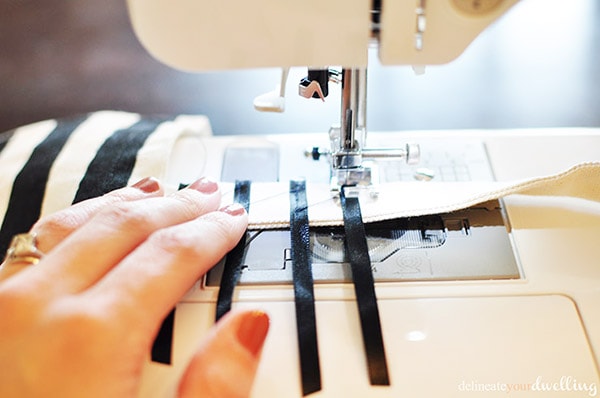 After all the ribbons were sewn on, I cut them down to size.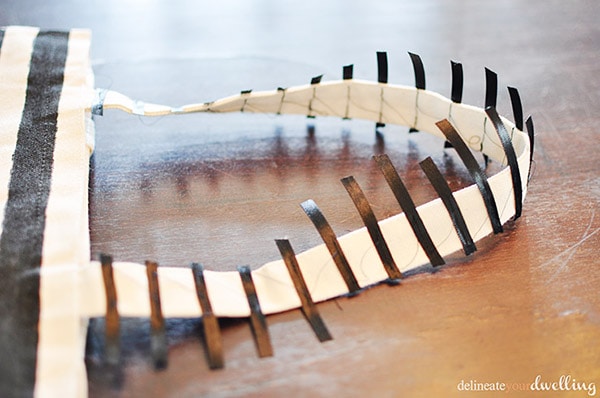 To get the gold color on the bottom portion of the bag, I tried a new product called Tulip Color Shot fabric spray paint.
I wrapped the entire canvas bag in a plastic bag and taped down the edges just at the edge of the last black stripe. I could not have been more pleased with the color. It took two quick swipes and was the perfect shimmery gold addition.
Striped West Elm Inspired tote bag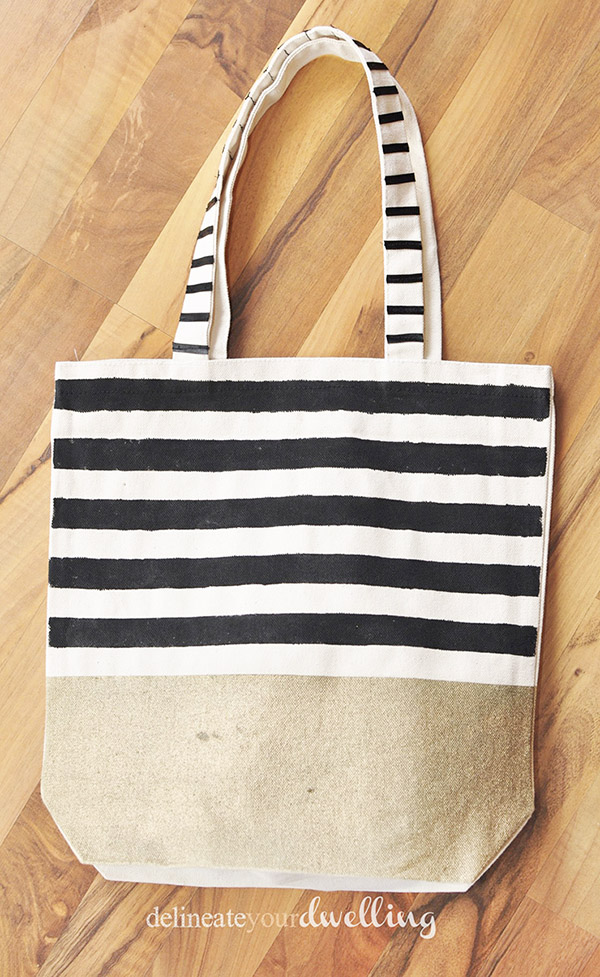 The final product was so much better than I could even have imagined!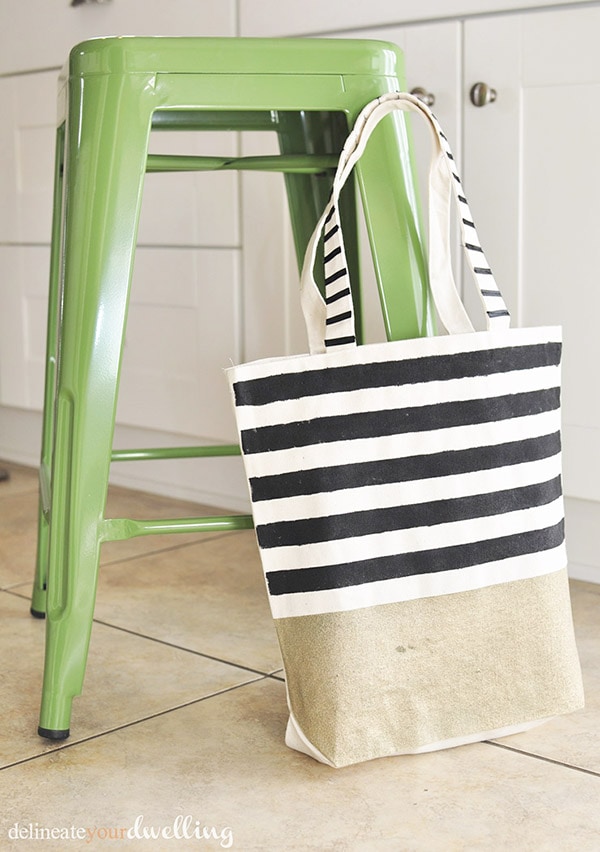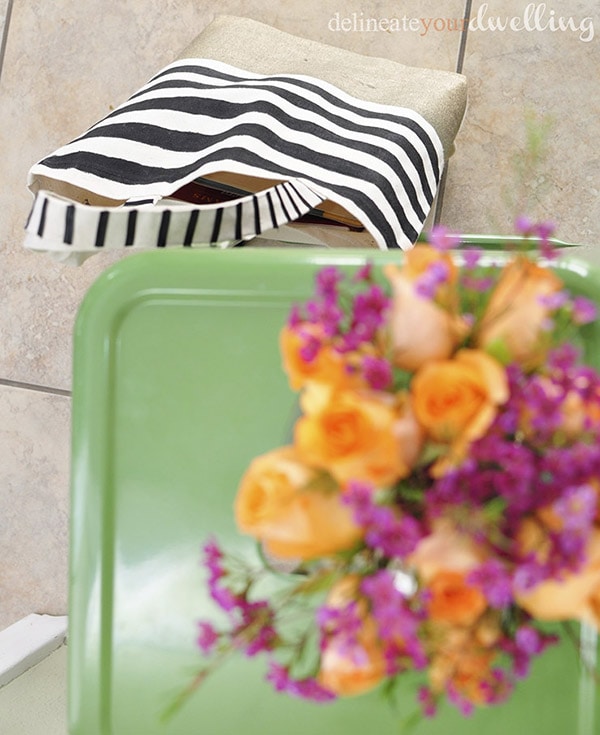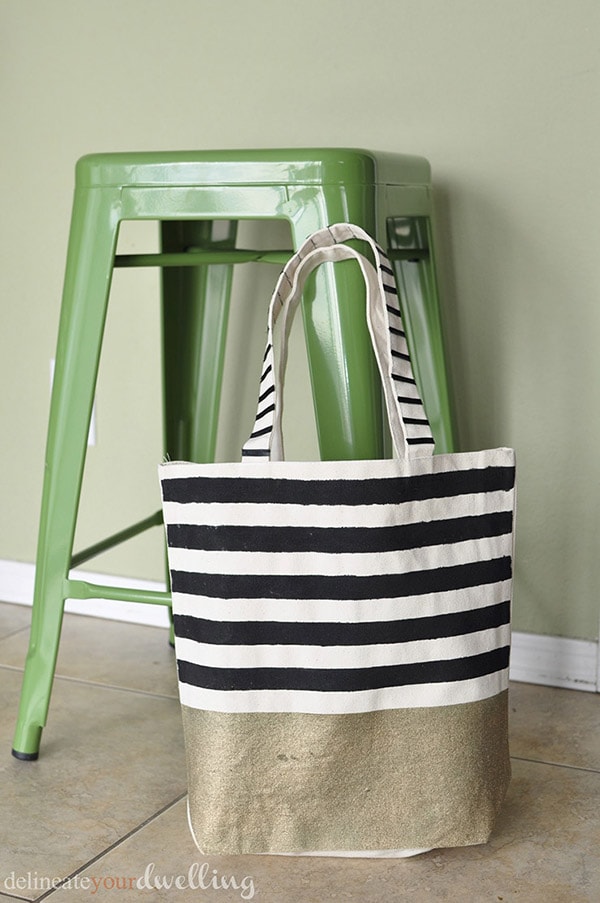 I am officially in love with this tote and to be perfectly honest, I have a soft spot in my heart for DIY tote bags!
Looking for other fun tote bags crafts?

Embroidery Photo Bag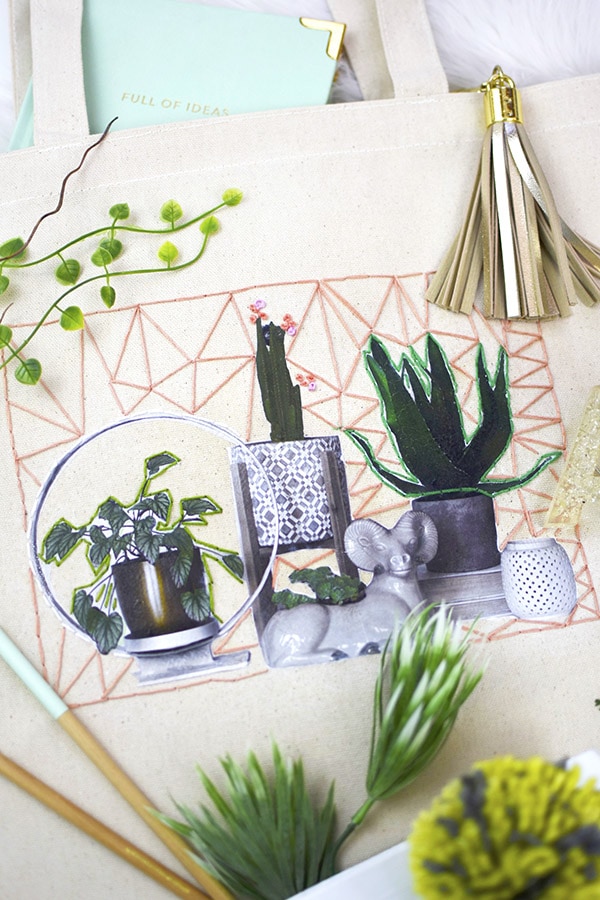 Outdoor Games Bag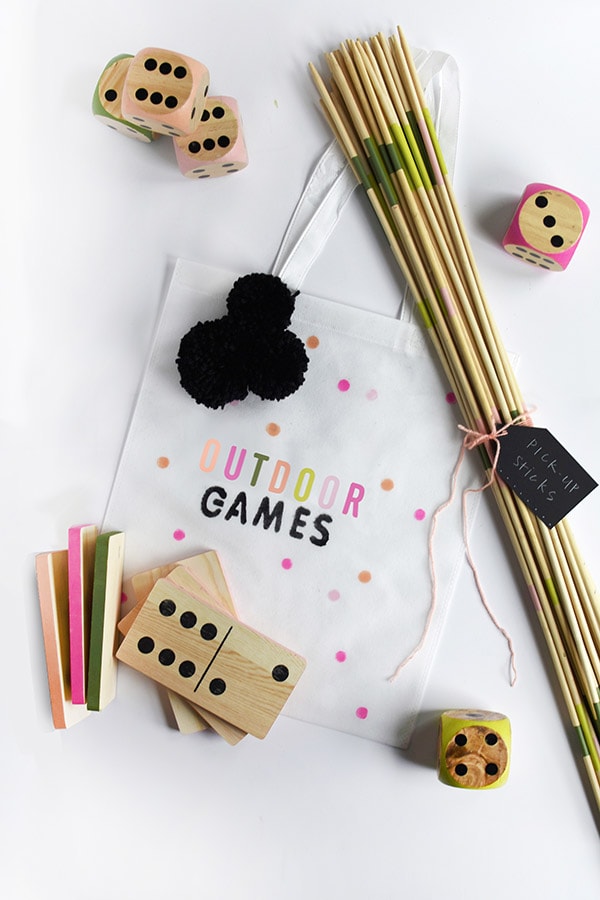 Pom Pom Tote Bag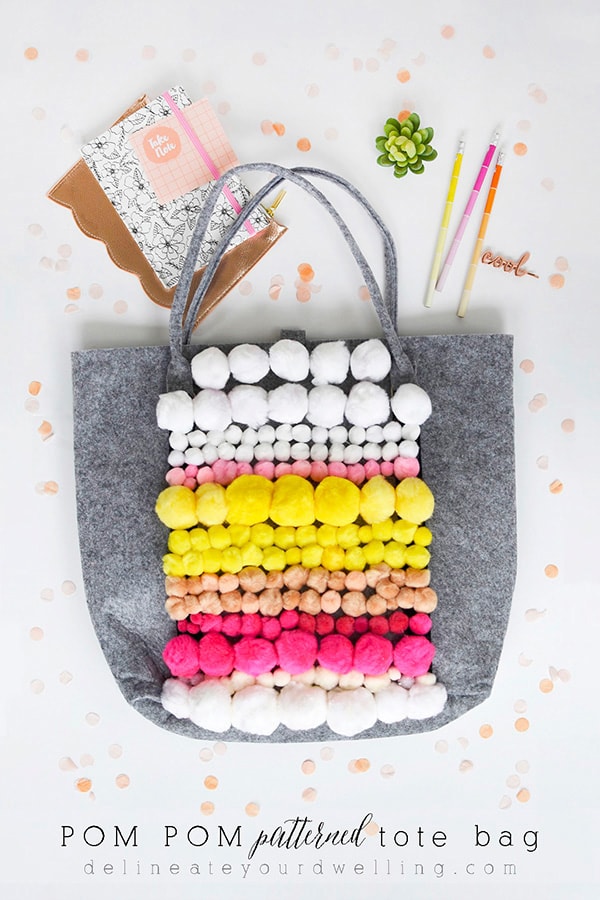 Thanksgiving Menu Tote Bag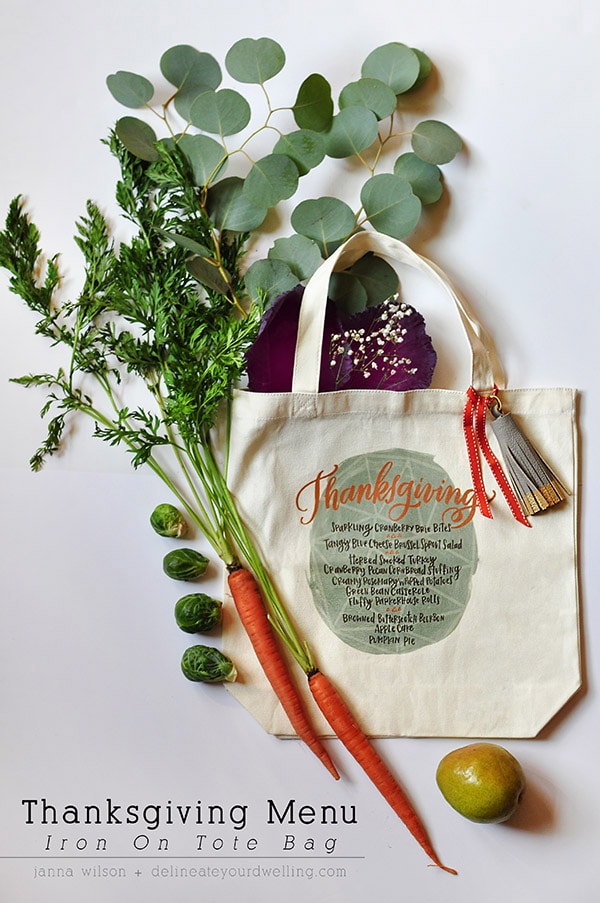 SaveSave